« THE MORNING RANT: Target Revenue Plunges as it Continues to Repel Customers with Its Woke Agenda
|
Main
|
WSJ: Biden's Insistence on Running For Office as an 81-Year-Old Is "Profoundly Selfish" »
November 20, 2023
Argentina Elects "Far-Right" Anti-Abortion Pro-Gun Anti-China Libertarian as President and the Left Wing Melts Down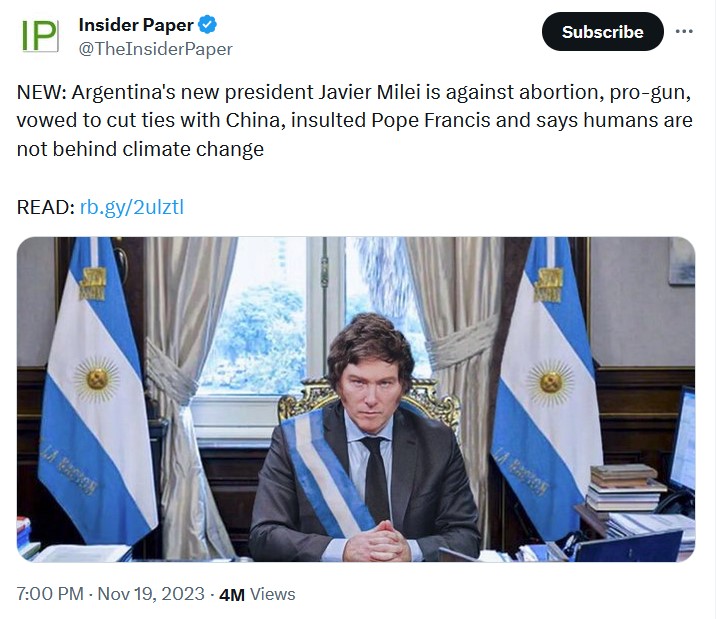 Who is this guy and does he have locks on his garbage
Libertarian outsider Javier Milei swept to victory in Argentina's presidential election Sunday, vowing to halt decades of economic decline in a country reeling from triple-digit inflation.

The self-described "anarcho-capitalist" pulled off a massive upset by ousting the populist Peronist coalition which has long dominated Argentine politics.

With 55.7 percent of the vote, Milei thumped his rival, Economy Minister Sergio Massa, who won 44 percent of the vote and rapidly conceded defeat.

"Today begins the reconstruction of Argentina. Today begins the end of Argentina's decline," Milei said in his victory speech. "The model of decadence has come to an end. There is no way back."

Latin America's third-biggest economy has suffered decades of crises under interventionist governments big on welfare that resort to printing money to finance spending, fueling inflation, while borrowing heavily only to default on their debt.

Access to dollars is strictly controlled, leading to a thriving black market for greenbacks, and analysts warn the peso is ripe for a sharp devaluation.

"There is no room for gradualism... or half-measures," said Milei.

Milei's main platform has been a plan to ditch the ailing peso for the US dollar and "dynamite" the Central Bank to do away with the "cancer of inflation."

...

Thousands of Milei supporters waved flags and chanted "freedom" as they celebrated outside his campaign headquarters.

"We are tired of Peronism. Milei is an unknown, but better a madman than a thief," said 50-year-old writer Nacho Larranaga, wearing the blue-and-white Argentina flag as a cape.

Milei, a 53-year-old economist with wild hair and thick sideburns, has drawn comparisons with former US president Donald Trump and Brazil's Jair Bolsonaro for his abrasive style and controversial remarks.
...

Milei had vowed on the campaign trail to cut ties with his country's top trading partners Brazil and China, saying he would not "do business with communists."

At Twitchy, the left is melting down, with the Washington Post declaring that the election was a contest between the "far-right" on one hand and the "center-left" on the other.
The extremist left-wing media seized and pounced on this narrative:

Martin Gurri
@mgurri

I have seen Milei described as "far right" (CNN, NYT), "rightwing populist" (AP), "libertarian" (Reuters), "far-right libertarian" (Guardian), "far-right outsider (BBC) - all these labels blend into a single screechy meaning...
He's planning some budget cuts.
He rails against the "shit neoliberals" and "leftards."

I can't vouch for all of this translation but the few words I picked out here and there do track with the claimed translation.
Abigail Jackson @abigailmarone

"And since they can't beat us with real arguments they just use the repressive apparatus of the state with loads of taxpayer money to destroy us..."

Sounds familiar?
Apparently the words he's using to describe the left wing are zurdos de mierda, or "left-wing of shit." Or what many call "the shit left" or "shit liberals" in the US.

posted by Disinformation Expert Ace at
12:03 PM
|
Access Comments