« Daily Tech News 20 November 2023
|
Main
|
Mid-Morning Art Thread »
November 20, 2023
The Morning Report — 11/20/23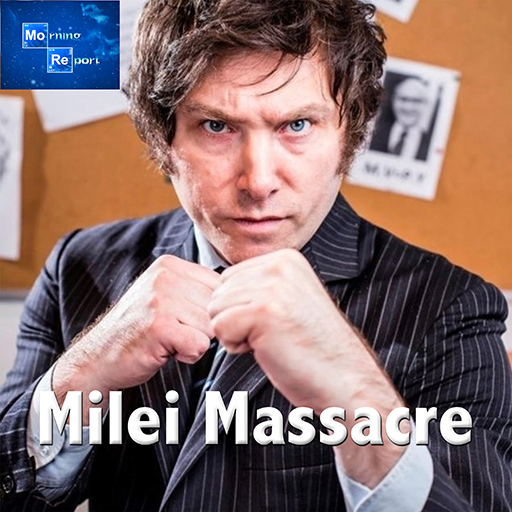 Good morning, kids. There are a couple of things going on that are kind of big deals but could get lost in the sauce as the IDF continues to pulverize Gaza and the concomitant eruption of mass Jew-hatred here and abroad. That said, there was a shocker of an election down (Carmen Miranda singing) "souse-American way."
Populist libertarian Javier Milei has won the presidential election in Argentina. His opponent, Sergio Massa, has conceded giving Milei the win.

"The results are not what we expected," Massa said. "I have contacted Javier Milei to wish him luck, because he is the President of Argentina for the next four years." Massa was the country's economy minister and that economy has been in dire straits. . .

. . . He takes the helm of the country as Argentina faces the worst economic crisis in decades, and he's promised to fix it. Milei has stated plans to shrink the size of government, eliminate the central bank, and bring in the US dollar. Argentina currently owes the IMF $44 billion.

Milei, a 53-year-old economist, was also a television pundit. He has criticized parties both on the right and the left. His campaign symbol has been a chainsaw, which he uses to emphasize his plan to cut costs. He favors privatizing some state-run enterprises and making big changes to both health and education.

Inflation in Argentina has hit upwards of 140 percent. Two-fifths of Argentinians currently live in poverty and a recession has been looming. Massa has been blamed for his failure to control or combat rising prices. 
As I mentioned, this is kind of a big effin' deal because all the right/wrong heads are exploding:


Western leftist media is freaking out, naturally, not only because Milei emphasizes the importance of the culture war and bashed leftism, but because he has peripherally made positive comments about Donald Trump. So all the media with Trump Derangement Syndrome is triggered. . .

. . . In the clip [embedded in the article - jjs], per the translation, Milei says, "You can't give sh[*]t leftards an inch … all collectivists." He went on, "If you give them an inch they will use it to destroy you, you can't negotiate with leftards." He pointed out that leftists will protect their own, even when they're, for example, wife beaters or molesters. But "if you're on the other side, they will ruin you," he said, emphasizing the double standards. Milei called it a "good thing" that the left's unrealistic standard of perfection for their opponents does cause right-leaning individuals to live up to a higher standard, and announced, "We are crushing them in the cultural battle. We're not only superior economically, we are morally superior." Let's hope for Argentina's sake that's really true of Milei himself. . .

. . . Only time will tell if Milei will be a good president of Argentina, but his win is a hopeful sign for anti-leftists around the world.
Milei is looked upon as Argentina's version of Donald Trump, politically and I suppose sartorially (the sideburns and the scowl in particular). While South America had been trending towards freer markets and generally moving back into the American sphere during the Trump era, elections in a number of countries saw that trend reversed with the ouster of Trump. In particular the ouster and subsequent political persecution of Jair Bolsonaro and his replacement with this Lula da Silva commie stooge is noteworthy.
Argentina, like much of South America, has been prone to wild political swings. Usually, when socialists gain control of the country they lay waste to its economy in short order and either elections or in some cases a military coup ousts the reds and economic stability and growth is once again the order of the day. At least for some period of time. Argentina has been in a prolonged economic funk for nearly a decade or longer so hopefully Milei can start to turn that around. Unless of course the powers that be in the DC-Davos-Beijing Axis of Evil try to sabotage him, and that is a distinct possibility.
The one exception to the wild swing observation has been Venezuela. Since veering hard Left in 2002 with the election of Hugo Chavez and now under the thumb of Nicolas Maduro, Venezuela which was previously a thriving economic powerhouse, thanks mostly to its oil reserves, is now rapidly gaining on Haiti as a failed state basket case. So much so that a fairly large percentage of the hordes of migrants invading our non existent souther border are Venezuelan. And with Iran that nation's closest ally, that can and likely will lead to all kinds of geo-political headaches for us with Joey Sponge-Brain Shits-Pants or whoever is pulling his strings from Kalorama at the controls.
Obama said "Never underestimate Joe's ability to fuck things up," which is true to a point. Considering Obama is Joe's chief puppeteer, he should keep his purple-lipped cake-hole shut:


How's Joe Biden's oil-for-democracy diplomatic deal going with Venezuela? The one where he would drop sanctions on Venezuela's oil production and Venezuela would hold free and fair elections as well as release its American hostages? About as well as his Iran deal.

According to the Associated Press:

A California man's family is pleading for his release after they say he was wrongfully arrested in Venezuela and held for tens of thousands of dollars in ransom just days after the Biden administration eased crippling oil sanctions on the socialist-run government. Savoi Wright's Oct. 24 arrest, which had not been previously reported, has become the latest flashpoint in the tenuous relationship between the U.S. and Nicolás Maduro's government that critics say should lead to a return to sanctions.

But all Wright's family wants is for the 38-year-old businessman to be returned home. They know precious little about the circumstances of his arrest. No criminal charges have been filed, he has not been allowed to see a lawyer and the Venezuelan government hasn't said where he is being held.

"It's a nightmare. It's like you're watching a horror movie but you're in it," his mother, Erin Stewart, told The Associated Press in a telephone interview from her Oakland home.

. . . Most likely, Maduro has calculated that Biden isn't going to do anything about this raw abuse of police-state power. And Joe Biden's conditions for the sanctions' end is nothing he needs to deliver on from his end -- Joe will give him what he wants anyway, because ahead of elections, oil prices are going up. Meanwhile, an extra hostage amounts to an extra bargaining chip for an extra concession.  What could be better?
Hostages and oil. Venezuela and Iran. Which of course leads us back to the Middle East, Gaza and Israel. Compare and contrast the euphoria in the wake of Qassem Soleimani getting taken out and then the State of Union Address in early 2020, especially when Rush Limbaugh was awarded the Presidential Medal of Freedom, with where we are right now.
Boggles the mind. If elections have consequences, stolen elections are a stone cold bitch. Not necessarily the kind to tickle the fancy of Kanye, either.
ABOVE THE FOLD, BREAKING, NOTEWORTHY
Thad McCotter: "One reason the Left pushes abortion and euthanasia."
Save the Planet, Cull the Herd!

Victor Davis Hanson: "Stop giving money to elite institutions." (It's not just the money, but who controls it - jjs)
Can We Save our Universities?

"John F. Kennedy was murdered by a Communist in an age of superpower tensions— but 60 years later, a counterfactual mythology continues to mislead Americans."
Martyr of the Cold War
NOTE: The opinions expressed in the links may or may not reflect my own. I include them because of their relevance to the discussion of a particular issue.
ALSO: The Morning Report is cross-posted at CutJibNewsletter.com if you want to continue the conversation all day.
Follow us on Twitter: @CutJibNews
Follow us on Instagram: @Cutjibnewsletter
TIP JAR : Your support helps keep the lights on and is truly appreciated. Note: We are on Stripe, not PayPal.

posted by J.J. Sefton at
07:37 AM
|
Access Comments