« NYC's Hospitals "Overwhelmed" by Illegal Aliens
|
Main
|
Quick Hits »
October 04, 2023
Mobs of "Teens" Loot a Washington, DC CVS, Literally Picking Its Shelves Clean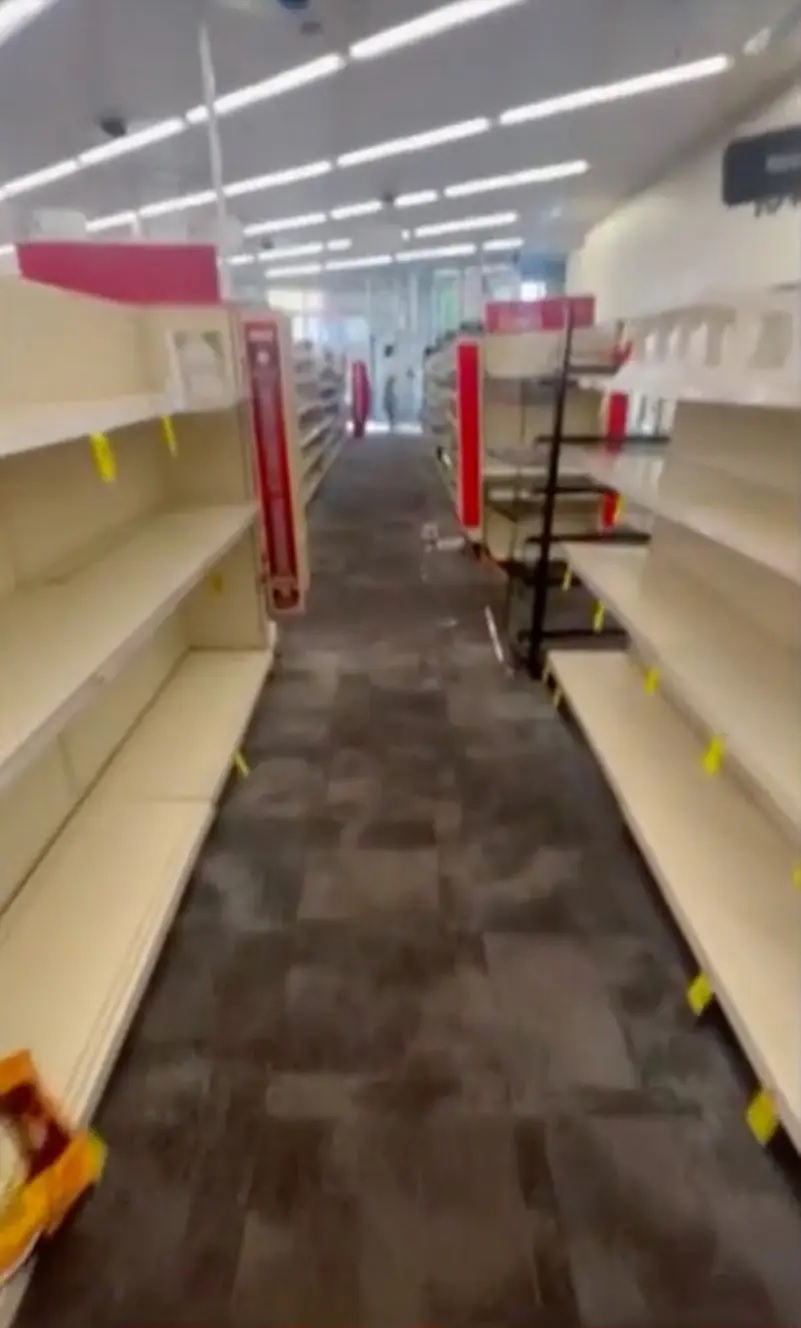 The looted CVS, picked clean of goods
as if devoured by locusts.
A sticky-fingered mob of shoplifting teens has almost entirely cleaned out a Washington, DC-area CVS outlet -- leaving the retailer's shelves almost bare.

Startling images from inside the chain pharmacy in DC's Columbia Heights neighborhood show row after row of empty shelves, thanks to about 45 youngsters who have been targeting the store, Fox affiliate WTTG-TV reported.
"Youngsters." Whatever euphemisms we can think of to make hardened thieves appear to be innocent scamps.
"When you walk into this CVS, you'd think the store is closing because there's barely anything on the shelves," WTTG reporter Sierra Fox said.
Spoiler:is closing. CVS will close 900 locations by the end of 2024.
What are the odds that the Columbia Heights, DC store will remain open?
Or that any stores in DC will remain open?
How long do these idiots think that people are going to continue spending good money so that human-shaped locusts can steal them blind?
There will be no shops left in Washington DC, and then they'll start whining about "food deserts" and "CVS deserts."
"In fact, the only items in stock are the ones that are locked up. I did ask an employee what gets stolen the most, and they just laughed and said, 'Everything,'" she added.

According to store employees, the rowdy mob of minors routinely raid the store for chips, drinks and other items -- and claim street vendors also pay the teens to pocket items for the store that they later sell at a profit on the sidewalk.

...

"It makes me not want to shop there, to be honest," customer Ilana Miller told the outlet.

"I just go in there and get my prescription and then when I need other things, I go elsewhere because there's nothing there to get," she said.


Now comes the thievery-defenders to tell us all that we could cut down on looting if we just proactively gave the looters the shit they would otherwise steal:
"A lot of people can't actually afford things in CVS," DC resident Gerald Darling told WTTG.

"I'm not saying stealing has to be the solution to that," he added. "However, I don't know, maybe if the city could provide more accessible resources to unhoused or under-income folks who can provide them hair care, bodily care, hygiene care -- that could be an option."
Fuck off and die. Hope you get mugged tonight.
What's going to happen is that stores are going to make entry dependent on having a Trusted Shopper ID Card. You'll have to apply for this, and it will have your photo and name and everything. And stores will share Trusted Shopper knowledge, and accept other stores' Trusted Shoppers. And also, ban the "shoppers" put on the blacklist by other stores.
And then some people just won't be allowed into stores anymore, and they will cry racism.


posted by Disinformation Expert Ace at
05:50 PM
|
Access Comments