« Daily Tech News 4 October 2023
|
Main
|
Mid-Morning Art Thread »
October 04, 2023
The Morning Report — 10/4/23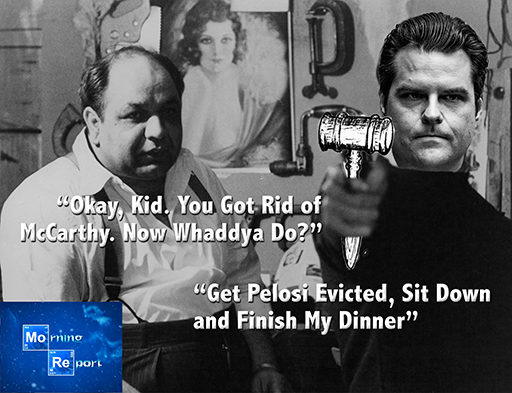 Good morning, kids. Good for Matt Gaetz. He did the absolute right thing in kicking the low-rent poor-man's bargain-basement version of John Boehner, Paul Ryan and Eric Cantor out of the Speakership. Will it make a damn bit of difference to the nation? Probably not, at least in the short term, if at all. Whether it's the majority of the GOP politicians and punditry alike freaking out or the Democrats gloating on that party's disunity, it's all kabuki-bukkake theater anyway. Gaetz's sin is merely exposing it.
Fool's errand? Pissing in the wind? Last stand at Corregidor? You'll have to decide that. But America is no more. It's a banana republic in all but name only and the lying bastards who pretend to be on our side and fight for the Constitution are only there to fight for their seats at the trough; as the remora to the megalodon that is the Democrat Party and it's deep state operatives in the Leviathan.
Here's a prime example of sheer cluelessness that so many display. I give you Stephen Kruiser from the rapidly-decaying PJ Media:
I've seen a lot of internecine squabbles in the Republican party in my decades of activism, but that mess yesterday was really something different. The unceremonious end to Kevin McCarthy's brief tenure as Speaker of the House offered almost nothing to like, unless you're a fan of drama for drama's sake.

It should be noted up front that I like everything about what the Freedom Caucus stands for. The members of it are singing my song. Unfortunately, I get the feeling that all they're ever capable of doing is singing louder. At some point it becomes shrieking rather than singing, distorted well past the point of when the original meaning of the song can be conveyed.

I also don't think that there are any good guys in this family feud.

McCarthy failed to learn Rule #1: Don't trust the Democrats. He knew that if he brokered a deal for a temporary funding bill that Matt Gaetz would come after him. McCarthy apparently thought that some of his new Democrat friends from the stopgap resolution would vote to table Gaetz's motion to vacate.

Oops.

The timing here was unfortunate. Gaetz is an ego-driven blunt object and it's impossible to figure out if he thought beyond getting this wish of his. Only a Republican could come up with the idea to team with Democrats to punish a Republican for teaming with Democrats. . .

. . . Once more, I am on board with most of what the Freedom Caucus wants. I don't see how they're going to get it because of what happened yesterday. There are a lot of people who think some good will come of it. They can't explain how, but they're sure of it. I'd wager that most of them are relatively new to conservative politics. Here was something I tweeted yesterday after McCarthy was given the boot:

Look, I like what the Freedom Caucus stands for, but at some point, it needs to learn to be more than just the Tantrum Caucus.

I stand by that. Let's win some spending wars. Let's also realize that, as Schlichter points out in his latest VIP at Townhall, the party with the four-seat majority can't govern like it has a 60-seat majority.

Just think things through, is that too much to ask? Yeah, probably.
Think things through? How about you pull your head out of your ass and take a good look around at what the hell is happening to this nation, the epicenter of which is D.C. Why the fuck do you think there is a Freedom Caucus in the first place, Kruiser? It's because the GOP since the damned Eisenhower administration has done essentially nothing to halt let alone reverse the initial creep towards dissolution of the republic which is now going at or near warp speed, pun intended.
The only thing that Gaetz perhaps can be faulted for is thinking that replacing McCarthy with an actual opposition leader will achieve anything. That is if the GOP allows that to happen. Forget the speaker; you'll have to purge the majority of the party first. And even then, the entire system is so corrupt that even that is mere Titanic deck chair rearranging.
When Democrats are in the majority, they get their way. And when Republicans are in the majority, the Democrats also get their way. Most recently, after the stopgap spending bill was passed, Rep Jamie Raskin took to MSNBC to boast that the Democrats "got the vast majority of what we wanted" from it. And for some Republicans that was the last straw.

Eight House Republicans allied with Democrats on a vote to remove Speaker Kevin McCarthy. And for the first time in over a century, a House Speaker was successfully booted from office.

A civil war among Republicans came down to threats from both sides of collaborating with Democrats in a House of Representatives with a narrow majority. And collaborating with Democrats seems to be the only thing that House Republicans know how to do anymore.

What are the legislative achievements of a House GOP majority, today, yesterday and the day before? They invariably involve collaborating with Democrats for personal political gain.

It's been over a generation since a House Republican majority delivered for conservatives. Congressional Republicans are too terrified to fight Democrats and instead go after safe targets like each other. It's not even worth counting how many times a Democrat White House made a House Republican majority cower in fear over the threat of being blamed for a government shutdown. Or how often that same majority compensated for surrendering to Democrats with meaningless virtue signaling votes that everyone knew were never going to pass the Senate. . .

. . . House Republican majorities do very little because they want to avoid taking responsibility for anything. When there is a Republican Senate majority or a Republican White House, they defer to them. And when there isn't, they defer to the Democrats. The pattern is that the House Republican leadership wants someone else to take on their responsibilities.

Congress increasingly doesn't legislate, it rubber stamps, and the House GOP leadership has been among the worst offenders. But the situation isn't likely to improve under any speaker. The GOP leadership has concentrated legislative power in the hands of small men like Rep. Kevin McCarthy and Rep. Paul Ryan who haven't the faintest idea of what to do with it except to prevent things from being done that might upset the status quo too much. Weak speakers are fall guys whose only job is to last long enough to deliver some stability for special interests. . .

. . . Under Democrats, the speakership was a powerful position, while under Republicans it's become a thankless job offering power without purpose in a deeply divided party.

And that is the real crisis.

What is the purpose of a GOP House majority? What is it there to accomplish? When all the hysterical fundraising emails, texts and carrier pigeons have been sent, what does it do?

Republicans campaign like insurgents, but they govern like placeholders. All the insurgent energy is completely lacking once the business of cutting 30 second ads gives way to the dry tasks of scheduling the votes that the leadership wants on the money that it wants to give away. . .

. . . A party like that requires strong leaders who know what is at stake: not hollow men and grifters.

The House GOP doesn't have a speaker because it doesn't have a mission. And without a mission, it's only a matter of time until every session falls apart into self-serving drama. Either the House GOP will find its mission or it will continue to waste time that America doesn't have.

Either Republicans will find their mission or they will lose.
Daniel Greenfield gets it a hell of a lot more than Stephen Kruiser, but in reading the whole essay you get the sense that he too seems to think that we can fight back by traditional means and regular order when that no longer exists.
Case in point, supposedly the junta is scrambling to reassure Zelensky that the funding for the forever war in Ukraine will still be forthcoming, despite the shenanigans in the House. Assuming the growing wave of even a disunited GOP to unite or at least present a clear majority against said funding prevails. Does anyone think that Biden's puppet masters aren't going to flip Congress the bird, and just direct the Treasury to ship pallets of cash to Kiev without even giving it a second thought?
Don't fool yourselves. They're getting that cash and probably boots on the ground, or more boots on the ground because I have a sneaking and horrifying suspicion that Ukraine right now is MACV 1964 all over again.
Speaking of the military as well as the complete corruption of and by the bureaucracy of which it belongs, dig this flashback to only a few short years ago:


During the Trump presidency, Pentagon officials refused to follow orders, substituting their own policies over the constitutionally ordained authority of their Commander in Chief. We know that officials lied about troop strength in Syria, attempted to undermine and kill the peace initiative with the Taliban in Afghanistan, and refused to call out the military to quell civil unrest during the George Floyd riots. This is gross insubordination. . .

. . . The Pentagon's active obstruction of Trump's policies and orders amounted to a treasonous coup. There is no value in an American military that will not do what its members have sworn an oath to do and what they are paid to do: To follow the orders of the elected commander-in-chief and protect American lives.
That's just the military, which in and of itself is shocking and bad enough. Now substitute any and every agency, department, bureau and office in D.C. from cabinet member secretaries all the way down to the janitors and toilet attendants. This is the government. This is who calls the shots. The president and Congress are essentially powerless to control it. The latter does not want the actual responsibility of crafting laws since, in theory, whatever they do might piss off an electorate that will vote them out of office for doing their jobs. I say in theory since the integrity of elections is now highly doubtful in the wake of 2020 and 2022. As for the former, a president can wield power only if he's a Democrat-Leftist or a GOP – a Go-along Obsequious Placeholder should he accidentally "win" an election here or there.
So Matt Gaetz is an asshole. Matt Gaetz is a traitor. Matt Gaetz is an egomaniac. Matt Gaetz screwed up the slim majority, and on and on and on.
No GOP. YOU bastards did that. And you've been doing it since forever. You can bitch and moan all day long about Democrats but it's not what they did but what you collectively did not do that got us Trump, and now Gaetz. Will the latter lead to anything substantive? Doubtful, yet it is a moral victory.
But I am sick to fucking death of moral victories.
ABOVE THE FOLD, BREAKING, NOTEWORTHY
BIDEN CRIME FAMILY REVELATIONS
NOTE: The opinions expressed in the links may or may not reflect my own. I include them because of their relevance to the discussion of a particular issue.
ALSO: The Morning Report is cross-posted at CutJibNewsletter.com if you want to continue the conversation all day.
Follow us on Twitter: @CutJibNews
Follow us on Instagram: @Cutjibnewsletter
TIP JAR : Your support helps keep the lights on and is truly appreciated. Note: We are on Stripe, not PayPal.

posted by J.J. Sefton at
07:40 AM
|
Access Comments