« Supermarkets Are Closing in Chicago Due to Mass Looting, So the Woke Mayor Proposes... the State Opening Its Own Supermarkets So That Thieves Still Have Stores to Loot From
|
Main
|
Couchbutt Cafe »
September 27, 2023
Quick Hits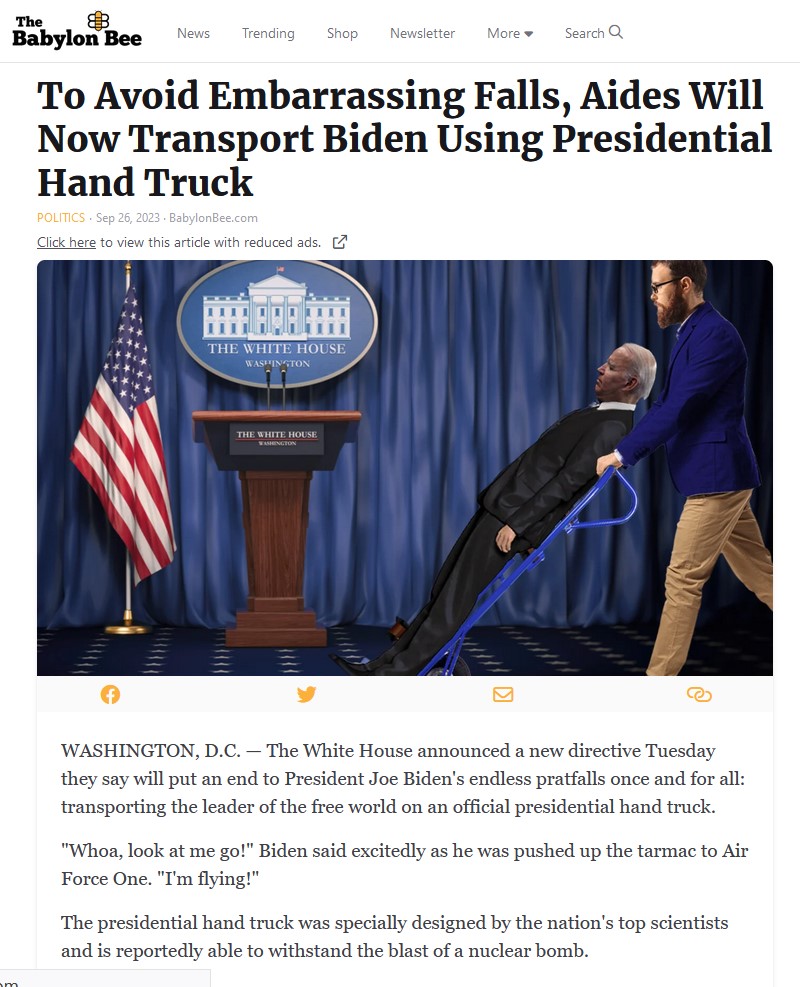 He looks like the Hannibal Lecter of Underage Hair-Sniffing.
Earlier I asked if Hunter Biden was living at Nursing Home Joe's place when the $250,000 bribe was wired to Joe Biden's home address. Apparently not -- he was living in California.
Also, Joe Biden earned that money -- by helping the guy who sent it get his daughter into college.
White House spokescreep Ian Sams lies: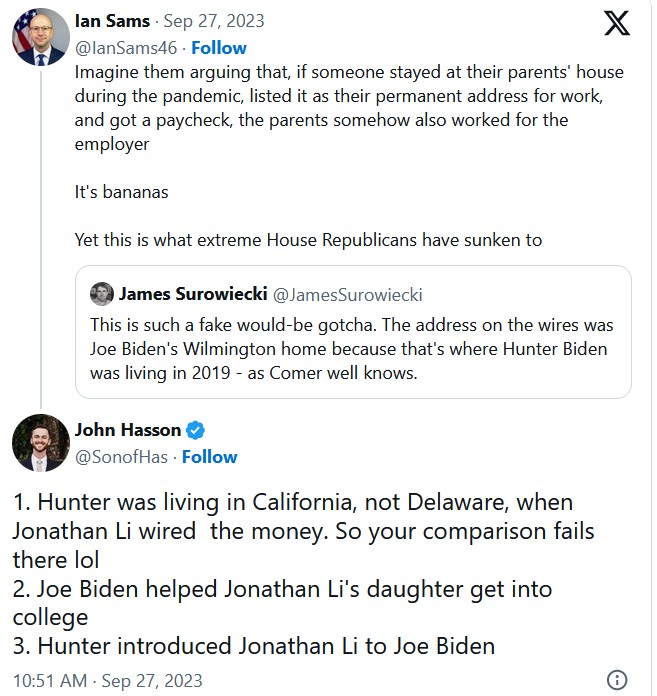 Biden's dog has bitten its 11th Secret Service agent. As Stephen Green notes, there are no bad dogs, only abusive owners.
A DOJ former assistant attorney who prosecuted J6 "insurrectionists" has been arrested for... stabbing a man in a road rage incident.
The Tampa man accused of stabbing another motorist after a crash on the Howard Frankland Bridge on Tuesday is a former assistant U.S. attorney who spent about a decade at the U.S. Attorney's Office in Tampa.

Patrick Douglas Scruggs, 38, worked for the U.S. Attorney's Office from 2013 until 2023, according to his LinkedIn page. In May, he joined Barnes and Thornburg, an Atlanta-based private law firm, as an "of counsel" attorney, the page says. The page describes Scruggs as "a seasoned litigator and investigator with experience in various practice areas of criminal law. ..."

Now Scruggs faces his own legal trouble stemming from a bizarre chain of events that unfolded on the Howard Frankland as rush hour was winding down on Tuesday.

According to a news release issued Tuesday by the Florida Highway Patrol, a 40-year-old Tampa man was driving a sedan south on Interstate 275 when he and his 43-year-old wife noticed a vehicle that was stopped in the travel lanes of the bridge shortly before 9:24 a.m. The 35-year-old driver, also of Tampa, was slumped over inside his sedan, troopers said, so the couple pulled over in front of the car to help.

The 40-year-old man was unable to get inside the other sedan, so he walked back to his car to get something that could break the window. While he was doing that, the 35-year-old man woke up and accelerated forward, crashing into the couple's sedan. He shifted into reverse and then tried to get around the couple's sedan, according to troopers, but at that point, he struck Scruggs' sedan as he was driving by the scene.

Scruggs pulled over, got out and walked up to the driver of the vehicle that hit his car. According to the Highway Patrol, Scruggs broke a window and started stabbing the 35-year-old man with a pocketknife.

The couple returned to the vehicle to help the man being stabbed, but Scruggs then tried to stab them and they fled, troopers said.

...

Scruggs also appeared on behalf of the federal government during hearings for Florida residents accused of taking part in the riots at the U.S. Capitol by supporters of outgoing President Donald Trump on Jan. 6, 2021.
Are most civil servants mentally ill?
Lower-mid quarterback and champion whiner Colin Kaepernick begs to be added to the New York Jets practice squad to see how much dissension and drama he can add to the team (CNN):
"I am sure of my ability to provide you with an elite QB option if, God forbid, QB1 goes down," Kaepernick wrote. "However, I know that there may naturally be uncertainties from you and possibly from others about my playing abilities. Advertisement

"This plan, I believe, allows me to be of great service to the team as a practice squad QB, while also giving you a low-commitment chance to assess my capabilities to help in any other capacity you may see fit.

"Worst case scenario, you see what I have to offer and you're not that impressed. Best case scenario, you realize you have a real weapon at your disposal in the event you ever need to use it. In either of these scenarios, I would be committed to getting your defense ready week in and week out, all season long, and I would wear that responsibility like a badge of honor."
Breaking: Attention Whore wants Attention, seeks group seeking same.
Speaking of whores, the Democrat prostitute running for Congress, who performed sex acts for money on Chaturbate under the nom de sex "HotWifeExperience" is dropping support faster than she drops her panties for "tokens."
Susanna Gibson, who is running to represent the 57th District in the Old Dominion's House of Delegates, trails Republican David Owen by 49.5% to 38.9%, a Cygnal poll exclusively obtained by The Post shows.


Owen, a businessman, held a 4% lead among those voters when Cygnal conducted a previous survey of the race in August -- before the Washington Post broke the news of Gibson's online sex shows.

Since then, Gibson's unfavorability rating has increased from 12.5% to 45.2% among likely district voters. Meanwhile, her favorability rating has declined from 28.1% to 27.3% between August and September.
I think the NY Post is having fun with the Washington Post, giving them credit for breaking the story. In fact, the Washington Post ran the story only to blunt the damage that the already-leaked clips of of Candidate Squirt Queen were doing.
Jim Clyburn: When Joe Biden was providing the access for his crackhead get to sell to Chinese intelligence agents and Ukrainian oligarchs and Russian gangsters, he was just "being a father to his son."
Representative James Clyburn (D-S.C.), who is widely credited with saving Biden's 2020 presidential campaign, didn't even try to deny the existence of evidence during his appearance on "Meet the Press" on Sunday, and simply argued that--are you ready for this?-- Republicans want to impeach Joe Biden for "being a father to his son."

"Let me ask you about the impeachment inquiry that is going to unfold this week on Capitol Hill. I know you and your Democrats have called this pure politics," said host Kristen Welker. "But big picture, they're trying to see if there's any link between Hunter Biden and the president and his business dealings. Are you comfortable with a family member profiting off their last name in this town?"

"You know, we all, to some extent, live so that our children can be proud of the name that we've given them. I have three daughters, and I want them to feel very comfortable being a Clyburn," he said, clearly avoiding answering the question. "I do know that that is very, very important for going forward, but that doesn't mean they want them to do things that are unseemly to the name. I do want them to use the name to their benefit."

"Yet, President Biden, according to one witness testimony, was on the phone 20 times with Hunter Biden's business associates and described as pleasantries, but is that appropriate?" she asked.

"I think it's appropriate to be a father to your son, and if your son is having a problem, and we all know the history of the problem that Hunter has with addiction, and he is being a father to his son," Clyburn claimed. "You don't impeach a man for being a father to his children."
LOL, get f*cked, racist creep.
Elon Musk stirred the pot more by saying, WITHOUT EVIDENCE, that Donkey-Chompers just "is not that smart."
She responded, dumbly, by failing to address his statement entirely: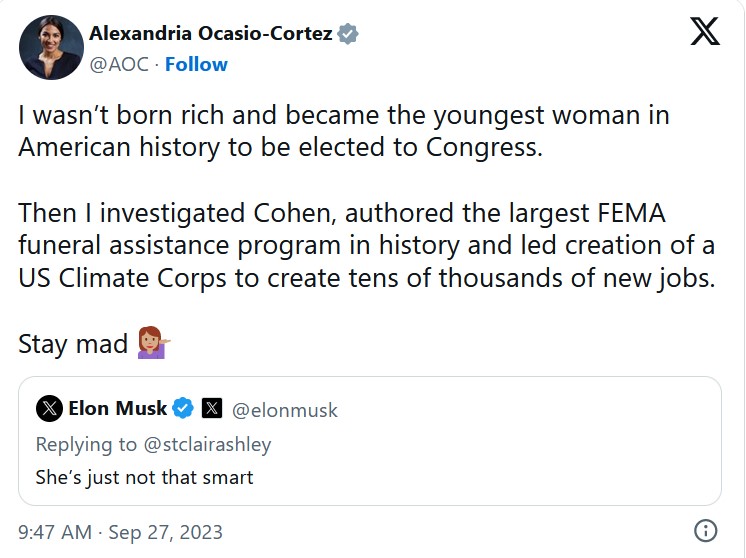 Her IQ is DD, but she thinks that makes her smart, instead of just someone that men pretend to pay attention to while they're trying to angle their way into her blouse.
Incidentally, this little idiot contradicted Biden's spin that we've never seen an economy so great as this one by calling it "an economy in crisis."
Indian news outlets reporting "credible rumors" that drug-sniffing dogs detected cocaine in Justin Trudeau's luggage, and that he skipped out of the G20 dinner because he was high off his ass on coke:

posted by Disinformation Expert Ace at
06:30 PM
|
Access Comments