« Tucker Carlson Alleges That the US Government Blocked Him From Interviewing Putin
|
Main
|
Fugitive Arms Dealer Gal Luft: Chinese Intelligence Agent and CEFC Front Man Patrick Ho Was Able to Flee the US Because an FBI Mole Tipped Him Off »
September 25, 2023
Canada Is Now So Woke It's Honoring (Checks Notes) Actual Waffen-SS Nazis
The left are in fact Nazis, so this checks out.
The Bee scoops: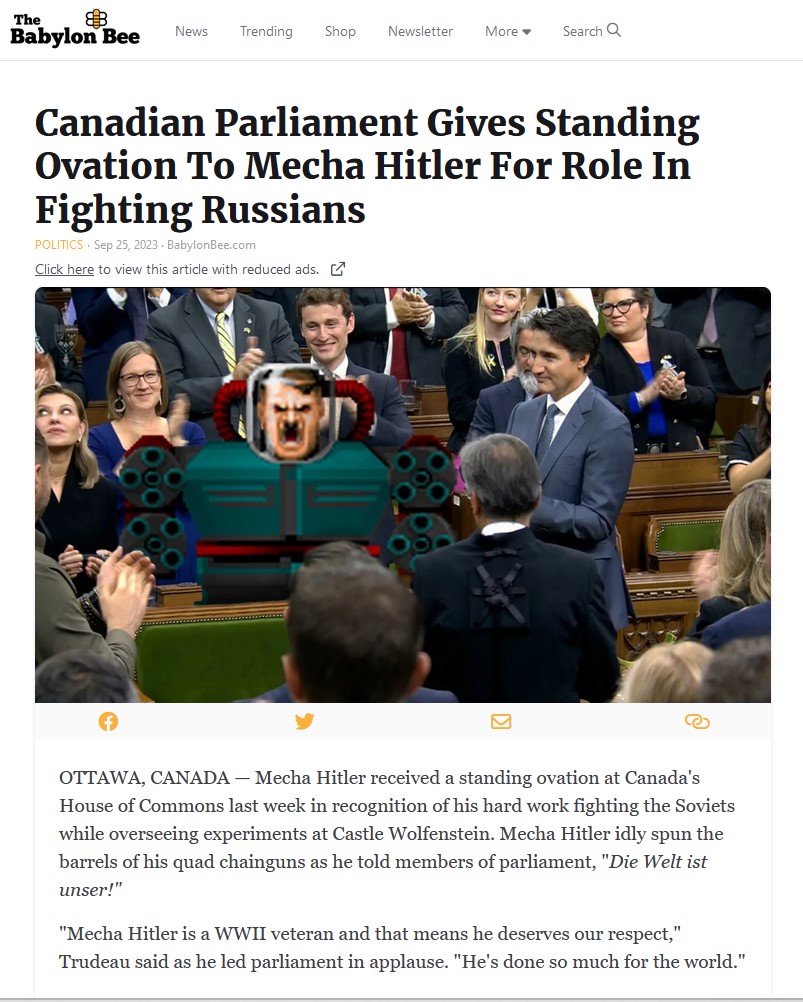 The Liberals in the Canadian Parliament, including Fidel Castro's pansy bastard, gave a Nazi a standing ovation. Thanks to Grump for that.
Not a fake Nazi. Not the sort of people the left calls "Nazis." A real Nazi.
He actually wore the Nazi uniform -- the Waffen-SS uniform, in fact.
The man they honored as a wonderful Fighter of Russians was in fact a member of Hitler's Waffen-SS.
It has been known for decades that many of these Nazi Waffen-SS changed their names and fled Germany for Canada, claiming they had served in the Ukranian army, rather than German army.
The Jewish Forward reported, via Instapundit:
Formed in 1943, SS Galichina was composed of recruits from the Galicia region in western Ukraine. The unit was armed and trained by the Nazis and commanded by German officers. In 1944, the division was visited by SS head Heinrich Himmler, who spoke of the soldiers' willingness to slaughter Poles."

Three months earlier, SS Galichina subunits perpetrated what is known as the Huta Pieniacka massacre, burning 500 to 1,000 Polish villagers alive.
This is not some new revelation that caught the Canadian liberals by surprise. Any level of vetting would have told them to be very careful of an emigrant from Europe coming over during the mid-40s claiming to have been a member of the Ukrainian army.
Ezra Levant recounts the history of the unit fleeing for Canada here. Again, this is not a secret.
But the Canadian liberals didn't check this guy's background -- or, Ezra Levant speculates, they did check and didn't care.
This would hardly be the first time the woke liberal monsters have excused their Ukrainian heroes for dabbling in some Naziism and Hitlerism.
Politico avoids naming names or identifying the political party who just honored a 98-year-old Waffen-SS Nazi.
OTTAWA, Ont. -- A ranking Canadian parliamentarian is apologizing to Jewish communities around the world for a blunder during Ukrainian President Volodymyr Zelenskyy's visit that led to lawmakers honoring a veteran accused of belonging to a Nazi division in WWII.

It followed demands by Canadian Jewish organizations Sunday for an apology after it was revealed members of Parliament across party lines awarded a 98-year-old veteran on Friday with a standing ovation shortly after Zelenskyy addressed Canada's House of Commons.

Yaroslav Hunka stood and appeared to salute from the public gallery when he was recognized by House Speaker Anthony Rota, who introduced Hunka as a Canadian-Ukrainian war hero from his political district.

"We have here in the chamber today a Ukrainian-Canadian veteran from the Second World War who fought for Ukrainian independence against the Russians and continues to support the troops today, even at his age of 98," Rota said Friday, followed by a lengthy round of applause and a wave by Zelenskyy. "He's a Ukrainian hero, a Canadian hero, and we thank him for all his service. Thank you."

Jewish advocacy groups the Friends of Simon Wiesenthal Center and B'nai Brith Canada condemned his honoring as disturbing and "beyond outrageous" because he fought with the First Ukrainian Division -- also known as the 14th Waffen Grenadier Division, which served under command of the Nazis.

Jewish news website The Forward reported that Hunka wrote blog posts describing his time in the unit on a Ukrainian-language website run by an association of the unit's veterans, called "Combatant News."

Who specifically invited and honored him, Politico?
Who specifically gave a standing ovation to a Nazi, Politico?
Do you not know?
I think you know.
I think you all know: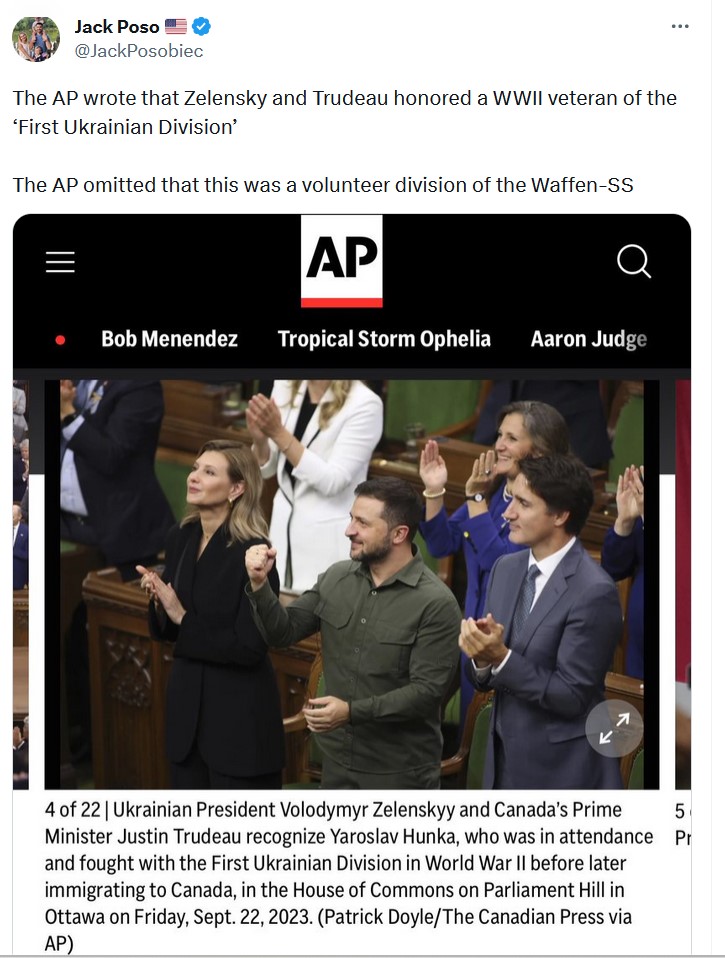 Politico earlier downgraded him from an actual Nazi to being merely "Nazi-linked:"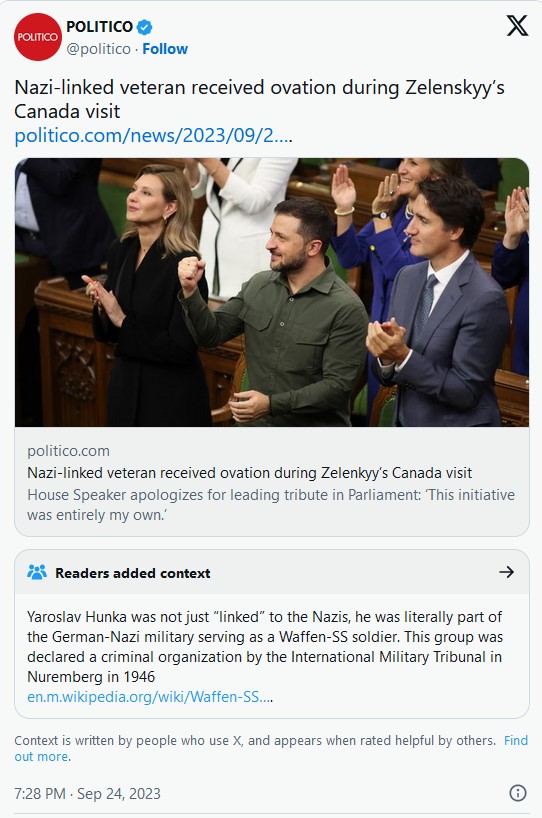 I think I know why they did that -- the term "Nazi-linked" is part of their active vocabulary for smearing political enemies that the left has falsely accused of being Nazis. When they discover a real Nazi, not a fake one, their brains just go to their well-used macro of "Nazi-linked."
Ezra Levant was one of the first to point out that Canada was handing out awards for Best Nazi Commandant:
Ezra Levant @ezralevant

What a roller coaster of a week it's been for Nazi SS officer Yaroslav Hunka!

For seventy years he has lived a quiet life in small-town Canada, trying not to be noticed by any Mossad Nazi-hunters.

In the twilight of his life, he was surely surprised to be contacted by the Canadian government -- not to prosecute him but to celebrate his life and call him a war hero!

He went to Ottawa, brought his friends and family, and received a standing ovation from every MP in the room!

His life was vindicated! He didn't have to be ashamed of being a Nazi anymore -- his own prime minister was cheering for him! Adolf Hitler would be so proud!

But then someone told the truth about him.

Not the regime media, like the newspaper run by Chrystias Freeland's Nazi grandfather. But independent journalists. Including some Jews.

And now Yaroslav Hunka has become the most famous Nazi in Canada.

I'm glad that, at least for the last months of his life, he will endure some of the shame that is so richly his.

Unlike his victims, who were murdered in the prime of their lives.
Ezra Levant @ezralevant

Tons of media hits today.


There's poetry in this story: Trudeau, the woke narcissist who calls everyone else a Nazi, is the only politician in history to invite a Nazi as a VIP guest.
Peter Boghossian @peterboghossian

It's interesting how those who have been smearing just about everyone as a Nazi for the past five years remain absolutely silent when an actual Nazi emerges and is publicly lauded.
Justin Trudeau, who applauded the Nazi "hero," knows who's to blame for this:
RUSSIAN DISINFORMATION.

posted by Disinformation Expert Ace at
05:42 PM
|
Access Comments