« Food Thread: Woven Food..Chicken With Cheese? What's The World Coming To?
|
Main
|
Sunday Overnight Open Thread (9/24/23) »
September 24, 2023
Gun Thread: Edition After 5th Anniversary Edition!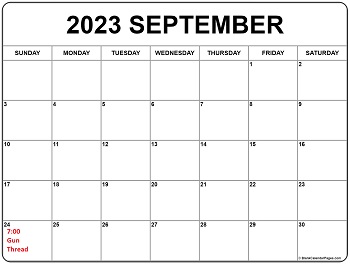 Howdy, Y'all! Welcome to the wondrously fabulous Gun Thread! As always, I want to thank all of our regulars for being here week in and week out, and also offer a bigly Gun Thread welcome to any newcomers who may be joining us tonight. Howdy and thank you for stopping by! I hope you find our wacky conversation on the subject of guns 'n shooting both enjoyable and informative. You are always welcome to lurk in the shadows of shame, but I'd like to invite you to jump into the conversation, say howdy, and tell us what kind of shooting you like to do!
Holy Shitballs! How in the ever-loving Hell did it get to be the edition after the 5th Anniversary Edition?
Programming Note: I am out of town this weekend and won't be around in the comments much. Have a good time and be cool. Regular wacky hijinks will resume next Sunday. Thanks!
With that, step into the dojo and let's get to the gun stuff below, shall we?
******
Guns of the Horde
Our pal
Long Time Lurker
de-lurks to share their Hi-Power!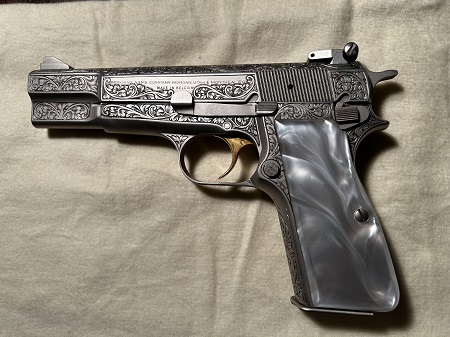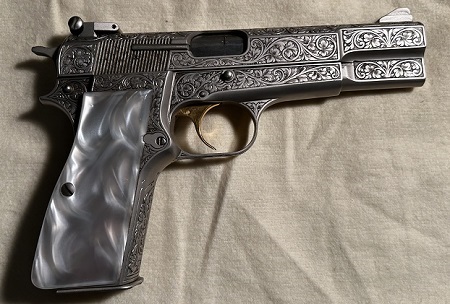 I really enjoyed your article this week on the post liberation Hi-Power. I thought your readers might enjoy seeing a bit newer version I recently acquired. Factory engraved by hand I think and manufactured in 1972. Hasn't been kept as pristine as I would have, but I could not pass it up.
Holy smokes! She's a beauty! Thanks LTL!
******
Guns Not of The Horde
Our pal
WTM
shares something I haven't seen before, the
Altor Corp 9mm
.
Reportedly it can hold a decent group because of the trigger design. Pull the trigger and release to fire, but the lack of decent sights makes me doubt that claim. I can't say I can even dream up a purpose for this thing, but if you wanted a very inexpensive 9mm, this is it!! MSRP $99
.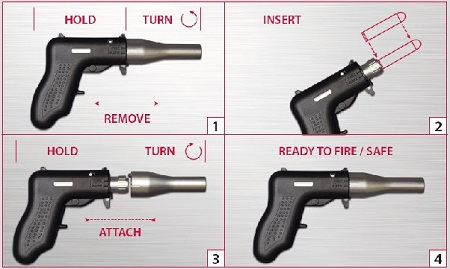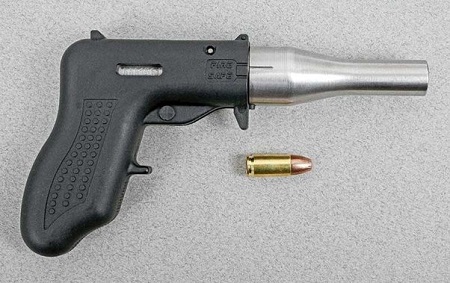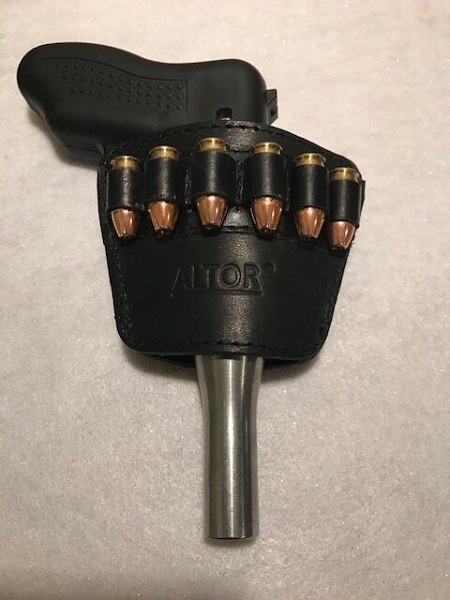 Well that is kind of different, huh? Thanks WTM!
******
Colt Gold Cup National Match
Here's our pal GunBlue490 at the range with a Colt Gold Cup NM.
******
Round in the Chamber
?
This is going to cause a shitstorm of controversy. Do you carry with a round in the chamber, or not?
******
Don't be That Guy in a Gun Store
Are you "that guy" in a gun store?
******
Uh-Oh
What to do if you have a negligent/accidental/unintended discharge.
******
Landing the Space Shuttle
This is pretty cool.
******
The Transistor
Let's take a look at the transistor!
******
Texas MoMe Madness!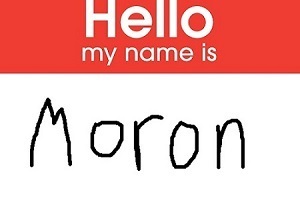 I'd like to remind everyone of the upcoming MoMe in Texas on October 20-21. If you're in either the northern or southern hemisphere of the planet of the earth, contact Ben Had for details. The dates and email links for MoMes are always helpfully included on the main page, left sidebar, so you really have no excuse!
There is an entire shooting program for both handguns and rifles over two days, world class food and drink, and the even world classier company of your fellow Morons! More on the Friday/Saturday schedule to come, so stay tuned.
Seriously, people. I have said this probably a hundred times now. These gatherings are a really good time, and I know of no one who regrets having attended one. No kidding. Would your ol' pal Weasel lie to you? MoMe veterans will attest to the funness. Don't be a dork, do yourself a favor and get your ass to Texas! If you're a TXMoMe veteran, please encourage the scairdy-cats to join in the fun!
TXMoMe Shooting Festivities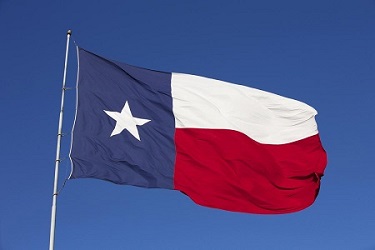 This seems like a good time to talk a little bit about the upcoming shooting program at the TXMoMe, or the Conservative's Burning Man, as it's popularly known. What started years ago as an informal plinking session lasting a couple of hours has matured into a full program of shooting activities over two days. I have to thank Ben Had, Cow Horse Queen and RancherBob for allowing the shooting to comprise such a significant portion of the TXMoMe.
For a while I have been conducting a Rifle Clinic on Friday morning followed by range time Friday afternoon and then again well into Saturday. We have also been steadily refining the handgun portion of the program to now include an IDPA-esque move-and-shoot pistol course designed and run by Nurse R. There is also the usual static pistol range for those who prefer that style of shooting and a separate setup for gun-curious beginners desiring one-on-one supervision and instruction. Lastly and by popular demand, we're hoping to add a gun cleaning and maintenance clinic both days which will run concurrently with the live-fire programs.
Anyhoo, here's a very rough outline of the schedule of events. Times are tentative and subject to modification/change. I'll move this down to the TXMoMe section below in the coming weeks and update as necessary.
Friday, 10/20
Rifle Program
8am - 10am: Rifle Clinic (carport)
10am - 11am: Combined Range and Safety Briefing -
Mandatory for Friday Arrivals!
(carport)
11:30am - 1pm: Rifle Clinic, Intro to Wind Estimation (rifle range)
1pm - 4pm: Live fire (rifle range - targets to 1,000 yds)
Handgun Program
10am - 11am: Combined Range and Safety Briefing - Mandatory for Friday Arrivals! (carport)
11:00am - 12:30pm: Handgun Clinic (carport)
1pm - 2:30pm: Static live fire (pistol range)
1pm - 3pm: A clean gun is a happy gun (carport)
2:30 - 4pm: Briefing and Move & Shoot live fire (pistol range)
Saturday, 10/21
Rifle Program
9am - 10am: Combined Range and Safety Briefing -
Mandatory for Saturday arrivals!
(carport)
9am - 1pm: Live fire (rifle range)
Handgun Program
9am - 10am: Range and Safety Briefing - Mandatory for Saturday arrivals! (carport)
10am - Noon: A clean gun is a happy gun (carport)
9am - 1pm: Live fire (pistol range)
Again, these times are approximate and may change as weather conditions and participation warrant.
You will note there are combined rifle and handgun range safety briefings both days and attendance at one is mandatory. We take your safety seriously and ask everyone who plans to shoot to please also plan on attending this important briefing. All shooters are asked to check in with an RSO (sporting an Orange Cap of Dorkiness for easy identification) upon your arrival at either of the ranges who will answer questions and direct you to an open firing position. The RSOs wield unspeakable power so it is in your best interest to be nice to them.
If you are a novice shooter, or even have never been to the range before and think guns are icky, you are welcome to shoot! Just see an RSO and they will set you up with an experienced shooter to help you. If you miss the mandatory range safety briefing which is mandatory and must be attended, all is not lost. See an RSO to plead your case, be harangued and chastised, and then spend some punishment time on the Disciplinary Range of Shame. In the interests of time, please make it to the scheduled range briefings. Thanks.
Finally, please plan on stopping somewhere along your way to Texas and picking up some ammunition if you plan to shoot and aren't bringing your own weapons. Everyone is very generous with sharing, but please don't rely on the generosity of others to provide everything for you. You can really help out by grabbing a box of 9mm or 5.56mm or whatever you want to shoot. I will bring one of my practice rifles and if you would like to engage our new 1,000 yd target, pick up a box of 175gr. Federal Gold Medal Match in .308 Winchester ammunition.
Call for Volunteers
Help! As I mentioned above, the shooting program in Texas continues to grow, and we wouldn't be able to do it without a lot of help. If you're interested in lending a hand in some capacity, please drop me a note at gunthread at protonmail dot com indicating your date and time of arrival, and we'll be in touch. Thank You!
RSOs from prior years: Expect an email from me soon.
If you are attending the TXMoMe this year, and all the cool kids are, please keep an eye on this section for important information and updates in the coming weeks! I also want to reiterate the TXMoMe is not a gun thing with some socializing attached, but rather is a social thing with some shooting attached. If you aren't a shooter, I guarantee you will not feel out of place and will have a great time. No fooling!
Are all y'all getting excited? Weasel are!!
******
Musical Interlude
Here is an unnamed middle school band with part of a Weezer cover.
Whoops! Whoopsie-Doodle! That's going to not impress the ladies.
******
Gun Basics 101
Good News/Bad News
Good News: New video from the She Equips Herself gal on self-defense shooting resources!
Bad News: It's mostly Mr. She Equips Herself.
******
Cigar of the Week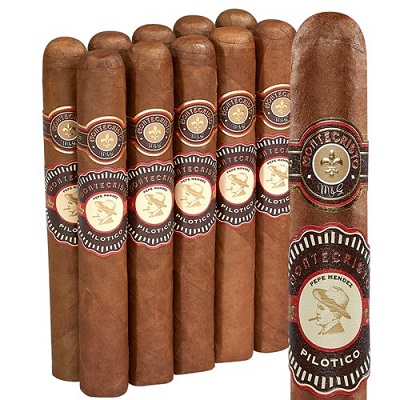 This week our pal Diogenes weighs in with this excellent review of the Montecristo Pilotico Why is it so hard to find? Because it's apparently been discontinued. Anyhoo, they're still floating around out there so let's see what Diogenes thinks about it!
I have written before of my Love-Hate relationship with Montecristo cigars. This last Tuesday, whilst skinning the old geezers for $12 on the golf course, I pulled out a Montecristo Pilotico. It was a large ring, 5 1/2-inch stick with a strong start that maintained for the length of the cigar. Not overwhelming but not a cigar I'd recommend for the beginner. Good even burn, nice texture, and a strong cigar aroma with a taste of cinnamon and spice. So, I go to look it up and grab a picture for this review and - nada. Zip. Nothing. Even after looking at the Montecristo site and several of the major suppliers.

Huh!?

So this was either a one-off that got stuck in the sample kit Mrs. D bought me; or, a knock off by some other more nefarious supplier. Either way, I won't be smoking one of these again, and apparently, neither will anyone else. Sometimes this happens.

Mores the pity.
Excellent, Diogenes! Appreciate it!
******
Here are some different online cigar vendors. You will find they not only carry different brands and different lines from those brands, but also varying selections of vitolas (sizes/shapes) of given lines. It's good to have options, especially if you're looking for a specific cigar.
Cigarsinternational.com
Cigarpage.com
Famous-smoke.com
Cigarsdaily.com
Neptunecigar.com
Smallbatchcigar.com
Bobalu Cigar Company
Cigarbid.com
A note about sources. The brick & mortar/online divide exists with cigars, as with guns, and most consumer products, with respect to price. As with guns - since both are "persecuted industries", basically - I make a conscious effort to source at least some of my cigars from my local store(s). It's a small thing, but the brick & mortar segment for both guns and tobacco are precious, and worth supporting where you can. And if you're lucky enough to have a good cigar store/lounge available, they're often a good social event with many dangerous people of the sort who own scary gunz, or read smart military blogs like this one. -rhomboid
Anyone have others to include? Perhaps a small local roller who makes a cigar you like? Send me your recommendation and a link to the site!
******
Ammo Link-O-Rama
I'm really very seriously not kidding around anymore. Buy Ammo
AmmoSeek - online ammo search tool
GunBot - online ammo search tool
SG Ammo
Palmetto State Armory
Georgia Arms
AmmoMan
Target Sports USA
Bud's Gun Shop
American Elite Ammo NEW!
***Mail Bag***
This week's mailbag entry is from our pal Hrothgar. Excellent point!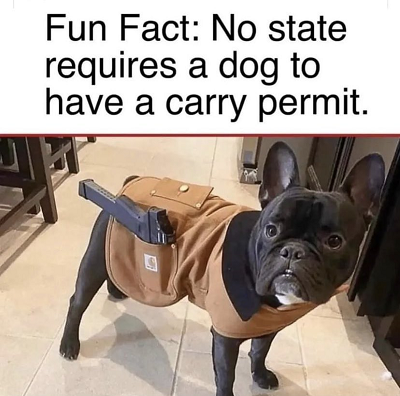 ******
Please note the new and improved protonmail account gunthread at protonmail dot com. An informal Gun Thread archive can be found HERE. Future expansion plans are in the works for the site Weasel Gun Thread. If you have a question you would like to ask Gun Thread Staff offline, just send us a note and we'll do our best to answer. If you care to share the story of your favorite firearm, send a picture with your nic and tell us what you sadly lost in the tragic canoe accident. If you would like to remain completely anonymous, just say so. Lurkers are always welcome!
That's it for this week - have you been to the range?


posted by Weasel at
07:00 PM
|
Access Comments