« Daily Tech News 20 September 2023
|
Main
|
Mid-Morning Art Thread »
September 20, 2023
The Morning Report — 9/20/23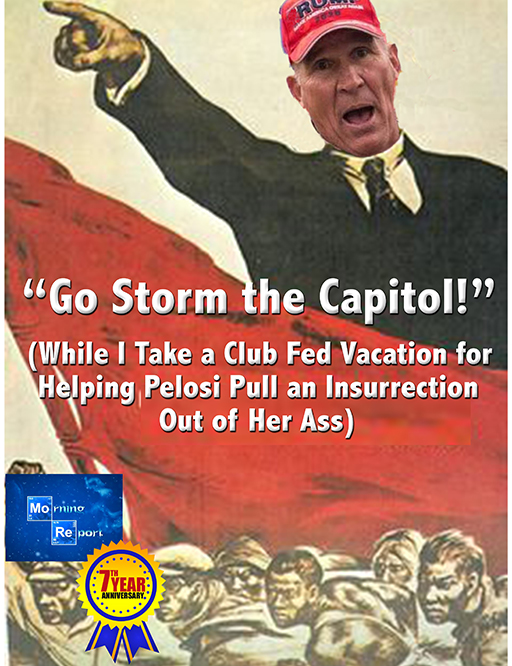 Good morning, kids. Goodbye summer and hello to the autumnal equinox. Meh, our winter of discontent to say the least is here, con gusto. I mean, it says something about the depths to which we have sunk when the story of Ray Epps, and the Capitol "Riot" – Translation: FBI/DOJ/Nancy Pelosi-engineered entrapment scheme-cum-Reichstag Fire – the culmination of the theft of a presidential election denoting the nail in the coffin of the United States of America, is drowned out by all of the ensuing depredations against our freedom and prosperity and the destabilization of the general peace of the world since 1945.
It is what it is, and I suppose despite this Epps character's laughable lawsuit against Fox and Tucker Carlson for "defamation," perhaps justice is about to be served after all. Except it's the kind of justice you'd expect from a banana republic. One that Epps himself was quite obviously in bed with if not a part of:
"60 Minutes," The New York Times, Adam Kinzinger, and the FBI's favorite J6 Capitol protester has gotten a slap on the wrist for what sure looked like helping to incite the January 6 riot at the Capitol Building. Why now?

Ray Epps, the man the news media said was the object of conspiracy theorists of the "hard right," was charged Tuesday with one misdemeanor count of disorderly conduct for his antics at the Capitol Complex on Jan. 6, 2021. It has taken the federal government more than two and a half years to bring the single charge against Ray Epps.

There will be no political gulag in Epps's future. He will not be moved 13 times, making it difficult for an attorney or family to find him. No, that happened to the "Q Anon Shaman," as he revealed in my interview on the Adult in the Room Podcast.

Epps likely won't be thrown in a cell the size of a closet to waste away his days in prison, as many J6 defendants have. He likely will be able to shelter at home for all upcoming news interviews to once again reiterate that he did nothing wrong on Jan. 6. His record will reflect a misdemeanor disorderly conduct charge that probably will present no impediment to him for the rest of his life.

It's likely that Epps, a former member of the Oath Keepers, was charged now because the men the feds wanted to put away, the Proud Boys, have been sentenced. . .

. . . Ray Epps is believed by some, including many who have seen videos of him before and during the riot, to be a federal agent of some kind planted in the crowd on J6. Indeed, he appeared to be more than that. He was a person who looked like an agent provocateur that day. . .

. . . Contrary to most J6 defendants, Epps is quite fortunate in the selection of his criminal defense attorney. Edward Ungvarsky is one of the top criminal defense attorneys in Virginia and the D.C. area. Epps plans to plead guilty to the single charge instead of going to trial and undergoing discovery and other untidy things in which we might learn more about what he was doing at the Capitol on those days. Unlike other J6 defendants, such as President Trump, he will be able to plead guilty via "a virtual plea agreement hearing [that] was set for Wednesday, Sept. 20 before Chief Judge James Boasberg."

Epps has also managed to snag very connected civil attorneys in his defamation lawsuit against Fox News for reporting on his J6 activities. Attorney Michael J. Teter is helping to oversee his defamation case. Teter, an attorney for the radical Democrat lawfare group 65 Project, is attempting to disbar all lawyers who have helped President Trump. This is obviously to scare any and all attorneys away from working for the former president. Teter also works in concert with Delaware attorney Brian Farnan, who represented Dominion Voting Systems in its defamation against Fox News.
Victoria Taft's article gives a pretty good timeline of events showing Epps' movements, his statements and actions and law enforcement's reaction to all of it that underscores everything we have suspected and had confirmed soon after that horrible day (our perspective, not the Left's).
But there's more to this confirmation than the mere slap on the wrist that is sure to result in a suspended sentence followed on after an appropriate time has elapsed to take the spotlight off by a release from Club Fed, an expunging of his record and then a disappearance – if not a la Henry Hill then a la Jimmy Hoffa.
The FBI had so many paid informants at the Capitol on Jan. 6, 2021, that they lost track of the number and had to perform a later audit to determine exactly how many "Confidential Human Sources" run by different FBI field offices were present that day, a former assistant director of the bureau has told lawmakers.

At least one informant was communicating with his FBI handler as he entered the Capitol, according to Steven D'Antuono, formerly in charge of the bureau's Washington field office.

D'Antuono has testified behind closed doors to the House Judiciary Committee that his office was aware before the riot that some of their informants would attend a "Stop the Steal" rally thrown by former President Donald Trump but he only learned after the fact that informants run by other field offices also were present, along with others who had participated of their own accord.

The Washington field office had to ask FBI headquarters "to do a poll or put out something to people saying w[ere] any CHSs involved," he said, so they could get a handle on the scale of the FBI's spying operations at the Capitol that day.

"We started getting responses back" from FBI headquarters, added D'Antuono, which helped identify which field offices had planted confidential informants in the crowd. 

One paid informant from the Kansas City field office was at the Capitol as the crowd surged inside and allegedly was in communication with his FBI handler, "while they were in the crowd, I think, saying that they were going in," according to the former bureau brass.

"They were trying to stop some of the action happening and they left or whatnot."

Asked how many informants the audit discovered were in the crowd that day, D'Antuono would only say "a handful".

The FBI spends an average of $42 million each year in payments to its Confidential Human Sources, according to the Department of Justice Office of Inspector General, which has raised concerns about the vetting process for these paid informants. . .

. . . Defense lawyers at the trial of five "Proud Boys" recently asserted that the FBI had as many as eight informants spying on the organization and that at least one was with them at the Capitol that day.

Former Capitol Hill Police Chief Steven Sund has said that, in addition to the paid informants, the FBI had at least 18 undercover agents in the crowd plus an estimated 20 from the Department of Homeland Security.
If the FBI only had Ray Epps there to stir up trouble, given the actual facts of what occurred on the grounds and in the Capitol building proper, that alone is proof positive for me that the narrative/official story of the events of January 6th, 2021 as told by the Junta, the propagandists and everyone that supports them is a complete and utter myth.
Make no mistake; Steve D'Antuono is as horrid a Deep State apparatchik as Wray, Garland and the lot of them. For him to admit that not only were there "paid informants," i.e. agents-provocateur but that there were so many of them that he "lost count," that right there is a Howitzer-sized smoking gun.
44,000 hours of surveillance tape showing at worst stupid fools – unarmed and peaceful if not a little bit rowdy stupid fools – being led in and escorted slowly around by Capitol PD themselves after the latter opened the doors for them, and then exiting in a generally orderly fashion. The only fatalities were Ashli Babbitt, shot execution style by now-promoted and feted Capitol cop Michael Byrd, and Roseanne Boyland, brutally beaten to death by some of the "paid informants" that D'Antuono lost track off.
Not exactly storming the Bastille, is it? Meh, the Bastille stormed us. Is it merely pissing in the wind to rehash this? I get the criticism of Trump for essentially basing his campaign on the stolen election, and in a sense I agree with that criticism, at least insofar as how he crafts the message about it. At the same time, the ridiculousness of actually running for office in a country and via a system that screwed you over in the first place is glaringly obvious.
The fact that we look back on the halcyon days when we laughed at the gallows humor of knowing full well that perhaps only a few swing districts were "fortified" here and there in every election, and accepted it, is bad enough. If we're laughing at it now, we deserve to get it in the neck:
In Oct. of 2022, I reported on mind-boggling allegations of illegal ballot harvesting in Florida's Orlando metro area:

[Florida's new Office of Election Crimes and Security (OECS)]'s investigation was launched after Cynthia Harris, a former candidate for Orange County Commissioner, filed a sworn affidavit with the Florida Secretary of State's office. In her affidavit, Harris described a long-standing, systemic ballot-harvesting operation in the Orlando area's African-American communities. On Wednesday night, Harris appeared on Just the News, No Noise to discuss the electoral exploitation of black communities that she says has been going on for years.

Harris (who is also black) not only swore out an affidavit, but she had previously recorded and reported ballot harvesters in her neighborhood and retained their materials to show to law enforcement. The matter went to the Florida Dept. of Law Enforcement (FDLE) for a criminal investigation. I check in with their public information officers regularly to see what progress has been made. But a year after they took the case, the FDLE still has no comment because — you guessed it — the matter remains under investigation. Meanwhile, the contentious 2022 election came and went, and we are less than two months out from Election Day 2023, with no enforcement action against the Orlando ballot harvesting machine.

Now a new video is making waves in Connecticut, and once again, I'm hoping that this is finally the last straw that forces an actual enforcement action. . .

. . . In Connecticut, Bridgeport has long been one of those cities that Democrat state-wide candidates can rely upon for "midnight magic" — those last-minute miraculous discoveries of boxes of uncounted ballots that put them over the top in an election. It's so bad that, in 2012, an infuriating video made the rounds in which then-Mayor Bill Finch joked around with Democrat candidate (now U.S. Senator) Chris Murphy about securing his win over Republican rival Linda McMahon. "Always, always," Finch can be heard saying of his city. "We may be a couple days late, but you can be guaranteed you're going to get the votes."

In fact, Senate races can be very close in Connecticut, and a small number of ballots can change the outcome. So, yeah — what happens in corrupt cities can determine who an entire state sends to Washington, and thus it affects every American.

But the interesting thing about the last two cases I mentioned — Orlando and Bridgeport — is that the complainants are of the same party as the "winners" for whom the harvesters work. And they are tired of getting screwed in the primaries because they aren't the machine's preferred candidate.
That penultimate paragraph clues you in as to the horrendous damage inflicted on us just over 100 years ago from one of the first torpedoes to the republic: the 17th Amendment. This is just one reason why attempting to claw back and restore what once was is hopeless. Beyond the corruption of the institutions is the corruption of the people themselves. As the author, Andrea Thorne notes, the complainants in the suits aren't upset about the rigged elections. They're upset because they themselves didn't rig it enough for their crooked candidate to "win" over their rival.
And that right there tells you exactly why we are so screwed. A victory, at probably a terrible cost, in an existential struggle and the permanent deprogramming of at least a third if not more of this nation notwithstanding.
That assumes that we come out on top.
ABOVE THE FOLD, BREAKING, NOTEWORTHY
In Connecticut, Bridgeport has long been one of those cities that Democrat state-wide candidates can rely upon for "midnight magic" — those last-minute miraculous discoveries of boxes of uncounted ballots that put them over the top in an election. It's so bad that, in 2012, an infuriating video made the rounds in which then-Mayor Bill Finch joked around with Democrat candidate (now U.S. Senator) Chris Murphy about securing his win over Republican rival Linda McMahon. "Always, always," Finch can be heard saying of his city. "We may be a couple days late, but you can be guaranteed you're going to get the votes."
Maybe This Latest Blatant Ballot Box Stuffing Scandal Will Be the Last Straw

"Welcome to the Brave New World."
Feeling Helpless? All Part of the Plan
BIDEN CRIME FAMILY REVELATIONS
NOTE: The opinions expressed in the links may or may not reflect my own. I include them because of their relevance to the discussion of a particular issue.
ALSO: The Morning Report is cross-posted at CutJibNewsletter.com if you want to continue the conversation all day.
Follow us on Twitter: @CutJibNews
Follow us on Instagram: @Cutjibnewsletter
TIP JAR : Your support helps keep the lights on and is truly appreciated. Note: We are on Stripe, not PayPal.

posted by J.J. Sefton at
07:53 AM
|
Access Comments