« Disney Is Entertaining a Bid for the Purchase of ABC; ABC "News" Staffers Are Freaking Out
|
Main
|
Quick Hits »
September 18, 2023
White House Claims That, Despite Joe Biden's Legendary "Father's Love" For Hunter, He Will Not Pardon Him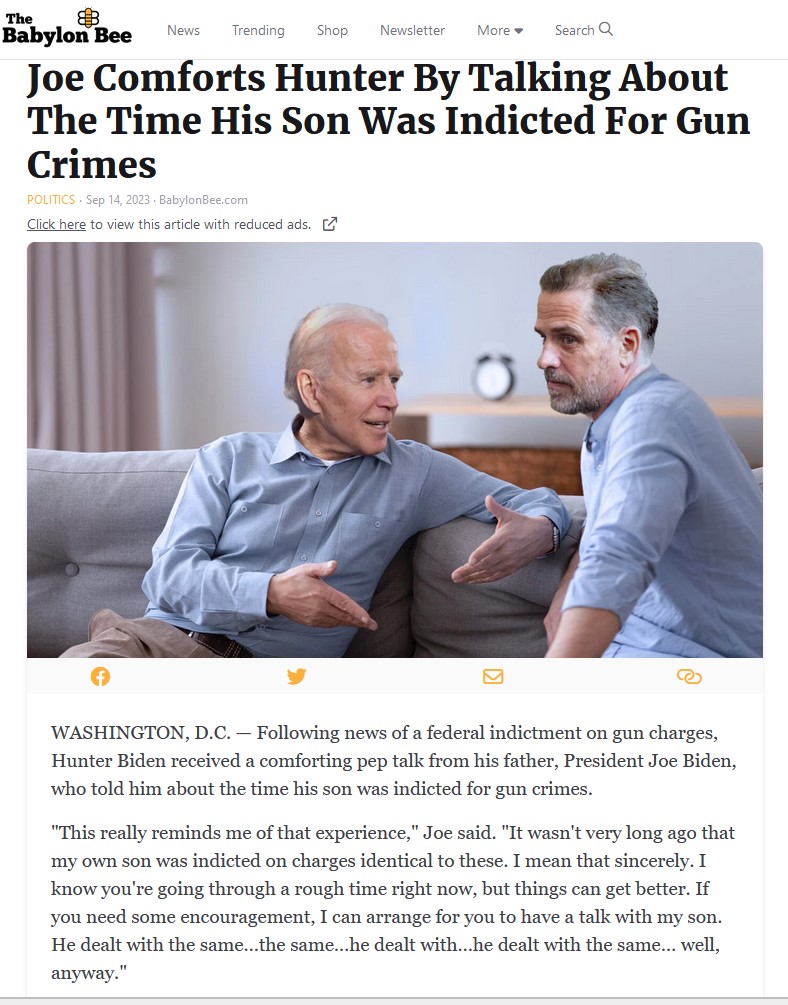 No less an authority than the well-informed, highly competent White House spokesman Karine Jean-Pierre rules out any chance of Hunter Biden being pardoned for his federal gun crimes.
"Why pardon him?" she asked snottily while pretending to look through a comically-large binder featuring clipped-out pictures of Big Bird. "We already have word that the fix is in with Weiss."
Ah, of course, yes, that would be the only possible reason.
White House press secretary Karine Jean-Pierre said President Joe Biden would not pardon his son, Hunter Biden, if he is convicted on felony gun charges. Earlier this week Hunter Biden was indicted by Department of Justice (DOJ) special counsel David Weiss. The three felony charges include making a false statement on a federal firearms form and possessing a gun as a prohibited individual.
Video below.
This lawyer with the Article III Project points out why they will not pardon Hunter Biden until the day he is scheduled to go to jail (if that ever happens): Because the moment Hunter Biden is pardoned, his testimony against himself cannot incriminate himself, and that means he can be forced to testify against Joe Biden in an impeachment trial, at least about the matters he's been pardoned about.
He also pointed out something else that's very important. Biden, the White House, and Democrats are claiming that if you can't prove money went directly to Biden, then he's not guilty of bribery.
Not only does that not make any sense -- mafiosi routinely direct people to pay their family members, rather than themselves -- but the law knows it doesn't make sense, and the law of bribery explicitly states that a payment made to family members is still a matter of criminal bribery.

posted by Disinformation Expert Ace at
05:30 PM
|
Access Comments