« Bidenomics: 1.2 Million Native Born Americans Lost Their Jobs Last Month -- Replaced by 668,000 Foreign-Born Workers
|
Main
|
Elephant March Cafe »
September 15, 2023
The Week in Woke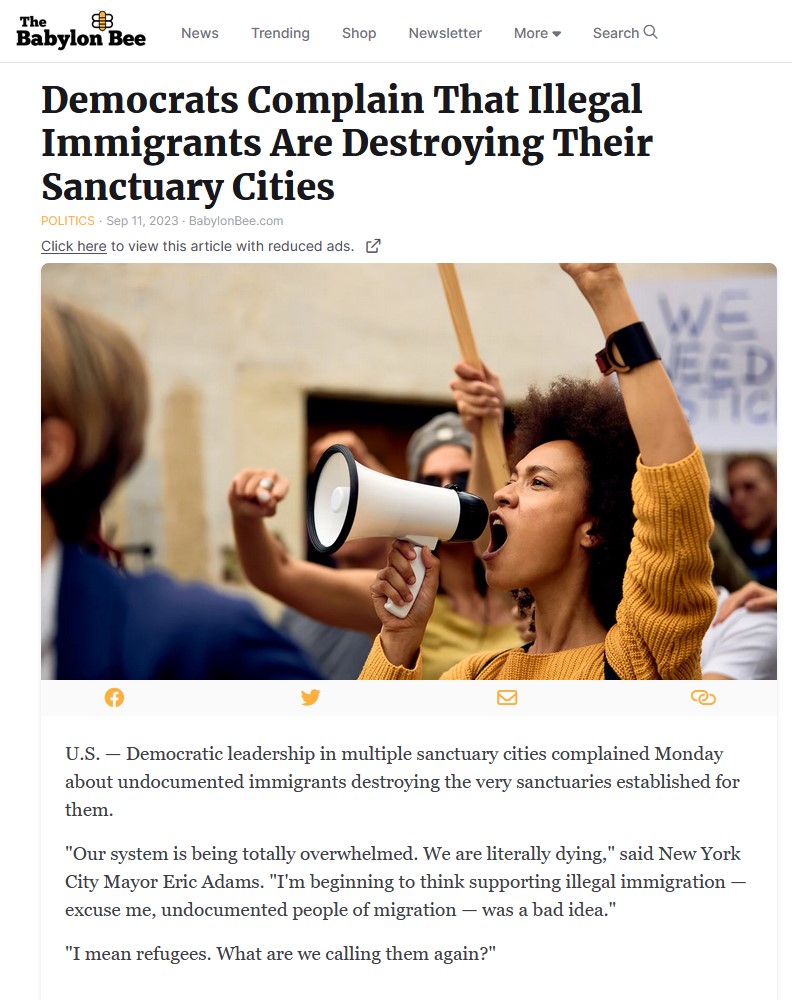 We're now awarding military citation to Themselves.
Arkansas Sen. Tom Cotton is demanding answers from Defense Secretary Lloyd Austin on why the Pentagon is reportedly incorporating so-called "gender-neutral language" into military "decoration and award citations."

In a letter sent to Austin on Friday, Cotton pressed the defense secretary on why the Pentagon is seeking to abandon the use of "himself" and "herself" in its Manual of Military Decorations and Awards to "describe heroic or distinguished actions" by military personnel. Rather than use grammatically accurate language to refer to the awarded individual, the manual will now allegedly employ the invented term "themself."

"(Rank) First M. Last, Jr., United States (Military Service), distinguished themself by superior meritorious service in a position of significant responsibility as (position and duty assignment), from (month year) to (month year)," the new model language allegedly reads.

The language change wouldn't be the first time the Pentagon has abandoned proper English in favor of radical gender ideology. The U.S. Navy, for example, issued a training video last year instructing its service members on how to create a "safe space" by using "inclusive language" and "correct" pronouns, and warning them not to "misgender" others.

...

He gave Austin a deadline of Sept. 15 to respond to his requests.

The fact that they haven't responded yet tells me all I need to know.
The Washington Post got angry that conservatives pushed back against liberal, teachers-union-dominated schools imposing mask mandates again.
As school gets underway and coronavirus cases rise, masks are returning to some American classrooms -- and reviving the country's fraught political debate over whether face coverings are common sense or an abridgment of freedom.

In Maryland this week, an elementary school principal mandated several days of mask-wearing for a class of kindergartners after at least four people tested positive for the virus. New York's governor announced a plan to distribute free N95 and KN95 masks to schools this fall, although the state is not requiring their use. And in Alabama, a junior high school in Sumter County declared in late August that mask-wearing would begin again for everyone -- students, staff and visitors.

Even though these campuses are the exception, as few schools require masks, lawmakers and presidential candidates have seized on the issue. A group of Senate Republicans unveiled legislation this week to prohibit federal mask mandates on domestic air travel, public transit and public schools through the end of 2024. On Wednesday, Sen. Ted Cruz (R-Tex.) shared a warning in response to the Maryland elementary school action: "If you want to voluntarily wear a mask, fine, but leave our kids the hell alone." (The school, Rosemary Hills in Silver Spring, boosted security and kept recess indoors because of online backlash earlier the same day.)
They're always playing the You're Literally Endangering Me card.
Former U.N. ambassador Nikki Haley, who is seeking the Republican presidential nomination, suggested in a Fox News interview Wednesday that mandated school mask-wearing is an attack on parental rights, and former president Donald Trump promised last month that, if reelected, he would "use every available authority to cut federal funding to any school" that imposed a mask rule.

[Some schools] are taking half-measures. In Alabama, Talladega City Schools shared a short post in late August encouraging mask-wearing. But officials stopped short of a requirement, said Superintendent Quentin J. Lee, despite the surge of cases in his district and the emails from teachers concerned about infection. The Talladega Facebook post says: "Please note this is not a mask mandate."

Lee said he wanted to tread carefully because "it's a very polarized subject." He still remembers politically and racially tinged complaints about mask-wearing from earlier in the pandemic.
Racially-tinged?
What?!
Always playing the Muh Racism card.
Get ready for some State-Approved Disinformation.
...

Mask mandates were instrumental in controlling the spread of the coronavirus during the peak of the pandemic.
The Cochrane Study found the exact opposite. Note that the Washington Post can supply no citation for its claim, because it's a made-up lie.
In the winter of 2020-2021, when nearly 4,000 Americans were dying per day, many saw face coverings as an alternative to the shutdowns of spring 2020.
Here's an idea: How about neither?
Nah, we have to throw teachers unions a sop, right?
It's just about politics and pleasing the different sectors of the Democrat coalition of neurotics, lunatics, and psychopaths. Not about science.
"Some school districts are rightfully going to want to protect vulnerable students," said Tiffany Green, an associate professor in the department of population health sciences at the University of Wisconsin at Madison School of Medicine and Public Health. "Why would we not want to be proactive in protecting students, protecting teachers, protecting staff?"
Given that you're a professor of "science," I'm sure you can readily supply me with one study proving that paper masks slow the spread of any respiratory disease.
I'll wait.
Little Steven Van Zandt has opinions:
...

Rep. Jamie B. Raskin (D-Md.), whose district includes the Montgomery County kindergarten, said a mandate can still be a sensible, "science-based" answer to an outbreak. "Rosemary Hills Elementary addressed a small covid outbreak with appropriate prevention measures that unfortunately, though inevitably, drew the attention of right-wing covid deniers," he said.
The California mayor who bent over to let a drag queen paddle-spank his ass in front of children has a Twitter history best described as "Authorities admit that red flags were missed."
I'm sure this Solid Citizen is merely charged with possession of "family-friendly" child exploitation material.
Even Californians reject cash reparations for slavery. Or for whatever California cities are proposing giving black people money for. (California, of course, was never a slave state, so they're proposing paying millions to people for... "structural racism.")
California voters oppose the idea of the state offering cash payments to the descendants of enslaved African Americans by a 2-to-1 margin, according to the results of a new poll that foreshadows the political difficulty ahead next year when state lawmakers begin to consider reparations for slavery.

The UC Berkeley Institute of Governmental Studies poll, co-sponsored by The Times, found that 59% of voters oppose cash payments compared with 28% who support the idea. The lack of support for cash reparations was resounding, with more than 4 in 10 voters "strongly" opposed.

"It has a steep uphill climb, at least from the public's point of view," said Mark DiCamillo, director of the IGS poll.

...

The group suggested providing cash payments to all descendants based on health disparities, mass incarceration and over-policing and housing discrimination that have adversely affected Black residents compared with white Californians.

The remedies recommended in the report also go far beyond cash payments and include policies to end the death penalty, pay fair market value for jail and prison labor, restore voting rights to all formerly and currently incarcerated people and apply rent caps to historically redlined ZIP Codes that disadvantaged Black residents, among dozens of other suggestions.

....

When asked about his stance on the proposal in the spring, Newsom said reparations are more than just cash payments. He reiterated that position in mid-June when interviewed by Fox News host Sean Hannity, and noted that coverage of recommendations by Fox News seized on cash payments and "ran with that over and over and over and over again."
And he continues refusing to say whether he supports cash reparations or not. He says that reparations mean more than cash -- but then refuses to say if he supports the cash kind or not. Because he's playing to both the woke fringe and the gullible Democrat moderate majority.

Finally: Detransitioners are beginning to sue the butchers who seized upon the mental health crisis they were having at a delicate moment in order to get paid big money to lop off parts of their bodies.
At 16 I was diagnosed with gender dysphoria in under an HOUR and given sex change surgery after just two appointments... I'm suing the doctors who permanently mutilated me

Luka Hein was given the operation at 16 and claims it's left her with daily pain

She has since decided to 'detransition' and live as a woman

A woman who claims she was rushed into transgender surgery is suing the doctors who gave her a double mastectomy as a child.
There's a picture that runs with the story of her lifting up her shirt to expose the scar of her amputated breasts. You don't see what would be the breasts, except for the bottoms and the scars. It's a vivid image.
Luka Hein was given the irreversible operation at 16 and claims the surgery has left her with daily pain, while the hormone drugs may have robbed her of the chance of becoming a mother.

The Minnesotan, now 21, suffered a traumatizing few years as a teenager when her parents went through a bitter divorce and she was groomed by a man she met on the internet.

She became increasingly withdrawn and spent more time online, where she began following trans influencers and became convinced she was born the wrong gender.

Luka, from Minnesota, claims she was diagnosed with gender dysphoria by a therapist within an hour during her first session and was referred for 'top' surgery after her second appointment.
Well at least they took the time to make sure this was a real persistent condition, rather than a cry for help from a mentally-ill girl.
She told DailyMail.com: 'I was going through the darkest and most chaotic time in my life, and instead of being given the help I needed, these doctors affirmed that chaos into reality.'

She added: 'I don't think kids can ever consent to having essentially full bodily functions taken away at a young age before they even know what that means.

'I was talked into medical intervention that I could not fully understand the long-term impacts and consequences of.'

A lawsuit Ms Hein filed today in Nebraska accuses the University of Nebraska Medical Center (UNMC) gender clinic of malpractice and seeks financial damages.
Luka said she is suing for financial compensation and 'accountability for the fact that these [doctors] put me through this.'
In her 28-page complaint, she said when she went back to the doctors to tell them she regretted the operation she was told to seek mental health counseling.
The suit claims her doctor then said: 'I guess this is just part of your gender journey.'
'I was essentially just brushed aside,' Luka told DailyMail.com
...
Because of what she had learned online, she thought having her breasts removed might help her mental state.
After just 55 minutes in her initial session in July 2017, Luka claims the clinic made a 'snap' diagnosis of gender identity disorder.
This 'fails to meet the standard of care for the proper evaluation of gender identity disorder', the lawsuit says.
The quickness of the diagnosis created a 'feedback system that manipulates patients like Luka to deeper--and more damaging--levels of transgender medical intervention', the suit adds.
If just a few judges refuse to dismiss these cases -- doctors will claim the patient signed informed consent releases, but judges routinely invalidate those; they'll be much less willing to threaten Big Amputation -- then a few juries will issue some jackpot awards with huge punitive damages sums and then the tide of insanity will finally begin to recede.
But in the meantime, an alleged panel of medical experts in Red Canada says that taxpayers should of course be required to pay for the "tweaks" that transgenders seek, like full body hair removal and surgeries to change the pitch of their voices.
Transgender 'tweaks' like hair removal and voice feminization should be funded by the taxpayer, influential medical panel says

Minor aesthetic procedures for transgender individuals should be publicly funded, according to health officials in Canada.

An editorial by doctors from the Canadian Medical Association (CMA) suggests treatments like hair removal and facial injectables should be paid for by the country's Medicare, a publicly funded healthcare system.

'Minimally invasive procedures such as facial injectables and hair removal warrant consideration for public health care funding across Canadian jurisdictions,' wrote Dr Katie Ross and Dr Sarah Fraser, Faculty of Medicine, Dalhousie University, Halifax, Nova Scotia.

'Public funding for such procedures, which are currently funded in only two jurisdictions in Canada, warrants serious consideration in all provinces and territories,' the authors concluded.

...

L

For trans women, voice feminization and facial feminization surgery include operations such as forehead and brow bone reshaping, jaw and chin contouring, nose reshaping (rhinoplasty), hairline advancement, and tracheal shave -- a procedure to reduce the size of the Adam's apple.

Hair removal, for example removing facial hair on a biological male wishing to transition to a woman, or hair transplantation through electrolysis or hairplasty, is another option to bring an individual closer to their desired gender.

Whether or not these procedures are medically necessary for transgender individuals remains open to debate.

Does it really, though?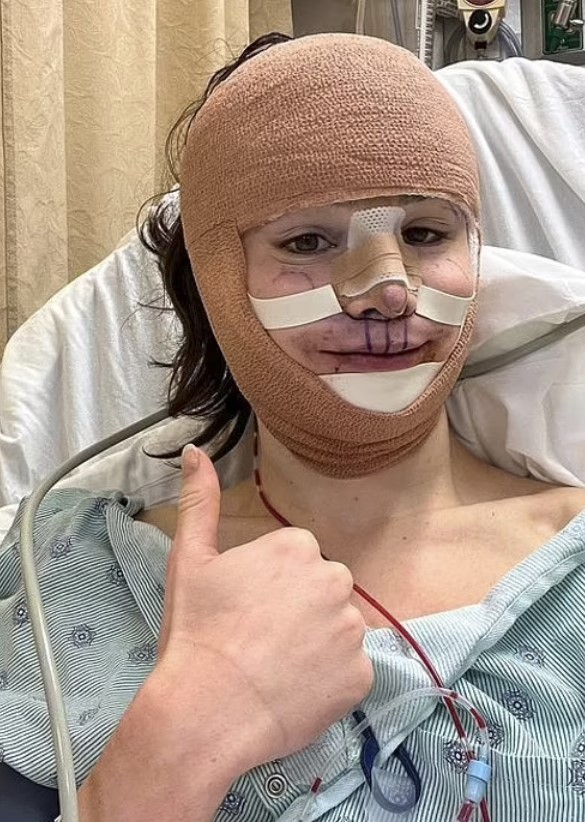 Above: Dylan Mulvaney in a hospital recovering from the "tweaks"

of getting cosmetic surgery so that he could appear to be a woman.

The surgery was unsuccessful..
ICYMI: What gender theory and leftism did to one formerly-healthy girl.
This is all perfectly normal and we #MustntJudge. In fact, we must "center" this disgusting pervert's antisocial behavior disorder and fetishes.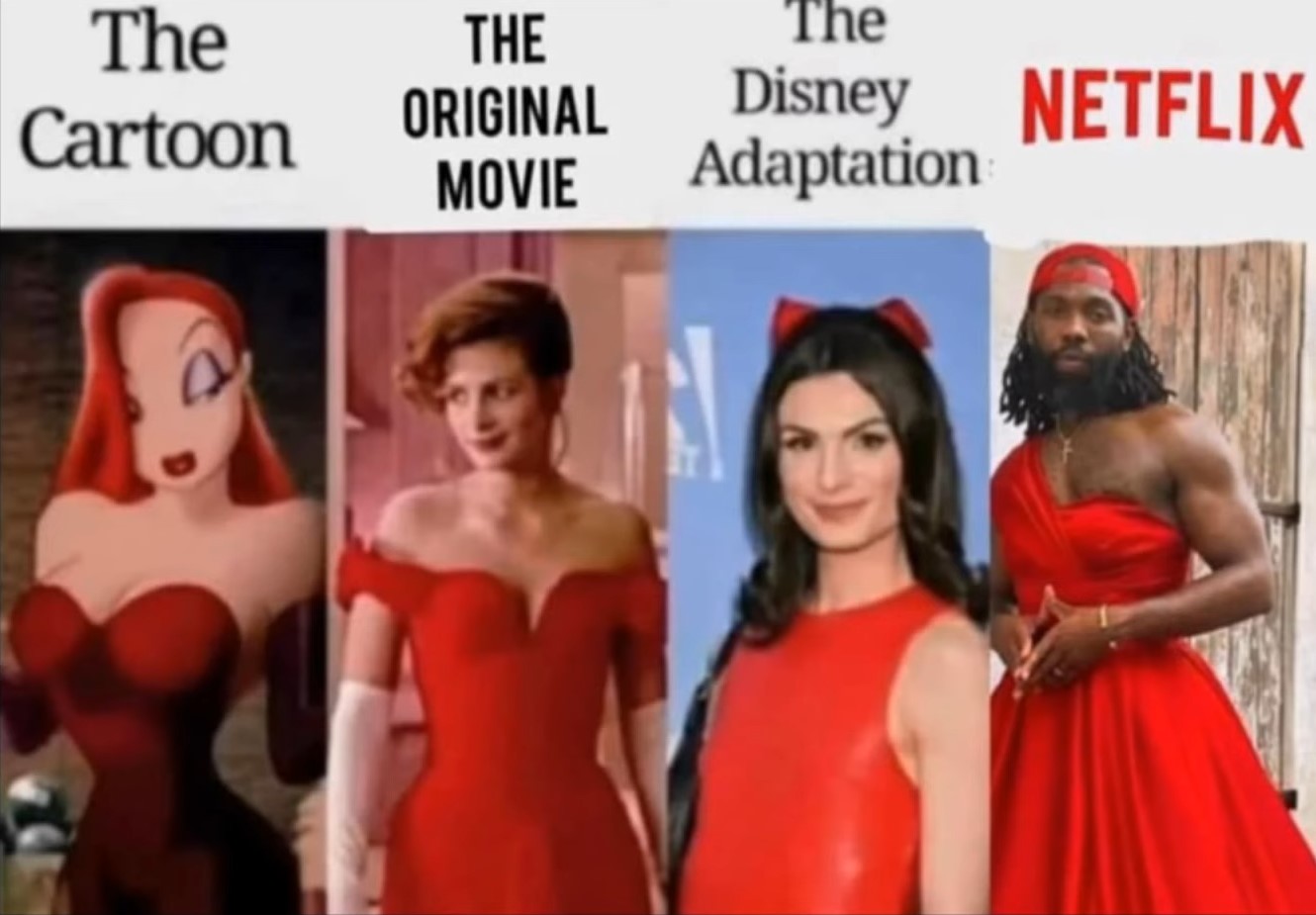 posted by Disinformation Expert Ace at
06:30 PM
|
Access Comments