What's the difference between a northern USA fairy tale and a southern USA fairy tale?
A Northern fairy tale begins 'Once upon a time.' A southern fairy tale begins 'Y'all ain't gonna believe this shit…'


***


It was so enjoyed this morning I thought I would share again.........





"But Mom," they whined. "He's doing it again."

***

Happy Saturday Night.............


First thing for tonight. Charlie goes fishing. (Video)

***

Don't care for Charlie? Don't care for "Yellow Submarine"? Perhaps this will make you happy. Or not. Then again it's hard to believe but Ace doesn't pay me to care.

220 Best Truth or Dare Questions to Ask and Challenge Your Friends

What will you choose?

What better way is there to get to know someone than either asking them a juicy question, or challenging them to do something completely ridiculous? Enter truth or dare, one of the greatest games for best friends and strangers alike. There's always something more to learn about a person, and intimate truth questions prompt a deeper connection. On the other hand, silly dare ideas are bound to provide endless laughter while tightening your bond.
***

I have no desire to go to California. But if I do, I really want to stop at this restaurant.
California Restaurant Serves The 'Unhealthiest' Meal In The Entire State

Greasy, processed foods such as loaded fries, hamburgers, meat-packed subs, and pizza might be the first to come to mind, but don't forget about dessert! Sugary foods like ice cream and donuts can creep up on you even if served in small quantities. In fact, some of the most unhealthy meals in the entire country are served in small quantities, it's the food itself that is considered largely unhealthy. There is one restaurant in California known for serving a meal so bad for your health (but perhaps good for your soul in moderation) that it is considered the absolute unhealthiest meal to consume in the entire state.

According to a list compiled by Eat This Not That, the unhealthiest meal in all of California can be ordered at Donut Friend located in Los Angeles. The unhealthiest menu option is the "Fugdegazi."
***

It's a hard job, but somebody has to do it.

Adult actor reveals how stars stand to attention on set for hours – and it's gruesome

WARNING: DISTRESSING CONTENT. An adult film industry insider spilled the beans on a dangerous practice that's increasingly common in porn studios around the world
***
***

8 Strange State Laws That Are Still on the Books

You could be breaking the law in your own state right now and not even know it. Throughout U.S. history, all 50 states have passed a variety of highly specific, often bizarre laws — some that may have made sense at the time but definitely don't any longer. In every state, you'll find a few of these quirky laws that are rarely enforced but, for whatever reason, remain on the books. Here are eight obscure state laws you've probably never heard of.

Show me the man and I'll show you the crime.
***

Watching This Beaver Fell A Tree In The Forest Is Oddly Satisfying

There's something undeniably captivating about witnessing nature's architects at work.

From busy ants constructing intricate tunnels to beavers building their dams, these creatures exhibit an innate engineering prowess that often leaves us in awe.

Today, we're diving into the world of one such marvel of nature: the beaver. Specifically, we'll be exploring the oddly satisfying art of watching a beaver fell a tree in the forest.
***

Multiple Genius Award Winners. (Video)

He looks like a big fluffy puppeh. Said our Genius Award Winner.

Yellowstone tourist suffers consequences after getting too close to bison: "Got what he was asking for?"
The answer is yes.
***
The ONT Musical Interlude & Candlelight Emporium
Born on this day: 23 Sep 1930
Ray Charles, singer songwriter, (1962 UK & US No.1 single 'I Can't Stop Loving You' plus over 30 US Top 40 singles, 2005 US No.1 album 'Genius Loves Company'). Charles died on 10th June 2004 aged 73. via thisdayinmusic.com
&&&
On this day: 23 Sep 1980
Bob Marley collapsed on stage during a concert at the Stanley Theater in Pittsburgh, Pennsylvania. Marley had collapsed in New York's Central Park while jogging, two days before and was told to immediately cancel the US leg, but flew to Pittsburgh to perform one final performance. This was the last time Marley ever appeared on stage performing, Marley died of cancer on in May 1981. via thisdayinmusic.com
***

When you are drunk. I guess the best transportation is no transportation. Genius Award Winner.

Man Nabbed For DUI While Riding A Horse With An Open Container Of Alcohol

A California man was busted for a DUI while riding a horse. The California Highway Patrol said that Officer Brackett was on patrol in Merced when he noticed a man riding a horse holding an open container of alcohol.

Officer Brackett stopped the rider, who was not identified, and determined he was impaired by alcohol. In a statement posted on Facebook, the department noted that the rules of the road apply even if you are on horseback.
***
Earlier in the thread I told you where I would visit if I were headed to California. And if I were headed to Washington D.C. I would go here.

Revisit some of history's most epic fails at this DC museum exhibit
The items inside the Museum of Failure are guaranteed not to impress you
***

Tonight's ONT has been brought to you by DIY Bidet Plans.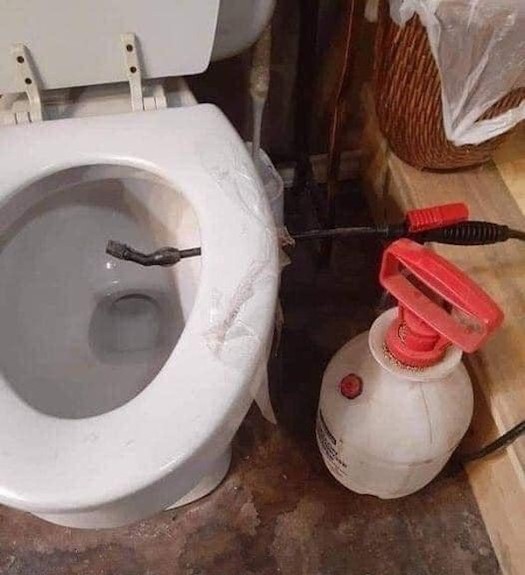 Notice: Posted with somebody's permission. I think. The Fabulous approved of tonight's musical selections.

posted by Misanthropic Humanitarian at
09:00 PM
|
Access Comments