« THE FBI ASKED TWITTER TO BAN THE ACCOUNTS OF AMERICAN AND CANADIAN JOURNALISTS WHO CRITICIZE UKRAINE -- AT THE BEHEST OF UKRAINE'S MAIN INTELLIGENCE SERVICE
|
Main
|
Joe Biden Was Allegedly Paid $5 Million By... The Burisma Board, Document Hidden by FBI Claims »
June 08, 2023
Claim: Disney Is So Strapped For Cash That They're Wargaming Out a Sale of LucasFilm
Before getting to that: Last week I saw a story about a bearded transgender in a fairy princess dress greeting children at Disneyland. I thought this was about him standing in the parking lot, on his own, and figured it wasn't a huge story. I guess he has a free speech right to be there. Has nothing to do with Disney itself.
I was wrong. He's greeting children inside the park, because he's a Disney employee, permitted to dress up as a gruesome parody of a woman and horrify children.
The "Bibbidie Bobbidie Boutique" is where kids are invited in to look at $450 dresses so that they can pressure their parents to buy them.
Black Orchid says that's wrong:
no, it's a salon essentially. you make an appointment for your little one (I've done boys and girls!) to be turned into either a Prince or a Princess. they can bring their own costumes or buy one there, but they are SUPER expensive to buy there of course lol.

it takes hours and is a whole experience. and btw a wonderful one I paid out the behind for for my kids and it WAS a fantastic memory. oh and there were male stylists BUT THEY WERE DRESSED AS PRINCES (or courtiers or whatever)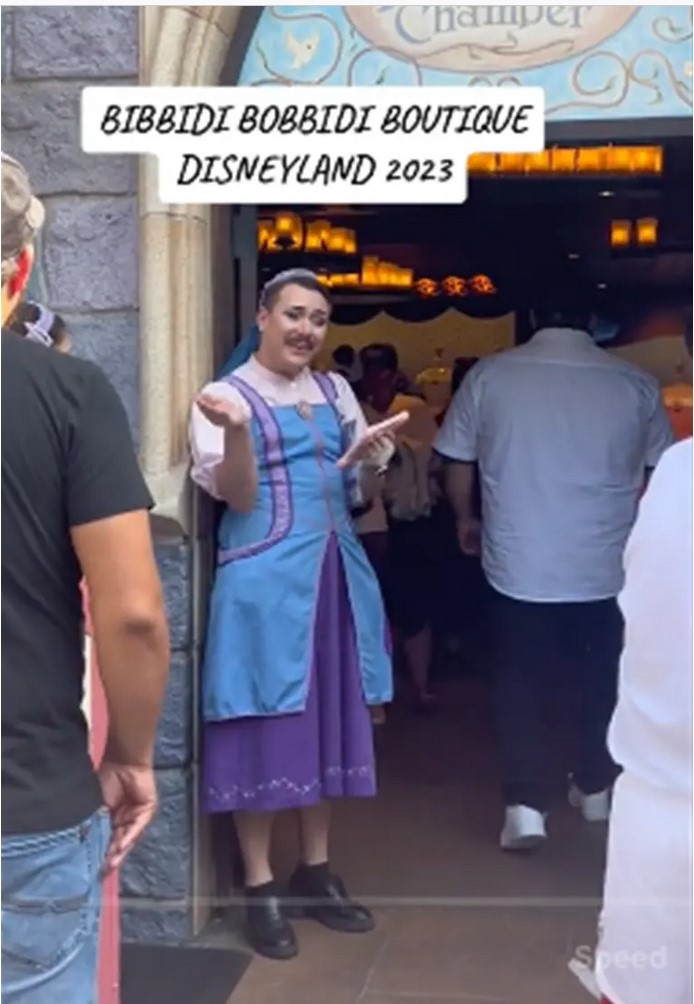 Conservative critics are once again slamming Disney for shoving "woke" agendas down the throats of children -- this time by allowing an apparently male employee to wear a costume dress and makeup.

A viral video -- which has racked up nearly 7 million views on TikTok -- shows the mustachioed "Fairy Godmother's Apprentice" welcoming a young girl at Disneyland's Bibbidi Bobbidi Boutique in Anaheim, California.

"So, my name is Nick, I am one of the Fairy Godmother's Apprentices," said the employee, who's seen wearing blue and purple eyeshadow to match their uniform dress.

"I'm here to shop you around and make all your selections for the day."

...

"A man in drag is not only bizarre and inappropriate but it takes guests out of the 'show' -- the illusion is broken. Nothing matters but the agenda and your 4 yo is a pawn they are happy to mindflay," said conservative writer Peachy Keenan.

Disney encouraged just this grisly spectacle last year, when they changed the title of the workers at the boutique from "Fairy Godmothers In Training" -- which suggests the workers should be women -- to "Fairy Godmother's Apprentices."
Disney wanted transgenders grooming your kids. They proudly announced they were making the title "gender-neutral" to invite men to serve as dress-shills for little girls.
In related Not-So-Hidden-Gay Agenda news, Disney just fired the director of the gay-promoting children's film -- and box office disaster -- Lightyear, as well as other executives in its badly-performing animation division.
Walt Disney's Pixar Animation Studios has cut 75 jobs, including two executives behind Lightyear, a woke revisionist take on a beloved Toy Story character that ended up being a box-office failure.

Sources told Reuters of the job cuts on Saturday, which mark the first major job eliminations at the legendary studio in ten years.

Lightyear director Angus MacLane had worked at Pixar as an animator for 26 years. He was part of the senior creative team on films like Toy Story 4 and Coco. Lightyear producer Galyn Susman had been at Pixar since the release of the original Toy Story film in 1995, according to Reuters' sources.

..

The job cuts took place on May 23 and are reportedly part of Walt Disney Chief Executive Bob Iger's plan to scrap 7,000 positions and slash $5.5 billion in costs.

Lightyear was released during Pride Month last year, and the animated feature, which cost $200 million to make, bombed at the box office all over the world.

The film reportedly brought in a mere $226.7 million in worldwide ticket sales -- a horrible outcome, given that in 2018, Pixar's The Incredibles 2 raked in $1.2 billion worldwide with an equivalent production budget.
Someone mentioned on one of the right-leaning entertainment news channels that Pixar and Disney animation employees were angered and alarmed that Bob Iger keeps praising Apple. Because Apple just began its own animation studio, under former Pixar head John Lassiter, that will be the direct competitor to Disney's two failing animation studios. And will probably result in additional layoffs at Disney.
So why does Iger keep praising the enemy?, they wonder.
Maybe because he's considering selling off major parts of Disney.
So here's the scuttlebutt about Disney possibly selling Lucasfilm.
Doomcock -- who I'm calling Doomcocktease for all the times he's reported Kathleen Kennedy's imminent firing -- heard of a meeting Bob Iger had with executives to game out what a sale of Lucasfilm would look like. Kamran Pasha, who has a confirmed Disney employee codenamed "sparrow" feeding him tips, heard the same thing, so this is more solid than the usual rumor. (Although still just unconfirmed rumor at this point.)
This is being forced by the upcoming Hulu buyout. Hulu was started as a three-way joint operation by Twentieth Century Fox, Disney, and Comcast. Comcast had a contractual guarantee that in early 2024 (January, I think), they can offer their share up to the other two partners, who are then contractually obligated to buy them out at "fair market" value.
When Disney bought Twentieth Century Fox, it acquired Fox's share of Hulu. And they are now the sole company that has to make good on Comcast's forced buyout.
How much is Comcast owed in this buyout? Well, many in the media report that Hulu is worth $28 billion, so that Disney would have to pay Comcast around $9 million billion for their share.
But I think that number comes from Disney people, who are trying to keep the price down. During the height of the streaming wars, the Wall Street Journal valued Hulu at 70 billion, which would make the payment to Comcast around $28 billion.
Hulu can't be worth what it was at the height of the streaming wars, before everyone started losing piles of money and realized they may never make a profit. But it may be worth much, much more than the $28 billion being floated.
Like I said, I think that is Disney working its typical corporate magic on the shill media, trying to keep their costs down.
Doomcock has reported -- I have no idea if this is true -- that Disney only has $200 million in liquid cash on hand. Even if they have a lot more than that, they obviously do not have the $9-28 billion dollars to pay off Comcast.
So that's why they're considering -- according to Doomcock and Kamran Pasha -- selling off LucasFilm. They just need money. A lot of money. They're even considering, supposedly, selling off some of the outside-the-US Disney theme parks.
And I bet they're strongly considering selling off one of their two failing animation studios. Pixar's name might still be worth a few pennies to someone, despite Disney destroying all of its brand value. (As they've also destroyed the brand value of Lucasfilm and Marvel.)
Kamran Pasha's source said that based on what he knows of this discussion of the sale of Lucasfilm, it seems that the buyer is a specific party who expressed interest. In other words, this is not hypothetical; someone is asking to buy it. And they say that it's a single person talking about buying it.
That would likely be George Lucas, because who else would have any interest in owning the rubble and noxious fumes of what's left of Lucasfilm?
One imagines he would pay a lot less for it than the $4.05 billion Disney paid him for it.
Is Iger talking up Apple because he's considering selling Pixar to them, so that Lassiter can head up the studio he used to make so much money with? No idea; that is pure speculation.

Below, video of the Drag Queen Fairy Godmother, and the Doomcock video.
Peachy Keenan @KeenanPeachy This salon, which I have used several times, is for little girls ages 4-10. It is a delight from start to finish, and one of the cutest things to watch. A true "Disney magic" immersive experience - one of the very few left at the park.

A man in drag is not only bizarre and inappropriate but it takes guests out of the "show" - the illusion is broken.

Nothing matters but the agenda and your 4 yo is a pawn they are happy to mindflay.


posted by Ace at
04:50 PM
|
Access Comments