« DOL-O-MITE! Cafe
|
Main
|
Daily Tech News 7 June 2023 »
June 06, 2023
Tuesday Overnight Open Thread (6/6/23)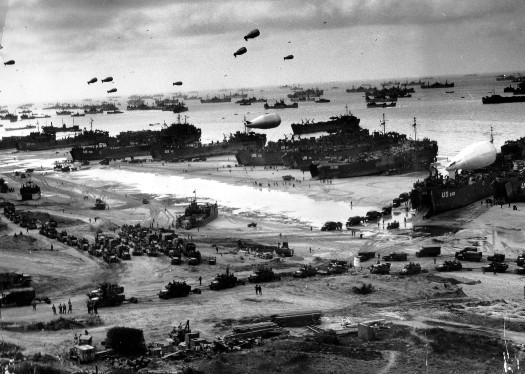 ***
The Quotes of The Day
Quote I

"You wanna lead this nation… and you don't even understand the basic battlefield: it's kinda sad and pathetic," Former Rep. Devin Nunes
Quotes II
Video of Sen. Tim Scott (R-SC) facing the bints on The View.
Quote III

"I guarantee he feels worse than I do for having to take him out," Atlanta manager Brian Snitker
Ya right.
Quote IV

"When people talk about, 'I will see them again in heaven,' it sounds so good, but the reality is that we won't see each other again after we're gone. That's the sad part. I know people feel comfortable with death, but I don't,'" Arnold Schwarzeneger
***

This is an older story and befitting for today, D-Day. (H/T fd)

9,000 Fallen Soldiers Etched into the Sand on Normandy Beach to Commemorate Peace Day
***

Is there a pool to enter on just how long these machines will last?

NYC unveils vending machine for drug users, with free crack pipes and Narcan for ODs

New York's public health vending machines will offer condoms and crack pipes instead of chips and soda
***

You may disagree with me. And that's fine. But justifying the military complex existence are not 2 reasons to be in Ukraine. Opinion This is the 'America First' case for supporting Ukraine

As Ukraine begins its spring counteroffensive, a 60 percent majority of Republicans say we should stand with Ukraine until Russia is defeated, according to a Harvard CAPS-Harris Poll conducted in March. But GOP support is softening. The share of Republicans who say the United States is providing too much aid to Ukraine has steadily increased from 9 percent right after the Russian invasion to 40 percent in a Pew Research Center poll in January

He forgot to mention:
1) Russia is no longer the Soviet Union
2) How does the US beat Russia
3) How does the US stay out of Ukraine for next 75 years.
This is a EU problem. This is not a NATO or US problem. We cannot continue to be the world's police force with our armed forces hands being tied by "Feel Good" military actions. Perhaps Mr. Marc Theisen should be the first infantryman stationed in Ukraine. Put his blood where his mouth is. fingers are.
***

How do you say adios in Arabic?


PGA Tour agrees to merge with Saudi-backed rival LIV Golf

The PGA Tour agreed to merge with rival LIV Golf, which is backed by the Saudi Arabia Public Investment Fund, an entity controlled by the Saudi crown prince.

The proposed merger comes after the PGA Tour and LIV Golf have been embroiled in lawsuits regarding antitrust claims.

The deal would end all pending litigation.
***
Has commenter Mike Hammer been outed?

An inventive man in Asheville, North Carolina put on a grizzly bear costume to scare off the wayward black bear who had been leisurely exploring his yard.
***

The Fabulous and I were lucky. Our children all hit their teen years without cell phones. I can understand the pressure that parents today must be facing about their children wanting cell phones. But is it Social Media's fault their children have issues rather than a lack of parenting?

When whistleblower Frances Haugen pulled back the curtain on Facebook in the fall of 2021, thousands of pages of internal documents showed troubling signs that the social media giant knew its platforms could be negatively impacting youth, and were doing little to effectively change it. With around 21 million American adolescents on social media, parents took note.

Now, families are suing social media. Since we first reported this story last December, the number of families pursuing lawsuits has grown to over 2,000. More than 350 lawsuits are expected to move forward this year against TikTok, Snapchat, YouTube, Roblox and Meta - the parent company to Instagram and Facebook.
***
The ONT Musical Interlude & F5 Gold Rapala Emporium
On this day: 6 Jun 2022
Jim Seals of the US soft rock duo Seals and Crofts, died at the age of 80. The singer was behind laid-back 1970s classics like 'Diamond Girl' and 'Summer Breeze', later covered by the Isley Brothers. Between 1972 and 1976, Seals and Crofts had a run of five gold albums, culminating in an double-platinum greatest hits collection. Via thisdayinmusic.com
&&&
On this day: 6 Jun 2019
American singer and songwriter Dr John known for music combining blues, pop, jazz, boogie woogie and rock and roll died at the age of 77 after suffering a heart attack. Born Malcolm John Rebennack his career started in the late 1950s, when he became prominent as a pianist and singer on the New Orleans music scene. He also worked with the Rolling Stones, Carly Simon, James Taylor, Neil Diamond, Ringo Starr, Eric Clapton, Bob Seger and Joe Walsh. Via thisdayinmusic.com
***
The wheels of justice move too slowly at times. Finally after 23 years a convicted murderer to get what he deserves.

A man who fatally shot two jailers in a failed effort to help an inmate escape prison is set to be executed on Tuesday evening.

Michael Tisius, 42, faces a lethal injection at a state prison in Bonne Terre for killing Missouri jail officers Jason Acton and Leon Egley nearly 23 years ago.

Governor Mike Parson on Monday declined to grant clemency to Tisius.

'It's despicable that two dedicated public servants were murdered in a failed attempt to help another criminal evade the law,' stated Parson, a Republican. 'The state of Missouri will carry out Mr. Tisius's sentences according to the Court's order and deliver justice.'
***

Car chase + Taser= Genius Award Winners.

HUNTINGDON COUNTY, Pa. (WTAJ) – Two people in Huntingdon County are facing drug-related charges after they were pulled over for traffic violations.

Sarah Pennington, 43, of Huntingdon and Shem Miller, 44, of Mount Union are both facing several charges for having meth and fentanyl, court documents show.

According to Pennsylvania State Police (PSP), On Saturday, May 27 at just before 8:30 p.m. an officer pulled over a truck after they observed it swerving over the double yellow lines.

Once an officer pulled the truck over, Miller, the driver, dove out of the vehicle and then lead the officer on a foot pursuit, according to the criminal complaint. Miller tried to jump over an embankment but fell. At this point, the officer tased him and took him into custody.
Shem?
***

I'm often critical of LEOs. However when they do well they shoud be commended. Tonight's Feel Good Story of The Day.

South Carolina Deputy's Small Act Of Kindness Changes Woman's Entire Life

In a heartwarming display of compassion, a South Carolina deputy made a significant impact on the life of a struggling citizen.

The Greenville County Sheriff's Office (GCSO) shared the story on its Facebook page.
***
Hello Acme Insurance Company? I would like to file a claim.

***

Tonight's ONT has been brought to you by OSHA Violation #159.
Notice: Posted with permission by the Ace Media Empire & AceCorp, LLC. There are no known side effects caused by The ONT.


posted by Misanthropic Humanitarian at
09:45 PM
|
Access Comments