« Daily Tech News 5 June 2023
|
Main
|
Mid-Morning Art Thread »
June 05, 2023
The Morning Report — 6/5/23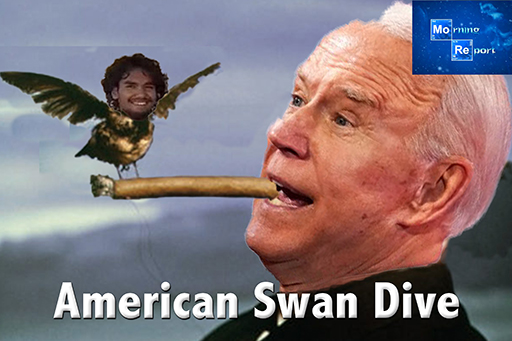 Good morning kids. Considering that there's a war for the minds, bodies and souls of America's children, and that some of the worst offenders are, as the great Kurt Schlichter pointed out on the latest episode of the podcast (and I'm paraphrasing from memory) mothers desperate for some sort of validation or meaning in their lives who sacrifice their kids genitals and minds on the altar of Moloch in order to be stylish, I don't know why something like this is upsetting me to the degree that it is.
The three teens accused of killing and eating a beloved swan in an upstate New York village are refugees, the Washington Free Beacon has learned.

Manlius Police reported Faye the Swan and her four cygnets missing from the town pond last Monday, which prompted horror from the Manlius, New York, residents. Locals flooded Manlius police with tips the next day, which ended in the arrest of 18-year-old Eman Hussan of Syracuse, New York, and two minors, aged 16 and 17.

The posse are refugees from Myanmar and attend high school in the neighboring city, Manlius Police Sgt. Ken Hatter told the Free Beacon. Police say the three were able to steal Faye because she was nesting and did not fight back. The suspects devoured Faye with their family in Syracuse.

This is the second high-profile incident in recent months related to the murder of a precious bird at the hands of foreign nationals. The Free Beacon reported on two suspected illegal immigrants in Stanton County, Neb. who snuck into protected land and shot a bald eagle. Authorities told the Free Beacon that the two suspects had intended to eat the once-endangered animal, which is considered the United States' national symbol.

Eman Hussan and his two co-conspirators are charged with felony grand larceny and criminal mischief. Their court dates are scheduled later this month.

If found guilty, the three risk deportation. The Immigration and Nationality Act states that offenders can be forcibly removed from the United States if they commit aggravated felonies or "crimes involving moral turpitude," which may or may not include the execution and ingestion of a cherished Anatidae. . .

. . . "These inhumane degenerates need to face real consequences," said another.
Absolutely 100% goddam right. Which is why it won't happen because the name of one of the "inhumane degenerates" sounds awfully close to being a Religion of Peace peacenik, and as such is untouchable. Meh, that's icing on the cloaca. In fact, he and the tens of millions like him that have invaded our nation are to be considered national symbols, unlike the bald eagle that was killed and eaten by some dreamy DREAMrs referenced in the article and linked here.
"I'm trying to be as politically correct as possible when I say this but I don't know what kind of third-world life they're coming from, but it must have been pretty bad," Unger said, before adding that his office will not release photos of the dead bird because it's "very graphic" and "contains lots of blood."
If ever there is a metaphor for what the hell is happening to us, it's that last sentence. And as for Mr. Unger's observation, fuck that. The absolute last thing we need to be is politically correct. That's why we have have these "inhumane degenerates" crawling all over us in the first place. Kudos for the guy who told it like it is vis a vis the savages from Myanmar. And let me put some knowledge to Mr. Unger up there. However "bad" things may or may not be were these deviants came from, that cannot ever justify shipping them in here. Certainly not without some sort of minimal attempt at assimilation and acculturation. But, those words are racist, bigoted and white supremacist. And the whole point in shipping them in here is to fundamentally transform the bald eagle into a mangled mass of flesh, blood, bone and feathers.
Ah yes, the glories of multiculturalism. Funny how the adherents to that theory insist on moral relativism and that all cultures and societies are to be respected – except of course Judeo-Christianity and western civilization. I guess "Coexist" doesn't mean what I thought it means, right?
To hell with that. The past nearly 6,000 years of human development were driven by western, Judeo-Christian values. I can't blame the savages for killing and devouring a swan and a bald eagle. Subhuman retrograde dark age savages gonna savage, whether in their own home or here. You can take 'em out of the jungle but you can't take the jungle out of them. As for the drive of those who should know better to turn us natives into child-mutilating, child-raping homosexual mutants, what the hell is that all about? What's the excuse for the 100-year post-First World War mass psychosis to literally flush thousands of years of societal evolution down the shitter and turn us all into swan eating savages?
* * * * *
Horrible segue alert: Speaking of savages, how many of you had Iran-Iraq 2: Pass the Popcorn Boogaloo on your dance cards? Except this time it's the Taliban.


How amusing that two fanatical Muslim regimes, in Iran and Afghanistan, are now at one another's throats. Though Iran is Shi'a and Afghanistan Sunni, this not a sectarian conflict, although the Sunni/Shi'a certainly helps to stoke the antagonism. It is, rather, a conflict over water, specifically over how much water Iran and Afghanistan should be allowed to take from the Helmand River that runs along their common border. The dispute is getting more intense, and now a Taliban leader has publicly threatened that his group stands ready to "conquer" Iran to enforce its own claims to water from the Helmand River. Robert Spencer wrote briefly about the conflict here, and Daniel Greenfield weighed in here. More on this most welcome conflict can be found here: "Taliban claims: 'We will conquer Iran soon' amid water dispute," by Ariella Marsden, Jerusalem Post, May 29, 2023:

The Taliban threatened on Sunday that it could conquer Iran as tensions increase over water disputes between Afghanistan and Iran, leaving at least three people dead.

In a video released by the Taliban, a senior commander in the terrorist organization running Afghanistan warned that the Taliban would fight the Islamic Republic's Revolutionary Guard "with more passion" than they fought the US forces. He added that the Taliban "will conquer Iran soon if the Taliban's leaders give the green light.

. . . How wonderful it would be for the civilized world if the Taliban and Iran were to come to blows over access to the water from the Helmand River. The Taliban threatens to "conquer Iran," and while that claim is mere bravado, it might be able to keep large numbers of Iranian troops tied down in eastern Iran. The Taliban not only has more advanced weapons than Iran – the seven billion dollars worth left by the Americans – but its troops are battle-hardened, having been fighting since 2001. The Iranian army, in contradistinction, hasn't been involved in major fighting since the end of the Iran-Iraq war in 1988, some 35 years ago. . .

. . . It's a consummation devoutly to be wished. Who among us would not want a war that begins as a conflict over water, but then metastasizes, between two brands of Muslim fanatics who will slug it out for a long time.
For those who think that Joey Sponge-Brain Shits-Pants and his handlers in Kalorama pulled out of Afghanistan in order to set this up, these are the same idiots who are desperate to give Iran nukes. Foggy Bottom doesn't know its ass from its elbow. This is just one of those occasional Bob Ross happy accidents that potentially could take the pressure off Israel and our allies in the Gulf. And considering the rank incompetence and insanity of the current junta, the word "allies" is used advisedly.
Meanwhile, in another part of the forest, in view of the above situation, this revelation is somewhat of an eye-opener:


In the ongoing political persecution of Donald Trump, investigators have reportedly gotten their hands on the audio recording of an interesting conversation between the former president and his aides.

Via CNN:

Federal prosecutors have obtained an audio recording of a summer 2021 meeting in which former President Donald Trump acknowledges he held onto a classified Pentagon document about a potential attack on Iran, multiple sources told CNN, undercutting his argument that he declassified everything.

The recording indicates Trump understood he retained classified material after leaving the White House, according to multiple sources familiar with the investigation. On the recording, Trump's comments suggest he would like to share the information but he's aware of limitations on his ability post-presidency to declassify records, two of the sources said…

[Trump's former chief of staff Mark] Meadows' autobiography includes an account of what appears to be the same meeting, during which Trump "recalls a four-page report typed up by (Trump's former chairman of the Joint Chiefs of Staff) Mark Milley himself. It contained the general's own plan to attack Iran, deploying massive numbers of troops, something he urged President Trump to do more than once during his presidency.

Note what CNN chose to emphasize here. Rather than elaborating on an unelected Deep State operative drawing up plans for World War III and then pressuring the sitting president to launch it, their obsession, due to their Trump Derangement Syndrome, is with trying to prove the president mishandled classified documents (which likely shouldn't have been classified in the first place).

Of course, CNN's defense contractor advertisers have been salivating for an Iran war since the Bush days. So it's not surprising at all that they don't bat an eye at plans drafted in the dark to commence an invasion of that country — an invasion, by the way, that would make managing the Iraq insurgency look like a cakewalk. Iran's military strength is exponentially superior to that of the Baathist Hussein regime.
I have to disagree with PJ Media's Ben Bartee insofar as Foggy Bottom has never wanted to go to war with Iran. Hence the desperate drive to give them nukes, money and all the rest of it. They want Iran to be the dominant power in the region. Defense contractors on the other hand don't give a damn who we're fighting so long as they remain in the black. The more red American blood is spilled, the blacker their balance sheets.
What a world.
ABOVE THE FOLD, BREAKING, NOTEWORTHY
"The F-16s were deployed after the private Cessna jet flew into restricted airspace over the capital before it violently crashed in southwest Virginia. The fighter jets saw that the pilot of the plane had passed out, a US official told ABC News." (shades of Payne Stuart, RIP - jjs)
Four Dead, Including Family Member of NRA Exec, in Crash Through Restricted Airspace that Led to Sonic Boom from F-16 Fighter Jets

* * * * *

"A resurfaced clip from a 1957 interview between Margaret Sanger and Mike Wallace exposes the depravity of Planned Parenthood's founder."
Viral Margaret Sanger Clip Reminds Us That Planned Parenthood Victimizes the Vulnerable

Victor Davis Hanson: "All of a sudden, the obsession with whites as a Satanic collective has become a national fad."
The Strange Pandemic of 'White' Disparagement

"Is the world's 'last best hope' for freedom lost?"
The New "Treason of the Clerks"

Richard Fernandez: "If humanity has to closely supervise artificial intelligence, much of its labor-saving advantages go away. After all, if systems must continuously require authorization from people then we haven't gone much beyond people, which was the point."
Surprised by Peril
CIVIL WAR 2.0: J-6 FBI FALSE FLAG "RIOT" & AFTERMATH, LEFTIST PERSECUTIONS, DEMOCRAT PUTSCH, AMERICAN DISSOLUTION
NOTE: The opinions expressed in the links may or may not reflect my own. I include them because of their relevance to the discussion of a particular issue.
ALSO: The Morning Report is cross-posted at CutJibNewsletter.com if you want to continue the conversation all day.
Follow us on Twitter: @CutJibNews
Follow us on Instagram: @Cutjibnewsletter
TIP JAR : Your support helps keep the lights on and is truly appreciated. Note: We are on Stripe, not PayPal.

posted by J.J. Sefton at
07:46 AM
|
Access Comments