« Saturday Morning Coffee Break & Prayer Revival
|
Main
|
Gardening, Puttering and Adventure Thread, June 10 »
June 10, 2023
Inventive ways to protect the rights of the LGBTQIA "community" to smut for children
G. K. Chesterton (1874 - 1936)
The next great heresy is going to be simply an attack on morality; and especially on sexual morality. And it is coming, not from a few Socialists surviving from the Fabian Society, but from the living exultant energy of the rich resolved to enjoy themselves at last, with neither Popery nor Puritanism nor Socialism to hold them back. The thin theory of Collectivism never had any real roots in human nature; but the roots of the new heresy, God knows, are as deep as nature itself, whose flower is the lust of the flesh and the lust of the eye and the pride of life. I say that the man who cannot see this cannot see the signs of the times; cannot see even the sky-signs in the street, that are the new sort of signs in heaven. The madness of tomorrow is not in Moscow, but much more in Manhattan - - but most of what was in Broadway is already in Piccadilly.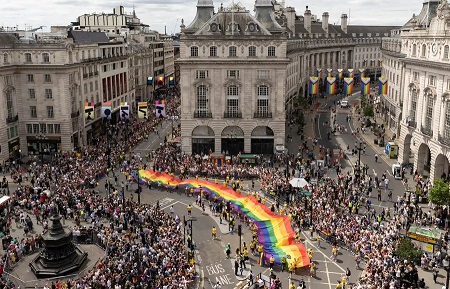 Piccadilly Pride March, 2023
*
President Biden will appoint a new federal coordinator to address the increase in book bans enacted across different states - part of a slew of new actions that he announced on Thursday aimed at protecting the LGBTQ+ community
Note to parents about current law:
"visual representations, such as drawings, cartoons, or paintings that appear to depict minors engaged in sexual activity and are obscene are also illegal under federal law"
*
Curtailing a teachers ability to expose school children to pornography is not a violation of anyone's rights.
*
Adultification???
There is a grant out to study how to prevent adults from treating black girls as less innocent than white girls. This is called "adultification" of black girls. Do these people care about "adultification" of LGBTQIA children????
Side note: It seems to me that some of the books these folks complain are "banned" due to "racism" rather than LGBTQ issues describe in shocking detail the "adultification" of black girls.
*
Update on Glendale protests, Antifa vs. Armenian and Hispanic parents:
Queer Theory has no mechanism to stop people like this from gaining access to children. None.
* * * * *
I know! Let's target parents!
*
Provocation. And how about those far left teachers? Weaponizing new rooftop Koreans? Antifa taunting Armenian parents
*
It's worst in California, maybe
Reminder that the "affirmation model" for treating transgender children is being abandoned in most of Europe. But you can lose your child in California for failing to use a treatment method which is being abandoned in Europe because it has not been shown to help kids.
More from Free Beacon.


* * * * *
I know! Let's get the Bible banned in schools as pron!
In December, a request was made to review the King James Version of the Holy Bible (the district is keeping the person's identity private). In that request, the person wrote: "I thank the Utah Legislature and Utah Parents United for making this bad faith process so much easier and way more efficient. Now we can all ban books and you don't even need to read them or be accurate about it. Heck, you don't even need to see the book! Ceding our children's education, First Amendment Rights, and library access to a white supremacist hate group like Utah Parents United seems like a wonderful idea for a school district literally under investigation for being racist."

The request continued: "I noticed there's a gap, though. Utah Parents United left off one of the most sex-ridden books around: The Bible. Incest, onanism, bestiality, prostitution, genital mutilation, fellatio, dildos, rape, and even infanticide. You'll no doubt find that the Bible, under Utah Code Ann. 76-10-1227, has 'no serious values for minors' because it's pornographic by our new definition. Get this PORN out of our schools! If the books that have been banned so far are any indication for way lesser offenses, this should be a slam dunk."
This request was successful, sort of, but not according to the law. The request was targeted at high schools, but succeeded in getting Bibles removed from elementary and middle schools on vague criteria.
Ken Ivory, who sponsored the law, suggested that all books which exceeded the rating of the Bible for alarming language must now be immediately removed from schools.
*
A group of parents, pastors and others got together to announce an action plan in a press conference at the State Capitol. Ken Ivory gave an outstanding summary of the way the anonymous review committee had ignored the law and their own district procedures, starting at 4:28. He also summarized the ways the Bible has played a part in civilization and history for centuries. This blew away the argument that The Bible has no value for children.
The following speaker, Dave Meac, pastor of Maria Baptist Church in Ogden, Utah, took it to the opposing ideologies at 19:40.
This is not over.
* * * * *
Music
* * * * *
Hope you have something nice planned for this weekend.
This is the Thread before the Gardening Thread.
Serving your mid-day open thread needs
* * * * *
Last week's thread, June 3, So what month is this, really?
Comments are closed so you won't ban yourself by trying to comment on a week-old thread. But don't try it anyway.

posted by K.T. at
11:26 AM
|
Access Comments