« Daily Tech News 2 June 2023
|
Main
|
Mid-Morning Art Thread »
June 02, 2023
The Morning Report — 6/2/23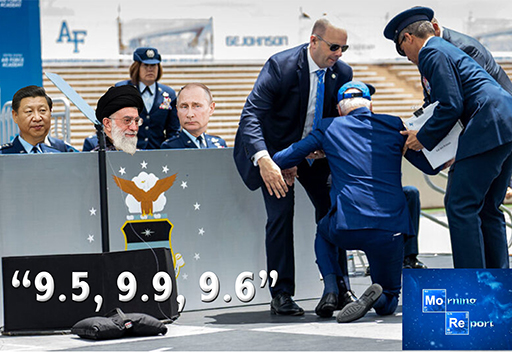 Good morning kids. It's simply beyond parody now. When even the dead and nonexistent people who "voted" for a demented sack of rotting vegetables are screaming for him to be given the hook. . .
Progressives are renewing their calls for a fair and contested Democratic presidential primary Thursday after [so-called quote-unquote "president"] Joe Biden fell on stage during the U.S. Air Force Academy's graduation ceremony.

Widely shared video footage showed Biden walking on stage in a suit and baseball cap when he fell to the ground and required assistance to get back up.

The [so-called quote-unquote "president"] was helped to his feet by three people and the White House later attributed his tumble to a sandbag on stage. His latest fall renewed concerns about his age and sparked calls from progressives for the Democratic primary to be an open process.

"[S]ome top Democrats have privately been saying for months that they're nervous about Biden tripping again on the trail. Today he did," Axios journalist Alex Thompson tweeted.

Biden is being challenged by environmental lawyer and vaccine skeptic Robert F. Kennedy Jr., and author Marianne Williamson. One CNN poll taken in late May showed Kennedy at 20% and Williamson at 8% with Democratic primary voters.
Meh, it could be worse. He could be John Fetterman. Seriously, Biden went down almost as hard as Hillary just before the 2016 election and even the media couldn't cover that one up. I think the visual of that was one of the things that had an effect on voters. This could be the same for Biden, and we're over a year away from the conventions. That said, if a crashing economy and the world set to go up in flames before a Chi-Com and/or Islamic takeover doesn't convince enough people, what the hell is this going to do? And yet, sometimes the picture is worth the proverbial thousand words. Of course, Dao-Min Yen will be in full force regardless of who goes up against Trump or DeSantis.
Jesse Morgan drove a tractor trailer for a contractor working for the U.S. Postal Service. Shortly after the 2020 election, Morgan made these claims at a press conference held by the Amistad Project of the Thomas More Society:

– On October 21, 2020, Jesse drove his truck and trailer from Bethpage, New York, to Harrisburg, Pennsylvania, loaded with as many as 288,000 completed ballots. In addition, there were two large trays of mixed mail, bound for Lancaster. Those were in the front of the trailer.

– Jesse drove the trailer to Harrisburg, but was not allowed to unload. After a six-hour wait, he was told to drive to Lancaster, without unloading at Harrisburg. In addition, the supervisor in Harrisburg refused to give him any paperwork to document his arrival in Harrisburg or his six-hour wait, which normally would justify extra compensation.

– Jesse Morgan was perplexed by these instructions because "95 percent" of the load was for Harrisburg, and that mail would have to be unloaded before anyone could get access to the Lancaster mail bins. After that, the Harrisburg mail would have to be returned to the trailer and driven back to Harrisburg. Even for the government, that is slightly inefficient.

– As instructed, Morgan drove the tractor trailer to Lancaster, and parked it in his usual spot. The next morning, the trailer had disappeared, without explanation. The trailer and the ballots were gone, and no one would explain to Morgan, or anyone else in this world, what had happened. . .

. . . So, after more than a year of investigation, the Post Office IG was still not sure if the two batches of printed ballots were shipped into Pennsylvania in trucks owned by the printing company, or were taken to Rochester-area post offices to be delivered in government trucks. Wouldn't the Post Office know whether or not it delivered the 650,000 ballots?

And, what about the printing company? It printed 650,000 general election ballots, which may have cost close to $200,000 (per-unit cost for printed ballots is $.29 in New York State). Yet, the company didn't know -- a year and a half later -- how it managed to get the ballots into another state? . . .

. . . Joe Hoft of the Gateway Pundit conducted a great interview of retired intelligence officer, Tony Schaeffer. Starting at the 12-minute mark, Schaeffer discusses his investigation of Jesse Morgan and Attorney General William Barr's threats that shut it down.

Early on, Schaeffer was asked by members of the Pennsylvania Senate to thoroughly investigate the Morgan claims. He formed a special team of "former postmasters," who spent a week trying to determine if Morgan's story was feasible, given normal Post Office procedures. They concluded that it was feasible, and that Morgan was credible.

Schaeffer then asked an acquaintance, former attorney general Ed Meese, to call Barr to inform him of the findings. According to Tony Schaeffer, no more than 10 minutes went by before Barr called him to tell him to stop investigating. Barr spent 20 minutes, essentially yelling at him in a threatening way. Schaeffer asked if Morgan could get whistleblower status, and Barr refused. After that, Morgan dropped out of sight.

. . . Final point: The Commonwealth of Pennsylvania certified its 2020 election despite the undisputed fact that it had recorded 202,000 more ballots cast than voters. That disparity probably made the election certification illegal under Commonwealth law. Eventually, Pennsylvania "found" more voters, but not enough. To this very day it appears that there were 91,000 more ballots cast than identified voters. Of course, that number exceeds Biden's winning margin. It also lends credence to the claims of Jesse Morgan. But... let's not be picayune.
Remember, this was just Pennsylvania. Similar garbage was happening in Wisconsin, Georgia, Michigan, Arizona and Nevada. And then there were the mail-in ballots in all 50 states that were about as protected as a toddler at Tranny Story hour. But if you bring this up, you're an "election denier" and "conspiracy theorist!"
Until my dying day: At the barest of bare minimums, there is more than enough circumstantial, eyewitness and physical evidence to indicate that one has to assume that the integrity and security of the 2020 election was compromised to such an extent as to call into doubt the outcome, at the barest of bare minimums. You all know my feelings, which I'm sure many if not all of you agree with. Paul/Kurt right now lifting his head from the subway glory-hole notwithstanding.
And when people went to DC on January 6th to legitimately protest the results of that tractor trailer full of ballots, among other things, it was an "insurrection." Yeah. Sure.
Former House Speaker Nancy Pelosi (D-Calif.) began January 6, 2021, by mugging for the cameras—more specifically, a camera operated by her filmmaker daughter, Alexandra Pelosi, who just happened to record every moment of her mother's movements on what would become one of the most infamous days in American history.

As a clearly tense Pelosi prepared to convene the joint session of Congress during which Republican members of the House and Senate planned to debate the Electoral College outcome in six states—Pelosi also is seen conducting a caucus video conference that morning criticizing Republican plans to delay certification—her chief of staff warned that President Trump might go to the Capitol following his noon speech at the Ellipse. "I hope he comes, I'm gonna punch him out," she told Terry McCullough. 

Turning toward her daughter's camera, Pelosi continued her tirade. "I've been waiting for this, for trespassing on Capitol grounds. I'm gonna punch him out, I'm gonna go to jail, and I'm gonna be happy."

Less than two hours later, members of Congress, including Pelosi, were evacuated when the building was breached shortly after 2 p.m. Alexandra Pelosi later told CNN's Christiane Amanpour the events of January 6 "offended her [mother] in her soul."

But if Pelosi's soul was indeed offended, unseen footage released today by Just the News founder John Solomon suggests otherwise. Pelosi is seen cooly walking through the evacuation route on her way to a secure location at Fort McNair in Washington—with Alexandra just a few steps ahead, walking backwards, to capture the moment. Far from being under mortal threat by selfie-taking Americans in the Rotunda above, Pelosi is surrounded by her security detail as she is led to a chauffeured vehicle. Her daughter also traveled with her mother to the Army base located two miles from the Capitol. . .

. . . Alexandra's fortuitous timing gifted the January 6 committee with powerful footage intended to show Nancy Pelosi in calm command on January 6, as well as the imminent danger faced by lawmakers and Vice President Mike Pence. At one point, Pelosi suggested Congress should reconvene the joint session at the military base. . .

. . . While Pelosi's every physical move on January 6 is in the history books, her records related to January 6 are not. Representative Bennie Thompson (D-Miss.), chairman of the now-defunct select committee, said Pelosi and her office were "off limits" from the investigation. Pelosi has not produced a single document, email, or call log to detail what she did in the weeks before January 6, even though her office was primarily responsible for security. . .

. . . In March 2021, the Justice Department designated the recordings "highly sensitive government material" and placed every clip under strict protective orders in court. January 6 defendants have complained for more than two years that exculpatory evidence could exist within the massive trove. McCarthy's office has allowed some defendants and their attorneys to view the footage.
Put all of these three stories together and if your blood isn't boiling right now, you have the brain function somewhere between John Fetterman, Joe Biden and a mollusk.
As an aside and not altogether unrelated, if you want to know why America is so totally effed up, Chesa Boudin lands a teaching gig at Berkley and not to be outdone, Lori Lightfoot winds up with a gig at Harvard.
Land of hope and glory. Gevalt.
QUICK HEADS UP: The great Colonel Kurt Schlichter will be our special guest on the latest episode of the podcast, which if it's not up now will be in the sidebar a bit later this morning. Thank you, Kurt, for a great conversation!
Have a good weekend.
CIVIL WAR 2.0: J-6 FBI FALSE FLAG "RIOT" & AFTERMATH, LEFTIST PERSECUTIONS, DEMOCRAT PUTSCH, AMERICAN DISSOLUTION
NOTE: The opinions expressed in the links may or may not reflect my own. I include them because of their relevance to the discussion of a particular issue.
ALSO: The Morning Report is cross-posted at CutJibNewsletter.com if you want to continue the conversation all day.
Follow us on Twitter: @CutJibNews
Follow us on Instagram: @Cutjibnewsletter
TIP JAR : Your support helps keep the lights on and is truly appreciated. Note: We are on Stripe, not PayPal.

posted by J.J. Sefton at
07:41 AM
|
Access Comments