« Gator Baiter Cafe
|
Main
|
Daily Tech News 2 June 2023 »
June 01, 2023
Oh Say Can You ONT?
Greetings Horde! Another week in the books, how have y'all been? It's been a banner week around here.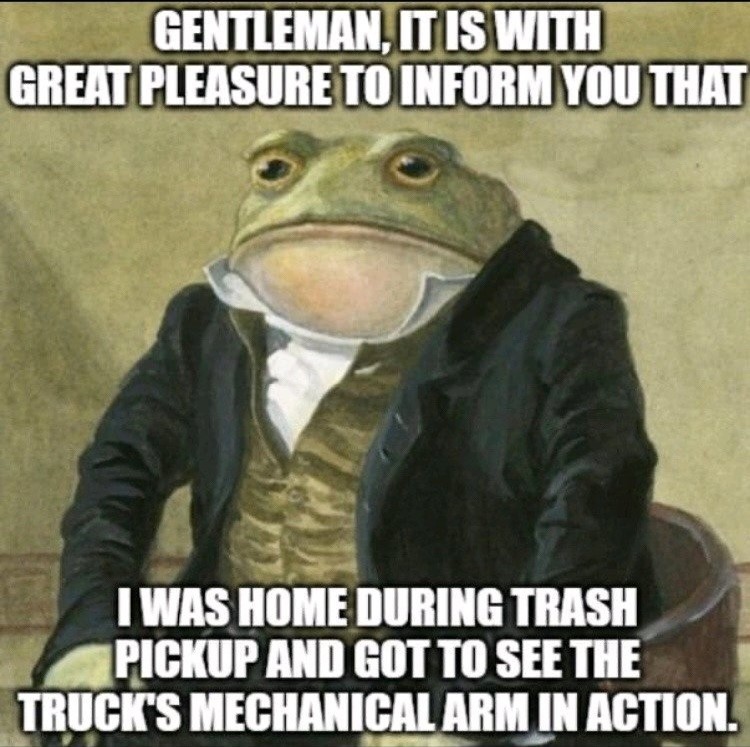 Also we lost power last night. Out of the blue, clear night, no storms or wind. When the lineman got out to fix it, he took his bucket up, stuck out a pole and...knocked the body of a very surprised looking owl off the transformer. Poor thing glided in for a landing on the transformer and got the shock of his life.
History Minute
Since we're nowhere near the anniversary date, I thought it might be a good time to remember the Battle of Princeton.
Washington probably wasn't the greatest battlefield general of his time, but I don't know of any general in American history who was better at getting his (and his men's) ass out of a crack. Time after time the enemy thought they had him and – Blurp! - he scooted from their grasp like a greased pig.

Unions. *spit*
How the Teachers Union Broke Public Education
Here's a short but critical quote from the article:
In any bureaucracy, the people devoted to the benefit of the bureaucracy itself always get in control.
If I could teach one thing to every person in America (and the ramifications), it would be that. Every institution, be it governmental or private, winds up perpetrating the issues it was formed to "solve", in order to justify its continued existence. I can't think of a single counter example, can you?
Related: Anyone named "CatGirl Kulak" is obviously a serious thinker, right? You might be surprised, the thread is worth a read.
Saving The Planet, One Serf At A Time

The threat to German sausages is real
All meat, incl white and processed shall be only 10 grams per day, or just one sausage or one steak per month eaten in Germany ? The information came out through a leaked document to Bild newspaper, Germany"s leading boulevard. So it is not official yet, but the leak has not been denied. DGE says that factors that also influence its decision are environmental aspects and expectation that healthy plant based foods will become cheaper if less meat is being produced. Another symptom of the total economic ignorance and incompetence of the circles advocating for plant based foods. If it becomes official DGE policy, then all public food service like hospitals, schools or factory canteens must follow, or they do not receive accreditation anymore: Many Germans will pay with their health for this idiocracy.
As the blödsinn* press will undoubtedly put it: "German citizens rejoice as their meat allowance has been raised to one sausage per month"
*German swear words are fun! Here's some fun German insults for you to try at home, you Gehirnverweigerer.

State Governments At Work
Maryland License Plates Now Inadvertently Advertising Filipino Online Casino
In 2012, to celebrate the 200th anniversary of the War of 1812, Maryland redesigned its standard license plate to read "MARYLAND WAR OF 1812." The license plates, which were the default between 2012 and 2016, have the URL www.starspangled200.org printed at the bottom. 

Sometime within the last year, www.starspangled200.org stopped telling people about how Marylander Francis Scott Key was inspired to write the national anthem "The Star Spangled Banner" after watching British ships bombard Fort McHenry in Baltimore during the War of 1812 and started instead redirecting to a site called globeinternational.info, in which a blinking, bikini-clad woman advertises "Philippines Best Betting Site, Deposit 100 Receive 250."

The problem is that Maryland didn't own or maintain the website URL they featured on their plates, and when the domain expired, someone bought it up and now it redirects to the casino site. Best and brightest.

Oh, Canada. Oh No, No, No, Canada
Canadistan Is Out of Control: New Survey Shows Growing Population Support for Euthanizing the Poor and Homeless – Number of Assisted Suicides Skyrockets Ten-Fold in Half a Decade to 10 Thousand People
Initially, the legislation allowed euthanasia only for those suffering from a terminal illness whose natural death was 'reasonably foreseeable'.

The Slippery slope soon came into view, with Bill C-7, a law which repealed requirement that the condition should be 'terminal'. Now, illness or disability which 'cannot be relieved under conditions that you consider acceptable', is deemed reason enough.

Spectator: "Perhaps, like many doctors, journalists are afraid of being accused of being 'unprogressive' for questioning the new culture of death, a fatal accusation in polite circles."

Since mid-March 2023, a person whose sole affliction is a mental health condition is eligible for assisted suicide. Absurd? Here's the actual kicker: 'conditions include issues that could leave a person suicidal – like depression and post traumatic stress disorder – but also include autism, ADHD, eating disorders and internet gaming disorder.'

Dr Trudo Lemmens, University of Toronto, on DailyMail: "Imagine that being applied in the context of mental health. You have a person suffering severe depression, seeks help from a therapist and is offered the solution of dying."
Remember when the West produced people like Dylan Thomas?
Do not go gentle into that good night, Old age should burn and rave at close of day; Rage, rage against the dying of the light.

Though wise men at their end know dark is right,
Because their words had forked no lightning they
Do not go gentle into that good night.

Good men, the last wave by, crying how bright
Their frail deeds might have danced in a green bay,
Rage, rage against the dying of the light.

Wild men who caught and sang the sun in flight,
And learn, too late, they grieved it on its way,
Do not go gentle into that good night.

Grave men, near death, who see with blinding sight
Blind eyes could blaze like meteors and be gay,
Rage, rage against the dying of the light.

And you, my father, there on the sad height,
Curse, bless, me now with your fierce tears, I pray.
Do not go gentle into that good night.
Rage, rage against the dying of the light.
Now we have euthanasia for "influencer" clicks!
Sick.
History Does Not Repeat Itself, But It Rhymes
The Impending Thermidor Reaction in Jacobin America
As our woke version of the Jacobin revolution accelerated, society itself began to unwind—as expected given America relied on meritocracy, free expression dissent, the rule of law, forbearance, and tolerance.

In less than three years, our major cities became filthy to the point of unhealthiness. Violent crime and thievery drove businesses and commuters away. Subways at night became the domain of the homeless and criminal. Vacancy rates in San Francisco or downtown Portland shot up to 25 percent or more. Millions began leaving Jacobin blue cities and states, and headed for sanctuaries in more suburban and rural red states.

Once-trusted and familiar government agencies became weaponized—and inevitably incompetent. The FBI was not interested in the organizers of 120 days of violent looting, arson, murder, and rioting in summer 2020, or the threatening mobs who showed up at the homes of Supreme Court Justices. Instead, it fixated on parents at school board meetings, Latin Mass Catholics, former Trump Administration officials, and anyone daring to question the Russian collusion or Russian disinformation laptop hoaxes.

But VDH doesn't think everything is bleak.
A counterrevolution is building, not just because people are angry at what has become of their country, but because they now are learning that if they do nothing, they will have no country—and soon.
I wonder who our Napoleon will be?

Short Of The Week
Kind of grim, tbh, but should be shown in every school in America.

Bukkake* Theater
*Not a typo. And guess where in the circle the taxpayers are?

Tonight's ONT has been brought to you by perspective: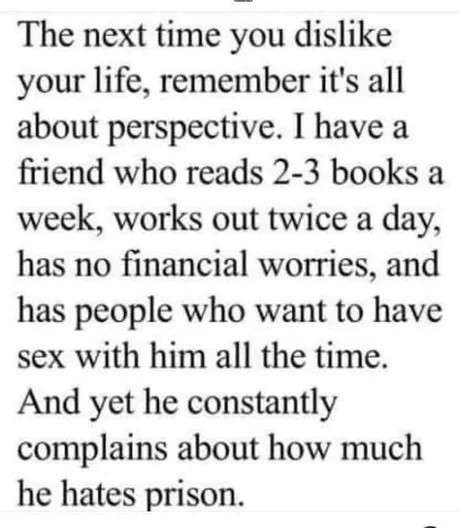 posted by WeirdDave at
10:00 PM
|
Access Comments