« Food Thread: Grilling, A Quiz, And Some Weird Sweet Stuff: Business As Usual!
|
Main
|
Overnight Open Thread [05/28/2023] »
May 28, 2023
Gun Thread: Memorial Day Weekend Edition!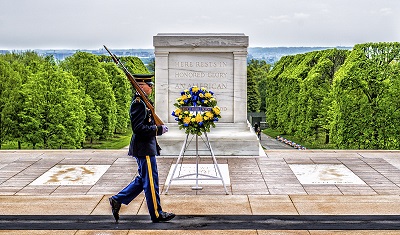 Howdy, Y'all! Welcome to the wondrously fabulous Gun Thread! As always, I want to thank all of our regulars for being here week in and week out, and also offer a bigly Gun Thread welcome to any newcomers who may be joining us tonight. Howdy and thank you for stopping by! I hope you find our wacky conversation on the subject of guns 'n shooting both enjoyable and informative. You are always welcome to lurk in the shadows of shame, but I'd like to invite you to jump into the conversation, say howdy, and tell us what kind of shooting you like to do!
Please take a moment to remember those who have given their lives in military service to the United States and show your gratitude by living your days as someone worthy of their sacrifice.
Holy Shitballs! How in the ever-loving Hell did it get to be the end of May? Know what that means? I say, do you know what that means? Why it means June is next, and with June comes the NoVAMoMe on the 9th and 10th. That's right, the social and cultural event of the season, the 2023 NoVAMoMe is now less than two weeks away! If you haven't registered, do not despair. There is still time to sign-up and spend a day with your friends. Specifics on how to get more information can be found below, and there is always a helpful email link on the main page left sidebar. Remember, the deadline to register and make payment is midnight May 31st so do not delay. We have to guarantee the number of attendees, so after that date, there are no additions or refunds. Please note mug sales closed on May 20th, so while you may be mug-less, you can still attend. Register today!
Psssst! Something else you will note on the main page; the dates for the 2023 TXMoMe have been added. More on this fabulous and frankly life-changing event coming soon.
With that, step into the dojo and let's get to the gun stuff below, shall we?
******
2023 NoVAMoMe Reminder
A NoVAMoMe PSA from our pal bluebell

Hi folks - just a quick PSA. If you write for info about the MoMe, please give us a few words in the body of the email just so I know you are a Moron and not a spammer (moron). I do receive spam on this email account because it's sitting right here in my nic, so that's why I'm asking. I don't want to give our details to a spammer.

Thanks.
Posted by: bluebell - NoVaMoMe registration now open!
Nothing complicated, people. Just let bluebell know you're a regular and not an imposter by using the secret handshake and related gang-signs. Lastly, don't forget, there is a meetup for the airing of grievances on Friday afternoon and evening, then the main NoVAMoMe on Saturday, and the opportunity to do some shooting on Sunday (separate registration required). Don't be a pathetic girly-man loser, register today!
***
New! for 2023, the Moron Gun Club, Northern Virginia Chapter has organized a group shooting event at a local range in Virginia on Sunday the day after the official NoVAMoMe. There is only ONE slot left, so do not delay in contacting Sharon(wa) if you're interested. Details below:
The DMV MGC has made a reservation at our range to host a group of no more than 15 people in their party room on 6/11, the Sunday after the MoMe. This consists of 3 15 yd lanes and totally for our use only. We will have the lanes starting at 1:30 but will be asking people to arrive at 1 so we don't waste lane time getting organized and you will have to go through the safety briefing. There was a pretty significant fee so we need to charge $20 but there are no additional fees unless you want to buy ammo or rent a gun. Handguns only. We will have our personal arsenals (some much larger than others) so if you are weaponless that is not a problem. We only have ONE slot left so if you are interested, email Blaster at this address Novamomeshoot@proton.me.

The range is in Virginia so little more flexible if you are carrying. Once you have a spot, we will send you a link to fill out the guest form and sign the waivers so we don't waste time at the range getting people checked in. This way you just have to show ID.

Couple of caveats: a) you must attend the NoVAMoMe ($20 cash due at the MoMe), and 2) this is not part of the official MoMe. After the range meetup, we will head to our favorite restaurant for dinner. Separate checks.

Sharon(willow's apprentice)
******
Guns of the Horde
First up, our pal
Ed L
sends in this beauty for us all to enjoy.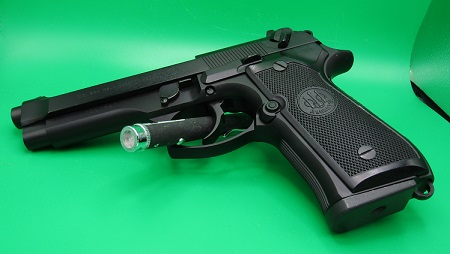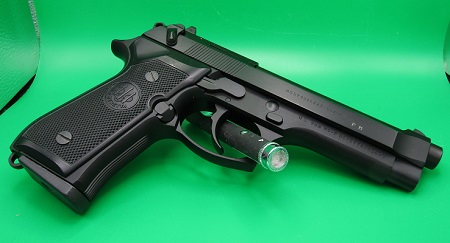 At first glance, this pistol looks like any other Beretta 92FS pistol. Tens of thousands of these have been produced. But this example is a very rare variant for the civilian market. It's a US military issue M9 pistol.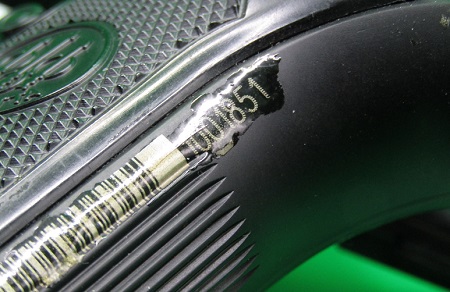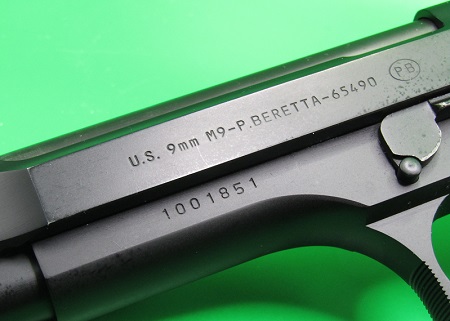 Beretta has produced commemorative pistols that duplicated the M9's military markings, but the serial number definitively confirms this example as a genuine M9. M9 pistol serial numbers started at 1000001. This serial number, 1001851, shows that this pistol was the 1,851st pistol delivered to the military by Beretta.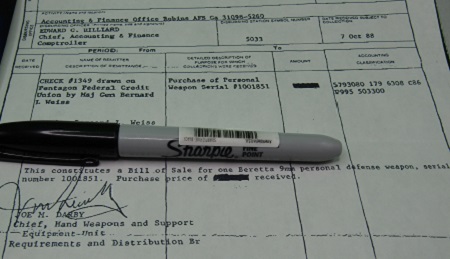 The US military has not yet declared M9 pistols surplus. But one small group of people have been able to obtain M9 pistols out of military stocks. These are retired flag officers (generals and admirals), who have the option to purchase their sidearms upon retirement from active duty. This M9 pistol was the issued sidearm of Major General Bernard L. Weiss, USAF. He purchased the pistol upon his retirement from the USAF in 1988. As the commander of the USAF Contract Management Division from 1985-1988, he was certainly heavily involved in the M9 program. His selection of a brand new M9 as his sidearm is not surprising. You can see here his official photo (as a Brigadier General) and a copy of the Cash Collection Voucher used to pay for his sidearm upon his retirement. Later flag officer sidearms would have presentation grips and their own special serial number range, making this M9 a rare, unaltered original example.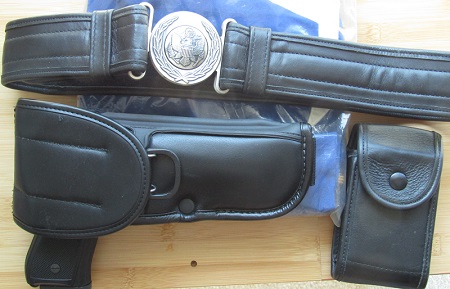 This M9 comes with the full rig, including the USAF general officer's belt, black leather M12 Bianchi holster, and matching black leather magazine pouch. Major General Weiss' two-star flag is also part of the package.
Wow! Very nice, Ed L! Amazing provenance. Thanks for sending this in!
***
Next, a follow-up to last week's Gun Thread featuring a Lee-Enfield Rifle No. 5 Mk. 1, from our pal Scampydog.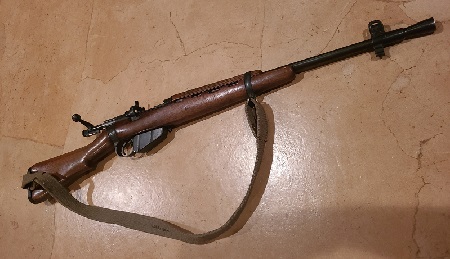 A few days ago I considered sending the attached pic. But I'm rarely around on Sundays, and thought if I can't participate in the thread - don't send a pic. Regardless, it was both cool and ironic to see your write up this evening.
Nice looking example of the Jungle Carbine, Scampydog, how does it shoot? Oh, and submissions are always welcome! Thank you!
*****
Range Time!
Next, our pal
RedMindBlueState
shares a picture from a range trip past.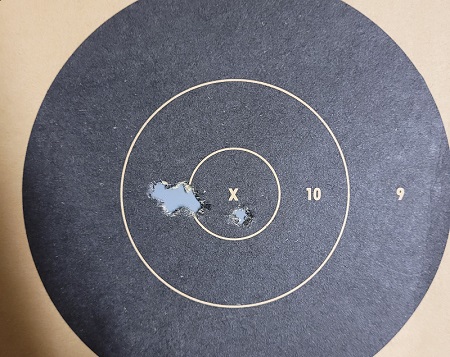 This is a pic of a target I fired some mumblemumble years ago with the Model 70 and some handloads my dad worked up for it. No rear bag, nothing special. Just a good day on the range. For a non-custom rifle, it'll shoot pretty well if the operator is properly switched on. Six shots at 100 yds. Just ignore that one flyer.
Nice shooting, RMBS! Thank you!
******
Worth Watching
Your ol' pal Weasel is a sucker for restoration videos of mechanical things, and this one is a real doozy!
It's not too long so let me know what you think in the comments. Would you have attempted to restore the gun? Would you have tried firing it afterward?
******
Ax Weasel
Q: Weasel, how radioactive is the first atomic bomb site?
A: This radioactive, thank you for axing.
******
Let's say you're wandering around and suddenly find yourself at the controls of a SR-71. If this were to happen, you'll be glad to have had this tour of the SR-71 cockpit. You're welcome.
******
NoVAMoMe 2023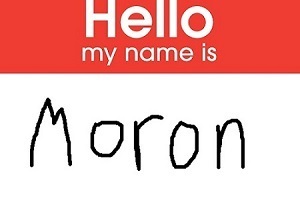 Not so fast on the gun stuff, buckaroos! We have a little bit more on the NoVAMoMe to discuss. In fact, this will be the first of a long and seemingly endless series of reminders to get yo' big butt off the couch and come out and meet some of your online friends. Let's kick things off with a few NoVAMoMe FAQ.
Q: Is it fun?
A: Yes. Just ask anyone who has been to one. You will have fun, or else.
Q: When is it again? Did you say June?
A: Yes. A thousand times yes! June 10th, from 1pm til 6pm or so.
Q: I'm sort of a dork. Can I just slink-in, watch for a bit and then slink out without having to actually speak with anyone?
A: Yes. In fact, we have strategically placed large potted ferns for lurkers to hide behind.
Q: Will bluebell be there? I really want to meet bluebell.
A: Of course! Well, assuming things go well at the parole hearing.
Q: Is there food and drink?
A: Yes! $30 for a bigly buffet, and a cash bar. We had to bump up the food price a bit to cover costs this year.
Q: Can I make references, even veiled references to the secret MoMe location on the blog?
A: NO! Seriously, please don't.
Q: Sounds great, Weasel! How do I sign up?
A: We have an online page for registration. Email novamome@protonmail.com for all the details!
OK, I'm talking to YOU Mr. or Ms. I'll Go Next Time. Guess what? The next time is here. It's a really fun event and we would love to have you join us. Hopefully some NoVAMoMe veterans will speak up in the comments and encourage the introverts to stop being big baby chickens and make this the year to come out of the shadows!
******
Musical Interlude
Here is Muddy Waters with
Hoochie Coochie Man
******
Gun Basics 101
No new video from the She Equips Herself gal so here is one from the archives on easy ways to rack a pistol slide.
Bonus Content!
Here is another video on the same topic, with significantly less racking.
Armed Attorneys
As promised, here's a weekly video installment from the Armed Attorneys YouTube channel. These are always worthwhile to watch!
******
Cigar of the Week
This week I have a review of two cigars from Nick's Cigar World, a cigar shop I like and use online regularly.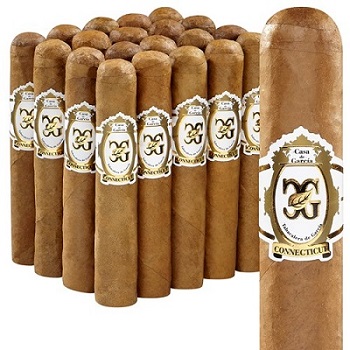 Terrible cigar at any price
First, the Casa de Garcia Maduro available atfor $32 per bundle of 20. Casa de Crapola is more like it.
WeaselReview: Complete waste of dinero. More awful than bad. Bad simply implies a matter of taste, and these are terrible in every respect, both objectively and subjectively. Do not buy. Atrocious construction and you'll suck your eyeballs into the back of your head trying to get this turd to draw. Zero stars, and at FREE these would be overpriced. Recommend only to people you hate.
***
Moving along...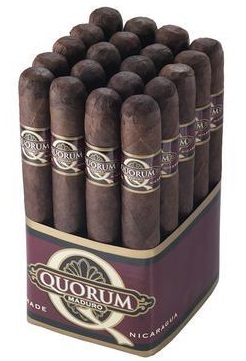 Pretty decent $2 cigar
Next we have a slightly pricier option, the Quorum Maduro Robusto at $38 per bundle of 20, which are actually quite decent and worth every bit of $2 each. You're not going to find these on Cigar Aficianado with a 120 rating, but hey, they're two bucks.
I like finding decent bundled cigars around $2 a pop which are my farming chores and mowing-the-grass cigars. I absolutely recommend the Quorum Maduro Robusto. Decent construction, burn and taste, and won't break the bank!
******
Here are some different online cigar vendors. You will find they not only carry different brands and different lines from those brands, but also varying selections of vitolas (sizes/shapes) of given lines. It's good to have options, especially if you're looking for a specific cigar.
Cigarsinternational.com
Cigarpage.com
Famous-smoke.com
Cigarsdaily.com
Neptunecigar.com
Smallbatchcigar.com
Bobalu Cigar Company
Cigarbid.com
A note about sources. The brick & mortar/online divide exists with cigars, as with guns, and most consumer products, with respect to price. As with guns - since both are "persecuted industries", basically - I make a conscious effort to source at least some of my cigars from my local store(s). It's a small thing, but the brick & mortar segment for both guns and tobacco are precious, and worth supporting where you can. And if you're lucky enough to have a good cigar store/lounge available, they're often a good social event with many dangerous people of the sort who own scary gunz, or read smart military blogs like this one. -rhomboid
Anyone have others to include? Perhaps a small local roller who makes a cigar you like? Send me your recommendation and a link to the site!
******
Ammo Link-O-Rama
I'm really very seriously not kidding around anymore. Buy Ammo
AmmoSeek - online ammo search tool
GunBot - online ammo search tool
SG Ammo
Palmetto State Armory
Georgia Arms
AmmoMan
Target Sports USA
Bud's Gun Shop
American Elite Ammo NEW!
***Mail Bag***
This week's mailbag entry is from our pal WTM. Great one!
******
Please note the new and improved protonmail account gunthread at protonmail dot com. An informal Gun Thread archive can be found HERE. Future expansion plans are in the works for the site Weasel Gun Thread. If you have a question you would like to ask Gun Thread Staff offline, just send us a note and we'll do our best to answer. If you care to share the story of your favorite firearm, send a picture with your nic and tell us what you sadly lost in the tragic canoe accident. If you would like to remain completely anonymous, just say so. Lurkers are always welcome!
That's it for this week - have you been to the range?


posted by Weasel at
07:00 PM
|
Access Comments