« First-World Problems...
|
Main
|
Gun Thread: Memorial Day Weekend Edition! »
May 28, 2023
Food Thread: Grilling, A Quiz, And Some Weird Sweet Stuff: Business As Usual!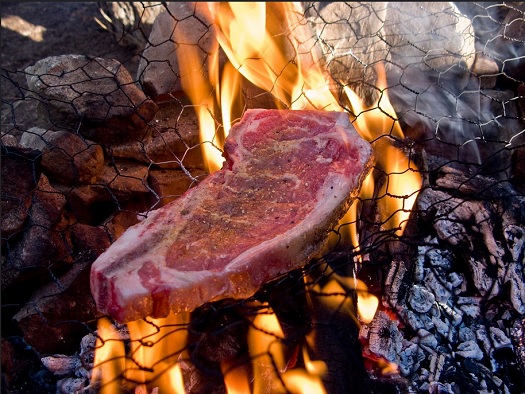 It's no secret that I love grilling...and beef. Put them together and I am a happy camper. Except I don't camp! My idea of enjoying the wilderness is to hike into it in the morning, out of it in the afternoon, go directly to a shower, and then to a nice dinner, complete with cocktails and air conditioning.
But good food doesn't require perfect kitchens and tools, as the photo above shows quite well. That's chicken wire over a camp fire, and I'll bet the steak was just fine!
I've cooked in an indoor fireplace during a ten day blackout, and I absolutely loved the result. Sometimes perfect is the enemy of good, and in cooking, that certainly applies more often than not. After all, no matter how awful the result, you get to try again in just a few hours!
How many of you have just made do? One pan, one fork, two spoons and some salt. And you made a meal! Probably one you remember more than the thousands of just-another-Tuesday meals you have made!
******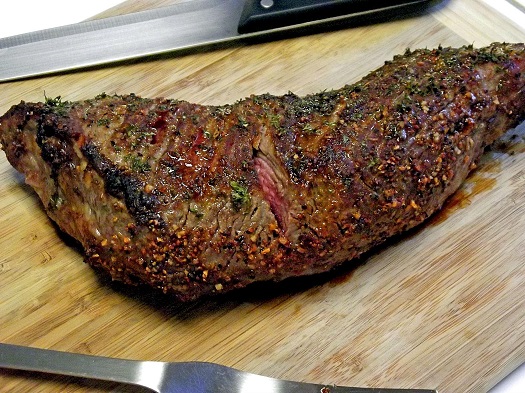 Here's the challenge!
10+ people for dinner, with a couple of tri-tips and a nice pork leg (2-3lbs) available.
So...is that enough?
If not, how about a chicken?
And how to cook the meat?
Sous Vide is of course the method of choice for the pork and the beef, and there are a variety of grills available, so finishing is trivial.

******
Commenter "Martin" has shared some delicious-looking foods with us, and this certainly doesn't disappoint!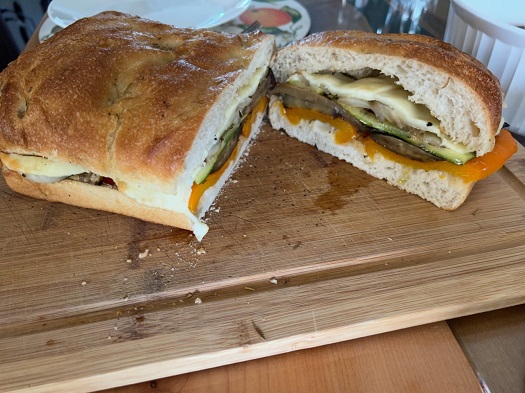 I was just finishing a pork shoulder on the Kamado when I saw you mentioned vegans in the Food Thread.

Just by coincidence, I had also grilled some veggies for a grilled veggie and Provolone on Focaccia bread sandwich tonight. Special request from [my wife]. So good drizzled with olive oil and lemon.
That looks delicious, and while I often spout ridiculous hyperbole about the awfulness of vegetarians and vegans, the reality is that vegetables play a role in any good diet. The important thing, for both health and interest is to eat lots of different things...fruits and vegetables and all sorts of different proteins and even a starch now and then!
I'll bet that sandwich was wonderful...the juices from the vegetables soaked into the bread and mingled with the olive oil and lemon juice, all held together by the Provolone! Which is a wonderful cheese if you can get the good stuff, and not the industrial crap that passes for it at most delis.

******
Baby-Back Ribs vs. spare ribs. Yes...I agonize over the big questions so that all of you don't have to worry your pretty little heads about them.
And unfortunately my conclusion won't make many of you happy, especially since recently the baby-back ribs I see have grown in thickness and width...and while I can guess the reasons, it doesn't matter. I think they are both delicious, and the sometimes greater thickness of the baby-backs lends itself to longer cooking times.
Oh..they seem to have gotten fattier, which is always...ALWAYS...a good thing.
Any thoughts?

******
At first glance this soundly fairly repulsive, but swapping out the execrable milk chocolate for dark chocolate and it might work, especially since I have an embarrassingly well-developed sweet tooth!
Milk chocolate bark with pretzels, candied bacon and jelly beans
Pretzels and chocolate go well together, and bacon goes well with..well...everything, so the outlier is the jelly beans. I submit that it will be weird, but we sugar addicts can push through the strangeness and overcome!

******
It's Memorial Day weekend, and while it is a diminished holiday in many parts of America, many of us will remember those who fought and died so that we could enjoy the freedoms that have been so dear to our country for so very long. It is a joy being an American, and it is because of those men who sacrificed all that I can say that. It is also incumbent upon us that we respect their sacrifices, and continue the fight so that they will always be remembered.
******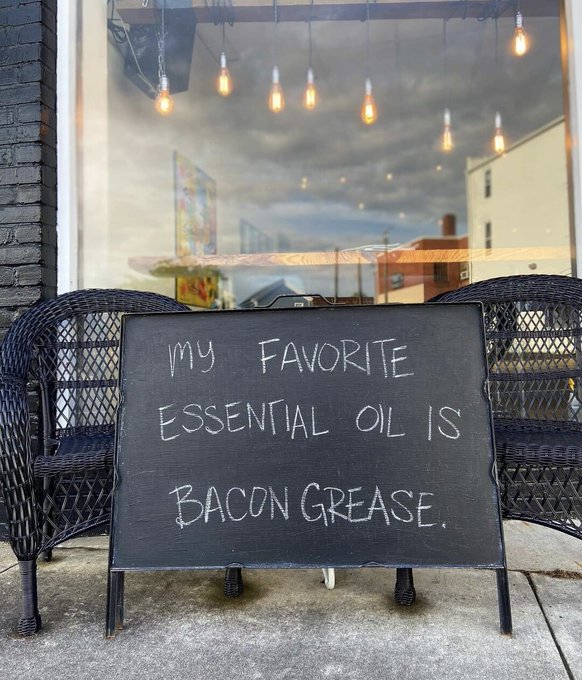 [Hat Tip: PowerLine]

******
The oyster imperative remains in effect, especially now that we are entering the summer months. Yup, I'm not afraid of oysters in the summer! And send pork rib roasts from the front end of the pig where all the good and fatty meat lives, carrots that don't taste like stalky chalk, spare bottles of Van Winkle Special Reserve 12 Year Old Bourbon, garlic...lots of garlic! (but no basil!), well-marbled NY strip steaks and elk backstrap to:
cbd dot aoshq at gmail dot com.
And don't think that the rest of you are off the hook with maple syrup and French Toast: I'm still watching you! And I am watching you perverts who shake Manhattans and keeping a list for the Burning Times.

posted by CBD at
04:00 PM
|
Access Comments