« EMT 5/28/23
|
Main
|
The Vast Entitlement And Even Vaster Uselessness of a 30-Something Twit Must Overshadow A Looming Teamsters Strike Against UPS »
May 28, 2023
Sunday Morning Book Thread - 05-28-2023 ["Perfessor" Squirrel]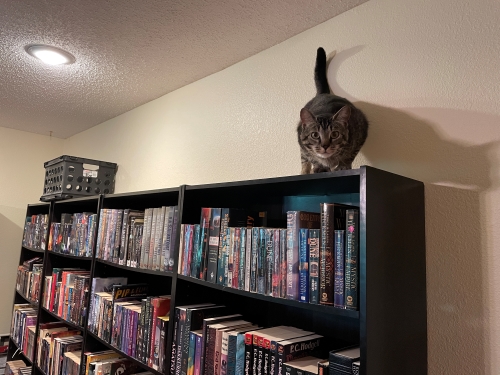 Welcome to the prestigious, internationally acclaimed, stately, and illustrious Sunday Morning Book Thread! The place where all readers are welcome, regardless of whatever guilty pleasure we feel like reading. Here is where we can discuss, argue, bicker, quibble, consider, debate, confabulate, converse, and jaw about our latest fancy in reading material. As always, pants are required, especially if you are wearing these pants...
So relax, find yourself a warm kitty (or warm puppy--I won't judge) to curl up in your lap, PLEASE PUT ON SOME PANTS, and dive into a new book. What are YOU reading this fine morning?
PIC NOTE
OK, I know I said we'd be returning to libraries around the world, but please bear with me for one more week. Hexie had the "zoomies" and was running along the tops of my bookcases in the living room. I was able to snap the pic above, just as she tried to ensnare my soul.
We'll be returning to regularly scheduled libraries from around the world next week...(pinkie swear! Got a good one lined up courtesy of a Moron!)
CHARACTER MOTIVATIONS
In any story, character motivation *matters.* It's important to us as readers to be able to understand the reasons why characters behave. Now in the real world, we can see lunatics engaging in behavior that doesn't make a lick of sense to us. Seems like we see more and more of that on social media, as well as in the people in our neighborhoods that behave a bit oddly. Still, in their minds, whatever they are doing makes sense to them in the moment. How many of us did something stupid, crazy, or both when we were younger (less than 29) but it seemed like a good idea at the time? Raise your hand! (Mine is raised as well!)
Even in stories where characters go mad--or start out mad--there has to be some rationality in place for us to at least perceive a possible reason for character motivations. Otherwise, we end up with a plot that is all too common in Hollywood these days where the characters simply stumble from one set piece to the next with little reason for them to be there. Motivations do not have to be serious or weighty matters that drive the plot. You can have characters motivated by relatively shallow thoughts and feelings, so long as you are entertained by the story. For instance, in L. Sprague de Camp's The Honorable Barbarian the main character is mostly motivated to find a way to lose his virginity. Even though he's had a few opportunities to do so, fate seems to be keen on intervening. He's also on a quest to find a new escapement for the clock business his family runs, and then gets tangled up in a scheme to deliver an important message to a foreign king when the original messenger is presumably killed by prostitutes. All these motivations combined keep driving the plot forward as his adventures become more and more farcical and ridiculous (it's supposed to be comedic fantasy).
By contrast, Jake Sullivan's motivation in Larry Correia's Grimnoir Chronicles can be summed up as follows: The bad guy loses. Period. Jake is obsessed with adhering to his own moral code, which is how he's survived numerous potentially fatal situations. Of course, he's sometimes "Lawful Stupid" in that he gets in over his head but is still able to survive thanks to his mastery of the (super-)Power he commands. This dedication to an ideal is a common characteristic among Correia's main protagonists, usually driving them to insane actions in pursuit of their goals.
What are some examples of characters with poorly-developed motivations? Or examples where the motivation doesn't quite seem to work for the character?
++++++++++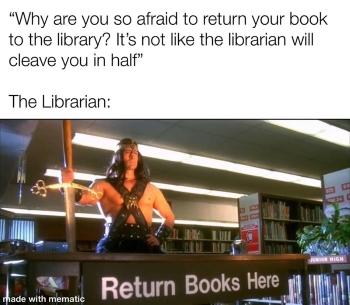 ++++++++++
FINDING NEW AUTHORS...
Let's try something a little different...
I've pretty much hit a dead end. Most of my favorite authors have either died or retired. Too many of the newer authors can't write worth a damn. I go to the library or the bookstore, read the first few pages of a book that looks interesting, only to put it back because the writing is so atrocious. Part of the problem is I've already read the premise half a dozen times.

Posted by: Captain Josepha Sabin -- I wasn't particularly fond of the '70s the first time around at May 21, 2023 10:55 AM (B7rlW)

I know what you mean. Finding a new author you like can be very tricky. I recently had some luck with an old author, one so ubiquitous that I assumed I would not like him, so I ignored his work when searching for new detective fiction. Silly of me. I am now on the 4th of Robert Parker's Spenser books, and having a good time with them. There are 48 more of these books waiting for me.

Posted by: Splunge at May 21, 2023 11:31 AM (IKlwI)

I, too, struggle when finding a new author to read, or at least one that is new to me. Last year I attended a few library book sales, which were a good source of books by authors I'd heard of, but had never read. That turned out to be a generally good solution, as I would most likely never have tried Peter F. Hamilton's Void Trilogy. Same with Larry Correia's Monster Hunter series. I thoroughly enjoyed both authors' writing styles. Writing and participating in the Sunday Morning Book Thread has also expanded my horizons. Y'all have so much to offer in terms of suggestions for reading material it's downright scary. That's one reason why I've been collecting recommendations--if you get bored, you can check out a Moron-recommended book. You may not always enjoy it, but you will almost always learn something new. For example, I know Adrian Tschaikovsky is highly recommended around here, so I will definitely check him out one of these days.
I've also been taking pains to try and put a dent in my to-be-read (TBR) pile. I've accumulated hundreds of books over the years that I've meant to read, but somehow didn't get around to it. So that's been my main focus for the past couple of years. Unfortunately, it's hard to make much headway in my TBR pile because I do tend to acquire more books, though not this week. I just can't seem to crack the "80% of my books read" threshold...
What do YOU do when you want to find an author new to you?
++++++++++
MORON RECOMMENDATIONS
This week I listened to the Audible book The Demon Next Door, which is about Texas serial killer Danny Corwin. Corwin was executed in 1990 for the murder of three women (he raped two of them). He also raped and attempted to kill two other women and raped a third. Most were around Temple. The book does not play the sympathy game with Corwin.

After finishing I found myself wondering how serial killers select their targets. Opportunity will be part of it but surely Corwin would have had more six opportunities.
BTW his weapon was a knife.

Posted by: That Northern skulker at May 21, 2023 09:30 AM (eGTCV)

Comment: True crime stories about serial killers and psychopathic monsters seem to be very popular. Maybe because their way of thinking is so alien to the "normal" person. In Larry Correia's Warbound, one of the secondary characters who joins the heroes is a legitimate sociopath. It's mentioned more than once that he only interacts with humans so that he can pretend to be one. He lacks all of the empathy required to relate to humans as an equal. He's also very smart and twisted, so to him we are a game or puzzle to be solved. Sociopaths and psychopaths (yes, there's a difference) are unredeemable monsters. There is NO possibility of true atonement for their evil ways.
+++++
Haidt and Lukianoff's The Coddling of the American Mind has been informative. (A very minor example - President Trump's "good people on both sides" comment after Charlottesville is a bit worse than what right wing commenters have taught us to believe.) As an elderly person, the material describing the likely relationship between social media and increasing incidence of mental illness among college students is compelling. While the authors seem willing to contort their thinking in whatever ways are necessary to excuse leftist nonsense, I think the book is worth reading.

Posted by: Oglebay at May 21, 2023 11:50 AM (j4NKg)

Comment: According to the introduction in this book, it's based on disputing three Great Untruths that are widespread on American college campuses:
The Untruth of Fragility: What doesn't kill you makes you weaker.
The Untruth of Emotional Reasoning: Always trust your feelings.
The Untruth of Us Versus Them: Life is a battle between "good" people and "evil" people.
Even a casual examination of each of those three Untruths can see that there are significant problems when people accept them as fact. We learn and grow through struggle and conflict, by overcoming challenges. Our feelings can and do deceive us regularly. Who gets to define "good" and "evil?"
+++++
Last night on the Hobby Thread, Polliwog asked about books that would be good references for plant illustrations. This was my quick response.

- Beatrix Potter (as in Peter Rabbit) did some excellent floral paintings that were included in scientific publications of the day.
- The botanical illustrations in the Brambly Hedge kids books. They are loose but completely accurate to form and color.
- Redoute's Fairest Flowers. They were done in the early 1800s. Phenomenal.
- Botanical Portraits with colored pencils by Ann Swan.
- Botanical Drawing in Color by Wendy Hollender.
- Any of the works by Martin Johnson Heade.

The only problem was I got looking through the various volumes and lost a few hours of sleep looking at the beautiful artwork.

Posted by: JTB at May 21, 2023 09:31 AM (7EjX1)

Comment: There's nothing wrong with getting lost in admiring beautiful illustrations of plants/flowers.
+++++
Been relaxing in Michigan the last couple of weeks. Read Chaim Potok's The Gates of November, about the Slepak family of refuseniks. It intersects a little with Natan Sharansky's Fear No Evil.

What's really fascinating about it are the occasional glimpses into the mindset of the people who maintained faith in the Soviet leadership. Volodya Slepak's father never lost faith, even when Stalin and his government started persecuting Jews and inciting violence against Jews.

When Stalin died (which followed the comedy-drama movie fairly closely),

Even in the labor camps, many cried.

Posted by: Stephen Price Blair at May 21, 2023 09:36 AM (olroh)

Comment: Totalitarian propaganda can be very, very effective in controlling the population. Remember when Kim Jong Il died? We saw how much his people wept genuine tears of sorrow for the death of their beloved Dear Leader. He was worshiped as a god in that country, even to this day, I believe. There will always be those who place their complete and total faith in Man instead of their Creator.
More Moron-recommended reading material can be found HERE! (790 Moron-recommended books so far!)
+-----+-----+-----+-----+
WHAT I'VE BEEN READING THIS PAST WEEK:
Grimnoir Chronicles Book 3 - Warbound by Larry Correia -- The heroes go in search of the mysterious Pathfinder, who heralds the attempt by the Enemy to invade Earth and destroy the Power that gave humanity their gifts.
The Honorable Barbarian by L. Sprague de Camp -- I've never read any of his work before. Seems like a slightly more humorous version of Jack Vance. Really just a series of misadventures of a young man struggling to find his way in the world.
Runelords Book 1 - The Sum of All Men by David Farland -- I don't much care for the magic system in this series. It's incredibly parasitic and destructive, even for the supposedly "good" faction. Not sure if I will finish this one.
Daughter of the Empire by Raymond E. Feist and Janny Wurts -- I acquired the rest of this series a short time ago and thought I'd give this one another read. I read it when I was teenager and didn't enjoy it much. Now that I'm 29+, I can see why people tend to rate it fairly highly within the overall Riftwar Saga. It's a political thriller rather than an action-packed fantasy adventure story.
Servant of the Empire by Raymond E. Feist and Janny Wurts -- Political intrigue continues as Mara Acoma strives to consolidate her legacy after defeating her most hated rival house.
That's about all I have for this week. Thank you for all of your kind words regarding the Sunday Morning Book Thread. This is a very special place. You are very special people (in all the best ways!). The kindness, generosity, and wisdom of the Moron Horde knows no bounds. Let's keep reading!
If you have any suggestions for improvement, reading recommendations, or discussion topics that you'd like to see on the Sunday Morning Book Thread, you can send them to perfessor dot squirrel at-sign gmail dot com. Your feedback is always appreciated! You can also take a virtual tour of OUR library at libib.com/u/perfessorsquirrel. Since I added sections for AoSHQ, I now consider it OUR library, rather than my own personal fiefdom...
PREVIOUS SUNDAY MORNING BOOK THREAD - 05-21-23 (NOTE: Do NOT comment on old threads!)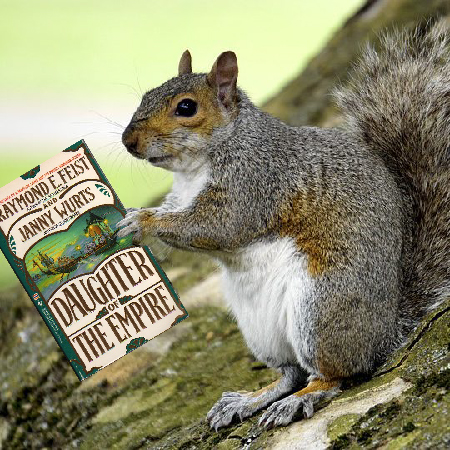 posted by Open Blogger at
09:00 AM
|
Access Comments