« THE MORNING RANT: Corporations Opened the Door to Evil When They Started Trying to Be On the Side of "Good"
|
Main
|
Kathy Hochul: Shut Up, Suburban Bigots, and Take Your Illegal Aliens »
May 26, 2023
"Nobody Expected It To Go On This Long:" Entire Beer Industry Is Shocked at Dylan Mulvaney Backlash
Yes, conservatives have been well-behaved little corporate sheep until now.
But no longer.
Now we are wolves that pack-attack corporations and tear them into little wet pieces.
'Nobody imagined it would go on this long': Bud Light sales continue to plummet over Mulvaney backlash

The controversy, now nearing its third month, has turned off a broader customer group than just those who characterize themselves as conservatives.

May 23, 2023
By Rob Wile

Sales of Bud Light continue to plummet, reflecting ongoing backlash to the brand's decision to hire transgender influencer Dylan Mulvaney as a spokesperson.

According to data cited by the beverage industry trade publication Beer Business Daily, sales volumes of Bud Light for the week ending May 13 sank 28.4%, extending a downward trend from the 27.7% decline seen the week before.

At a time of profound cultural and political division in the U.S., light beer drinkers simply don't want to be drawn into another debate about values, said Beer Business Daily editor and publisher Harry Schuhmacher.

"Most people don't care about this issue and don't want to get roped into a conversation," Schuhmacher said. "Therefore they're not going to buy the beer."
Oh? They get it now?
Do they all get this now, or do we have to drive every woke corporation into insolvency before they get it?
...

A spokesperson for Anheuser-Busch InBev, Bud Light's parent company, did not respond to a request for comment.

...

AB InBev shares have fallen more than 10% since Mulvaney's social media post went live. In a note to clients published Tuesday, JPMorgan analysts said that even if the decline in Bud Light sales stabilizes, "We believe there is a subset [of] American consumers who will not drink Bud Light for the foreseeable future."

"Nobody imagined it would go on this long," Schuhmacher said. He continued: "It seems random -- it struck a nerve. I've never seen anything to compare it to, in all of the [consumer packaged goods] industry. It's a real shock."
Perfect summary by Archimedes:
"Nobody imagined it would go on this long," Schuhmacher said. He continued: "It seems random -- it struck a nerve. I've never seen anything to compare it to, in all of the [consumer packaged goods] industry. It's a real shock."

When you take away the people's normal avenues to express dissent, e.g. the media and the justice system, the anger will be vented elsewhere. Get used to it.

Posted by: Archimedes

Via Bertram Cabot, Jr., apparently the first few kicks of the mule were insufficient instruction for Bud Light, and it will require additional kicks.
Bud Light and its parent company Anheuser-Busch are sponsoring at least three different upcoming Pride events despite backlash over the partnership with Dylan Mulvaney, a social media influencer who identifies as transgender.

Bud Light is listed as a sponsor on the Cincinnati Pride Parade website. Planned Parenthood and the Cincinnati Children's Hospital, which medically transitions minors, are both also listed.

Meanwhile, in St. Louis, Missouri, where Anheuser-Busch is headquartered, the company is listed as the presenting sponsor of the St. Louis Pride Parade. A sponsorship packet explains that there are only four "presenting sponsor" slots available. The "Rainbow" sponsorship tier, located below the "presenting sponsor" tier, requires entities to pay $25,000.

Bud Light is also listed as a "Diamond Sponsor" of Stonewall Columbus, which organizes and hosts the annual Columbus, Ohio, Pride Parade. The "diamond" sponsorship tier requires companies to donate $20,000, a document from the organization specifies. The document also adds, "All Stonewall Columbus sponsors must affirm Stonewall's diversity, equity, and inclusion policies AND agree to donate no less than 8 hours of volunteer time during a calendar year."

Anheuser-Busch was also listed as a premier sponsor for the San Francisco Pride Parade in 2022. The 2023 sponsors of the San Francisco Pride Parade have not yet been released.

Bud Light was listed as a sponsor of the Chicago Pride Parade on a page that has since been scrubbed. Bud Light boasted that "we have a clear role to play in bringing real change and creating an inclusive and equitable world where we cherish and celebrate one another."
I saw someone, maybe a commenter here, drop an insult, saying of someone "He looks like the kind of guy you'd have a Bud Light with."
The new Bud Light commercial is bad too. A young woman in a bar picks up five glasses of beer (what a gal!) and passes by a white male who has only four on a tray. He looks sad bc this little lady is stronger than him. After all he's just a weak buffoon.

To hell with these people.

Posted by: PJ

Update on the LA Dodgers boycott: Sam Brinton is a member of "The Sisters of Perpetual Indulgence," which are being honored at Dodgers stadium with a "Hero Award."
Of course he is.
RachelReneeReeves
@RachelReneeRee1



An added layer to the @dodger fiasco.
See the guy on the bottom right? Look familiar?
Yep, it's Sam Brinton; disgraced DOE official under the Biden admin. Also known as "Sister Ray Dee O'Active" in the Order of Perpetual Indulgence.

SMH.
Regarding the Target boycott, the Free Beacon reports they've lost $9 billion in shareholder value thank to their trans-for-kids agenda.
Disturbed consumers called for a boycott of the liberal corporation after it released "tuck-friendly" swimsuits for girls meant to hide male genitalia and merchandise from the LGBTQ brand Abprallen, whose designer dons a "Satan respects pronouns" shirt on his Instagram page.

Falling to a similar fate as Bud Light's disastrous LGBTQ ad campaign, Target's stock dropped 12 percent since last week, the New York Post reported:

A week ago Wednesday before the controversy erupted, Target's stock closed at $160.96 a share, giving the big-box chain a market capitalization of $74.3 billion.

As of early trading on Thursday, however, shares of the company were trading off 1% at $141.76 -- capping a weeklong tumble that has shrunk the "cheap chic" discount retailer's value to $65.3 billion.

That amounts to a 12% drop that has shaved a whopping $9 billion off the company's market capitalization.
Target moved the trans-for-kids propaganda to the backs of some stores -- and then attacked their own customers as potentially violent.
Target has since backtracked on its latest marketing plan, removing Abprallen items and moving its "Pride" collection to the back of stores in some states.

Target said in a statement to Reuters it was adjusting its marketing plans for the "safety" of its employees "given these volatile circumstances."
Hey, violent thugs -- shop at Target. We're having a sale on frozen chicken fingers, you lowbrow criminal brutes.
Then they celebrated the anniversary of the deification of St. George Floyd.
In an internal email sent to employees Thursday, Target thanked their "frontline teams and the LGBTQ community" for the "care you've shown each other" as "yesterday was a very hard day for Target." It went on to acknowledge that "today brings more reflection, pain, and the need for continued care" as the team reflects on the anniversary of George Floyd's death three years ago Thursday.
Nancy Mace @NancyMace

Bud light: shocks and insults their customers.

Target: hold my beer.
This guy says that Target can be turned insolvent, forced to change its Trans For Children agenda, or forced into a hostile takeover -- if 20% of its suburban customers just stop shopping at Target and go back to shopping at Walmart or normal grocery stores.
Cody Penn-Dent has the TP & Menthols @codypd

A thread on how to #TargetTarget in the #targetboycott.

I went through their recent financials and here's the TLDR:

Suburban grocery and consumables are keeping them alive.

A 20% drop in those sales forces change or bankruptcy in 12 months.
1) Target has become reliant on selling groceries, cosmetics and other items that people consume regularly and return to the store to buy out of habit.

Their traditional business of clothes and seasonal items has shrunk in terms of size and profitability

2) They are seeing a significant profitability impact from *theft*.

The retail management term is "shrink" because inventory "shrinkage" can be from things other than theft, like breakage in warehouses and whatnot.

But the half billion in new costs are theft as they describe.

From this we can see that Target, which has ~ 500 million shares outstanding and ~$7 per share profitability, that the biggest recent threat to keeping stores open is theft in cities.

They make mention of keeping those stores open to serve those communities.

So the suburban stores have the profits that are paying for the metropolitan theft farms they operate.

They have a 5% margin to work with.

This all spells a huge disaster if suburban grocery (and other consumables) shoppers move their business back to grocery stores or Walmart.

A 20% reduction in that business segment would pretty much force them to close all their urban theft farms.

It would also cripple their growth strategy (which is centered on suburban grocery traffic) and require a completely new strategy.

Who are those customers?

Moms.

They, so far, have been attracted to Target's progressive politics. They'd rather be seen at Target than at Walmart.

That has to change. Many will be MORE motivated to buy at Target from this. But others won't.

20%. That's the goal.

And one last bit to add:

Target just announced its quarterly results this week.

They weren't great. The theft is really hurting their business. That is part (or maybe all) of what is hitting their share price.

Target is over 80% institutionally owned. They won't sell off on a whim.

Only 3.5% of their shares are held short. That means only a small group of people have been betting against Target.

That, it turns out, makes them all the more vulnerable.

/end
Thanks to weft-cut loop for that.
There was an unsuccessful call for a boycott of Jack Daniels in April. The boycott would have concerned a Drag Queen promotion they did in 2021.
The whiskey giant Jack Daniels now faces calls for boycotts over a 2021 ad campaign that featured drag queens from Ru Paul's Drag Race.

The "small town, big pride" campaign enlisted drag queens from the TV show to "produce a series of videos called Drag Queen Summer Glamp, which was released during pride month," according to Newsweek.

The episodes and other promotional material have been available on the company's website, which says: 'Jack Fire and Pride go together like cinnamon and whiskey.'

Despite the campaign being publicized for 22 months, Jack Daniel's support for the LGBTQ+ community is receiving fresh scrutiny now transgender rights and liberties are a key issue of contention in the culture wars.

A spokesperson for Jack Daniel's told Newsweek that the distillery makes products "with everyone in mind, including the LGBTQ+ community. As a longtime champion of the LGBTQ+ community, Jack Daniel's celebrates individuality and living life boldly on your own terms."
It might be time revive that boycott.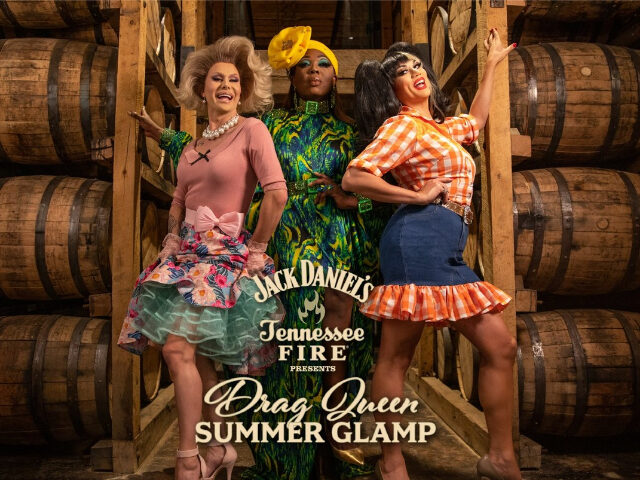 I published part of this already, but I have an update to it.
A man is suing a yoga studio because they told his pervert ass to clear out of the women's changing rooms.
A transgender woman sued a New York City yoga studio on Monday after being asked to exit the women's locker room at the studio and being told to use the men's facilities, according to a court filing.

Ali Miles, also known as Dylan Miles, according to the complaint, is suing Hot Yoga Chelsea for $5 million after management asked Miles to exit the women's locker room following a yoga class.

Hot Yoga Chelsea management prohibited Miles from using the Women's facilities, according to the filing.

"Miles sat down with the manager and owner and specifically told the manager about Miles' gender status, and informed that Miles most closely aligned with female gender identity and that Miles intended to and wished to use a private non-gender specific restroom and locker room.," the filing said.
"Most closely aligned." You're up in the air but you mostly come down on the Fake Woman side. And now everyone has to "respect" this.
After the yoga class, Miles entered the women's locker room and other women "complained" about Miles "presence," according to the filing.

This filing is the third gender-identity discrimination lawsuit Miles has filed in 13 months, the New York Post reported.
In other words, he's doing what that tranny is doing to Masterpiece Bakeshop -- finding the businesses where his dick is not welcome around naked women, making them uncomfortable to get kicked out, and then suing.
Hot Yoga Chelsea management allegedly told Miles to use the men's facilities after being escorted out of the women's locker rooms.

"Miles' use of single-gender locker room and bathroom labeled Men, made Miles suffer shame, humiliation, and frustration. Miles, against Miles' wishes and intent, was forced to use a locker room and bathroom that was not most closely aligned with Miles' gender," the filing read.

The update is that, according to Megyn Kelly, this does in fact appear to be a "serial litigant," someone who just hops from business to business hoping to be "discriminated against," so it can sue. Kelly reports that this thing engaged in what can be construed to be behavior of a calculatedly-outrageous nature, designed specifically to cause the women in the studio to complain, so that the studio would bar him from using the women's locker rooms. Apparently he was letting his Dick Flag flap about with no efforts at all to conceal it, and reportedly was crouching down at the showers, allegedly so he could peek under the curtains and spy on the women showering.
I kind of hope he wins -- I want all businesses to leave New York City.

And it's not even " " " Pride " " " month yet, people.
What horrors await us. What horrors await.


posted by Ace at
12:06 PM
|
Access Comments