« It's Official: The GOPe Wants to Be Nice to Groomer Corporation Disney
|
Main
|
Bonus Quick Hit »
April 26, 2023
Quick Hits
Our neurovegetative president: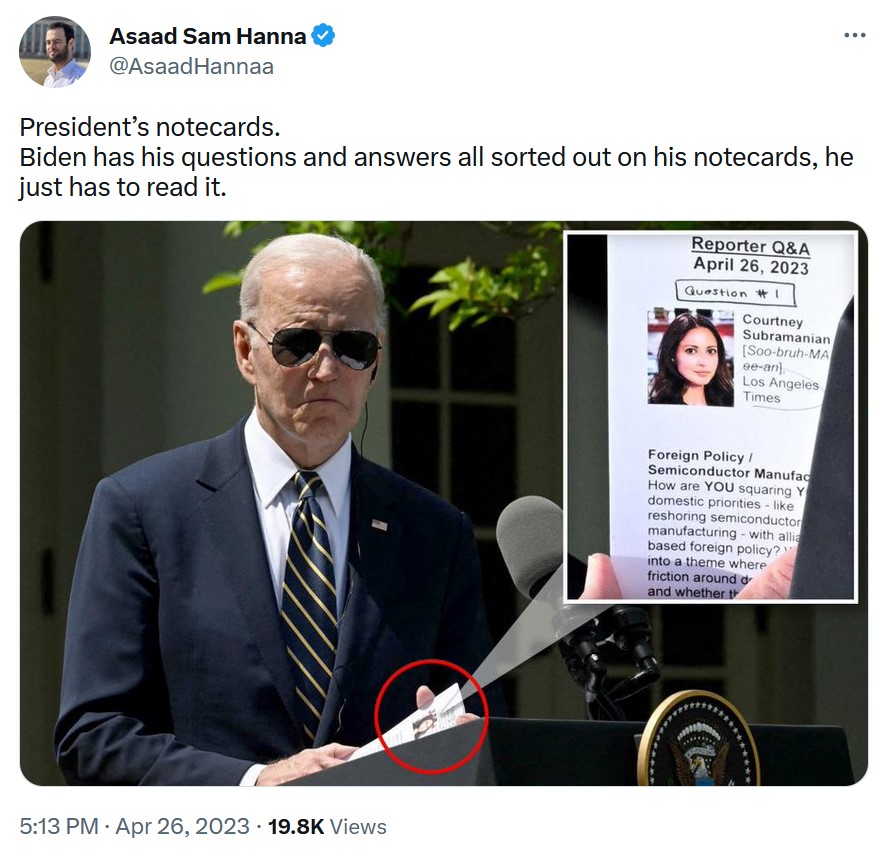 From David Azzerad.
@Breaking911

BREAKING: House OKs bill to raise debt limit by $1.5T, restrict spending as Republicans demand that Biden start fiscal talks - AP
From weft-cut loop. Which is a term I do not understand. I don't even know what "weft" means.
The hulking woman-beater (he beats women all the time, he loves beating women, he's only famous for beating so many women) Will Thomas is angry that people aren't cheering on his woman-beating, and blames it on "feminists" and "the Patriarchy."
Oli London
@OliLondonTV

Lia Thomas appears on a podcast interview trying to push for MEN to be allowed in women's sports, ahead of Biden administration's push to amend Title IX.

"They're using the guise of feminism to sort of push transphobic beliefs. I think a lot of people in that camp sort of carry an implicit bias against trans people, but don't want to, I guess, fully manifest or speak that out. And so they try to just play it off as this sort of half-support."
You can watch this pig at Twitchy if you like.

I say, if the feminists and The Patriarchy agree on something, they must be right, mustn't they?! (Actually, if the Patriarchy says it, it's correct, whether or not the feminists agree.)
BREAKING: A transgender representative in Minnesota has introduced a bill that will remove the exclusion of pedophiles from the protected class of "sexual orientation."

https://is.gd/l59VM1

Posted by: Ciampino
CNN insiders: Don LeMon wasn't fired for the way he treated Vivek Ramaswamy, but rather for the way he treated Poppy Harlow when she attempted to say a polite goodbye to Ramaswamy.
For their part, CNN hit back, slamming Lemon's claims as 'inaccurate' and saying he had been 'offered an opportunity to meet with management.'
Megyn Kelly claimed, though, that that meeting would only be for the purposes of agreeing upon a low-drama way for LeMon to exit. They wanted to arrange a PR strategy for his departure that would cast both of them as good guys.
Lemon's departure comes just weeks after DailyMail.com reported that female CNN employees were increasingly concerned Lemon had become 'untouchable' -- and that network bosses were protecting him despite a litany of accusations of cruel misogyny and maltreatment of co-workers going back decades.

'Without a doubt, a white straight male would have been fired by now,' one employee said of Lemon, who came out as gay in 2011. 'He's a minority in his race and sexuality... Don seems to be in a protected class, and he continues to get away with behavior that others wouldn't.'

That protection is now finally over. However, as well-placed CNN insiders exclusively reveal today, Lemon may not have gotten the ax over what everyone is assuming was the final affront.

The insiders say that CNN doesn't care about LeMon abusing a Republican -- of course not! -- but they didn't like how he effectively told Poppy Harlow to keep her whore mouth shut, especially given that the current read on Don LeMon is that he doesn't respect women because he doesn't want to have sex with them.
'Everyone is talking about the way he interacted with Vivek,' one source said. 'But the way he talked to Poppy at the end of that interview, which kind of got lost in the explosiveness, was not lost on Poppy or the executives.'

'You can just tell from Poppy's body language that she was frustrated -- and that he'll never learn.'

Watch the interview closely -- and you will hear Lemon appear to rudely cut off his colleague, as she tries to move things along from the confrontation and wrap up the interview.

'Ok, can we move on now please,' he interjects, leaning back and buttoning his jacket.

Poppy -- seemingly exasperated -- turns to Lemon.

'Thank you,' she says shortly, and carries on.

'That is what he was accused of doing over and over again,' a CNN source said. 'That was the pattern - dismissing, cutting off, big footing.'

'And while executives might not have liked the emotional messiness of that Vivek interview, what they really don't want is the continued allegations of sexism and misogyny. Ultimately, I think that was more damaging.'
I pointed that out the other day, Harlow tried to mend fences with Ramaswamy, but LeMon angrily told her, "We'll move on now, please."

He really has no respect for anyone of a sex which doesn't appeal to his instincts to stick his hand down his pants, joggle his vile balls, and then rub his fingers in the faces of.
Keith Olbermann ran to the defense of the hags of The View, and he did so the only way he knows how: By attacking a woman.
Keith Olbermann @KeithOlbermann

Reply to @MegynKelly

What would you know about successfully hosting a show? Fired by Fox, fired by NBC. You're 0-for-2 and you couldn't get a job cleaning the studio at The View
This bitter queen has a lot of never talking about people getting fired!
And Kelly wasn't fired by Fox, she quit.
Kamala Harris gives another deeply confused speech that makes us all question the value of human words, and why we even bother with any of this communicating bullshit at all.

posted by Ace at
06:08 PM
|
Access Comments