« Roman Candle Rover Cafe
|
Main
|
Daily Tech News 21 April 2023 »
April 20, 2023
Thursday Overnight Open Thread – 4/20/2023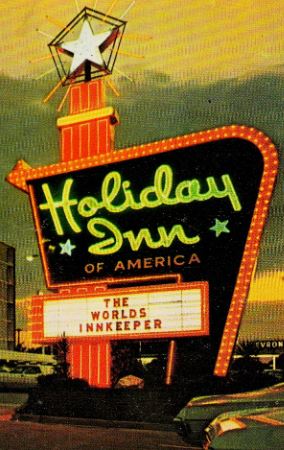 Time to check yourself in for another backup ONT. It's best read in bed by the warm glow of a neon sign.
Does anyone remember how magical that Holiday Inn sign was? On family road trips as a kid, my siblings and I were disappointed if the family stayed at a Ramada Inn or a Best Western. Well actually, those were also cool to a kid, but there was something really special about Holiday Inns, because of that sign.
*****
Name That Jetliner
Friend-of-the-blog George MF Washington had a tweet a couple months back about how homogenized aircraft designs are nowadays compared to those in the 20th century. That brought back some memories, as I was the kid who was crazy about jetliners. I built models of most of them, and I was able to identify all the different types of planes by where their engines were placed. A dream day for me would have been sitting at a major airport all day watching planes take off and land.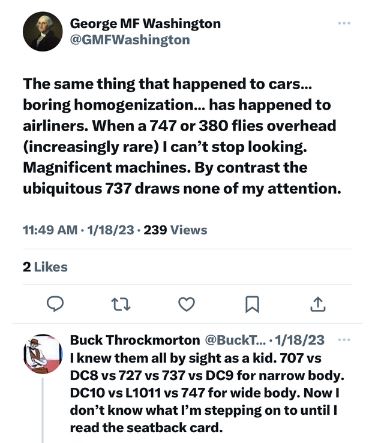 The DC-10 always looked weird to me with one engine stuck in the middle of the tail fin. DC-8s were mostly gone by the time I started paying attention, but when I saw one it looked like a deformed 707.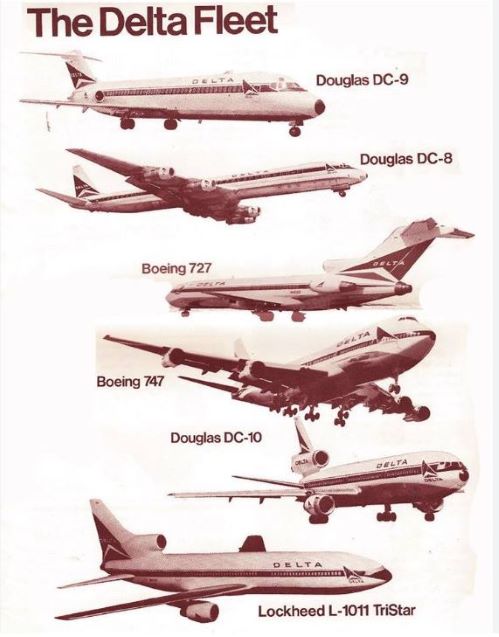 Speaking of which, when I was in Florida a few months ago, I saw the first 707 I had seen in decades. It was doing takeoffs and landings from Patrick
Air Force
Space Force Base. It is still such a beautiful plane.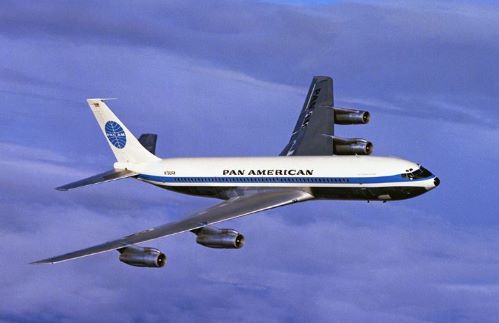 OK, enough airplane talk. I'm about to start trespassing on Roger Ball's turf.
*****
Speaking of George MF Washington
GMFW has written some great pieces recently at his Substack site, frequently getting linked to Instapundit with the resulting Instalanche.
This latest is really good, discussing how media and Hollywood at one time cast those with power as the bad guys in entertainment and reporting, but now those same "bad guys" are revered as the "good guys."
Here are a few snippets, but the whole thing is worth the read. "When The Bad Guys Became The Good Guys"

The "inciting incident" of DEMOLITION MAN occurs when a Government official named Cocteau, in the spirit of Soros prosecutors in Big Blue Cities all over America, intentionally releases murderers into the streets to terrorize the citizenry. He knows full well that, in their fear, the citizens of San Angeles will turn to him to protect them. This in turn will allow him to further consolidate his power over all the intimate details of their lives.

Hollywood called Dr. Raymond Cocteau a villain. And we all agreed that he was.

But that was then, this is now. Here in the "Now"… modern-day Cocteaus control Big Blue Cities (and States) all over America, and are celebrated by the Press for their courage in tearing those cities (and States) down to the studs.
GMFW notes that government, military, and intelligence officials were historically the villains in pop culture and media reporting. No longer.
Untrustworthy men and women like Clapper, Brennan, Comey, Vindman, Fauci, Walensky, Page and Strzok, are now given a platform and a sinecure by the same Media who used to recoil from such officials like vampires from garlic bread. Each night these officials look us in the eye and tell us that everything we know to be observably true has "all the hallmarks of Russian disinformation"… that we should ignore our lying eyes and do whatever our Government tells us to do, all while some brainless member of the Fourth Estate looks on adoringly…
*****
How Our Parents and Grandparents Courted
I saw this picture over at Lileks' blog (lileks.com/bleats) where he added this humorous comment, "Mating rituals were damned odd in 1971."
I have no idea if the ad's verbiage is supposed to be a double-entendre or not. Perhaps longer cigarettes tasted harsher than regular cigarettes, but I wouldn't know why.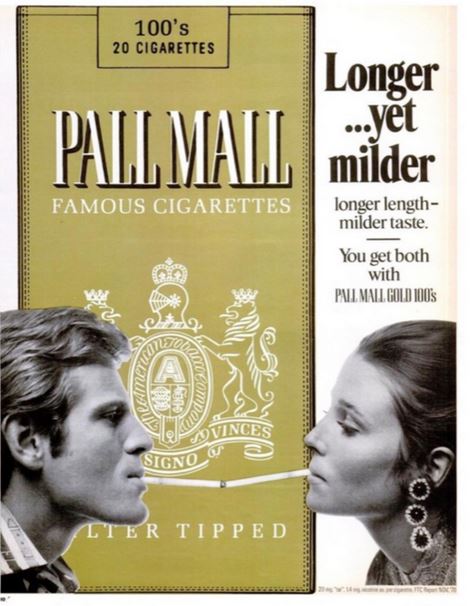 I never smoked, but I recall that lighters were popular with my circle of grade school friends. I suppose we just felt the need to be prepared in case we had to quickly assemble a camp fire while running around the neighborhood.
Or maybe it was simply because it was really cool to "Flick Your Bic"
*****
Libertarians Who Aren't Clear On the Concept of Libertarianism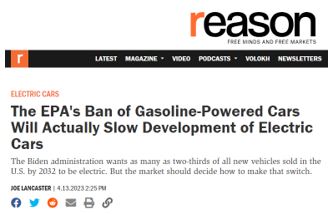 Per the libertarian deep thinkers at Reason magazine, the EPA shouldn't ban gasoline cars to force compliance with Biden's decree that 2/3 of all new vehicles be electric by 2032, instead "the market should decide how to make that switch."
Wait. What? Why should there be any switch at all?
Remember when libertarians fought against the government telling us how to live our lives. Nowadays, libertarians are reduced to mumbling about how we should rely on "the market" to comply with government efforts to strip us of our freedom.
*****
Is God's Gift to Wart Hogs a Narcissist?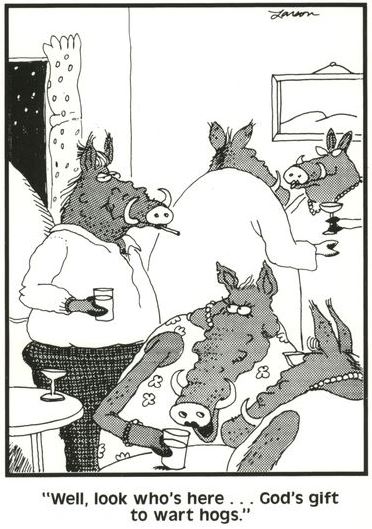 I fully accept that narcissism is a legitimate personality disorder, but we are losing part of our English language by using "narcissist" as a blanket replacement for all the other great terms to describe self-absorbed people.
Maybe what I'm trying to say is sometimes language needs to be judgmental rather than diagnostic. Can we please try to keep alive judgmental terms such as arrogant, vain, pompous, egotistical, selfish, cocky, and conceited?
If "You're So Vain" were released today it would be retitled "You're Such A Narcissist."
In his classic song "It's Hard To Be Humble" Mac Davis sings "Some folks say that I'm egotistical…" which sounds a lot funnier than "Some folks say that I am a narcissist…"
Speaking of which, how 'bout we give Mac a listen, with a little help from Kenny Rogers?
*****
"I Support Raytheon The Current Thing"
Forget stock index funds, I need to get my money into some form of defense contractor mutual fund since it has become evident that we will always be at war, either directly or by proxy (but never by congressional declaration.)
How's this for a statistic, $10,000 placed in an S&P 500 index fund the day before the Russian invasion of Ukraine would have decreased in value to $9,495 by February 2023. That same $10,000 invested in the top-5 weapons manufacturers would have been worth $11,277.
Ukraine War Is Great for the Portfolio, as Defense Stocks Enjoy a Banner Year [Responsible Statecraft – 02/24/2023]
Raytheon and fellow weapons manufacturers have profited handsomely, even while most investors suffered losses. The big five weapons firms have achieved impressive stock growth since Russia's invasion, dramatically outperforming the major indexes.
Raytheon's CEO is open about how his company benefits when there are "tensions" overseas.
In January 2022, Raytheon CEO Greg Hayes told investors that global instability presented a profit opportunity for his weapons firm. "[W]e are seeing, I would say, opportunities for international sales," said Hayes, citing, among other global events, "tensions in Eastern Europe." He went on to add, "All of those things are putting pressure on some of the defense spending over there. So I fully expect we're going to see some benefit from it."
What if there were a peace treaty causing the bloodshed to end? Or if either side in the war were actually victorious, also causing the bloodshed to end? That would be just awful for Raytheon, I suppose.
Does supporting the current thing mean supporting permanent war in eastern Europe to keep the money flowing to American weapons manufacturers?
Personally, I'd prefer to see the bloodshed end, even if it hurts Raytheon's bottom line.
*****
Wicked Wiffle Ball Pitches
Did any of you play wiffle ball in your younger days?
Here are some wickedly entertaining pitches.
*****
More Cross-Dressing at Anheuser Busch
The Babylon Bee is so good.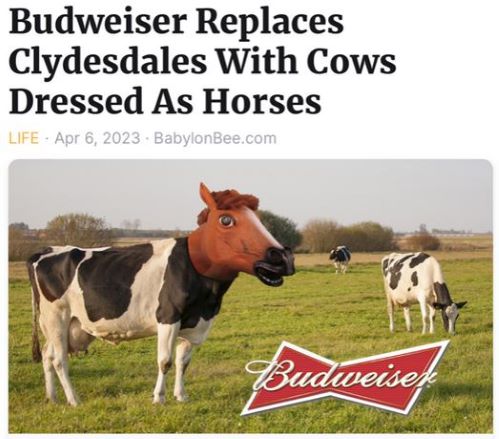 *****
The Global Warming Hoax
NOAA's expert forecasters predicted that California would remain under drought this winter, with warmer than average weather and little precipitation.
U.S. Winter Outlook: Warmer, Drier South With Ongoing La Nina; Drought to Persist in Great Plains, Parts of West and Expand [10/20/2022]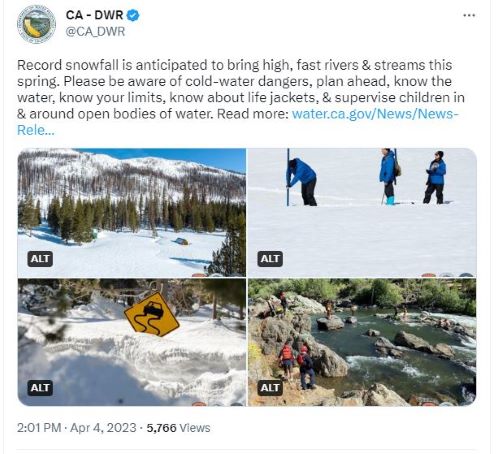 Yeah, that was pretty much a huge swing and a miss.
Steve Milloy never misses a chance to mock the phony scientists at NOAA, pointing out that "climate scientists" can miss a 3-month forecast so thoroughly, yet still boldly predicate climate apocalypse 70 years from now because not enough of you are driving electric cars.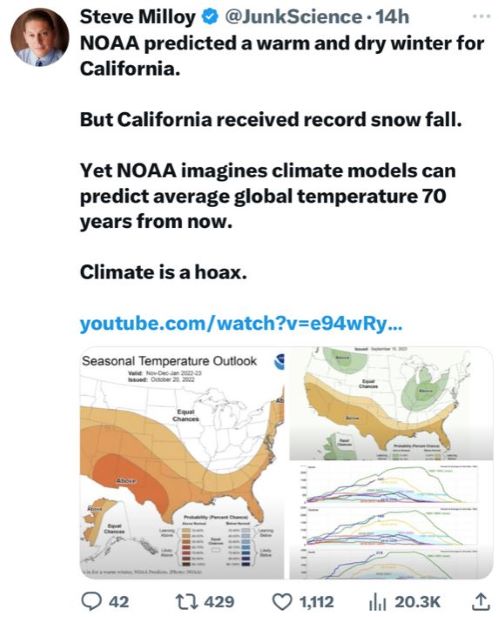 To be fair, NOAA is so hopelessly politicized that the only prediction they are allowed to make is "warmer than normal."
So you'll be completely unsurprised to see NOAA's outlook for summer 2023.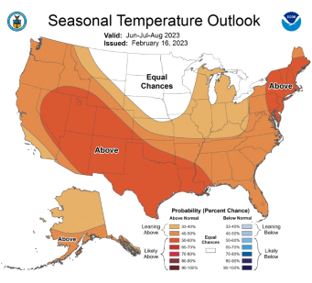 Yep, "warmer than normal" is the only allowable forecast for NOAA "scientists" to avoid heresy charges from the high priests of The Sustainable Organic Church of the Carbon Apocalypse.
Steve Milloy is right. Climate is a hoax. It's a crime what the climate hysteria has done to once-reputable scientific organizations.
*****
Throckmorton's First Law of Live Music: If There's an Upright Bass in the Band, It's Probably Going to Be Good
We started this ONT with the warm glow of a Holiday Inn's neon sign. How 'bout we sign off with a song about thunderstorms, roadside motels, and neon signs. Here is Wayne Hancock performing "Thunderstorms and Neon Signs."
There's some big black clouds blowing in from the west
I've been driving all day Lord, I sure could use some rest
There's a motel up ahead where I can unwind
Cause I sure love thunderstorms and neon signs

I grew up on the road from town to town
My daddy's line of work, kept us moving around
I've got fond memories of the way things were back then
The warmth of the neon when a bad storm was moving in

We listened to the opry in small cafes
When we stopped to get a bite along the way
Whenever I hear the wheels begin to whine
It takes me back to another time

I've got a real nice room with a radio and TV
This here motel living is the only life for me
It looks like it'll be raining for quite some time
Mixed with the lightning is the glow from a neon sign
*****
Tonight's overnight thread has been brought to you by Diesel Fried Chicken.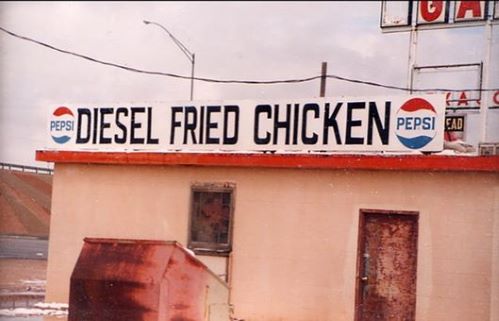 *****
Thanks again to the horde for letting me play host tonight. Please feel free to offer any helpful feedback, insults, or tips at buck.throckmorton at protonmail dot com


posted by Buck Throckmorton at
09:58 PM
|
Access Comments