« Seven Girls Sue Their National Sorority For Forcing Them to Admit Transgender; Lawsuit Claims That the Transgender Leers At Them and Can Sometimes Be Seen Sporting a Visible Erection "Through His Leggings"
|
Main
|
Don LeMon: No One Is Allowed to Disagree With Me About Racial Equality Unless They're Black »
April 21, 2023
Welcome To Portland, the Third-World Sh!thole City of Your Democrat-BLM Future
Portland's a worse sh!thole than you probably imagine.
David Strom has a piece about being shocked to see just how bad Portland has gotten, thanks to a dispiriting education from a Twitter account called @wtfPortland.
Here's a typical night in Portland. Watch all the way through.
Criminals act as if they own the streets. They do own the streets.
I'm guessing the old white guy here is a homeless drug addict and started this by pushing one of the black women, but whoever's at fault: This is lawless anarchy and chaos. With no cops, every man and women becomes his own judge, jury, and executioner.

Graphic photo of a leg mauled by a homeless man's dog. "THE HOMELESS CRISIS IS OUT OF CONTROL!," the poster writes. Instagram deleted the photo, because obviously all facts that damage the Woke Agenda are "disinformation."
Someone -- I have my suspicions which groups they're affiliated with (hint: one possibility is just an "idea" and has a name that rhymes with "pantyfa") -- went around driving nails through every single tire of every single car parked on this street.
This is fine: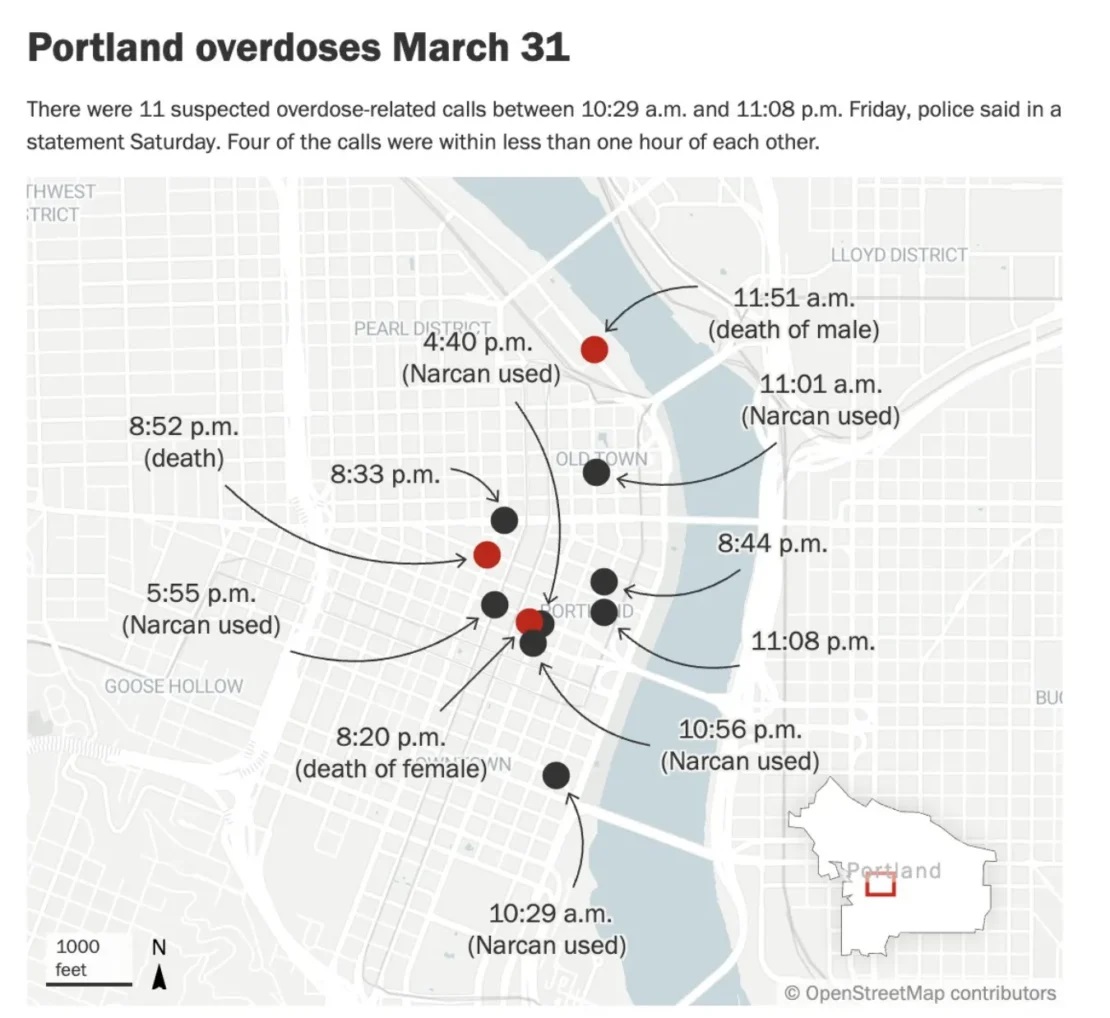 More below.

Not clear at all what this is, but this person should probably be confined for its own safety.
Below, fent means fentanyl, of course:
Nothing says "Major City in a First World Country" like highway fires. Also a sign that you're living in an advanced civilization: weekly bridge fires.
Oh, and of course: car fires.
The account repeatedly links this local news channel's report about how Portland's scheme to decriminalize all drug use is going.
Meanwhile, the Oakland Athletics are Oakland's last major sports franchise. All the rest have fled.
Or they were Oakland's last franchise. Now they're fleeing too, for Las Vegas.

posted by Ace at
02:37 PM
|
Access Comments