« Daily Tech News 19 April 2023
|
Main
|
Mid-Morning Art Thread »
April 19, 2023
The Morning Report — 4/19/23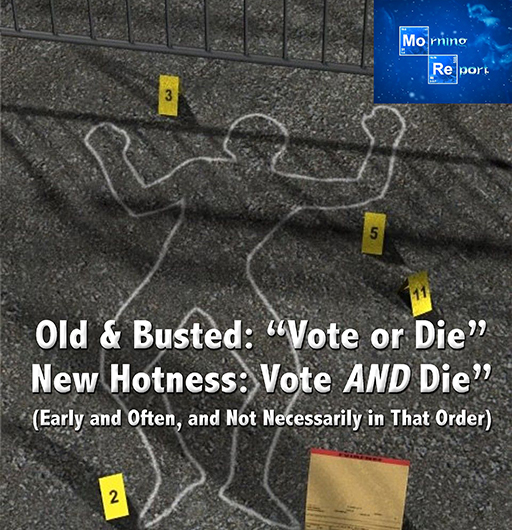 Good morning, kids. So, Fox News settled with Dominion Voting Systems, a.k.a. "Dao-Min Yen" for about half of the $1.6 billion the one-armed bandit maker was hoping to shake them down for, and had to admit that they lied about them regarding the 2020 election. The fact that the trial took place in Delaware, the home state, or one of the home states, of Joey Sponge-Brain Shits-Pants (the other one is Pennsylvania which figured prominently in this case), should cast absolutely no doubt that the network was going to get anything but a fair trial! Just like Donald Trump is absolutely going to get honest and fair trials in New York, Atlanta and D.C.!
Pfft. On the one hand, ironically enough, it was Fox News that put a huge torpedo into America on election night by calling Arizona with blatant prematurity that crossed the line into manifest irresponsibility. Tucker Carlson along with perhaps a handful of decent field reporters aside, the network as now run by the Murdoch spawn has degenerated to near CNN/MSLSD levels of leftism in their reportage, so to hell with them.
On the other hand, leftists have been shouting "Fox News! Fox News!" for nearly 30 years like an idiot savant parrot with Tourette's, and this settlement will not help that situation going forward, so we have that hockiner-tchainik over our heads even louder now with every real revelation of Democrat-Leftist crime, fraud, scandal and you-name-it that manages to get past their censors and propagandists going forward.
And despite Sydney Powell's unreleased Kraken, which I think was more of a function of DOJ/CIA intimidation than any shadiness on her part, a computer manufactured and requiring sophisticated programming from foreign soil does not fill one with strength and confidence that it is absolutely honest, infallible and incorruptible. In any case, why would a machine that should be doing nothing more than scanning marks made by that classic Eberhard Faber #2 pencil and clicking off Column A, Column B or blank need to be programmed with coding and software and algorithms to the level of Colossus and Guardian – which we saw in real time on election night as it happened?
Sound of Tourette's parrot screeching "FOX NEWS! FOX NEWS!" Q.E.D. on so many levels.
In any case the free fall into the abyss continues, with the intentional surrender of our cities to the rule of the jungle at the top of the hit parade. Keen-eyed readers will note that, despite my embargoing of the NY Post a couple of months ago for allowing blatant bias to creep into a news story that sent me over the edge, there are many outstanding columnists as well as stories generally ignored by other outlets, that are just too good to overlook. Michael Goodwin, despite his still cockeyed view of the current situation is usually quite good and generally worthy of one's time. Even when he's wrong or otherwise misses the bigger picture. Here for example, he's tantalizingly close to seeing it.
A confession: When House Republicans announced plans for a New York hearing to showcase rampant crime, I didn't need to curb my ­enthusiasm. 

I assumed the worst, that the hearing would bring New Yorkers bad news they already know and that Democrats and their media shills would dismiss the event as theater designed to embarrass Manhattan District Attorney Alvin Bragg. 

I was right.

The hearing, partly because of its timing, smelled like payback for Bragg's flimsy indictment of Donald Trump, giving Dems and the media the ammunition to repeatedly ridicule it as a partisan dog-and-pony show. 

But I was also wrong in a major way: I underestimated how clueless and heartless Democrats could be about the sufferings of actual crime victims. 

My big takeaway was that they ­really don't give a damn.
Emphasis mine. Whatever the GOP's motivations were in these hearings, and I think that payback at Bragg for going after Trump is a secondary consideration, Michael Goodwin surely is old enough to realize that crime, violence and inner city dissolution have plagued New York and every other major American urban area or district since the 1960s – areas that have been under the "compassionate" jackboot of Democrats for decades. Especially and as a result of The Great Society and the War on Poverty that have succeeded in doing nothing but drain the taxpayer and destroy millions of lives that they supposedly were going to elevate and save.
Cluelessness and heartlessness of Democrats aren't bugs. They're features. Continuing . . .
Manhattan Rep. Jerry Nadler, for example, made the brain-dead mistake of citing declining homicide rates and decreased shootings in New York as proof that Judiciary Committee Republicans were using crime as a "pretext" to "bully the district attorney." 

Telling grieving families that statistics say crime really isn't so bad in New York and it's worse elsewhere is tone-deaf.

That's what 30 years in Washington will do to you. 

The indifference of Nadler and his fellow travelers to the witnesses' pain and demands for justice made the hearing instructive. As a result, the Dems snatched defeat from the jaws of victory and the hearing was more than worthwhile. The deniers were ice cold when warmth and compassion were called for, with Rep. Daniel Goldman offering another example of callousness.

His attempt to label the day a waste of time earned him a much-deserved scolding from the angry mother of a murder victim. "Don't insult my intelligence," Madeline Brame snapped at Goldman, an heir to the Levi Strauss fortune and a prolific stock trader whose district includes lower Manhattan and parts of Brooklyn.  "You're trying to insult me like I'm not aware of what's going on here," Brame said. . .

. . . Nadler got a deserved tongue-lashing from Barry Borgen, whose son was the victim of a brutal anti-Semitic attack. 

Joseph Borgen, 30, was beaten by a pack of men as he walked near a pro-Israel rally in Times Square in May 2021. Bragg offered one of the attackers a plea deal that let him serve just six months in prison. The other three face felony charges, but remain free on either bond or bail.

Borgen blasted the "sweetheart slap-on-the-wrist deal" for the one attacker, calling it an example of Bragg's "incompetence."  Speaking to Nadler, the father said, "You have Jewish roots here and ­behavior like this enables DA Bragg to do whatever he wants to do." 

After saying he would never again vote for Sen. Chuck Schumer because Schumer's office didn't return his phone calls, Borgen added to Nadler, "If I lived in Manhattan, I wouldn't vote for you, either." Only an extreme optimist would believe the witnesses' testimony will have a political impact.

Nationally and locally, most elected Dems have developed a tin ear and a cold heart about crime. Their compassion, if they have any, is usually reserved for the criminal class, as if the thugs and thieves are the victims. In their warped view, the culprits are police, judges and a nation that is racist because it believes crime deserves punishment. 
Goodwin is correct here but he misses a bigger picture. It's not just that the nation is racist; it's that the nation is illegitimate and must be overthrown, naturally with them in power, forever. Crime running wild as never before is both a means to feed the myth of "oppressed" people being targeted for genocide as a justified legitimate expression of political grievance AND, unbeknownst to the mind-numbed masses of bastards, imbeciles and lost souls a tool of ultimate political repression.
One day soon, the junta in DC will suddenly declare a "crisis." Sound familiar? And of course that crisis will demand a response. The thing I don't think they thought through is, the mass of demonized racist Americans who the Junta hopes will cry out for the government to step in and take control are the very group they have been demonizing as extremist MAGA Republican white supremacists and an "existential threat to our precious democracy" (*vomits)." To do something to restore order would mean locking up and punishing the criminals who they now coddle and incite as the victims.
I think it's a case where the Left hand doesn't really know what the Far Left hand is up to.
With that, I sense a real opportunity for Republicans to finally make significant inroads into black, Latino and other groups marginalized and abused by Democrats. The invective hurled at them in this hearing is palpable.
Does anyone on our side have the courage as well as the ability to articulate what is being done to them and what has been done to them since time immemorial? The world wonders. . .
ABOVE THE FOLD, BREAKING, NOTEWORTHY
Michael Walsh: "The structure of the American government has been bitch-slapped by these interlopers for far too long. No self-respecting country can so easily and willingly cede its sovereignty to mamelukes and eunuchs and remain independent for long."
To Save America, Abolish the Regulatory Agencies

"The last best hope for our world has been hijacked."
When Did The U.S. Become East Germany?

Richard Fernandez: " It's important to note these governance guidelines come, not from the machines themselves, but from people. This is ironic because people caused the ethical problems that need to be governed in the first place. A.I. itself is not theoretically bigoted. But humans are, and AI systems are designed and programmed by humans reflect those biases."
A.I. — It's People All the Way Down
CIVIL WAR 2.0: J-6 FBI FALSE FLAG "RIOT" & AFTERMATH, LEFTIST PERSECUTIONS, DEMOCRAT PUTSCH, AMERICAN DISSOLUTION
NOTE: The opinions expressed in the links may or may not reflect my own. I include them because of their relevance to the discussion of a particular issue.
ALSO: The Morning Report is cross-posted at CutJibNewsletter.com if you want to continue the conversation all day.
Follow us on Twitter: @CutJibNews
Follow us on Instagram: @Cutjibnewsletter
TIP JAR : Your support helps keep the lights on and is truly appreciated. Note: We are on Stripe, not PayPal.

posted by J.J. Sefton at
07:51 AM
|
Access Comments