« The Morning Rant: Minimalist Edition
|
Main
|
Breaking: The FBI Lied About Its "Spy on Catholics" Document Only Being the Work of One Low-Level Employee »
April 13, 2023
Gavin Newsom Warns America About the Dangerous Success of Ron DeSantis' Florida
The left has a hard-on about proving how "tough" and "combative" they are, and so this Sad Twink Gavin Newsom decided to show that he's a Brave Warrior by taking a trip to, get this, red states, where of course your very life is in danger, at least if you're visiting a blue city inside a red state.
He survived this ordeal -- just barely -- but he's back in Safe, Crime-Free California, and can now deliver this shocking report of what a well-run state looks like.
Christina Pushaw @ChristinaPushaw

Nice ratio, @GavinNewsom. Now take this energy for academic freedom to San Francisco State University, where a woman was assaulted last week for stating the fact that men aren't women.
Almost as if to provide support for Gavin Newsom's pathetic political stunt, a group calling itself "Equality Florida" has issued a "warning" advising people not to visit Florida, given its dangerous history of not allowing children to watch pornographic drag shows.
Douglas Soule @DouglasSoule

LGBTQ civil rights group Equality Florida has issued a travel advisory, warning of "risks posed to the health, safety, and freedom of those considering short or long term travel, or relocation to the state."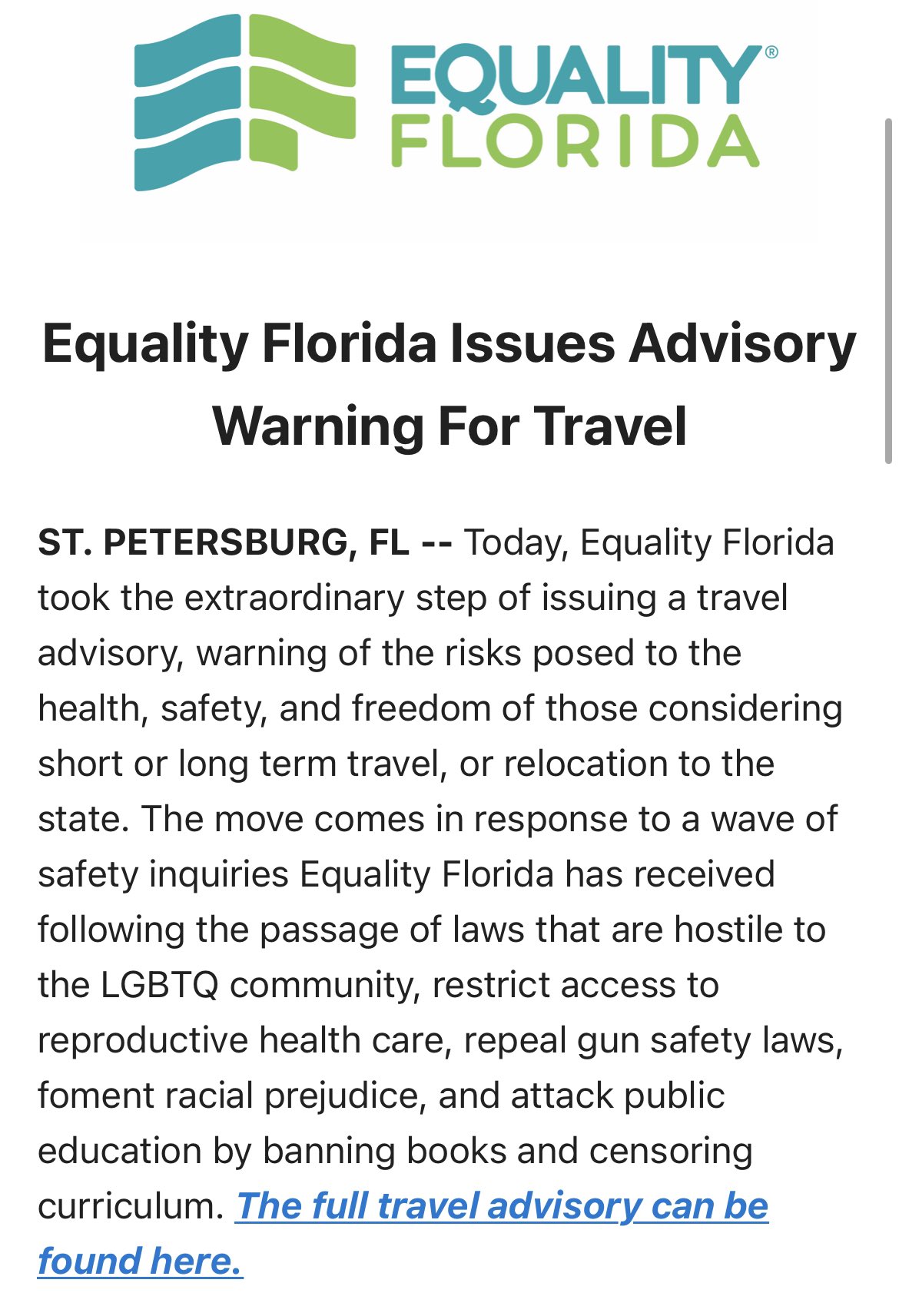 The group directed warnings in particular to "people who speak with an accent" and "international travelers."
These are, of course, euphemisms for "illegal aliens."
"People who speak with an accent" is good, but "international travelers" is where it crosses over into art.

-- Charles C. W. Cooke (@charlescwcooke) April 13, 2023
AP decides to promote Newsom's hit-trip by warning Americans that Ron DeSantis is considering a White House run, and if he becomes president, he might use some of the executive powers he's already shown a dangerous addiction to using.
Can you imagine? A President using his constitutional executive powers?
This is like Germany in 1975. Okay maybe that's not the right date but I'm not a "details" kind of guy. Kind of like a "journalist"!
DeSantis flexes executive powers while eyeing White House

Suspending an elected Democratic prosecutor. Forbidding gender-affirming treatments for minors. Expanding the "Don't Say Gay" law to high schools.

Florida Gov. Ron DeSantis has exercised his executive powers to advance elements of his aggressive conservative agenda, drawing on appointees, boards and the state Constitution in a deliberate manner as he builds toward an expected presidential candidacy.

The approach displays the Republican's willingness to leverage his office to notch political wins and punish political enemies, even as the GOP-dominated Legislature has sped his proposals through the statehouse. It also signals the meticulous style that underpins his brash public persona and offers hints about how he could govern if elected president.
Oh no-- he's willing to "leverage his office to notch political wins"!
For DeSantis, the unilateral moves are part of his broad mandate as the elected chief executive of Florida. He is coming off a dominant reelection victory last fall where he campaigned on a host of conservative policies that energized the state's Republican base and helped flip reliably Democratic counties such as Miami-Dade.

"November's election results represent a vindication of our joint efforts over these past four years. The results also vest in us the responsibility to lead and provide us the opportunity to shoot for the stars," DeSantis told lawmakers in his annual address to begin the legislative session this year. "Boldness be our friend in this endeavor. We have a lot we need to accomplish."


A spokesman for the governor said DeSantis compiled a full accounting of his powers after he won office so he could effectively execute his agenda and added that many of his policies have been adopted by the Legislature.
I've mentioned that.
The media routinely mocks Republicans who say that the left has weaponized the federal government.
They're very eager to promote claims that DeSantis has "weaponized" the Florida government against gays, though.
Brandon Wolf, press secretary for the LGBTQ advocacy group Equality Florida, warned of the potential for similar actions under a potential DeSantis presidency.

"The very same ways he has perverted and weaponized state agencies and state boards in Florida, you can imagine he would do the same thing on the federal level," Wolf said. "And what makes him potentially more dangerous than Donald Trump is that DeSantis actually knows how government works."

posted by Ace at
12:00 PM
|
Access Comments