« Leaked Documents Reveal US Forecast That Ukraine's Counteroffensive Will Likely Fail;
NSC Spokesman John Kirby Demands Media Not Publish Leaks Which Are Damaging to Biden's Lies About the War Going Great
|
Main
|
Governor Abbott Says He's Urged the Pardons Commission to Issue a Pardon to BLM Kidnapping Victim Daniel Perry as "Swiftly" as Possible »
April 11, 2023
Woke Hasbro/Wizards of the Coast to Replace Half-Elf and Half-Orc Races in Dungeons and Dragons... Claiming That "Half" Races are "Inherently Racist"
D&D's rules are being revised for a new cashgrab, I mean a new set of rules which will be almost unchanged since the last set, but just changed enough to require that D&D players spend $100+ per person to have the slightly revised rules.
Among Hasbro's/Wizards of the Coast's highest priorities? Making the psuedo-Dark-Ages world of D&D Woke AF. Making sure that everyone in this blood-soaked game about murdering monsters and taking their stuff has the exalted levels of sensitivity of DEI enforcement officers at San Francisco State University.
I can't wait to Roll for My Gender Identity in the upcoming game, and then going into the dungeon to find magical +2 Pronouns of Privilege.
'Dungeons & Dragons' To Remove Half-Species From Player's Handbook, Claims The Entire Idea Is "Inherently Racist" Spencer Baculi

In their latest step forward on their long march to lost profits, Wizards of the Coast has revealed that they will be removing the concept of 'Half-' species from the Dungeons & Dragons Player's Handbook on the grounds that they are "not comfortable" including an "inherently racist" concept in the game.


This forthcoming update was first announced publicly at the recent D&D Creator Summit, an event wherein Wizards of the Coast gathered a number of notable personalities ranging from game developers to content creators and provided them with a sneak peek at Dungeons & Dragons' upcoming releases.
By the way, they're also removing the word "Race" from the game, because I guess the word "race" is itself racist. They're replacing that word with "Species," which... yeah doesn't sound like a word that people in a pre-industrial society would use.
Eventually, the post-demo Q&A turned to the topic of WotC's ongoing efforts to sanitize D&D, beginning with a question about how exactly the publisher makes use of their sensitivity readers.

"We don't send everything to the same people all the time," Crawford explained of their content review process (per a summary of the event posted to the EN World forum by user brimmels and a recap provided by content creator Daniel Kwan). "Different reviewers have different areas of expertise and experience. Everything gets sent to at least 2 people, sometimes more. The old inclusion review process had holes in it because they would only send out what they thought would be a problem. Now EVERYTHING is sent out so we aren't guessing what might be a problem."

"Our team are game designers and storytellers, we're not experts in culture and inclusion," he added. "So we're focused on what damage should this creature do. That's why everything goes through inclusion review now so everything in our game brings out delight. Even reprints are going through inclusion review. That's why some older books are changing, too."


To this end, Crawford then confirmed that due to the game now having four elf variants for players to choose from when creating a character -- standard Elves, high Elves, Wolf Elves, and the Drow -- the Player's Handbook would soon be revised to do away with 'half-' species.

"Frankly, we are not comfortable, and haven't been for years with any of the options that start with 'half'," he explained of this decision. "The half construction is inherently racist so we simply aren't going to include it in the new Player's Handbook."


They later clarified -- or clarilied, amirite? -- that they were not removing the concept of half-species altogther, but just wanted to change the terminology to something more PC, like "Children of Different Humanoid Kinds."
The currently-being-tested adjustments, as seen in the publisher's official materials, will apparently see the existence of Half-species replaced with a new system known as "Children of Different Humanoid Kinds:.
So it's one of those PC language-vandalism things, like where they demand everyone stop saying "the blind" and start saying "People Without Sight." It won't be "Half-Elves," it will be People Who Just Happen to Have an Elf Parent and a Human Parent and There's Nothing Wrong with That.

Oh, boy, this is gonna be great! Did I mention that this game is supposed to take place during a time of barbarism and superstition, but every character will now specify its Preferred Pronouns?
These new Woke AF game "improvements" were announced at a "Creator Summit," in which major independent creators and D&D commentators were flown to WotC's corporate campus to be turned into Advertising Vectors to promote The New Improved D&D.
To their credit, the guests didn't go along with that corporate buy-off-the-influencers plan, and spent their time roasting WotC for its predatory business tactics.
Indestructoboy, one of the major whistleblowers responsible for revealing the OGL controversy with Dungeons and Dragons, was one of these voices at the summit. As the event progressed, it played out more like a press release than a summit, causing content creators to become irritated. According to Indestructoboy, Wizards of the Coast executive producer Kyle Brink gave evasive, dismissive answers to questions raised by the audience. This came to a head during the VTT demonstration, where the presentation fully devolved into a lengthy Q&A segment where content creators grilled Wizards of the Coast on its business practices.

Firmly on its back foot, Wizards of the Coast tried to bring an end to the Q&A after a tense half-hour discussion. However, the Dungeons and Dragons content creators at the summit unanimously voted to continue the conversation--even at the risk of missing out on some of the exclusive reveals Wizards of the Coast had planned. The session continued well past the allotted time, and pushed the summit itself to last nearly three hours longer than it was supposed to.

Via Clownfish TV. I mention all this nerdy as a preamble to this point: the box office of the Dungeons & Dragons movie, which was weak out of the gate, fell 60% in its second weekend, falling not to second place behind the Mario Bros. movie, but to third place behind that film and John Wick 4, which had been released the week before D&D.
Its worldwide global box office is under $100 million and it will struggle mightily to break even. The movie cost $150 million. There was likely $100-150 million spent on advertising, and as always, remember only about 60% of ticket sales go to the studios. The rest is split with the theaters actually exhibiting the movie.
Oh, and Clownfish reveals further that the movie was originally supposed to feature the D&D novel's closest thing to a major star, the Drow ranger Drzzt DoUrden, but they replaced him with the black paladin because... Drow, or "Dark Elves," are black, like ebony-black, and so any depiction of them would be accused of being "blackface."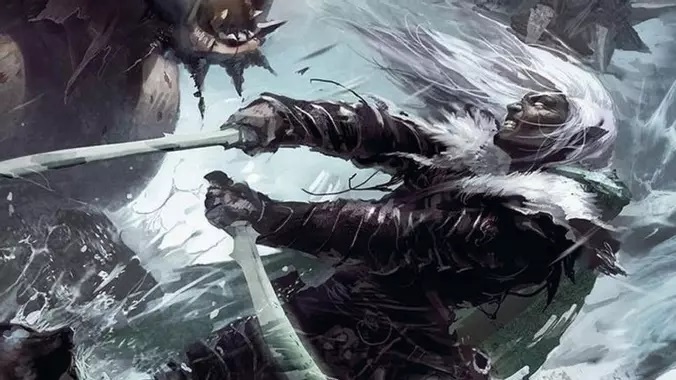 Oh no, so problematic!
I have mixed feelings on the complete Woke Failure of this film, because it's a decent movie and, just on its own merits, it deserves better.
But we're not just looking at its own merits, but a toxic Woke Corporate Culture which is alienating its core audience.
And so I do have give a partial cheer for this movie bombing, just to reinforce the motto of the original D&D boxed set:

Get woke, go broke.
Okay that's not what the game ever said but if Hasbro can "update" the game to include modern woke buzzwords, I can retroactively make the game into an anti-woke teaching aid.
If you think I'm kidding about the blackface thing -- nope. Professor Chang dressed like a "Dark Elf" in Community's D&D episode, and the entire left wing set itself on fire, screaming THIS IS NOT OKAY!
This episode -- one of the show's three or four most famous episodes -- was removed from streaming services.


posted by Ace at
04:30 PM
|
Access Comments