« Daily Tech News 11 April 2023
|
Main
|
Mid-Morning Art Thread »
April 11, 2023
The Morning Report — 4/11/23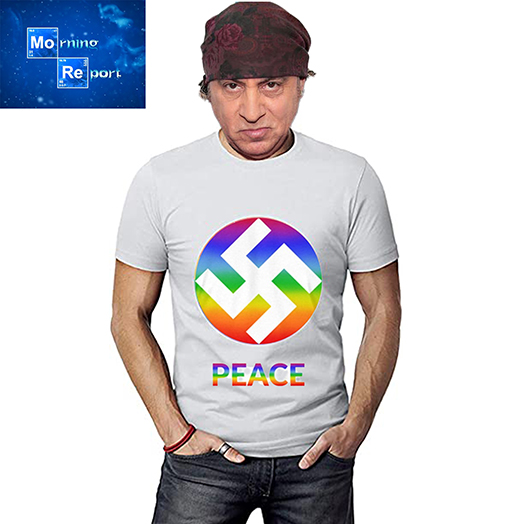 Good morning, kids. Unless (meaning "until") it can be spun properly, the sick animal who slaughtered five people at a Louisville bank yesterday hated Donald Trump and was a lockdown absolutist. In other words, a typical braindead Leftist who blames everyone but himself for whatever failings he had that led to his being fired.
You'd think he'd have gone after Biden considering the gibbering criminal pervert actually signed GOP-written legislation officially ending the state of siege, er, "emergency" that flattened not a curve but our society and nation. Meh, mini-Mengele Fauci is already warning of the probability of a future pandemic in the not too distant future, so there's that to look forward to.
So with nothing really new in our final descent into banana republic status with the Trump sham indictments, there are a number of things just as serious that also reflect our decline and fall. Related to the aforementioned, the complete weaponization of law enforcement as a tool for the repression of political enemies and threats to the power that rules this nation.
[So-called quote-unquote "president"] Joe Biden's [junta] was involved in the raid of former President Donald Trump's Mar-a-Lago residence through a "special access request," according to documents obtained from the National Archives by America First Legal.

On August 8, 2022, the Federal Bureau of Investigation (FBI) raided Mar-a-Lago on the grounds of retrieving alleged classified documents. According to the establishment media, Biden administration officials were "stunned" to hear of the unprecedented action. The Archives also claimed that it had "not been involved in the DOJ investigation."

But documents show the FBI obtained access to the records through a "special access request" from the Biden White House on behalf of the DOJ, contradicting what the Archives told Congress, America First Legal revealed Monday:


. . . Reed D. Rubinstein, senior counselor and director of oversight and investigations, released a statement ripping the White House's reported role in the FBI raid of Trump's home.

"The evidence further suggests that Biden officials in the Executive Office of the President and the Department of Justice unlawfully abused their power and then lied about it to the American people," he said. "This government, it seems, acknowledges no limits on its power to harass, intimidate, and silence its political opponents."
A lawyer representing members of the Proud Boys filed a motion revealing the presence of numerous informants who had infiltrated the group. The motion (read it below), obtained by Julie Kelly of American Greatness, stated that FBI informants were vastly outnumbered by both confidential human sources (CHS) and plain-clothes operatives from other law enforcement agencies.

According to the motion, "[a]n agency called Homeland Security Investigations (HSI) seems to have played a major role in handling and running CHSs among the Proud Boys on January 6, 2021."

. . . Why does this matter? After all, we have known that law enforcement agencies had infiltrated various groups like the Proud Boys for some time now. What this new filing tells us is that these informants weren't merely observers; they were instigating violence.

"Undercover operatives were planted among the protesters as instigators; not just observers," the motion alleges. To make matters worse, the Department of Justice, run by Attorney General Merrick Garland, withheld information about these embedded informants from the Proud Boys' defense, and one undercover Metropolitan police officer was able to destroy evidence. The Proud Boys were charged with seditious conspiracy, and the trial, which started in December, is nearing its end. "Again, this content would have been absolutely exculpatory if timely provided to defendants," the motion reads.
If we've said it once, we've said it a million times. No one who attended that rally or who got suckered in to the Capitol building in the heat of the moment was armed, had any intention of overthrowing the government nor committing any acts of violence. It was a Democrat/RINO FBI-run op from start to finish in the hopes that someone anyone would get violent so as to use that as a pretext to enact emergency powers to crush all political opposition to the bastards who rigged the election and took power.
That said, they're doing that anyway. And not just against political groups. But of course, with the Left everything is political.


The House Judiciary Committee issued a subpoena to Wray on Monday requesting records relating to its probe into the FBI's "domestic violent extremism investigations against Catholic Americans," CBS News reported. The investigation was initiated after the leak of a Jan. 23 FBI Richmond Field Office memo suggesting Roman Catholic groups who prefer the Latin mass are at risk of "anti-Semitic, anti-immigrant, anti-LGBTQ and white supremacist ideology."

"Based on the limited information produced by the FBI to the Committee, we now know that the FBI relied on at least one undercover agent to produce its analysis, and that the FBI proposed that its agents engage in outreach to Catholic parishes to develop sources among the clergy and church leadership to inform on Americans practicing their faith," the letter says.

Documents produced by the FBI reportedly show it desired "to sensitize the congregation to the warning signs of radicalization and enlist their assistance to serve as suspicious activity tripwires," according to the letter.
I guess these days being a practicing Catholic who opposes the murder of the unborn makes one a "radical." What about being a practicing Muslim who cheers on or even commits the murder of the already born? Crickets. And to even suggest that would of course be "Islamophobic." So the FBI is concerned with Catholics, conservatives, parents who speak out at school board meetings and evidently anyone whose name is "Chad" or hasn't gotten laid in a while.
Meanwhile, as the FBI is champing at the bit to round up the usual suspects, once again our national security was breached – massively. But at least Christopher Wray's Benny Hinn hairdo wasn't "mussed." Heaven forfend.
John Kirby, the coordinator for Strategic Communications at the National Security Council, made his case during the White House press briefing on Monday as the U.S. government scrambles to respond to what some suggest may be the largest breach of classified secrets since the Edward Snowden saga.

"Without confirming the validity of the documents, this is information that has no business in the public domain," Kirby said from the podium after facing repeated questions about the documents.

"It has no business — if you don't mind me saying — on the front pages of newspapers or on television," he added. "It is not intended for public consumption and it should not be out there."

The Pentagon released a statement on Sunday saying the Department of Defense (DoD) is working to assess the validity and national security impact of images that began popping up in recent weeks on social media, starting with Discord, showing what appears to be secret details about China, Russia's war in Ukraine, surveillance efforts, and more. U.S. officials engaged with allies, partners, and Congress about the disclosure, the Pentagon added.

A U.S. defense official told The Washington Post many of the documents look like they were prepared for Gen. Mark Milley, chairman of the Joint Chiefs of Staff, and other senior military officials, but stressed these records would be available broadly to people with proper clearance.
Meh, if it's about our insane drive to get involved in Ukraine and if it embarrasses this junta and the warmongers of all stripes, then I'm in favor of it. The greatest threat to the security of this nation are those in power right now. And I use the word "nation" advisedly since the past two years have seen every aspect of our security, prosperity, heritage and national identity all but erased. For those worried about a Chinese nuke or something like that, they are on the verge of supplanting our dominance without even firing a shot.
Correction: The Chi-Coms in fact dropped the most destructive ultimate weapon imaginable on us – Joe Biden.

Meanwhile, psycho thugs are shooting up churches, insurrectionists (the real ones) are attempting to take over statehouses, Titty Caca AOC and others are shrieking to nullify court rulings, sick fucks like this Miami Steve asshole are equating Republicans with vermin who need to be exterminated (and he is not a one-off), (un)Scientific (un)American equates Ron DeSantis to Benito Mussolini because he dares remove Leftist propaganda from Florida's schools . . . and so on and so on and scoobie-doobie-doobie, but we're the ones who are the greatest threat to "our precious democracy."
Pfft.
SHAMPEACHMENT 1.0, 2016 CLINTON/OBAMA COUP, CONGRESSIONAL PERSECUTION, SPYGATE, DEEP STATE, MUELLER DECEPTION
NOTE: The opinions expressed in the links may or may not reflect my own. I include them because of their relevance to the discussion of a particular issue.
ALSO: The Morning Report is cross-posted at CutJibNewsletter.com if you want to continue the conversation all day.
Follow us on Twitter: @CutJibNews
Follow us on Instagram: @Cutjibnewsletter
TIP JAR : Your support helps keep the lights on and is truly appreciated. Note: We are on Stripe, not PayPal.

posted by J.J. Sefton at
07:25 AM
|
Access Comments