« Mid-Morning Art Thread
|
Main
|
FOIA'd FBI Documents: People Who Say "Based" or "Red-Pilled" Or Who Try To Improve Their Looks to Get Dates Are In a Cult of "Racially or Ethnically Motivated Violent Extremism" »
April 10, 2023
THE MORNING RANT: Is Democrat Fundraiser ActBlue Laundering Illegal Political Contributions Through Unknowing Small Donors?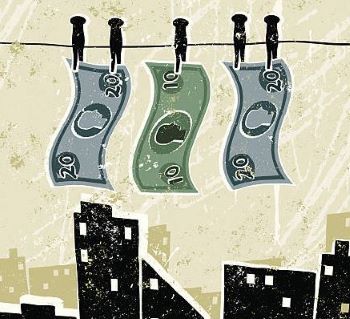 Is Democrat fundraiser ActBlue laundering illegal campaign donations through a network of small donors who are not even aware of their political giving? It certainly looks possible.
In his first big project since leaving Project Veritas, James O'Keefe has started investigating what seems to be a huge campaign finance scandal.
Specifically, elderly people and others with limited means have been verified to be donating tremendous amounts of money to ActBlue in thousands of small donations per individual. One couple O'Keefe interviewed was shocked to learn that $230,000 had been donated to ActBlue in their names, whereas they said they had donated less than $1,000.
Following O'Keefe's lead, other independent investigators are uncovering more of the same. Per Federal Election Commission records, one elderly gentleman in Texas has made over 10,000 small donations from 2020-2022 totaling over $100,000. He stated that he did not make those contributions. (The video is linked further below.)
What is ActBlue? This is from its website:
As a nonprofit, we're driven by the belief that our democracy works better when more people participate in civic life and when our campaigns and nonprofits are powered by the people they serve. That's why we've built a powerful online fundraising platform for Democratic candidates up and down the ballot, progressive organizations, and nonprofits. Our tools make it possible for anyone to build a grassroots campaign or movement and give donors an easy and secure way to support their favorite candidates and causes.
Per Wikipedia, in 2019 ActBlue raised roughly $1 billion for almost 9,000 Democratic campaigns and organizations, with 3.3 million unique donors. In 2020, even more money was raised, including over $1.5 million to bail out violent "protestors" from the various Summer Of Love riots.
From Politico just weeks before the 2020 election:
ActBlue's Stunning Third Quarter: $1.5 Billion in Donations - Democratic Online Donors Are Pouring Cash Into 2020 Campaigns, From Joe Biden Down to State Legislative Candidates. [Politico – 10/15/2020]
If ActBlue were laundering illegal campaign donations to help elect Biden and down ballot Democrats, wouldn't that be election interference and a "threat to our democracy"?
Why would someone launder campaign contributions? The most likely reason is to evade the individual donation limits. For instance, right now there is a cap of $3,300 that an individual can donate to a Congressional campaign. If someone wanted to donate $50,000 to the candidate running against a hated incumbent Republican senator, he might seek to spread the other $46,700 over 4,670 small-time Democrat donors, who wouldn't even know that they had "donated" $10.
This 9-minute video features James O'Keefe interviewing people about the thousands of political donations made in their names. It's all fascinating and disturbing, but if you don't want to watch the entire video, skip ahead to the 6:30 mark where O'Keefe asks a couple about the 31,000 donations they've made to ActBlue totaling $230,000. They respond that they've given less than $1,000.
<
Inspired by O'Keefe, and with information found in FEC records, other investigators are finding similar examples of prolific donors who aren't aware of their prolific donations.
One of these investigators is Esala Wueschner, who ran for Austin City Council in 2022 as an anti-woke candidate. He has done some research on ActBlue donors living in Austin. In the tweet below is a video of Wueschner asking an elderly gentleman if he donated $106,304 between 2020 and 2022. The gentleman replies, "That wasn't me."
<
<
Also in Austin, Clinton Rarey found that an 80-year old woman living in a retirement home has made 26,143 online donations over the past 6 years (about 12 donations per day to ActBlue) in an amount exceeding $160,000. His interview with her provides similar feedback to what O'Keefe and Wueschner learned.
<
<
To be clear, all these people clearly donated to Democrat causes at one time, which is just fine. What's not OK is if ActBlue is receiving donations that are attributed to people who did not actually make the donations.
Conservative media is waking up to this story:
ActBlue Under Fire: James O'Keefe's Latest Investigation Reveals Suspicious Donations [Scott McKay – The American Spectator – 3/31/2023]
People in politics, particularly on the Republican side, will tell you they've had some real suspicions about ActBlue for a long time. To generate as many small donations as that organization does is something that Republican vehicles like WinRed have never been able to come close to doing, despite the fact that Republican voters are generally of a socioeconomic profile in which $25, $50, or $100 donations ought to be very common.
Are folks on the left more passionate about politics than folks on the right? Generally, yes — a little. But not so much that what ActBlue does, which was to generate some 76 million political contributions in 2021–2022 (not $76 million — 76 million separate contributions), would have nowhere near an analog from the GOP.
O'Keefe's initial foray into this, which was to visit a few of the more obviously suspicious donors and have them say on camera that no, they didn't make the vast majority of those donations attributed to them, shows why.
By the way, it is a crime in most locales to donate to a political campaign in someone else's name,
including in Texas.
While O'Keefe, Wueschner, and Rarey are doing fantastic work finding the mules who are credited with making the donations, the bigger question is who actually donated the money that is being funneled through these unknowing mules, and who allocates the donations through the mules.
If you have any interest in researching suspicious donations to ActBlue in your area, the Spectator article provides a link to the FEC website and instructions on how to navigate it.
One other thought from Kyle Becker…if Democrat fundraisers are (allegedly) doing this with campaign contributions, do you think they'd have any qualms about doing something similar with mail-in ballots?


It's time for some red-state Attorney Generals and District Attorneys to start investigating.
[buck.throckmorton at protonmail dot com]

posted by Buck Throckmorton at
11:00 AM
|
Access Comments