« The Music Thread:
|
Main
|
Daily Tech News 9 April 2023 »
April 08, 2023
Saturday Overnight Open Thread (4/8/23)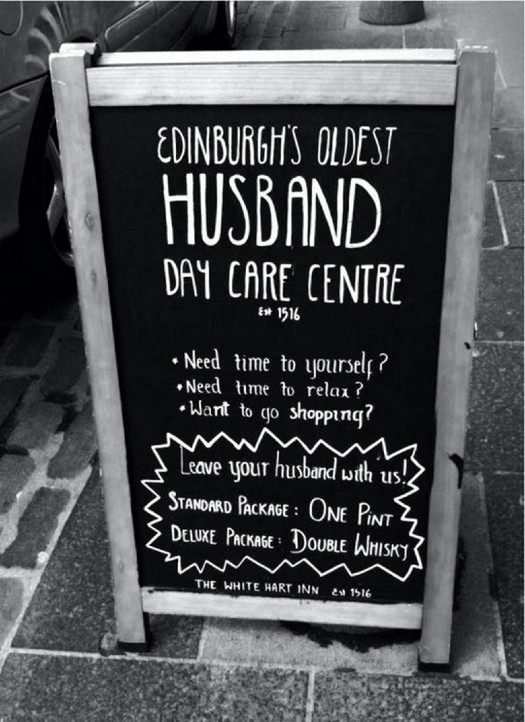 All that daycare center needs is The ONT.
The Saturday Night Joke

An old, blind Marine wanders into an all-girl biker bar by mistake.
He finds his way to a bar stool and orders a shot of Jack Daniels.
After sitting there for a while, he yells to the bartender, 'Hey, you wanna hear a blonde joke?'
The bar immediately falls absolutely silent.
In a very deep, husky voice, the woman next to him says,
'Before you tell that joke I think it is only fair, given that you are blind, that you should know five things:
1. The bartender is a blonde girl with a baseball bat.
2. The bouncer is a blonde girl.
3. I'm a 6-foot tall, 175-pound blonde woman with a black belt in karate.
4. The woman sitting next to me is blonde and a professional weight lifter.
5. The lady to your right is blonde and a professional wrestler.
Now, think about it seriously, do you still wanna tell that blonde joke?'
The blind Marine thinks for a second, shakes his head and mutters, 'No...not if I'm gonna have to explain it five times.' (H/T Hrothgar)
***

I enjoy well water that isn't laden with sulfur and an over abundance of minerals. Guess I'll never make it as a water sommelier. Water sommelier? Yes my friends, water sommelier.

Inside the Very Real (and Very Complicated) World of Luxury Water Collectors

Water sommeliers taste and collect expensive bottled water as if they're fine wines. What does it mean to elevate water to this level of luxury?

My boyfriend has a lot of opinions about the water we drink. It wasn't always this way. Once he, like me, was a free spirit who hardly noticed if the bottle we picked up was Perrier or Saratoga. But everything changed when he returned to the US after spending three months living in Berlin. There, he told me, his eyes lighting up, they had entire stores dedicated to different types of sparkling and still water—rows and rows of different brands, all offering specific levels of carbonation or mineral content. Now his water choice is deliberate: He reaches for the ridged bottle of Gerolsteiner for its tiny bubbles that prick that back of your throat, if it's available. Otherwise he goes for the iconic green S.Pellegrino, though its big, sloppy bubbles mean it's less than ideal.
***
I've had a fair number of vehicles over the years. Fuel efficiency was never a factor. But, if it is for you this might be the article for you.


"Your mileage may vary." That's the disclaimer carmakers apply to the Environmental Protection Agency fuel economy ratings that are listed for their cars.

But what seems even more variable is the value of the miles-per-gallon rating itself, which is why in 2012 the EPA started providing fuel economy ratings in another measurement too. Missed that? So did everyone else!

This is the gallons-per-100-miles rating. Although it is in smaller type than the miles-per-gallon number, it should figure larger in your calculations when comparing cars. That's because the gallons/100 miles rating makes it easier to compare the efficiency of different cars and estimate their likely annual fuel cost.
***

Quiet as a church mouse until the cigarettes came out.

Man Living In Attic Exposed After Homeowner Smells Cigarette Smoke
***

I haven't golfed in years. Why ruin a good walk. That said I still can admire this golfing record.

Tiger Woods ties record for consecutive cuts made at Masters, 3-over par for tournament
Woods has now made 23 consecutive cuts at the Masters

Tiger Woods will play the weekend at Augusta National Golf Club.

The 15-time major winner finished his second round at 3-over par but got a little help from his friend Justin Thomas to make the cut.
***

Tastes like chicken. Or does it?

In the last five months, the US Food and Drug Administration has approved two American producers of lab-grown meat, a product grown from animal cells for human consumption for the first time.

In 2022, the FDA announced that laboratory-grown chicken developed by Upside Food, is "safe to eat," clearing the way for the California-based company that creates cell-cultured chickens to begin selling its products.
***
The ONT Musical Interlude & Jelly Bean Emporium
April 8, 1994 - Lee Brilleaux
Lee Brilleaux singer, harmonica player and founding member of Dr Feelgood died of throat cancer aged 41. They had the 1979 UK No.9 single 'Milk And Alcohol' and the 1976 UK No.1 live album, Stupidity. In 1976, Brilleaux helped fund Stiff Records one of the driving forces of the 'New Wave' of the mid- to late-1970s, with a loan of £400
&&&
Born on this day: 8 Apr 1947
Steve Howe, guitarist, Yes, (1977 UK No.7 'Wonderous Stories', 1983 US No.1 & UK No. 28 single 'Owner Of A Lonely Heart'). Asia, (1982 US No 4 & UK No. 46 single 'Heat Of The Moment'). Has also been a member of The Syndicats, Bodast, Tomorrow and GTR. Released over a dozen solo albums. Howe was voted Best Overall Guitarist in Guitar Player magazine five years in a row (1977-1981). via thisdayinmusic.com
***

So much for those protein drinks. Genius Award Winner.
A young man who appeared to be handling a knife while driving died early Sunday after his 2000 Lexus crashed into a parked vehicle on Rancho Bernardo Road.

The crash happened at 5:24 a.m. Sunday in the 12100 block of Rancho Bernardo Road, according to Officer Sarah Foster of the San Diego Police Department.

The man, 28, was driving eastbound when he veered to the right for unknown reasons and struck a parked vehicle.
***

Speaking of geniuses, check out this compilation of DIYers. H/T Ron.
***

Tonight's ONT has been brought to you by Easter Ham Carving.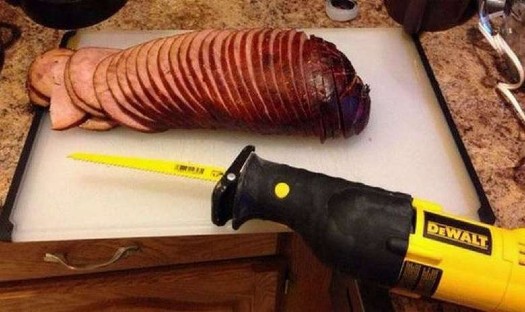 Notice: Posted with permission by the Easter Bunny and his side kick Hop-Along-Hamster.

posted by Misanthropic Humanitarian at
09:38 PM
|
Access Comments