« Daily Tech News 7 April 2023
|
Main
|
Mid-Morning Art Thread »
April 07, 2023
The Morning Report — 4/7/23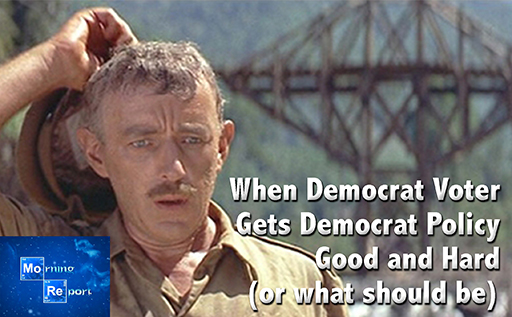 A good Good Friday morning, kids. There are a couple of local crime stories that naturally have major implications vis a vis Alvin Bragg and the essentially non-existent criminal justice system in this country. The fact is, there is no criminal justice system in this country. And that is a reflection of the fact that for all intents and purposes, there is no more country. None that I recognize that even bears a passing resemblance to the United States of America.
"Judge, the mother of the victim is in the building, walking down the hallway," said Christopher Conway of the Bronx DA's Office.

"What does that have to do with what we're doing here?" replies Justice Naita Semaj of the county Supreme Court. "I understand you might want her sitting here in the courtroom, but what does that have to do with the actual task at hand?" Which was arraigning Tyresse Minter, 28, in the death of his stepson, Corde Scott, 15. After a lecture from the bench — Semaj snarking on about the prosecutor's "preference" and how everyone else had made it on time, concluding, "Are you serious?" — they proceeded without the grieving mom.

She arrived at some point, only to flee the courtroom in horror at the judge's behavior. The defendant pleaded "not guilty," though he's confessed to a host of material facts: Corde unquestionably died at his hands — strangled to death as the grown man pinned him in place.

Minter stands charged with manslaughter in the second degree and criminally negligent homicide, both bail-eligible offenses. Just a month before the Jan. 23 death, he was released on parole from a crime in which he shot the victim three times in the back. He has a long record that clearly qualifies him as a persistent violent felony offender and a multiple parole violater. So Conway requested remand — jail or at least substantial bail.

Minter's defense attorneys — two lawyers from the Bronx Defenders — argued, basically, that the accused hasn't fled in the months since the crime and has been reporting to his parole officer and doing all his Family Court-ordered programs. They suggested release on his own recognizance. The judge did just that — no bail, just supervised release. Nothing "can lead me to conclude that he is a flight risk," and "I believe he greatly benefits from some sort of programming."

Ah, "programming"! That's surely enough to keep the public safe from a man who lost control sufficiently to kill a kid. This is a judge with contempt for the victim's survivors, and for the public. Her only concern is for the perp — hoping he can "benefit" from therapy or other "programming."
It should be noted, and it's a tragic commentary in and of itself of the state of our nation that I have to write this, that the perp, judge and victim are all black, so the race card element doesn't even necessarily enter into this incident. But the fact remains that this is not an isolated incident in either the city of New York nor in every major metropolitan area in the nation where, especially since the death while resisting arrest of the criminal Floyd, crime has literally been de-criminalized.
I have no idea where this judge Naita Smegma or whatever her name is went to law school but considering who is teaching at these law schools and more to the point the curricula that is being taught, you can bet your bottom dollar that she and Alvin Bragg, along with most of the judges and prosecutors in NY, DC and perhaps all over the country have the same mindset. Before we get to Bragg, let's go across the country to San Francisco.
Actor Sara Foster, daughter of legendary musician and producer David Foster, blasted San Francisco's "liberal" leadership following tech mogul Bob Lee's violent death in the city earlier this week.

Lee, a 43-year-old father of two who co-founded Cash App, was stabbed to death in San Francisco's affluent Rincon Hill neighborhood around 2:30 a.m. Tuesday morning, devastating the tech community and raising alarms about surging crime in the city.

Foster, 42, shared a screenshot of The Post's article about Lee's final moments before his death on her Instagram story Thursday. In the accompanying photos, a smiling Lee appears with his two daughters.

"I have no words," she wrote. "SF is a complete s—hole. I am a registered Democrat and feel confident saying liberal politicians are ruining cities."

"Disgusting. My heart breaks for this family," she added
Well, the scales have fallen at least off of one of Ms. Foster's eyes. Even with the recall of Chesa Boudin, the criminals run free in Frisco while the citizenry cower. And more and more of them, under the brainwashing of leftism still stare at their own navels and wonder how they can rid themselves of their white privilege that obviously is the cause of their misery. Feh.
Can Foster be deprogrammed, or does she even want to be? If so, can she, extrapolate her disgust and revulsion for the criminal fiend who wielded a knife to the criminal fiends who wield law books, arrest warrants, indictments and the ironically the Constitution?
And that brings us to the persecution of President Trump by Alvin Bragg. Meh, he's just the tip of the spear. Alvin Bragg represents the de-evolution and transmogrification of the American criminal justice system and nearly a thousand year evolution of Anglo-American/Western jurisprudence into a weapon of political expediency by a tyrannical junta. So, again, while even some leftist pundits and lawyers are at a minimum raising an eyebrow at what Bragg is doing and others are screaming that in a sane world, this is a complete farce and an insult that should collapse of its own weight, the problem here is that we are no longer in a sane world.
They want Trump tried, convicted and imprisoned. Hanged by his neck on live TV if at all possible. And if you think the rule of law, the Constitution, or any sense of morals, ethics, propriety or common decency are going to stop this, the fact that we have plunged this far and this fast after a stolen national election should disabuse you of that if nothing else does. There's nothing standing in the way of these fiends. Even if Trump is convicted and then the conviction is overturned on appeal, he is not going to survive the ordeal waiting for him in D.C. as Julie Kelly warns us:
News coverage of Bragg's faceplant is quickly disappearing from the front pages as all desperate eyes now turn to Jack Smith, the mysterious figure appointed by Attorney General Merrick Garland last year ostensibly to take over the Justice Department's investigation into Trump's culpability for January 6 and alleged mishandling of classified documents. As I explained here, Smith is special counsel in name only; the team of investigators and prosecutors who initiated the first set of inquiries simply changed letterhead.

Given the targets of Smith's recent subpoenas, we can surmise there is nothing independent or impartial about his behind-the-scenes work. In rapid succession, Smith has successfully sought testimony from Trump's inner circle, including former chief of staff Mark Meadows and White House lawyer Evan Corcoran. 

For the first time in history, a vice president will testify before a grand jury considering evidence of crimes committed by his former boss. Mike Pence, after winning partial immunity, reportedly will answer questions about his exchanges with Trump in the weeks leading up to the protest at the Capitol. Oddly, Pence will not be compelled to discuss what he did on January 6—a dubious protection considering his key presence throughout the day and into the next morning.

Of course, the public can't read any of the government's arguments since everything remains under seal. Ditto for court orders granting Smith's every wish. As the most norm-crushing investigation in history unfolds in the nation's capital, judges without explanation keep the files out of the view of the American people.

Out of view, that is, except for what D.C. apparatchiks want to spin. Selective leaks keep Smith's inquiry in the headlines. CNN disclosed this week that Smith's team is focused on postelection discussions in the Trump White House related to the possible seizure of voting machines. "Details about the secret grand jury testimony and closed-door interviews, neither of which have been previously reported, illustrate how special counsel Smith and his prosecutors are looking at the various ways Trump tried to overturn his electoral loss despite some of his top officials advising him against the ideas."

The coordinated leak strategy is intended to give the appearance that the prison walls, once again, are closing in on Trump.

This time, however, it's true. . .

. . . Smith might decide to pursue seditious conspiracy charges, which poses the greatest legal peril for Trump. Several men have been convicted or pleaded guilty to the rare charge, a crime comparable to treason. Five members of the Proud Boys are now on trial for seditious conspiracy; prosecutors have cited Trump's off-handed (and prompted) remark for Proud Boys to "stand back and stand by" during the September 2020 presidential debate as a call-to-action of sorts that motivated the group's unarmed "attack" on the Capitol. . .

. . . And to fulfill the bloodlust on the Left to finally see Donald Trump behind bars, there is a chance Smith will request, and a judge will grant, pretrial detention for the former president. Dozens of January 6 defendants charged with nonviolent obstruction or conspiracy counts have been denied release by D.C. judges; most have no criminal record and committed no violent act that day.

But none of the facts matter. Trump will be treated no differently in the banana republic-like atmosphere in the D.C. federal courthouse. 

After all, this is the same judicial circuit that has stripped Trump of executive privilege protections and insisted, as Judge Tanya Chutkan wrote in her 2021 order denying Trump's first privilege claims, "Presidents are not kings, and [Trump] is not President."

And that is how Trump will be treated. Not as a former president but as a traitor—the man responsible for inciting the "insurrection" that still traumatizes so many judges and jurors to this day, the leader who attempted to "overthrow democracy" on January 6.
By the way, when I wrote ""hanged by the neck on live TV" I was not being hyperbolic.


For most of our history, the Constitution's words guided how our nation operated. Citizens had two ways to change the way the country was governed: voting and amending the Constitution. Today, however, neither works. The former has been undermined by a Democrat party that steals elections under the cover of night and calls you a conspiracy nut when you notice. The latter isn't even a consideration because the Democrat party and the apparatchiks running the regulatory and security states are no longer constrained by its words.

America has become a tyranny where the people in power no longer feel the need to seek validation from the citizens. They decide on the outcome and manipulate the numbers to produce the result without even a fig leaf hiding their disdain for citizens. Whether it was Bernie Sanders in 2016, Donald Trump in 2020, or Kari Lake in 2022, the Democrat party and its entrenched government comrades have decided they no longer need to subject themselves to the will of the citizenry and, if anyone objects, they use the judiciary to crush that person.

America has been loosed from the anchor of the Constitution and the rule of law that kept our citizens free for two centuries. While the blood of the regime's enemies may not yet be flowing in the streets, history very clearly tells us that, unless we change what's happening, it will be. The question is, are there enough Americans who are familiar with history and willing to pull us out of our national death spiral before that terrible end is upon us? How Americans respond to Donald Trump's persecution is the canary in the coal mine that will likely answer that question.
There is only one response to all of this. You know it, I know it and the whole world knows it. The question is, will that response ever happen? I have my doubts, not that in any way, shape or form do I desire it. I dread it. But I dread even more the prospect of just sitting on our hands and waiting for the figurative and even literal axe to fall
As President Trump – the last real American president – has said, they're after us, he's just in the way. Once he's out of the way, as Julie Kelly is strongly indicating, then no one is safe.
Note: Just a reminder that if you can, please hit the tip jar (linked below). It really helps keep the lights on and is most appreciated.
See you on the hobby thread tomorrow. Be there, aloha.
And a blessed Easter to you all!
ABOVE THE FOLD, BREAKING, NOTEWORTHY
SHAMPEACHMENT 1.0, 2016 CLINTON/OBAMA COUP, CONGRESSIONAL PERSECUTION, SPYGATE, DEEP STATE, MUELLER DECEPTION
Julie Kelly: "Manhattan District Attorney Alvin Bragg's flop was merely the unsatisfying appetizer for the feast on Donald Trump that is about to come."
The Gathering Storm

"I don't know how you get around the evidence that both the Department of Justice in their investigation of the federal campaign finance issues and the Federal Election Commission in their ultimate jurisdiction over campaign finance issues, neither of them found there to be any violations whatsoever."
FEC Commissioner Reminds Bragg That Officials Concluded Trump Case Isn't "a Campaign Finance Violation"

"While a majority of Democrats, 65 percent, think justice would be fairly administered to Trump, a plurality of independents join most Republicans, 69 percent, in their belief that a fair trial is not possible. Of independents, 38 percent think Trump would be subjected to an unfair trial, while 33 percent think it would be just."
Poll: Plurality of Americans Says Donald Trump Can't 'Get Fair Trial in New York'

Robert Spencer: "Daughter worked on Biden-Harris campaign."
Trump Judge is Biden Donor

"Bragg's historic obsession with Trump."
Video FLASHBACK: Corrupt Soros-Backed Manhattan DA Says #1 Issue Is to Convict Trump

"In the wings, they've got a local racist Democrat district attorney in Atlanta who is doing everything in her power to indict me over an absolutely perfect phone call," Trump said. (true, that - jjs)
Fulton DA Responds To Trump Attacks

"There is something painfully anticlimactic about Manhattan District Attorney Alvin Bragg's indictment of former President Trump," Ian Millhiser, a senior correspondent at Vox, lamented. "And there's a very real risk that this indictment will end in an even bigger anticlimax. It is unclear that the felony statute that Trump is accused of violating actually applies to him."
Alvin Bragg Might Be in Serious Trouble Following Trump Indictment

"Charging former President Trump with 34 baseless felonies isn't just an attack on him, but on our entire justice system."
If Rule Of Law Dies, So Does Our Republic

"Mitch McConnell has been silent as the lead contender for the Republican presidential nomination is politically persecuted."
Even Mitt Romney Condemns Trump Indictment While Mitch McConnell Is MIA

"The old civic nationalist ethos does not apply in these times, because Trump is not being treated normally and never has been."
The Last American

CIVIL WAR 2.0: J-6 FBI FALSE FLAG "RIOT" & AFTERMATH, LEFTIST PERSECUTIONS, DEMOCRAT PUTSCH, AMERICAN DISSOLUTION

"News of the arrest was made public on Thursday afternoon, but the arrest happened on March 31, just a few days after a transgender terrorist massacred six people, including three children, at a private Christian school in Nashville."
Transgender Terror Suspect With Communist Manifesto Arrested for Planning Terroristic Shootings at Schools, Churches: Police

"In video captured by Odessa Kelly, Tennessee Highway Patrol officers can be seen holding the line against an angry crowd, blocking the entrance to a stairway."
'Let Us In!' – Watch: Troopers Block Protesters at TN State Capitol Ahead of Vote to Expel Dems

"Last night, I was at the University of Albany to speak with @TPUSA. My argument: free speech is being destroyed on college campuses. And like clockwork, some deranged protesters showed up and used the heckler's veto to try and shut down the event. pic.twitter.com/NZdUgh2emm — Ian Haworth (@ighaworth) April 5, 2023"
SUNY Albany "Protesters" March, Dance and Destroy Bible to Shut Down Conservative Speaker Ian Haworth

These incidents involved protesters attempting to disrupt, obstruct, or intimidate lawmakers, which has led to valid comparisons to the January 6th Capitol protest, which was referred to as an insurrection by many in the media and on the left. In each of the four cases mentioned, protesters were very loud and disrespectful inside the legislative buildings and sought to exert undue influence over elected officials. But despite this, media outlets that did report on them described them as "peaceful."
WATCH: Pro-Trans Activists Attempted Four Insurrections Last Week

Robert Spencer: "Oddly enough, no one at St. Mark's Lutheran Church in Fargo stood up and decried Louwagie's sermon as a monstrous example of victim-blaming. But it's supposed to be a Christian church. Will Micah Louwagie, with her hollowed-out Christianity, be fired now? Unlikely. After all, the place must be pretty woke to begin with: they hired her in the first place. The worst aspect of all this is that they likely didn't see anything wrong with her sermon at all."
Lutheran Pastor Likens Nashville Shooter Who Killed Six Christians to Jesus

David Harsanyi: "The smearing of the inconvenient justice continues."
ProPublica Exposes Clarence Thomas: He Has a Rich Friend!

BIDEN CRIME FAMILY REVELATIONS

Comer explained that far-left Manhattan District Attorney Alvin Bragg's charges against former President Donald Trump, which many legal experts consider weak, have "opened a can of worms" and set a precedent on how political opponents are treated. "They've set precedents now that we can't go back on," Comer said.
James Comer: Trump Indictment Spurs GOP County Attorneys to 'Go After the Bidens'

FIRST AMENDMENT ISSUES, CENSORSHIP, FAKE NEWS, MEDIA, BIG BROTHER TECH

"TikTok bought a line to the White House by hiring the Biden-connected SKDK."
TikTok's Democrat Consulting Firm Had Mystery White House Meeting Amid Legislative Onslaught, Records Show

"It would take someone far more expert than I am at coding to explain that, but if true, it would constitute a direct violation of the First Amendment since the federal government cannot constitutionally censor free speech directly. Twitter and the feds owe us some answers."
Twitter Code Included 'Government Requested' Intervention Tool

"Allegations of election interference have been thrown at ABC News after the network appeared to blur out a donation text number on Donald Trump's lectern during his speech from Mar-a-Lago on Tuesday night, yet has previously allowed Joe Biden's donation number to be broadcast."
Video: ABC News Blurs Out Trump Donation Number

"'Get Don Lemon' appears to be a new campaign emanating from his current and former colleagues."
SHOCK! Don Lemon Described as 'Diva' and 'Shameless Name Dropper' Who Treats Colleagues Poorly

"How perpetrators become victims."
Trans Activists and the Establishment Media: How to Co-Opt a National Tragedy

"Unsurprisingly, given his full-throated embrace of Moderna's experimental mRNA injections marketed as vaccines (in which his "nonprofit" foundation quietly invested tens of millions of dollars), Gates is not in favor of due diligence regarding AI either."
Techno-Hell: Bill Gates Rejects Elon Musk's Plea to Pause AI Development Over Potential Dangers

RED-GREENS, CLIMATE CHANGE HOAX, DEMOCRAT-LEFT WAR ON FOSSIL FUELS, JUNK SCIENCE, LYSENKOISM

"The [junta] has made transitioning the economy toward net-zero carbon emissions by 2050 a top priority issue."
Biden Set to Further Crack Down on Gas-Powered Cars and Trucks: REPORT

"Broad corruption of the data means temperature records cannot be relied on as indicators of global change."
Why We Need an Independent Global Climate Temperature Database

"This is typical political garbage from Nature and the leftist culture it routinely represents."
Global Warming Scientists Whine About India Defunding Climate Research Center

"The hard data on tornado numbers and intensity refute any assertions that tornadoes are worsening due to climate change."
Tornadoes, Climate Change, and the Media

THE ECONOMY, STUPID

"Promoting effective technology diffusion programs should be a bipartisan objective."
Past Lessons on Diffusing New Technologies

AMNESTY, IMMIGRATION, BORDER SECURITY

That page on Bragg's website states: "We protect undocumented New Yorkers."
DA Bragg's Website: "Our Office is a Safe Place for Undocumented Immigrants…"

Something tells me it's not people who resemble Bob and Doug Mackenzie or Red Green . . .
Illegal Immigration from Canada Topped Last 3 Fiscal Years Combined in Just 5 Months, Sector's Chief Patrol Agent Reports

Border crisis? What border crisis? Tell it to Biden and he'll laugh and drool on your shoes.
Hickenlooper: 'Many' Migrant Child Labor Issues 'Reflect a High Volume' of Kids Coming, We've Had Border 'Problems' for 'Couple of Years'

CRIME & PUNISHMENT, NON-DOSTOYEVSKY

"I have no words. SF is a complete s—hole. I am a registered Democrat and feel confident saying liberal politicians are ruining cities. Disgusting. My heart breaks for this family."
Sara Foster Slams "Shit-hole" San Francisco's "Liberal" Leadership After Bob Lee's Death

I guess pedophilia is only okay when godless Democrat homos engage in it . . .
Oldest Roman Catholic Church In U.S. Accused Of Covering Up Over 600 Child Sex Abuse Reports: Officials

This is a judge with contempt for the victim's survivors, and for the public. Her only concern is for the perp — hoping he can "benefit" from therapy or other "programming." (this should give you a hint at the mindset of Alvin Bragg, Eric Holder, American law schools, and what's in store for all of us - jjs)
A Judge Who Only Cares About the Perp: Just What Progs Want

"So the person who breaks in and robs a homeowner will then be allowed to avoid jail by going back to that same home and 'cleaning' it? Sheesh. But what about murder? Surely someone who kills another human being needs to go to jail. Nope."
Forget 'Defund the Police.' How About No Police, No Prisons, and No Jail Time for Murder?

AMERICA AND THE WORLD IMPRISONED: CHINESE CORONAVIRUS FICTIONS AND FACTS

"Could it be that focusing on what the WHO is or isn't doing is distracting Americans from fixing problems within our own borders?"
Has the WHO Stolen our Constitutional Rights?

EDUCATION, AND WHAT PASSES FOR IT

"Left-wing bureaucrats have embedded identitarian radicalism into virtually every department on campus."
DEI Captures the University of Florida

"Well, it looks like the Missouri Association of School Librarians, the Missouri Library Association, and the ACLU are all pedophiles, when you get right down to it. These organizations immediately banded together to sue to overturn the law. They want to give kids porno."
Pushback: Missouri School Libraries Sue to Keep Porno on Their Shelves; Missouri Lawmakers Zero Out Library Budget

ABORTION

"The Republicans in charge of messaging must stop blaming their election losses on the pro-life movement at the time of its greatest momentum."
Future GOP Victories Hinge On Positive Pro-Life Messaging, Not Ignoring Abortion

THE 2020 AND 2022ELECTION HEISTS & AFTERMATH

"Emails obtained by The Federalist reveal how DeKalb County officials skirted Georgia law by accepting grant money from a left-wing elections group."
DeKalb County Officials Skirted Georgia Law To Acquire Funds From Left-Wing Dark Money Elections Group

OFFICIAL DEMOCRAT PARTY/LEFTIST-ENDORSED ANTI-SEMITISM, ANTI-CHRISTIANITY

It's only for "them to decide" when the narrative is maintained by deciding in the affirmative
Video: White House Press Sec. Says "It's Not For Us to Decide" If Killing Christian Children Constitutes a 'Hate Crime'

DEMOCRAT/LEFTIST AND RINO SCANDALS, MESHUGAS, CHUTZPOCRISY

"Connecticut's Robin Comey reeked of alcohol, could barely stand after flipping car blocks from state capital."
'I Don't Know': Dem Lawmaker Had No Recollection of Drunk Driving Crash, Video Shows

POLITICS

". . . the fact that even 'non-black' minorities and a smidgen of Democrats are losing faith may show that the New York legal shuffle is also crystalizing what they knew all along but were afraid to admit — that the nation is becoming a dumpster fire. And no matter what your politics may be, once the flames start threatening your own home, you can't ignore the fire anymore."
Trump's Bump Includes 'Non-Black' Minorities Breaking From Biden

"I will not be controlled by anyone."
Video: Legislator Switches To GOP, Says Democrats "Villainize Anyone Who Has Free Thought"

"The total amount of money stemming from groups bankrolled by the hedge-fund billionaire totals at least $2.8 million, accounting for a quarter of all outside spending for Protasiewicz in the most expensive state supreme court race in history. Soros also personally donated $1 million to the Democratic Party of Wisconsin on Feb. 22, which in turn flooded Protasiewicz's campaign coffers with millions of dollars in the final weeks leading to the election."
How Millions From Nazi Collaborator George Soros Fueled Democrats' Court Victory in Wisconsin

"Chicago is polarized."
Major Mayoral Update in the Windy City

"We have the worst of silliness united with the worst of ambition. Where politics is everywhere and everything, politics itself is the first casualty."
Our Politics of Everything and Nothing

THE UKRAINIAN "FRONT"

". . . Kyiv has opened that door just a tiny crack, indicating that they might be willing to put Russian-held Crimea (illegally seized in 2014) on the negotiating table. 'Kyiv is willing to discuss the future of Crimea with Moscow,' Ukraine President Volodymyr Zelenskyy's deputy Andriy Sybiha told Financial Times, 'if its forces reach the border of the Russian-occupied peninsula.' This is the first time since 2014 that anyone in Kyiv has said that anything less than a complete Russian withdrawal to the internationally recognized borders of 1991 would be acceptable. There are caveats. . ."
Finally, a Way Forward for Peace in Ukraine?

FOREIGN AFFAIRS, INTERNATIONAL

Israeli TV channel i24news: "Reports indicate that Palestinian groups based in Lebanon were behind the rocket attack."
Palestinian Terror Groups Fire 'Massive' Rocket Barrage Into Israel From Hezbollah-Controlled Lebanon 

"'Elimination of Israel' on the horizon, IRGC commander says."
Iran Vows 'Strong and Decisive Response' to Israeli Strikes in Syria

"House Speaker Kevin McCarthy met with Taiwanese President Tsai Ing-Wen on Wednesday in an aim to strengthen U.S.-Taiwan relations."
McCarthy Strengthens U.S.-Taiwan Relations While Biden Allows Red China To Rise

" While Trump Might be dominating headlines again, it's Joe Biden we should really be paying attention to."
Middle Kingdom Gives Biden the Middle Finger: China Won't Even Return Joe's Calls After Spy Balloon Humiliation

"The CCP will do whatever it takes." (meh, the Biden Junta has already surrendered without a shot fired - jjs)
Is War with China Inevitable?

"Revered China expert Frank Dikotter's latest book, China After Mao: The Rise of a Superpower, paints a damning portrait of gullible Western leaders unwilling to pressure the CCP."
The West Needs To Stop Believing China Can Reform Itself

"We must consider three conditions when we set out to make a coherent and realist Mexico policy."
Mexican Catechism

"Welcome to steady billions of dollars in donations – flowing in every year."
The "Poor" "Palestinians" Are Not So Poor

BIDEN AFGHANISTAN BUG-OUT DISASTER AFTERMATH

"Biden and his [junta] are trying to gaslight the American people for their disastrous withdrawal in Afghanistan that directly led to American deaths and emboldened the terrorists . . . Biden's complete erosion of American deterrence can be directly assigned blame for Putin's decision to invade Ukraine, Kim's decision to restart missile launches, and Xi's pending decision to invade Taiwan and Chinese spy balloons surveilling American. And those are only the nation-state threats we're aware of. The world has become a more dangerous place under Joe Biden,"
Trump Campaign Responds to Biden Afghanistan Review

WE-ALL-SLAM-FOR-I-SLAM

"Former and current leaders from the Hamas-related group celebrate the holidays together."
CAIR Radical Ramadan Reunion in Tampa

DOMESTIC AFFAIRS, THE COURTS, WASTE/FRAUD/ABUSE

"The letter also notes the 'billions of dollars' recently appropriated by the Biden [junta] from the Bipartisan Infrastructure Bill, Inflation Reduction Act and CHIPS and Science Act fall under the OIG's oversight, and that hostilities towards whistleblowers would 'fundamentally undermine' the ability of the OIG to perform its duties." (that's not a bug, it's a feature! - jjs)
House Committee Probes Commerce Inspector General Over Alleged Whistleblower Retaliation, False Statements To Congress

"She faces a tough Senate confirmation vote to head the Department of Labor. What does her selection say about the Biden [junta's] competence?"
Julie Su Keeps Failing Up, and Biden Doesn't Care

". . . the worse things seem to get."
The More Some States Spend . . .

ACTUAL SCIENCE, TECHNOLOGY

"CNN reported David Smith, a retired printing technician, has discovered a shape known as an 'einstein,' which can be tiled over a surface without the pattern repeating. The outlet noted mathematicians first began working on this problem in the 1960s."
British Retiree May Have Solved Decades-Old Geometry Problem: 'A Really New Idea'

"In a follow-up to a recent Hubble Space Telescope optical image of Uranus, scientists have now used the Webb Space Telescope to take a comparable picture in the infrared of the gas giant."
Webb Snaps Infrared Picture of Uranus (still no trace of any Klingons - jjs)

"[This facility] illustrates the boom-town nature of the global space industry, fueled by the dramatic drop in the cost to get to orbit. UA got the financing and wherewithal to build the ARB because it recognized this growing demand, especially in Arizona's burgeoning space industry."
University of Arizona pens Major Facility for Building and Launching Satellites

FEMINAZISM, TRANSGENDER PSYCHOSIS, HOMOSEXUALIZATION, WAR ON MASCULINITY/NORMALCY

"[In] the circumstances present here—where a divided panel of a lower court has enjoined a duly enacted state law on an important subject without a word of explanation, notwithstanding that the District Court granted summary judgment to the State based on a fact-intensive record—the State is entitled to relief," Alito wrote.
Conservative Justices Issue Blistering Dissent On SCOTUS Decision Not To Take Women's Sports Case

"Some schools ban trans-identifying students from playing on the team of their preferred gender."
New Biden Education Rules Prohibit Blanket Bans On Males In Girls Sports

An 18-year-old Boise, Idaho, school board member slammed the state's Republican governor, Brad Little, after he signed a bill that bans sex-change-related treatment for minors. "Fuck you @GovernorLittle," tweeted Shiva Rajbhandari. "I pray you live a long life so you can bear witness to the pain you've unleashed on Idaho's children and families today. When you do die though, I'm pissing on your grave."
Idaho School Board Member Slams Governor In Profane Tweet Over Transgender Law

"What you are doing is a pure experiment on children, without any scientific evidence for it.",
WPATH's Trans Health Guidelines Allow for Medical Experiments on Children "Without Any Scientific Evidence" Says Belgian Health Expert


CULTURE WARS, NATIONAL SUICIDE

"Songs urging a wayward teen to shut up a little and boys to man up are the least of our 21st-century problems."
Disney is Making The Little Mermaid a Little More Millennial, Which Means Even More Awful

"If players can change their games as they see fit, there's a real danger they'll choose different options than what the left wants."
Woke Modding Bans Reveal Leftist Obsession With Control

"Is basketball great Charles Barkley a socialist? He certainly talked a bit like one recently, though it wouldn't really be fair to thus label him. It's more accurate to say he's not very bright."
Charles Barkley Calls WNBA, Which Loses $10 Million Yearly, 'A Great Product'

Christian Toto: "Producer Hawk Jensen shares just when he suspected something was 'fishy.'"
Follow the Science Seeks to Sway Moderates on Pandemic Overreach

"If you're tired of the Right constantly losing the culture war, especially at the box office, Nefarious is a must-see."
Nefarious Sets a New Standard for the Right's Culture War

"My fascist architecture tour of Rome—and what I learned from it."
Italy's Non-Cancel Culture

Lloyd Billingsley: "Literary lessons from Ray Bradbury and other offenders of woke illiteracy."
Write the Other Way

"I Mourned the Loss of Magic."
Thoughts on the Woke Camelot

HITHER & YON

"One doubts this pampered generation could muster this fortitude to fight for freedom."
Visit the National Museum of the Pacific War

FINALLY . . .

"History is rent in two."
Death of the Son of God

"An examination of the best-documented event of ancient history."
Reflections on Easter
NOTE: The opinions expressed in the links may or may not reflect my own. I include them because of their relevance to the discussion of a particular issue.
ALSO: The Morning Report is cross-posted at CutJibNewsletter.com if you want to continue the conversation all day.
Follow us on Twitter: @CutJibNews
Follow us on Instagram: @Cutjibnewsletter
TIP JAR : Your support helps keep the lights on and is truly appreciated. Note: We are on Stripe, not PayPal.

posted by J.J. Sefton at
07:42 AM
|
Access Comments
Recent Comments
Recent Entries
Search
Polls! Polls! Polls!
Frequently Asked Questions
The (Almost) Complete Paul Anka Integrity Kick
Top Top Tens
Greatest Hitjobs