« ANOTHER Transgender Arrested for Planning a Fresh School Shooting in Colorado
|
Main
|
Savage Nature Cafe »
April 06, 2023
Quick Hits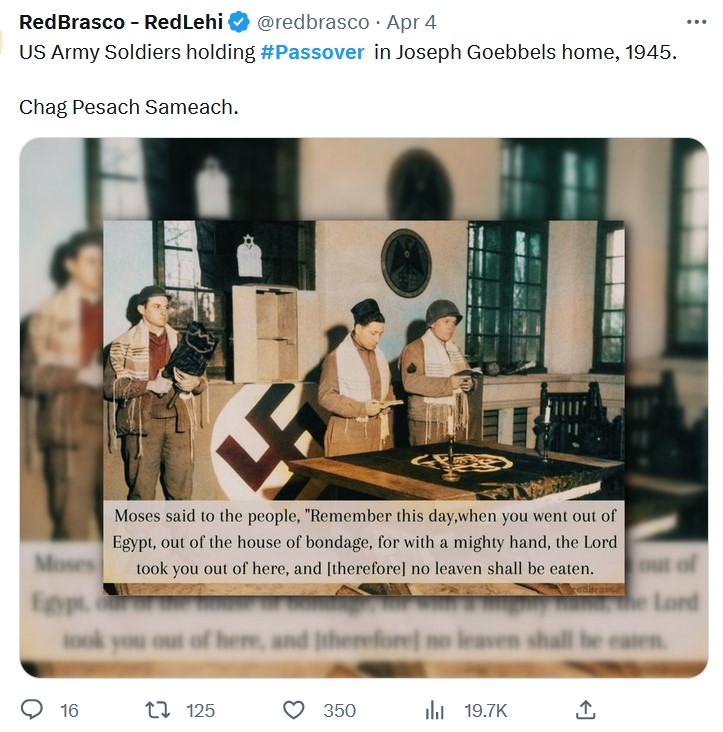 Christina Pushaw
@ChristinaPushaw

I don't hate Dylan Mulvaney. I do hate the fact that so many mega-corporations, in lockstep with the Biden Administration, have somehow decided that Dylan Mulvaney should be the most successful "woman" in social media marketing.

Mulvaney makes a mockery of female stereotypes. There are MANY actual women who work hard to build their platforms; why don't they get the same opportunities to work with all these huge brands?
Yesterday I noted that every Media/Democrat NPC was claiming that Trump's indictment was a "sad and somber" day for America, as they frenziedly masturbated themselves under their "news" desks.
You will not be surprised to see that this #fella blabbled the same approved NPC talking points from his #PrisonLips:
Adam Kinzinger #fella @AdamKinzinger

Today is a somber day for our nation. Donald Trump committed many crimes, but this indictment should be a reminder that in America, NO ONE is above the law.

We must move forward and let justice prevail. The anti-democratic threat, however, hasn't diminished.
The National Institute of Science and Technology shows us why we're paying tens of millions of dollars per year to give them cushy sinecures.
The National Institute of Standards and Technology, a federal and science technology office, has made race and gender speech codes for its scientists a top priority.

The guidance, for example, tells federal employees not to use the words "blacklist" or "whitelist" because of the racial connotations and also cautions against "using terms that assign a gender to inanimate objects, such as male/female connectors."

The NIST is a little-known government agency tasked with helping the U.S., among other things, stay technologically ahead of rivals like China. Congress appropriated about $1.65 billion for the group for 2023.

Lawmakers recently hammered the Pentagon for investing heavily in critical race theory and gender ideology. The National Institutes of Health has done so as well, along with other agencies.

The NIST is one of many federal agencies putting its attention and taxpayer funds into these efforts as it struggles to keep pace with its key mission. The NIST sparked controversy for its "Inclusive Language Guidance," which tells scientists which words or phrases they can or cannot use in reports.
Swim England has ruled that biological males cannot race in the women's category. They are establishing three categories: Male, Female, and "Open," for people who want to claim they're something that they're not.
Women swimmers will not have to compete against transgender competitors in licensed events under new rules from Swim England.

The sport's governing body has introduced an 'open' category for those born male as well as trans or non-binary competitors, while a 'female' category will be restricted to those with a birth sex of female.

The policy comes into effect on September 1 and will apply to competitions under Swim England's auspices including those organised by member regions and clubs.

Swim England said hormonal therapy reduced performance advantage but was 'insufficient to negate it completely and trans females therefore likely retain an advantage over their cisgender peers'.

'As a result, Swim England believes the restriction of certain competition to birth sex females to be justified and proportionate in the pursuit of fair competition,' it added.

Note that this policy only applies to top races, like where you can win a medal or a prize. In "lower-level or recreational races," they'll still allow "self-identification" to dictate what sex someone is -- that is, they'll still allow men to compete against women, and, presumably, share the changing room and showers with them as well.
So... yay?

Indiana becomes the latest state to enact Literal Trans Genocide, by setting a minimum age for irreversible and dangerous transgender experimental "therapy."
Republican Indiana Gov. Eric Holcomb signed legislation Wednesday banning sex-change operations and hormone for minors.

The bill requires all minors undergoing medical transition to desist by the time the law takes effect July 1, according to ABC 7 Chicago. All individuals under the age of 18 will be prohibited from receiving cross-sex hormones and sex-change operations.

"Permanent gender-changing surgeries with lifelong impacts and medically prescribed preparation for such a transition should occur as an adult, not as a minor," Holcomb said in a statement.

Via Hot Air, Biden continues being a careful steward of the American fisc, just as NeverTrump promised us he would be.
The Biden administration is spending hundreds of thousands of taxpayer dollars to translate the Homosaurus, a self-described "vocabulary of LGBTQ+ terms" that includes phrases such as "anal fisting" and "jizz," into Spanish, documents show.

President Joe Biden's National Endowment for the Humanities in January announced the $350,000 grant, which will see the University of Washington create a "Spanish-language version of the Homosaurus." The dictionary, which features a dinosaur standing under a rainbow as its logo, defines hundreds of terms and phrases "relating to bisexuality, trans, gender, and intersex concepts," according to its website. Examples include "anal fisting," which the Homosaurus defines as the "sexual practice of inserting a fist into an anus," "jizz," which it calls the "slang term for semen; primarily used in the United States," and "Indigiqueer," a "term used to describe the identity of people who are both Indigenous and queer and view those identities as inherently related and interconnected."

Coming to an elementary-school library near you.

White House: Legislators shouldn't decide at what age little children can have surgical mutilations.
President Joe Biden believes that lawmakers should leave it up to parents and children to decide what age is "appropriate" for a child to undergo sex changes, White House press secretary Karine Jean-Pierre said Wednesday.
Robert F. Kennedy, Jr. announced his intent to run for president and take the nomination from the decrepit Chinese agent Joe Biden, and Regime propaganda network AP immediately began smearing him as an "anti-democratic" fascist.
His push against the COVID-19 vaccine has linked him at times with anti-democratic figures and groups. Kennedy has appeared at events pushing the lie that the 2020 presidential election was stolen and with people who cheered or downplayed the insurrection at the U.S. Capitol on Jan. 6, 2021.
Regime catamite Jake Tapper also joined in on the Coordinated Two-Minute Hate:
Nick Arama:
"Healthcare menace?" I probably disagree with him on a lot of things. But seriously, the temerity of anyone on CNN talking about anyone else when they've pitched so much that isn't true on so many subjects, including on COVID. If they want to talk about "menace," they and some of their other media cronies should look in the mirror.

However, I don't think the anger is about vaccines. I think this is about liberal media/Democrats (excuse me for being redundant) thinking that he might have a more viable candidate than Marianne Williamson, who could truly draw people away from Biden or whoever they ultimately throw up there who will parrot the narrative. He could get a lot of the anti-Pharma and anti-establishment left, and perhaps even more. But he also would call out some of their sacred cows during a primary and a debate with Biden (if dared to have one and they were able to pull him out of the basement) might just do Joe in. That's what they fear.
More from andycanuck:
51 Insider Paper @TheInsiderPaper LATEST UPDATES: - Israeli police raid Al-Aqsa mosque. - Rockets fired from Gaza into Israel - Israel launched air strikes into Gaza - Dozens of rockets fired from Lebanon into Israel - US says Israel has right to defend itself after rockets fired from Lebanon - Israeli Foreign Ministry in message to embassies: Israel will respond to attack from Lebanon

Insider Paper @TheInsiderPaper · 58m
BREAKING Explosion heard in Gaza, where Israel army says carrying out strikes: AFP

Explosion heard in Gaza, where Israel army says carrying out strikes: AFP - Insider Paper
This is a breaking news story.. check back for updates

BREAKING Footage of Israeli airstrikes in Gaza
https://tinyurl.com/3t8xw9bj

Posted by: andycanuck (Vwz3I)

posted by Ace at
06:15 PM
|
Access Comments