« Trump's Lawyer Says Case Won't Survive Long; Promises To Raise Selective Prosecution As a Defense
|
Main
|
Trump Arraignment »
April 04, 2023
Suspected AOC Anonymous Twitter Account Calls LibsofTikTok the C-Word, Wishes That an "Unhinged" Trans Person Kills Matt Walsh
The evidence that it's her account is circumstantial, but it's very suggestive.
Someone said that AOC supports Nazis -- I imagine this is a reference to her support of Ukraine -- and another account responded "lol why would you think I have done anything to support Nazis."
Making it look very much as if AOC saw the criticism, and then replied, but forgot that she was using her burner (anonymous) account instead of her normal "@AOC" account.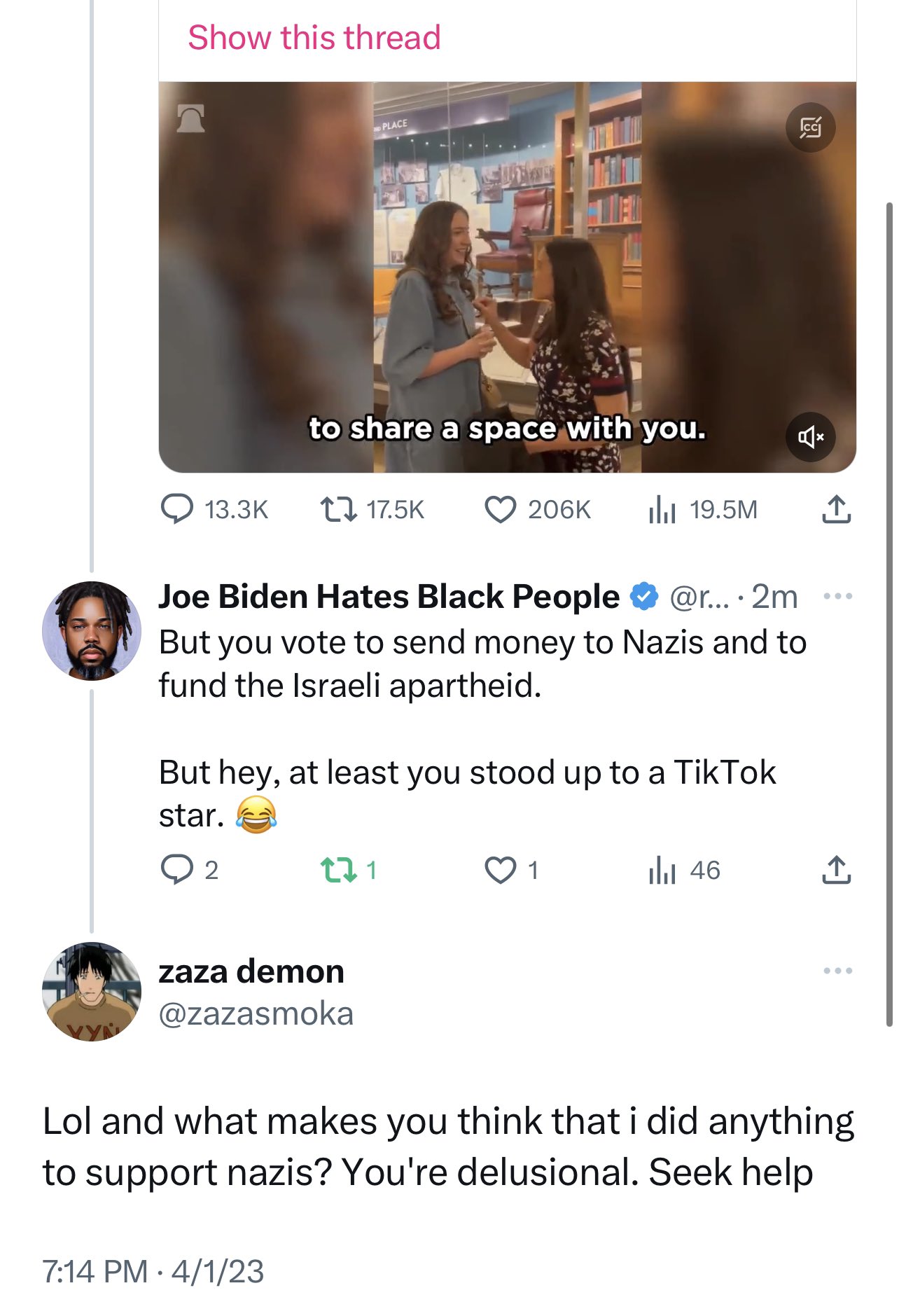 The first post tagged @AOC's twitter account, so AOC would have seen it if she is monitoring replies and criticisms on Twitter. Which you know she does.
Adding to the circumstantial evidence: Once people realized this account was acting as if the nitwit AOC had exposed her use of a burner account, the account deleted the tweets suggesting AOC owned it, and then deleted all of its tweets.
You can see why AOC deleted her "zasa demon" burner account after it was exposed as hers (if it is hers, which seems likely):
Zaza demon also spoke up in defense of AOC. When another Twitter user criticized her for her interactions with Raichik, tweeting "you didnt even recognize her when you took a photo with her lmao," zaza demon replied, "Is that supposed to mean anything besides how forgettable and basic 'libs of tiktok' is? Shes a worthless c**t." Your language is as charming as it is compelling, Congresswoman!

Worst of all was when Matt Walsh tweeted this on March 28: "I came to the conclusion years ago that the trans movement is the greatest evil our country faces. I only become more and more sure of this fact with each passing day, and more and more determined to oppose it until my last breath." That was far too much for zaza demon, who replied, "You are a hateful little freak and i cant wait until you p*ss off a trans person that actually is as unhinged as you claim to say they all are. Can't be a bigot if you're no longer breathing:)" Is wishing death on a political opponent worthy of disciplinary action in Congress? Don't hold your breath: that would only be the case if AOC were an America-First patriot.
AOC (or the person suspected of being AOC) has deleted those tweets. But people took screenshots of them before she deleted them.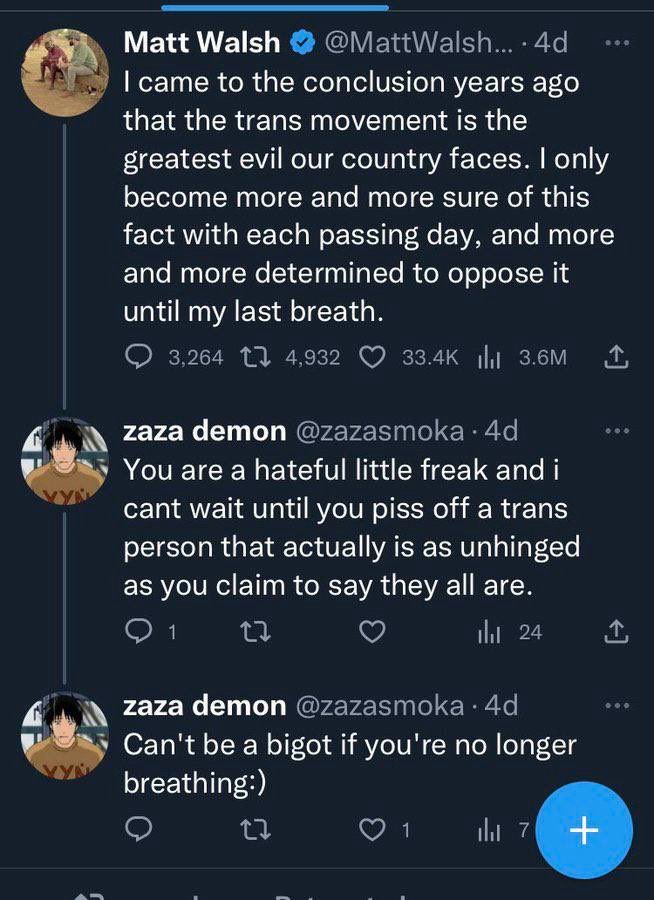 Concealing or destroying the evidence is suggestive of guilt in trials.
Deleting these tweets was also illegal, I think: There's an official records act which requires Congressmen to state which accounts are theirs, so that all utterances can be recorded by the government and saved for posterity.

posted by Ace at
01:00 PM
|
Access Comments