« First-World Problems...
|
Main
|
Gun Thread: Easter Edition! »
April 09, 2023
Food Thread: That Matzoh Gave Its All!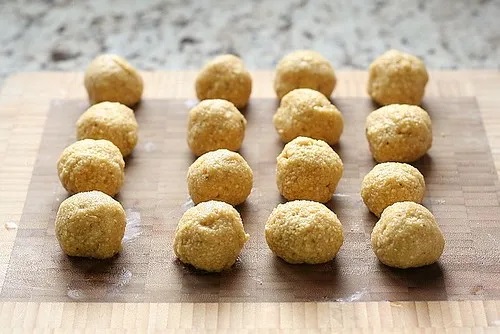 Ah...the lowly bowl of matzoh ball soup. Except it's delicious! Especially when the soup is homemade from roasted chicken parts and fortified with glace de volaille. That's just incredibly concentrated chicken stock.
And the balls themselves, also called "kneidlach," are seemingly simple, but when done well are relatively light and fluffy and delicious on their own, especially if you use chicken fat in addition to vegetable oil in the mixture.
And next year I am going to supercharge them with the addition of chicken fat AND chicken cracklings, known in Yiddish as Schmaltz and Gribenes.
******
Commenter "nurse ratched" had an interesting if contentious point in last week's Food Thread. I pointed out the vile and barbaric culinary habits of the Chinese...specifically a dish that requires cooking a live fish part way...enough to cook the flesh but not enough to kill it. It is consumed while alive.
Just to be a contrarian.

You enjoy raw oysters and clams?

Those creatures are still alive when you eat them. What is the difference?
Here is my response:
Fish are vertebrates and can feel pain. Oysters are far down the evolutionary ladder and while they have sensory apparatus they don't sense pain the way more highly evolved animals do.

And...I don't eat oysters BECAUSE they are alive. I eat them alive because that's is the only safe way to consume them.
******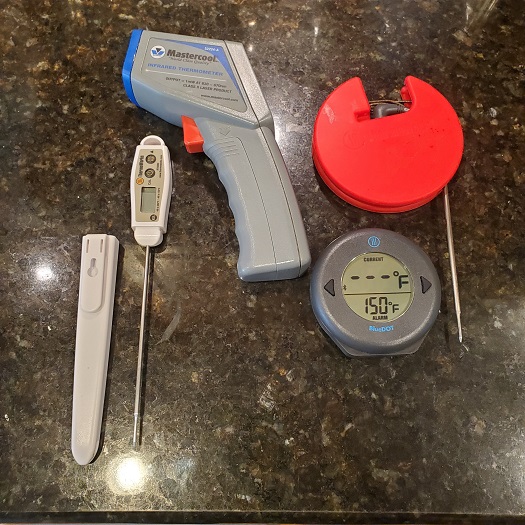 I have ranted about 800 times about the importance of accurate temperature measurement. I use those things every day, and they are an integral part of my cooking. Even the old-style probe on the left is useful, although the readout is getting tough for my old eyes. It just won't break, so I can't switch to the modern one with the large, rotating display, although I do use one when I need two for cooking on the grill and the stove.
The infrared gun is incredibly useful for knowing the temperature of cooking surfaces like pans, but it is also useful for judging whether something is hot enough for consumption. Hell, I use it when I reheat leftovers or need to know when the huge pot of water for matzoh balls will be ready.
The remote probe is a thing of beauty. It sends a bluetooth signal to my phone, so I can know the state of stuff on the grill while lounging inside with a cocktail. I used it and its twin to know exactly when the tenderloin roasts would be done for the Seder dinner so I didn't have to get up from the table and peek.
But aside from the incredible convenience of these marvels, they have improved my cooking tremendously. It's just better to know the internal temperature of your food instead of trying to guess with the touch techniques or the color of the surface.
And no, I am not a paid sponsor of ThermoWorks, which I think is the best company out there. I wish I was, because I spend a lot of money on this stuff!

******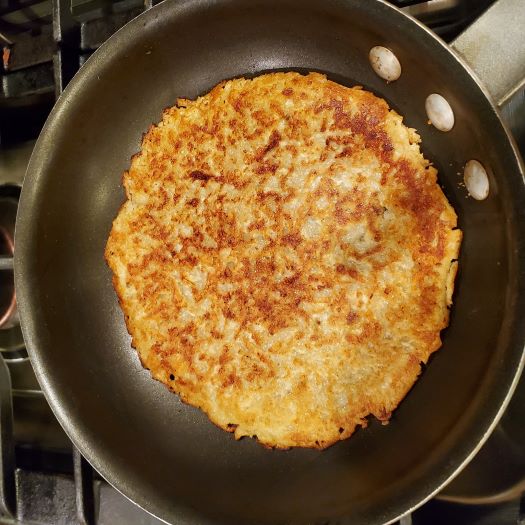 That's a Parmesan cheese crisp. And it's too thick, which sounds a little silly, since cheese is one of those unalloyed good things, so more cheese must be better. Right? But not in this case! Oh, it was edible, even tasty. But it didn't have that delectable crunch and snap that a thinner one would have had.
And why is that? Because I was lazy! Instead of making two with the last of the Parmesan...I made one.
Pro Tip: If you have a successful recipe for something delicious, think long and hard before you muck with it!

******
Oh boy...Of course this is click bait, but it is particularly galling. The highest and best use for orange peels is NOT as a component of a homemade cleaning solution.
Unexpected Ways You Can Use Orange Peels In Your Kitchen
The best use of orange peels is as a garnish for cocktails, specifically bourbon-based cocktails! Although if your tastes run to Negronis, I have read several serious drinks writers who swear that the most important ingredient in that foul and evil drink is the orange peel garnish!
[Hat Tip: Misanthropic Humanitarian]

******
This is nothing more than a quiche base, but it is a fine thing to have in the refrigerator when you have gaggles of brats or house guests or just feel like a quick snack. I just wish Alexandra would simplify her web page. it is a mess of photos and links and silly stuff. And yes, I know that it is for the clicks and the links and the money, but damn...it's a slice of egg pie! Do we really need all of that stuff?
Anyway, here it is: Flour Bakery's Egg Sandwich

******
Mornin' Horde. Attempting to make biscuits to cheer myself & my mom up on a rainy chilly day. I've got the rolling pin out, so don't none 'a y'all get mouthy.
-- Posted by: screaming in digital at April 08, 2023 08:41 AM
******
Just send me oysters. Lots of oysters, and I will provide special dispensation for those without taste who insist upon maple syrup with their French Toast. And pork rib roasts from the front end of the pig where all the good and fatty meat lives, carrots that don't taste like stalky chalk, spare bottles of Van Winkle Special Reserve 12 Year Old Bourbon, an herb garden that actually produces herbs (but no basil!), well-marbled NY strip steaks and elk backstrap to:
cbd dot aoshq at gmail dot com.
And don't think that the rest of you are off the hook with maple syrup and French Toast: I'm still watching you! And I am watching you perverts who shake Manhattans and keeping a list for the Burning Times.

posted by CBD at
04:00 PM
|
Access Comments