« Amazing Long Essay on the Disinformation War The National Security Deep State Is Waging Against Us by Lee Siegel at Tablet
|
Main
|
Quick Hits »
March 31, 2023
Beyond the Valley of the Libs of TikTok
What are your plans for the Trans Day of Vengeance? Anything special?
Or has this year's Trans Day of Vengeance just snuck up on you again? It's today and tomorrow, you know! Hope you got your Trans Day of Vengeance shopping done in time!
And now they've gone and cancelled it! Just because their violent incitement got a school shot up!
Wait, that's not the reason they give for cancelling the call-to-vengeance rally.
They claim it's because they got "threats."
They're the real victims here, you know.
Our Rights DC, the group behind Saturday's "Trans Day of Vengeance" protest outside the Supreme Court, has announced that the event has been cancelled due to a "credible threat to life and safety."

The event, which was originally scheduled for the "Transgender Day of Visibility," as designated by President Joe Biden, was widely criticized following Monday's mass shooting in Nashville in which trans-identified 28-year-old Audrey Hale murderd six people, including three children.

"This action will not be taking place Saturday due to a credible threat to life and safety," Our Rights DC wrote on Twitter. "The safety of our trans community is first priority."

They went on to suggest that the threat was "the direct result of the flood of raw hatred directed toward the trans community after the Tennessee shooting."

"Individuals who had nothing to with that heinous act have been subjected to highly serious threats and blamed only because of their gender identity," the group lamented, claiming that such actions are "one of the steps in genocide."
I'll tell you what really happened: Their Democrat protectors, promoters, and donors told them to stand down because it embarrasses the cause. Just like they told BLM and antifa to stand down for the 2020 elections.
A #rigged poll by state media NPR and PBS claims that most Americans oppose "restricting drag shows or performances."
Most adults said they oppose laws restricting drag shows or performances as Republicans in several states push to block the shows from being seen by children, according to a new poll.

The results of an NPR-PBS NewsHour-Marist poll, released Wednesday, show 58 percent of respondents said they oppose laws restricting the performances, while 39 percent said they support them. Democrats are the most likely to oppose such laws, with almost three-quarters of them saying they are opposed, but 57 percent of independents and 37 percent of Republicans also said they do not support them.
Do you notice two key words that have been deliberately omitted from the poll question?
"Restrict drag performances... for children."
They omitted those words because 1, they would accurately represent actual Republican efforts here, and 2, would cause people to support these restrictions in droves.
Soros Prosecutor Lizzy
@StarChamberMaid

The poll didn't ask if people were in favor of restricting drag shows directed at CHILDREN. Now why was that? No one cares about drag shows, they've been around forever. People don't like overly sexualized drag shoes for CHILDREN.

Demon worshippers spin for their fellow child-murdering demon.
A trans "woman" complains that a TSA agent struck her in "her testicles."
A transgender woman was left in tears at JFK Airport after she claimed a TSA agent punched her in the testicles while she was going through security, the Daily Mail reported.

The unidentified flyer took to social media to vent about the incident, in which she said the agent "humiliated" her in front of everyone in a series of posts that have since been deleted, according to the outlet.

"hi so a tsa agent at jfk airport punched me in the genitalia, yelled at me for having a penis (?) and humiliated me in front of everyone after i told her to please stop," she captioned a photo of her crying in the airport bathroom, according to a screenshot of the post.

But the embarrassment didn't stop there, according to the woman.

"[The TSA agent] followed me into the women's bathroom and began talking about me to a coworker while I sobbed in a stall," she wrote, asking friends on the internet for advice as to what she should do.

In a follow-up post, she said she was left crying for over an hour and said "my balls still hurt so bad," according to a screenshot from the Daily Mail.

She does not want the TSA agent to be fired, she said in a separate post, but wanted "her educated and the entirety of tsa abolished altogether."
Her testicles, so firm, so lush, so fully packed! How I love watching the gentle sway of her testicles as she walks!
SC_Reviews speculated plausibly that this trans "woman" insisted on having a female agent pat her down -- I mean, women pat down women's sensitive areas in these situations, right? -- and the TSA agent, a woman, was angry that she had been manipulated into touching a dude's dick and balls and maybe gave it an extra bit off oomph in the pat-down.
He also pointed out that this female TSA agent was black -- and blacks have not been cowed by all the white guilt bullshit that "trans women are women, right down to their hairy sweaty balls." I could see her getting angry and following the trans "woman" into the bathroom and saying something like, "I'm a married woman, and you just made me grab your dick!"
Trans "women" continue insisting that they merely have "feminine penises" and "lady balls" but this just goes to show how completely f*cking mentally ill they are. It's one thing if you want to make this part of your own private Reality Distortion Field. If you want to tell yourself this. Fine. We all deploy a cherished lie or two to get by.
But to insist with a straight face -- or even an angry, threatening face -- that others join you in declaring a dick and balls to be "female"?
That's insane. That is literally the kind of thing that insane people say. Again, the insanity isn't the coping lie you tell yourself. A lot of people have coping lies. The insanity is that the entire world believes in the idiosyncratic lie you're telling yourself, and that they're Monsters! if they don't believe in this coping lie with all the vigor and passion that you do.
College girls are suing their sorority for admitting a dude.
"I feel so glad to be in a place that I think not only shares my values, but to be in a sisterhood of awesome women that want to make history," Langford told The Branding Iron, a local publication where he is also employed as a contributor, during an interview last year. "They want to break the glass ceiling, trailblazing you know, and I certainly feel that as their first trans member, at least in the chapter in Wyoming history."
Here's the thing: He dresses and acts like a dude and also wants to "meet women." And not as "sisters."
I'll note as I get started here that Langford will be referred to as "he" throughout this post because that is how Langford is referred to in the legal complaint and how reports of this story refer to Langford. He is labeled "Terry Smith" in the legal complaint. The women are called "Jane Does." He has done nothing to transition "to create a more feminine appearance" and "has not undergone treatments." He is 21 years old, 6 feet, 2 inches tall, and weighs 260 pounds, according to the legal document. "No other member of Kappa Kappa Gamma has comparable size or strength."

Besides his physical characteristics, he has a profile on Tinder where he says he is seeking to meet women. The lawsuit claims he is "sexually interested in women."

Karen Townsend says this feels like a prank, or a stunt. People keep thinking that because this all feels so insane.
But it's real. It's always real. No matter how insane it gets, it's real. When you create a rule that there is nothing so insane or vicious that a member of a protected class will be criticized for doing, ever, you create the circumstances for behavior that is literally beyond belief.
A nasty little thread of Democrats and media scumbags justifying the trans terrorist's murders and claiming that conservatives force leftists to kill.
That tweet was in response to subhuman dirtcreature David Packman, doing his best "Where's your God now, yah?" Edward G. Robinson impression.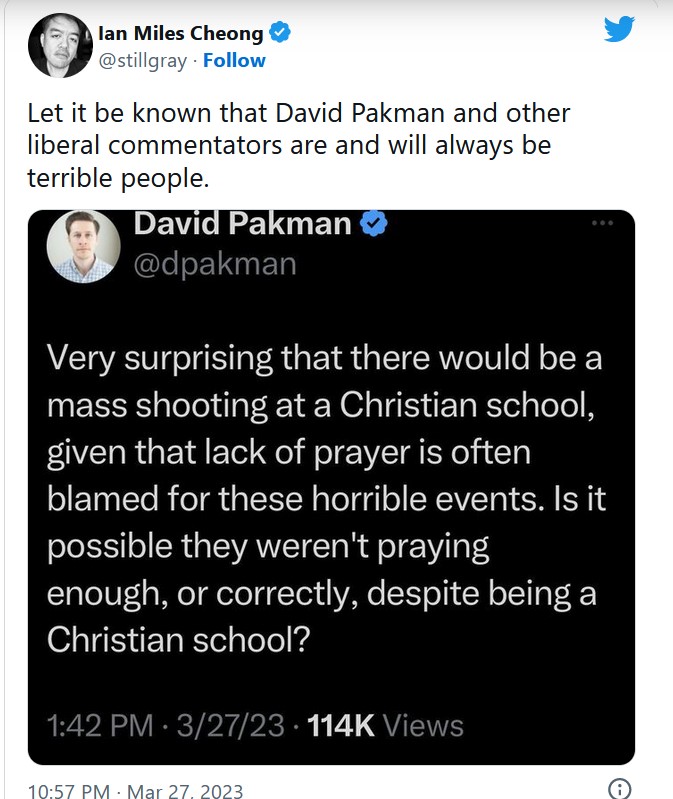 I seem to remember radical jihadists making similar "Look What You Made Us Do" claims.
60 Minutes Australia is now promoting "theybies" -- babies born to mentally deranged parents who refuse to "assign them a gender" so they can pick and choose for themselves.
Donkey-Chompers: "Cisgender and often straight men" are the ones after your kids.

Cisgender men -- I mean, normal men; "cisgender" is a slur made up by a pedophile -- aren't the ones grinding their packages in children's faces, and then demanding we all appreciate their "art," Stupid.

LibsofTikTok confronted Donkey-Chompers after delivering an ethnics complaint against her. The nasty helium-voiced troll, who affects the speech patterns and general immaturity of an underaged child to attract men (as well as schmen), ran away in fear.
A powerlifting coach in Canada declared himself to be a female to win a "Women's" bench press event.
Don't be mad at him -- he was doing it as a protest. And to deny the title to the fake "woman" -- a man, of course-- who had already forced his way into the "women's" competition.
A male powerlifting coach self-identified into the women's category and broke the Alberta women's bench press record in an apparent effort to protest gender self-identification policies in sport.

Avi Silverberg, a powerlifting coach who has worked with Team Canada, self-identified as a woman last week to participate in the women's category at the Heroes Classic Powerlifting Meet held in Lethbridge, Alberta. Silverberg was attempting to highlight the unfair advantage males have when competing in women's athletics. In participating in the Saturday event, Silverberg unofficially broke the Alberta women's bench press record for the 84+ kilograms category.

The Canadian Powerlifting Union (CPU) announced a gender self-identification policy earlier this year, explicitly allowing any males to participate in women's competitions on the basis of "gender" alone.
JK Rowling talks about the kind of violent threats she routinely receives from trans extremists.

posted by Ace at
05:15 PM
|
Access Comments