« Trans Terrorist Chose School Because There Was Too Much Security At the Other Two Schools It Considered
|
Main
|
Merrick Garland Claimed that US Marshalls Decided Themselves to Not Arrest Threatening Protesters Outside Supreme Court Justices' Homes. He Lied: They Were Under DOJ Orders Not To Arrest Protesters Unless "Absolutely Necessary." »
March 30, 2023
DOJ Finally Makes a Single Arrest In the Pregnancy Counselling Center Firebombings Case
NPR minimizes his crime as much as possible, and tries to make light of the whole matter.
How a half-eaten burrito led to charges in the firebombing of an anti-abortion office
Federal authorities say they've charged a suspect in connection with the firebombing of an anti-abortion lobbying group's office in Wisconsin -- nearly a year later, and with the help of a half-eaten burrito.

The Department of Justice announced on Tuesday that it had arrested Madison, Wis., resident Hridindu Sankar Roychowdhury, 29, at an airport in Boston. He had a one-way ticket to Guatemala, the agency said.

He has been charged with one count of attempting to cause damage by means of fire or an explosive, court documents show.

"According to the complaint, Mr. Roychowdhury used an incendiary device in violation of federal law in connection with his efforts to terrorize and intimidate a private organization," Matthew Olsen, assistant attorney general of the DOJ's National Security Division, said in a statement.
No actual terrorism charges, though.
No "insurrection" charges.
No even any "parading" charges.
If convicted, Roychowdhury would face a mandatory minimum penalty of five years and a maximum of up to 20 years in prison.

"Violence is never an acceptable way for anyone to express their views or their disagreement," Robert Wells, assistant director of the FBI's Counterterrorism Division, said in a statement. "Today's arrest demonstrates the FBI's commitment to vigorously pursue those responsible for this dangerous attack and others across the country, and to hold them accountable for their criminal actions."
Weird how there's so much terrorism in this case but no charges of actual terrorism.
Despite the terroristic threat spraypainted on the building: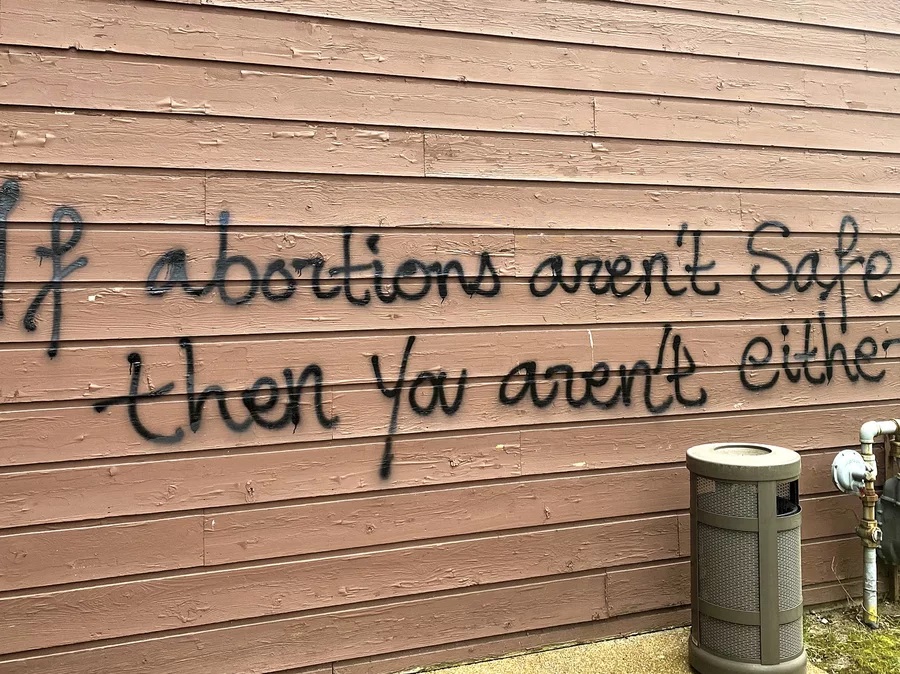 ...

WFA said in a statement after the attack that the office had been empty and no one had been injured.


They went on to accuse liberals of hypocrisy and blamed Democratic leaders like Wisconsin Gov. Tony Evers for suggesting "that violence is an acceptable tactic to employ."


Wisconsin officials on both sides of the aisle, including Evers, condemned the attack, as did the White House.
...

The next part of the story involves a lot of forensics and a bit of fast food.
Ah, so humorous.
The terrorist left a DNA sample behind at the scene of the firebombing, but it could not be identified, apart from being male. Or at least his DNA was Assigned Male at Collection (AMAC).
That's a joke. They're not doing that... yet.
In January, a "protester" spraypainted the terroristic threat "We will get revenge" in cursive at the state capitol to protest the shooting of an antifa shooter at that Atlanta cop training center construction site. The threat looked like the threat painted on the wall of the family counseling center.
They identified the threat-maker as owning a Toyota Tacoma pickup truck, I guess maybe by following him through surveillance footage back to his vehicle.
On March 1, an observer spotted the truck, and saw the terrorist drop a fast food bag out of his car. Littering, I think. The bag contained a half-eaten burrito. They swabbed that for DNA and found it matched the DNA sample Assigned Male at Collection from the pregnancy counseling center.
Note that they could have just arrested him based on the match of the spraypainted handwriting, and then compelled a DNA sample. But you wouldn't want to infringe on the Free Speech Rights of an antifa terrorist! Their free speech rights are important!
Instead, they left him alone and just got lucky with finding the half-eaten meal.

posted by Ace at
02:05 PM
|
Access Comments