« Daily Tech News 2 April 2023
|
Main
|
Alvin Bragg Isn't Just A Hyper-Partisan Political Hack Doing The Dirty Work Of The Democrat Junta...He's Stupid And A Lousy Lawyer Too! »
April 02, 2023
Sunday Morning Book Thread - 04-02-2023 ["Perfessor" Squirrel]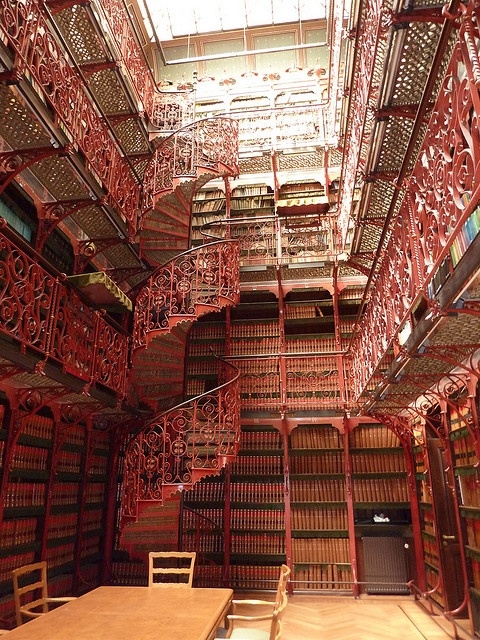 Welcome to the prestigious, internationally acclaimed, stately, and illustrious Sunday Morning Book Thread! The place where all readers are welcome, regardless of whatever guilty pleasure we feel like reading. Here is where we can discuss, argue, bicker, quibble, consider, debate, confabulate, converse, and jaw about our latest fancy in reading material, even if it's nothing more than a hilarious April Fools' prank. As always, pants are required, especially if you are wearing these pants...(sharp eyes will note this is the exact same model from last week--pants are photoshopped in.)
So relax, find yourself a warm kitty (or warm puppy--I won't judge) to curl up in your lap, enjoy some oysters (instead of sending them to CBD), and dive into a new book. What are YOU reading this fine morning?
PIC NOTE
Today's pic is from Handelingkamer Library, which is used by the Dutch Parliament in The Hague to store their verbatim proceedings and records. It's just an amazing picture. No open flames were allowed near these volumes, so they used skylighting to bring in natural sunlight. Of course, that probably made the library unusable at night, but who wants to review dusty government records by starlight anyway? Right?
BOOK COLLECTING
Any *serious* book collectors among the Moron Horde? I don't mean someone who just has to collect all the books of a particular author. I'm talking about those who have multiiple editions of books, one to read, and at least one to display. Maybe you collect old books, or books with an interesting provenance, or elaborate illustrated versions, etc. As for me, I'm a "casual collector" at best in that I enjoy picking up books, but I'm not all that picky about the edition, as long as it's in readable quality. I've thrown out a number of books in recent years because I decided the condition was too poor for me to even read them at all. I do have a few choice books in my meagre collection, such as first edition hardcovers of all of the Wheel of Time books, though not all of them are first printings. The dustcover quality also varies quite a bit from pristine to patchy (I'm using duct tape on one to hold the dustcover together). Lately, I've been going for completionism, which I've mentioned before, trying to acquire all the books in a given series, such as Stephen Baxter's Time's Tapestry or Kevin J. Anderson's Gamearth. I'm not quite as keen on acquiring new books these days or starting new series. I don't have time to read the books I have already acquired...
I found the video below in my YouTube video feed recommendations recently. He has some excellent tips for those of you who are *serious* about collecting. Or even if you just want to dabble in collecting and have a particular author/genre in mind.
10 tips to build the book collection you've always wanted:
Collect what you enjoy!
Have a clear scope and purpose for collecting
Don't buy new
Start collecting early (it's never too late to start!)
Be patient
Avoid professional sellers
Determine a reasonable price that fits your budget
Try to find the best deals
How do you find the best deals?
Condition is important, as it will often affect the price and long-term value
He has a pretty amazing collection of books. One of his videos shows a partial tour of his collection of 19th and 20th century children's classics. It's a bit long, but he does have some very interesting examples of collectible books.
You just never know when you will come across a good deal!
Churchill's History of the English Speaking Peoples is required reading imho for Anglophiles.

Posted by: gourmand du jour

A few months ago, I stumbled on a complete four book set of the third edition in hardback, excellent condition, for $15. I grabbed it and literally ran to the register.

Posted by: Thomas Paine at March 26, 2023 10:23 AM (hAmnt)

Given an unlimited budget and availability, what would YOU like to collect most and why?
++++++++++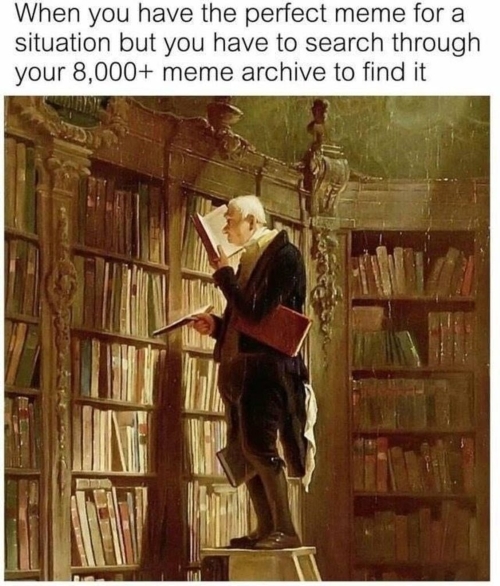 ++++++++++
BOOKS BY MORONS
I'm a regular lurker on the Ace of Spades blog, and I've got a new novel out from Baen Books! It was supposed to be released in January but a shipping/distribution snafu means it's only just reaching stores and Amazon warehouses now. The book is called The Scarab Mission and it's a far-future thriller about a salvage team exploring a wrecked space colony. There are pirates, deathtraps, a mysterious stranger, and a horrible secret waiting to be revealed. It's a prequel of sorts to my last novel, The Godel Operation, although there isn't any plot connection between the books.

I think my fellow Morons will like this one.

Jim Cambias

Available at Baen Books: The Scarab Mission

Comment: Seems like we have a regular fan club at Baen Books! First Sarah A. Hoyt sent me a book to promote last year, then Patrick Chiles last week, and now Jim Cambias. I know we have a lot of Morons out there, far more than post comments on the Sunday Morning Book Thread. Hopefully, we can get more Moron Authors to emerge from the woodwork and become regular (or at least semi-regular) commenters about their own books!
Moron Author Celia Hayes (Sgt. Mom) has a new book available in Kindle that will also be available in print in a couple of weeks:
Another Volume of the Entertaining and Mostly If Not Always True Adventures of Texas Ranger Jim Reade and his Blood-Brother Delaware Scout Toby Shaw)

The Continuing adventures of Texas Ranger Jim Reade and his blood-brother Toby Shaw in the days of the Republic of Texas! A pair of eccentric English explorers ask for a guide into a dangerous country, seeking not a fortune ... but something more! There is the mystery of a haunted house on Galveston Island to unravel, and the safety of a beneficiary to an unusual will -- and more! The old wild west rides again in this continuing set of adventures from the pen of historical novelist Celia Hayes!

++++++++++
MORON RECOMMENDATIONS
I would like to recommend the Penderwick family series by Jeanne Birdsall as a good read for elementary + girls. They begin with a family of four daughters and their widowed father and follow them over the years and changes in their lives. The girls are all bright and very individual, but are not obnoxiously girl powered. The books are wholesome, funny and touching. They are a lovely break from the dire realism and dystopia found even in grade school works these days.

A search for The Penderwicks will bring up the whole 5 volume series.

Posted by: sal: tolle adversarium et afflige inimicum,

Comment: As always, I encourage recommendations for younger readers. To me, there are few gifts more precious than instilling a love for reading in your children and grandchildren. It will serve them their whole lives in ways they can scarcely imagine at their young age. The fact that so many kids today are reluctant to read or simply can't read is a crime against humanity. Start 'em young and you stand a much greater chance of inoculating them against the mind viruses of the Left. /soapbox
+++++
I thought I'd try to write a SF story, so I looked up some early SF on pulpmags.org to see how they wrote in the early days. Just looked for a mag and picked out a short story. I paged through the site and chose The Mercurian Menace, by Nelson Bond from Dynamic Science Stories, February 1939. I didn't know what to expect, but I didn't expect this:

"One of the excited Rollies was bouncing up and down gleefully; joggling his tough, rubbery body against Carson's space suit in paroxysms of delighted anticipation...."

"You're a nice little guy, Rollie," he said, "even if you do look like a hot basketball. How's for a nice, cool shower?"

"Wow! Beat it! You're hot!" exclaimed Carson. He grinned again. "All right my spherical comrade, let's go sprinkle ourselves with some good Earth water." Together the Earthman and the creature from Mercury sought the luxury of the spaceship's shower-room.

Wut? This is classic early SF? Seemed a bit, you know. I closed the tab, planning to look elsewhere, but I decided to read it, figuring it can't all be like this, can it? And it wasn't, fortunately.

"Buzz" Carson works for Galactic Metals, Inc. as a scout on Mercury looking for various ores. He calls the only known inhabitants of Mercury "Rollies." They're basketball shaped creatures who don't talk, but seem to be able to understand human speech. The shower scene referenced above is interrupted by the appearance of an investigator from Galactic Metals, Jeryl Morrow, sent to check on his progress. She wonders why he's only working on the sunlit side of the planet. He indicates the dark side of Mercury is dangerous and refuses to go there because earlier scout ships had disappeared without a trace. Of course, she's headstrong and takes off for the dark side on her own. She mocks Buzz as she enters the dark zone. The Rollie with Buzz is agitated while she's doing this. Buzz thinks it's trying to tell him something. Buzz pulls a Captain Pike in the wheelchair bit to determine what the Rollie is agitated about - once bounce for yes, two for no. The Rollie convinces Buzz that Jeryl is in danger in the dark zone. He collects all the other Rollies in the area and blasts off, following her ship.

After Jeryl lands, she discovers there are malevolent beings on the dark side, and they attack her ship. Buzz and the Rollies land nearby her ship, under attack by green flame like creatures. Buzz lets the Rollies out of his ship as he tries to save the woman. The Rollies shed their appearance and, as red flames, battle the green flames. They defeat the green flames and Buzz takes Jeryl back into his ship. The Rollies reveal themselves as creatures of positive electrical energy, the green flames, negative energy. The Rollie indicates they used to travel the cosmos, but just stay on Mercury now. Jeryl thinks they are what Earth creation stories are based on. Anyway, apart from the weird beginning with Buzz and the Rollie, it does turn into an adventure story, The language was not filled with SF jargon, and it didn't seem archaic, or flowery. It seems to me, it could have been written later than the 30s. Oh, and he does want to kiss her at the end, so I guess it's only if you're underway. It wasn't difficult to read or off putting stylistically. Wasn't a bad story.

Posted by: OrangeEnt at March 26, 2023 09:08 AM (Angsy)

Comment: Nelson Bond seems to be among the "forgotten" science fiction authors of his era, though he was quite influential in his own way. He created "Meg the Priestess," who was a powerful female character in science fiction, revolutionary for his time. I'd never heard of him until now. I think it's worth noting that pulp fiction stories were largely dreck, though there were also numerous gems. Not sure where the story above fits in. Probably mid-tier, as this was written fairly early in Bond's career (he started in 1937). He mostly wrote short stories, many of which appear in collections from Arkham House publishing, which has been keeping science fiction authors "alive" for decades by reprinting their stories.
+++++
After discussions about Seabury Quinn a couple of weeks ago, I found one of his short stories in anthology at the library.

I checked out Fighters of Fear: Occult Detective Stories, summarized as "A Retrospective Collection of Classic Occult and Supernatural Detective Stories by Some of the Field's Greatest and Best-Known Weird Fiction Authors."

It's been good bedtime reading; I don't have to remember the next night where I left off, and I'm getting exposure to authors I hadn't read before.

Posted by: Dash my lace wigs! at March 26, 2023 09:15 AM (OX9vb)

Comment: This is another book in my own collection that I have not quite read in its entirety. The beauty of anthologies is that you can pick them up and set them down periodically. Read one or two stories, then come back to it later to read a few more. According to the introduction by editor Mike Ashley, occult detective stories have a fairly long pedigree, going back to 1830 or so. If you enjoy mystery stories with a hint of the strange, then this might be an anthology for you. Not all of the stories have a supernatural explanation...
+++++
I am a big fan of Preston and Child, who have written 20 or so stories involving Special Agent Pendergast, a modern Sherlock Holmes. But the novel that introduced me to the authors was The Ice Limit. The ice limit refers to the region between Antarctica and South America where the annual ice pack can reach. The story revolves around a meteorite that landed near Tierra del Diego, composed of something far denser than any other earthly element, and which attracts lightning. A millionaire recruits a team to extract and bring the meteorite back to the US, a massive engineering feat. Chile was never informed, which leads one of their naval commanders to try and stop it. Given the immense weight of the object and its bizarre electrical properties, the work to retrieve it is intense, but nothing compared to the sea chase when a Chilean cruiser chooses to interdict the team's ship in some of the most dangerous waters on earth. This is a very creative and well written book, and I highly recommend it.

Posted by: Thomas Paine at March 26, 2023 09:45 AM (KXAsT)

Comment: Is the meteorite made of vibranium by chance? Who is ultimately behind the millionaire's quest? Sounds like a H.Y.D.R.A. operation to me. Oh, wait, I guess I'm getting this franchise confused with the MCU. Whoops! Actually, this sounds like an intriguing story, along the lines of an F. Paul Wilson-type adventure. I may have to check it out...
More Moron-recommended reading material can be found HERE! (706 Moron-recommended books so far!)
+-----+-----+-----+-----+
WHAT I'VE ACQUIRED THIS PAST WEEK:
Frozen Orbit by Patrick Chiles -- This sounded like an interesting premise, so I figured I'd give it a shot. It's next in my TBR pile.
Weaver by Stephen Baxter -- The final novel in the Time's Tapestry series. I read the first one (Emperor) and enjoyed it, so I ordered the rest in the series. Naturally, the final book is the first one to show up. Have to wait until I get them all before I can finish the series.
WHAT I'VE BEEN READING THIS PAST WEEK:
Time's Tapestry Book 1 - Emperor by Stephen Baxter -- A mysterious prophecy guides a family through the turbulent conquest of Britain by the Roman Empire. Pretty decent historical fiction with a *very* thin veneer of science fiction.
The Time Ships by Stephen Baxter -- This is a sequel of sorts to H.G. Wells' The Time Machine. In this version, the Time Traveler makes additional trips in time only to discover that time travel is much more complicated than he originally imagined, thanks to causality, paradoxes, and quantum mechanics. We also find out the Time Traveler's first name is "Moses."
The Queen of Swords by R.S. Belcher -- This is the legend of pirate queen Anne Bonny and her descendent, Maude Stapleton, who seeks her kidnapped daughter.
Frozen Orbit by Patrick Chiles -- Excellent hard science fiction novel about an expedition to Pluto to retrieve a 40-year-old Russian spacecraft. If you enjoy Larry Niven, Jerry Pournelle, or Stephen Baxter, you might enjoy this as well. Lots of great little pop-culture references, as well as subtle Moronisms scattered throughout...
Forgotten Realms - The Harpers 6 - Crypt of the Shadowking by Mark Anthony -- A former Harper returns home to find his beloved city under the ruthless control of the evil Zhentarim.
That's about all I have for this week. Thank you for all of your kind words regarding the Sunday Morning Book Thread. This is a very special place. You are very special people (in all the best ways!). The kindness, generosity, and wisdom of the Moron Horde knows no bounds. Let's keep reading!
If you have any suggestions for improvement, reading recommendations, or discussion topics that you'd like to see on the Sunday Morning Book Thread, you can send them to perfessor dot squirrel at-sign gmail dot com. Your feedback is always appreciated! You can also take a virtual tour of OUR library at libib.com/u/perfessorsquirrel. Since I added sections for AoSHQ, I now consider it OUR library, rather than my own personal fiefdom...
PREVIOUS SUNDAY MORNING BOOK THREAD - 03-26-23 (NOTE: Do NOT comment on old threads!)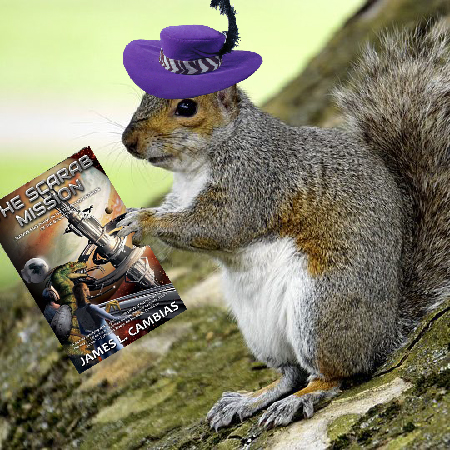 posted by Open Blogger at
09:00 AM
|
Access Comments