« Rumors Swirl: Kathleen Kennedy Was Summoned Into Bob Iger's Office and Read the Riot Act
|
Main
|
Quick Hits »
March 28, 2023
Have People Finally Had Their Fill of Trans Extremism?
A growing share of Americans say acceptance of transgenderism has gone "too far" and a majority reject using the "gender-neutral" pronouns "they/them," a new Wall Street Journal-NORC poll found.

Out of 1,019 people polled between March 1-13, 43 percent say American society has gone "too far accepting people who are transgender." A third (33 percent) say society has not gone far enough, and 23 percent say society is "about right." The margin of error was plus or minus 4.1 percentage points at the 95 percent confidence level among all adults.

Republicans (75 percent) are far more likely to say society has gone too far in accepting transgenderism than Democrats (15 percent). Nearly half of independents (47 percent) agree with Republicans.

The share of Americans who say acceptance of transgender people has gone too far is higher than when NBC News separately polled on the topic in 2022. That poll found that 33 percent of Americans thought "we have gone too far in accepting transgender people," compared to 26 percent in 2021, 33 percent in 2016, and 24 percent in 2015.

The survey asked respondents how they rank "identifying their pronouns, such as 'he/him, she/her, or they them' in email, social media communication, or conversations." Twenty-one percent say, "very favorable," (12 percent) or somewhat favorable (eight percent), and 37 percent say doing so is neither favorable nor unfavorable. In contrast, 42 percent say identifying their pronouns is very unfavorable (27 percent) or somewhat unfavorable (16 percent).

...

The poll echoes the results of other surveys, which have found that Americans do not support men playing women's sports. More than half (56 percent) of Americans believe transgender athletes should "only play on teams that match the sex assigned at their birth," while only 17 percent say they should be "able to play on teams that match their current gender identity." Twenty-five percent are unsure.
There has been some anecdotal data recently suggesting that the public has had it with bullying from transgender extremists:
Leftwing lunatic Ana Kasparian remarked that, as a woman, she did not want to be called a "birthing person" or "person of vagina," but would just like to be called a woman, period.
She was cancelled for that: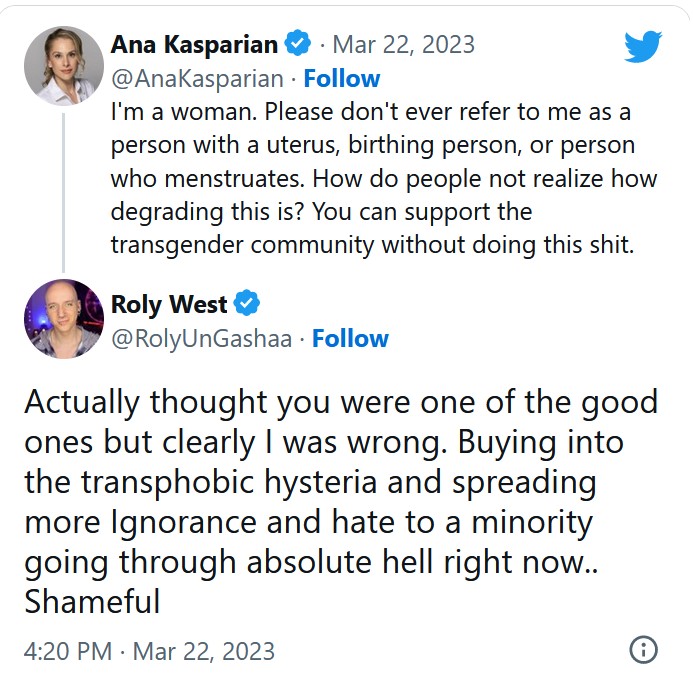 Another trans extremist called her "AK Rowling." Like JK Rowling, except AK for Ana Kasparian.
More unhinged reactions at the link.
This guy tried to educate "AK Rowling" with Venn diagrams: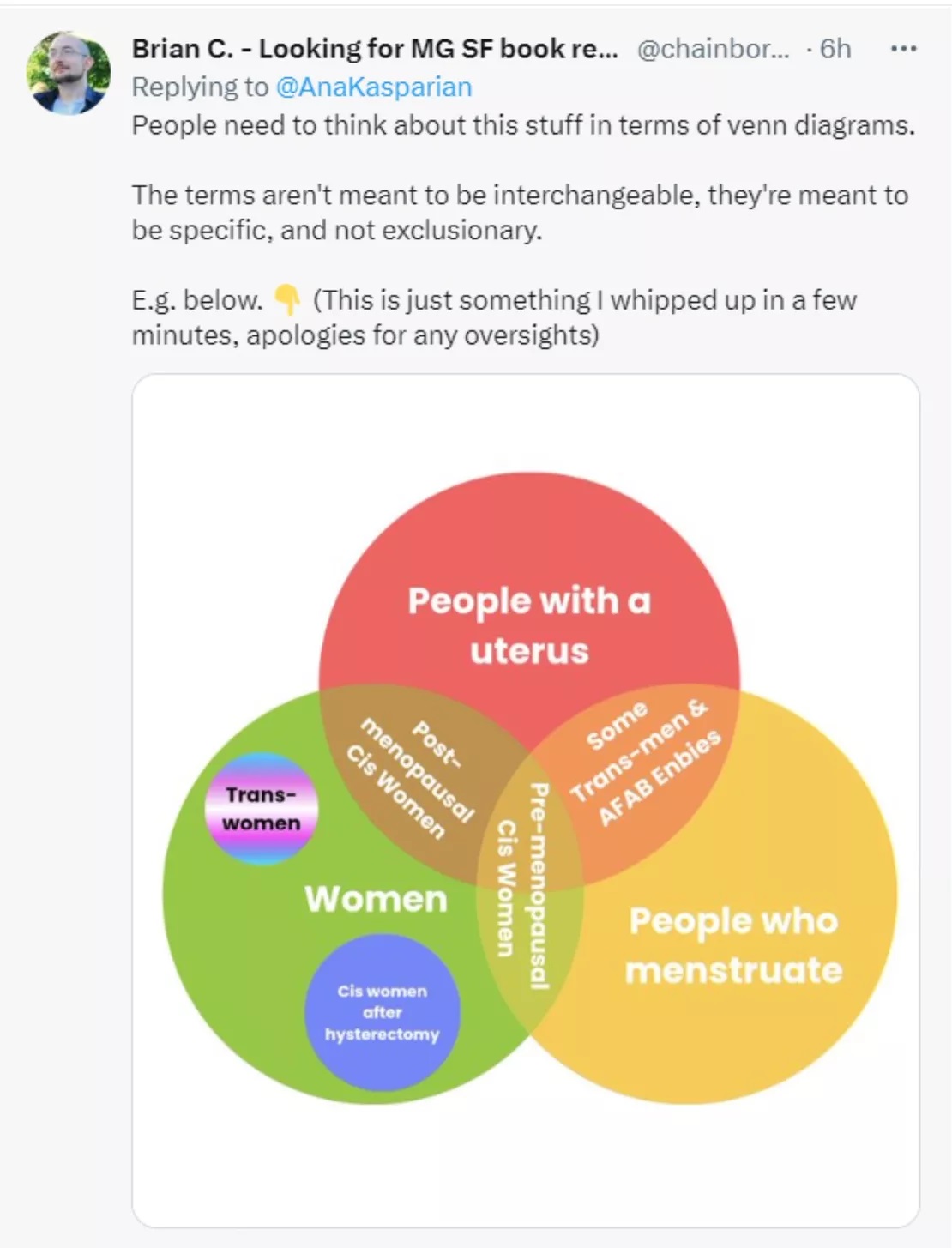 From Beege Wellborne.
Brianna Wu, a transgender (though he refuses to confirm that, for whatever reason) associated with Gamergate and generally being stupid on the internet told trans extremists that they needed better messaging -- which I think is a very cautious way to say "You need to stop advertising your mental illnesses and sociopathic cruelty and making everyone hate you" -- and was not only cancelled, he was demoted to "cisgender."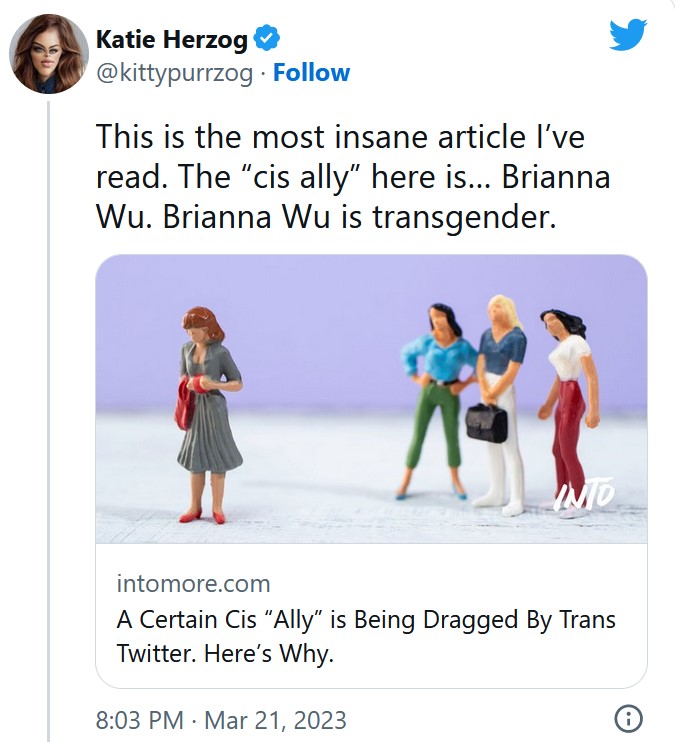 Whitney Cummings, comedian and creator of 2 Broke Girls: Comedians have become the enemy.
She doesn't dare say the words but she's talking about the transgender extremists.
Whitney Cummings thinks it's a dangerous time to be a comedian in America.

"I don't have to tell you, over the past couple of years, comedy has taken quite a hit," the performer tells Page Six in an exclusive interview. "It became super obvious that there were some issues in our society ... which you know, it's usually our job to comment on and confront, and all of a sudden, comedians started becoming like the enemy."

Cummings explains that, previously, comedians would tackle "sensitive subjects" to "help everyone cope and to laugh at horrible things" and "then all of a sudden for a litany of reasons, people started saying, 'Comedians are bullies and they're causing violence' and we're like, 'Wait, what?'"

The "2 Broke Girls" co-creator finds it ironic that some people are calling out comedians as bullies and yet comedians have come under physical attack.


For example, Chris Rock was infamously slapped on stage during the 2022 Oscars by Will Smith, while Dave Chapelle was attacked by a man armed with a weapon last May at the Netflix Is a Joke festival.
Transgender extremists are always claiming people are trying to "literally commit genocide" against them. But here you see someone who is too afraid to criticize transgender extremists, being vague about who it is who is bullying comedians.
So are transgender extremists really "afraid"? I don't think so. Not at all. But they sure seem to be capable of terrorizing everyone else.

You're not going to believe this, but another man has absolutely DESTROYED the competition in a women's sporting event.
So stunning! So brave!
Controversial trans athlete, 46, wins women's NYC cycling race and says she feels like a 'superhero' - as critics warn 'women's rights in America are being destroyed'

Tiffany Thomas, 46, dominated the field in an NYC cycling race at the weekend

She took up the sport aged 40 before quickly finding success

Her success has been criticized amid claims trans athletes hold an unfair advantage in women's sports

By Will Potter For Dailymail.Com

Gee, it's so incredible that someone who was never involved in a sport at all until age 40 could become a champion in less than six years.
And xe's not competing in an over-40-league, either. Xe's competing with 20 somethings.
And yet, despite this huge disadvantage in age and years of training, somehow this plucky underdog finds a way to just absolutely CRUSH THE COMPETITION.
I wonder how that could happen?
It must be due to this "woman's" dedication and training regimen. Yes, that must be it.
Not, you know... possessing the muscle and bone density and lung capacity of a man, or anything. Or the longer limbs, which grant greater leverage.
Nah.
It must just be xer's heroic determination to achieve.
A transgender cyclist won first place at a female race in New York City amid ongoing debates over the inclusion of trans athletes in female competitions.

Tiffany Thomas, 46, who was born male, ended the Randall's Island Crit cycling race atop the podium, blowing the competition out of the water to snatch first place.

Despite only taking up cycling in 2018, Tiffany quickly found success and has dominated competitions in the years since. She recently landed a place on top cycling team LA Sweat, where her oldest teammate is just 32.

But her frequent victories have caught the ire of some critics, and fellow athletes, who to question whether Thomas holds an unfair advantage in women's sports.

Taking to Instagram following her latest triumph, Thomas said it 'was a great day to play bikes with friends'.

'Last race with our 2022 LA Sweat team kit. I'm not going to lie, sometimes it made me feel like a superhero when I wore it,' she continued in a separate post.

Thomas, who works as a lab director according to her Instagram, is described in her LA Sweat team profile as 'a scientist by day, athlete by night'.
Xe's just that good:
But despite celebrating her win on social media, Thomas has been condemned by some online, with one fellow female cyclist tweeting her belief that Thomas is 'cheating'.

'Tiffany's teammates are all between the ages of 24 and 32. Amazing that Tiffany can keep up with them at the age of 46 after only starting cycling at age 40!' they added.

'Tiffany Thomas has been on countless podiums, going from a total beginner to the elite level in just 5 years.'

'I feel so bad for woman athletes in America that have trained their entire lives,' said another critic.
Women are now quitting women's sports, rather than compete against men. Which isn't a competition. That's why men do not compete against women -- it would be like men competing against children.
Also dominating the competition -- this male powerlifter, who wonders why all the actual-women powerlifters are so weak at the bench press. No really, he says that. I think he acknowledges that one other woman is not weak -- or, at least, has "little T-Rex arms" that give her an advantage in the bench press. The shorter the limb, the less distance you have to push the weight, so short arms make you seem stronger. (Even though you're not.) That's a well known advantage in powerlifting.
Powerlifter's body types tend to be endo-mesomorphic (a muscular physique). However, other variables, like having proportionally shorter limbs, more muscle mass, and smaller heights overall, will likely give you an advantage regardless of body type.
So just the one woman with "little T-Rex arms," and the dude, are strong.
Why are women so weak at powerlifting? I can't figure this out.
Flashback: "Lia gets the trophy."
Democrats seem to be deciding that the trans extremists are a very poor ally to have. They're incapable of moderating their extremism and could possibly bring the whole party down.
There's one group, however, that is more than eager to go down in flames with the transgender extremist movement.
Gentlemen, you asked for a miracle...? I give you the Disney corporation.
Technically they're claiming this isn't about transgenderism per se but we all know -- now, everything is about transgenderism.
Is the House of Mouse in a full-on war with Florida Governor Ron DeSantis? If not, the organization is at the very least jabbing a finger in the governor's eye. The Walt Disney Company will host a major summit to promote LGBTQ rights in the workplace. It will be held in Central Florida in September. Executives and professionals from the world's largest companies will gather "in a defiant display of the limits of Florida Gov. Ron DeSantis' campaign against diversity training."
It's not just the Disney corporation. It's a who's-who of corporate America, all gathering to attempt to embarrass Ron DeMeatballs as he runs in 2024.
Dozens of iconic American companies — including Apple, McDonald's, Uber, Walmart, Hilton, Amazon, Boeing, Cracker Barrel and John Deere — are sponsoring the Out & Equal Workplace Summit, which over 5,000 people are expected to attend. Several agencies, including the State Department and the CIA, are listed as government partners and will have booths at the conference.
Oh, and the State Department and CIA, too.
Do our very smart State Department and CIA shitlibs think that gonzo support for chopping off kid's healthy organs makes America stronger in the world? Makes us more appreciated by foreign countries?
Because it doesn't. The world as a whole is uniting against the American left on this issue.
The great trans BACKFIRE: The Biden administration's push to normalize medical gender changes for kids flies in the face of new science, public opinion, red state laws and European allies

Joe Biden's trans health chief admits she has stepped into a political 'minefield'

Trans medicine has 'support at the highest levels of the federal government,' she says

The White House is out of step with Europe's more cautious approach

By James Reinl, Social Affairs Correspondent, For Dailymail.Com

The Biden administration's bid to normalize puberty blockers and other medical treatments for trans children increasingly puts the White House at odds with public opinion, Republican lawmakers and European allies.

The administration recently gave a full-throated endorsement of so-called 'gender-affirming care', for children, with Assistant Secretary of Health Rachel Levine saying trans people had 'support at the highest levels of the federal government.'

At a public appearance last month, Levine, a trans woman, argued that puberty blockers and other drugs and surgeries that help minors change their gender cut the risks of suicide, saved lives, and were backed by major US medical bodies.

The pediatrician also acknowledged that such care has become hugely controversial, putting the administration at odds with voters, Republicans, and recent studies that trans drugs and procedures do kids more harm than good.

'But I am positive and optimistic and hopeful that the wheel will turn after that. And that this issue won't be as politically and socially such a minefield.'

...


Many are alarmed by the sharp uptick in teenage girls with autism and other mental health woes asking for sex-change drugs in recent years, and of new studies linking puberty blockers to weaker bones and osteoporosis.

posted by Ace at
05:20 PM
|
Access Comments