« San Fransisco District Supervisor Has Completely-Unexpected Complaint About City Police Force
|
Main
|
CNN's Vile Propagandist Manu Raju Spins for John Fetterman, Claiming His Health Is Just Terrific »
March 20, 2023
Media Declares Another Code-Red on DeSantis
David Reaboi, Late Republic Nonsense @davereaboi

"Ron DeSantis has a Florida Problem" because... he's too popular here.

This might be the most fantastical concern troll of the week--and there's stiff competition.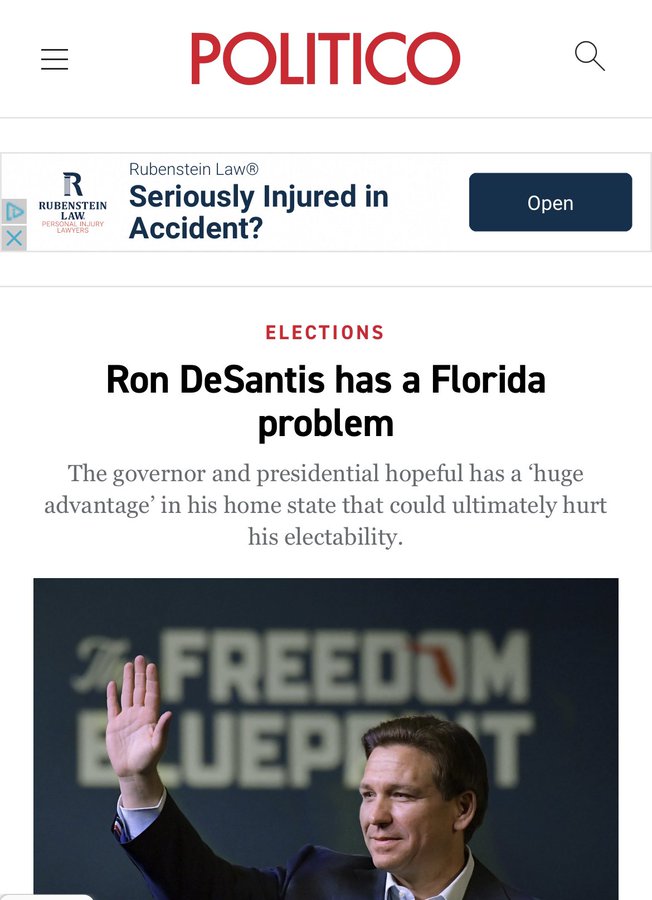 The article is about Ron DeSantis' popularity in Florida permitting him to go "too far" on social issues like abortion and wokeness.
Ron DeSantis would seem to have everything going for him in the Republican presidential primary. There's just one small question: Will the good vibes now result in election doom later?

As the Florida governor cast out to early nominating states in recent days, even some of his supporters could see a problem brewing for him back home. Lawmakers in his home state are advancing controversial bills on gender and diversity policy -- base-pleasing issues for Republicans, but a potential liability in a general election. And on one cultural issue that did hurt Republicans in the midterm elections -- abortion -- DeSantis is going even further to the right, preparing to sign a bill banning the procedure after six weeks of pregnancy, with exceptions for rape and incest if victims offer proof of a crime.

"Wow," said Amy Tarkanian, a former chair of the Republican Party in Nevada, where DeSantis traveled over the weekend. "A lot of people don't even know they're pregnant at six weeks. I'm pro-life, but that's pretty extreme."
"I'm pro-life but I'm against limiting abortion." This is said all the time.
In the run-up to the primary, DeSantis solidified his place as Trump's chief rival for the nomination largely based on an electability argument. He was MAGA, like Trump, but without the former president's baggage or toxicity to moderate Republicans and independents -- the kind of voters Republicans will need to run Joe Biden from the White House next year.


But as DeSantis edges closer to announcing, he is testing the limits of how hard right he can go without undermining his rationale for running in the first place. It's a significant risk in a primary in which Republican voters -- sore from losing the White House in 2020 and a less-than-red-wave midterm two years later -- are desperate to nominate a candidate who can win.

"In a way, the Republican dominance of the Florida Legislature may end up hurting DeSantis because his proposals can become reality," said Barrett Marson, a Republican strategist in Arizona. "That may help him in a primary in Iowa or Texas or South Dakota, but in a general election in Arizona, Pennsylvania or Wisconsin, it could be ruinous for him."

That fear isn't lost on Republican primary voters, either. In hypothetical matchups with Biden in a Morning Consult poll this week, DeSantis fared no better than Trump, with each trailing the incumbent Democrat by 1 percentage point. Moreover, when asked in arecent Yahoo News/YouGov poll who had the best chance of winning in 2024, DeSantis didn't stand out against Trump, either, with about as many Republicans and Republican-leaning independents naming Trump as DeSantis. That is a major shift from December, when far more Republicans viewed DeSantis as the more electable Republican.
David Strom reports on other media attacks on Meatball Ron from last week.
What's worse than Donnie Two-Scoops?
Well, Three-Fingers Ronny, that's what!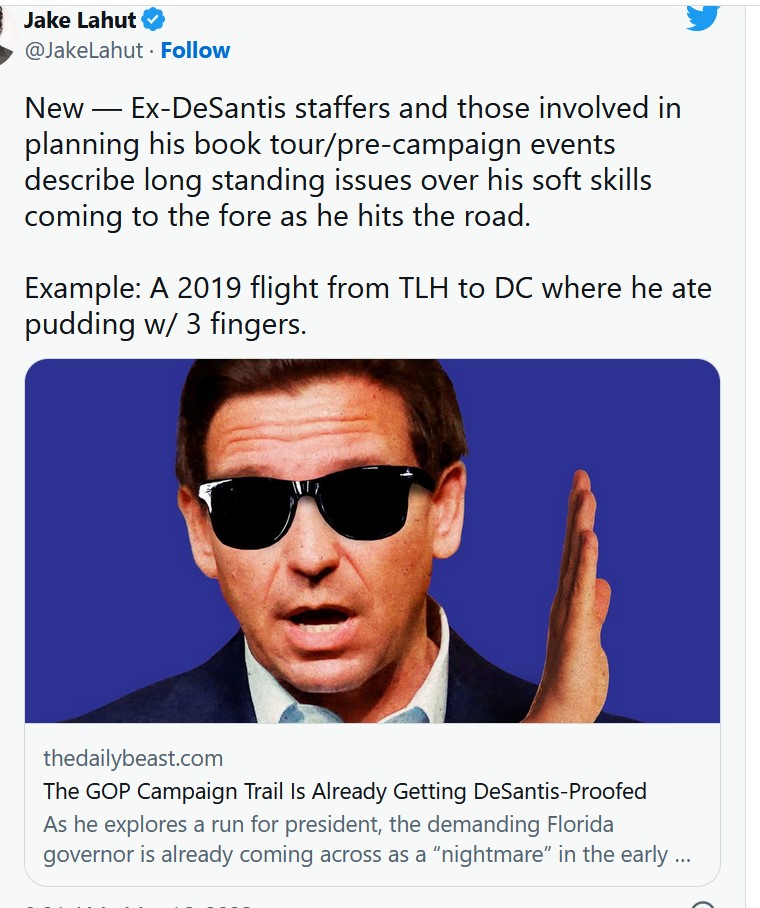 The Daily Beast also informs:
At any given fundraiser or VIP room where he's present, Ron DeSantis is usually easy to find--in the corner, keeping to himself.

...

During his donor retreat in Palm Beach in late February, an attendee stood up and called him "DeSatan," according to Republicans familiar with the outburst.

At his recent book tour stop in Davenport, Iowa, a volunteer English teacher and seasoned caucus enthusiast posed for a photo alongside the governor with the term "fascist" carved out within her design of a paper snowflake.

DeSantis has been slimming down -- another sign he's running for president -- so the leftwing media is now claiming, without evidence, that he's on Ozempic for weight control, and he must be, because he's totally a Fatty-Fat-Fatty by nature:
Tara Palmeri @tarapalmeri

Is DeSantis on Ozempic? He's lost a dramatic amount of weight since his inauguration two months ago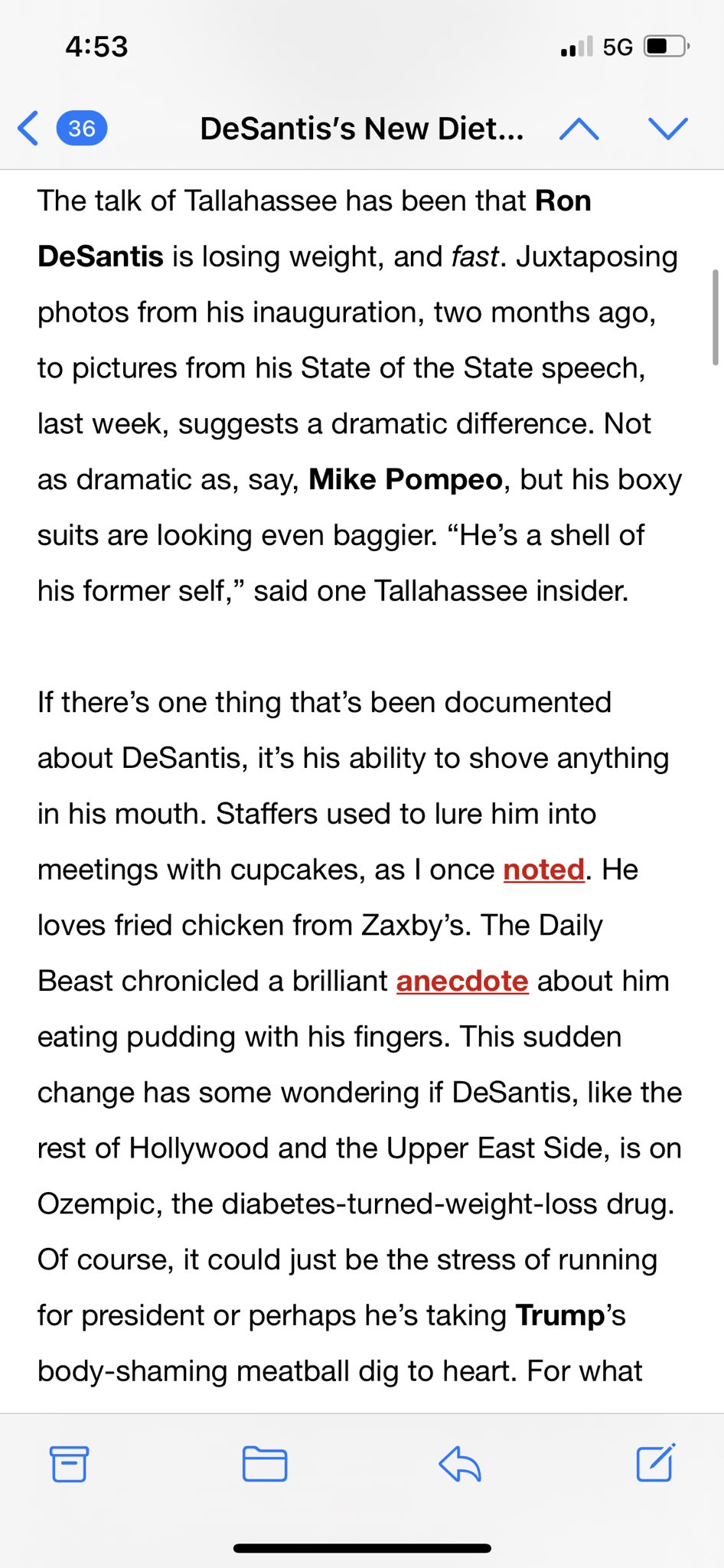 I don't know if he's on Ozempic and neither does this whore; she's just doing her duty as a Brave Media Truth-Teller to flood the zone with anti-DeSantis stories.
Another hit: DeSantis can only prove that he's ready to be president by repudiating Trump's policies and creating "separation" from him.
Um, yeah, so this is what I think they call the Bargaining phase of grief, isn't it? They're demanding DeSantis be a George Bush-like "a thousand points of light" Democrat Lite to prove he really deserves to be president.
The Daily Beast has another hit: If DeSantis is so "anti-woke," why has he not yet eliminated it from every single agency and bureau in Florida? He must be a liar! He must be a Secret Wokie!
Ron DeSantis -- why is he politicizing communism?!?!
NBC's Chuck Todd accused DeSantis of playing politics when he told an audience in Vegas that every November 10th, Florida schools teach kids about the dangers of communism.

"He's going out of his way to politicize something," Todd cried. pic.twitter.com/AQWUMeomIC

-- Kevin Tober (@KevinTober94) March 12, 2023
These are the same people who insist that students must hear about slavery non-stop, but when you mention that communism was bad too, they cry in outrage: "Stop indoctrinating children with your political lies!!!"
Adam Kinzinger is now boasting that Trump will "wipe the floor" with DeSantis when we get to the "battle of personalities."
So apparently there is someone Adam Kinzinger hates more than Trump.
I wonder why.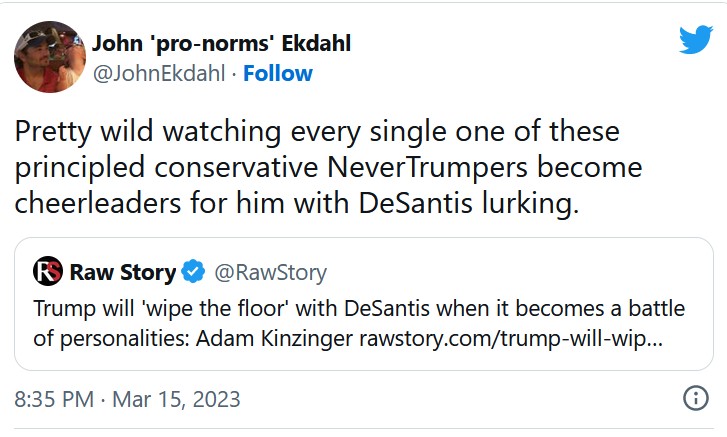 David Frum @davidfrum

Fascinating to watch Governor Ron DeSantis walk his nervous, wavering line on Ukraine. He's so tough against Disney!
The Washington Post is even in "Second Look at Trump" territory, positively comparing Trump's "free-wheeling" campaign style with the "scripted" DeSantis.
Trump campaign staffer Jason Miller even calls this a "Must Read"!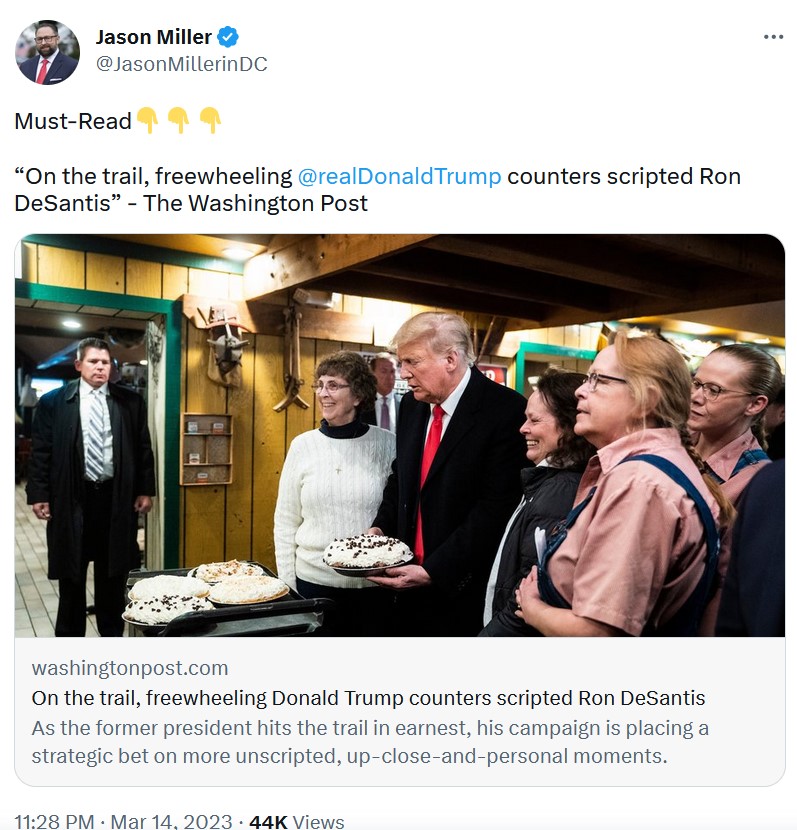 That headline is much more pro-Trump than the actual article. The article is mostly just a neutral comparison of styles -- but "free-wheeling" is almost always taken to be good, and "scripted" as bad -- he's lying! -- so it's not completely neutral. Just more neutral than the headline would suggest.
This is the first neutral-to-good article the Post has written about Trump in eight or ten years -- and of course it's only because they hate DeSantis more.

And that's not the first time the media has complained about this. A few weeks ago they complained that DeSantis was too "careful" in his remarks. Sub-text: He won't make gaffes and give us easy Hit Pieces on him! What a scumbag!
This is not really related to the main subject, but just to get this out of the way: Trump responded to DeSantis' barely-a-dig dig.
He said that DeSantis is a groomer, citing the leftwing account Meidas Touch, and also floated the idea that he might have some sexual allegations coming his way, from a man.
Note that Trump pushed the DeSantis-Might-Be-A-Groomer claim from the left months ago. He gave it more prominence than "Meidas Touch" ever did. So no, this is not Trump "counterattacking;" it's just him repeating an attack he's made a few times before.
I'm not super-complaining about this -- I supported Trump completely in 2016 and 2020, knowing he did this kind of thing, so I bought the ticket, and am now obliged to take the ride -- but I continue to be perplexed at people insisting that it's not fair to do the same to Trump in return.
And Trump demanding that people treat him fairly is just, well, too much.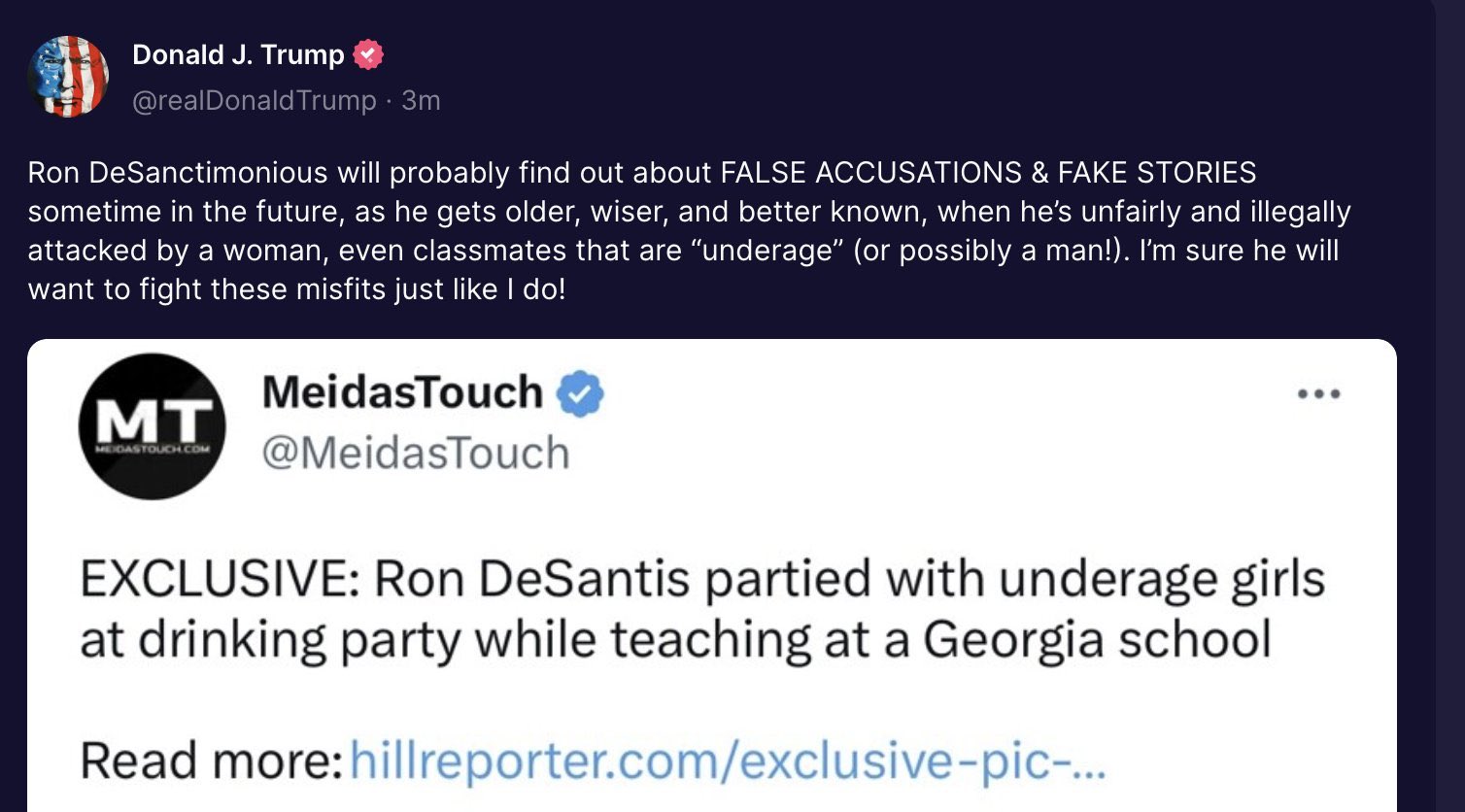 Jason Miller, by the way, is delivering some real body-blows on DeSantis over the past week.
He's correcting reporters about the pronunciation of his name. This shows that he's a weak and insecure man, most likely with profound homosexual tendencies.
This shiftless homo doesn't write his name the same way every time. Obviously he has a low character. This is the sad signature of someone wholly owned by Globalist Backers.

posted by Ace at
03:25 PM
|
Access Comments