« First-World Problems...
|
Main
|
Gun Thread: Still More March Edition! »
March 19, 2023
Food Thread: It IS The End Times: French Toast With Maple Syrup Is Back On The Menu!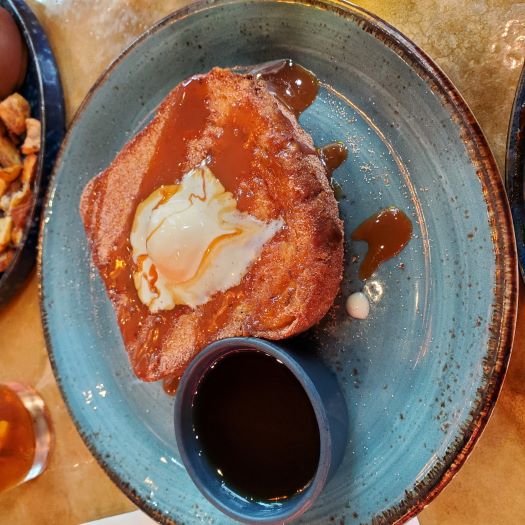 Why yes, that is French Toast. With buttermilk ice cream. And cinnamon sugar. And maple syrup.
And I ate it.
No...not because I have had some sea change in my life that has driven me towards horrible food combinations. I am nothing if not rigid and unwilling to change. It was a far simpler reason.
It was polite.
At an excellent breakfast joint we shot the breeze with a charming and amusing waiter (actually a manager filling in) about food and travel and life. I think we spent half an hour chatting with him, and he brought us that dish as a treat.
So I dug in with gusto, ate the damned thing (far too sweet!), thanked him for the delicious dessert, and then went back to the hotel and brushed my teeth!
I am intellectually and emotionally allergic to French Toast with maple syrup, but not physically, so it never even occurred to me to decline the gesture.
Meals are not just for fuel. They are part of what makes us human, and the joy of sharing food with others, and even the process in a restaurant is a civilized and enjoyable thing that is completely separate from the act of eating.
At some level we were in his home, as it were, and refusing that hospitable gesture would have been unthinkable.
When we are invited into someone's home for a meal, I think that the assumption is, or certainly should be, that the event is for the enjoyment of each other's company, and that the meal is a delightful bonus. So what if you don't like peas or broccoli or lamb or hamburgers...eat it, smile, say how delicious it is, and enjoy the company!
******
Oh boy...here is some weapons-grade nonsense from an overtly political group whose entire raison d'être (aside from making money with their fake certifications) is the blending of politics and food production. Just look for the word "equity" in their blatherings as proof. How a strawberry grown by a farmer of color is better than the identical strawberry grown by a person of pallor is beyond me, but then I'm not a crypto-communist political agitator!
Environmental Working Group unveils its Dirty Dozen, Clean 15 for 2023

"Strawberries aren't the only problematic produce item. 90 percent of blueberry samples were contaminated with toxic pesticide residues, including pesticides linked to cancer and nervous system harm," according to the EWG.

"Among the 54 pesticides found on blueberries were several bee-killing neonic pesticides. Not only have these pesticides been linked to the massive decline in bee populations worldwide, they've also been linked to neurological damage in children."

The organization says 75 percent of non-organic fruits and vegetables sold in the U.S. are "riddled" with potentially toxic agricultural chemicals. Some of the pesticides detected have been banned in the U.S. or Europe because of concerns about how they harm people.

"Despite the abundance of science linking exposure to pesticides with serious health issues, a potentially toxic cocktail of concerning chemicals continues to taint many of the non-organic fruits and vegetables are eaten by consumers," said Alexis Temkin, EWG toxicologist.
Conspicuously absent is any data showing actual risk. Today's analytical technology is absolutely incredible. We can discover chemicals at vanishingly small concentrations...parts per trillion is easy! And that's how these organizations make their money. They terrify overwhelmed consumers with gloomy and scary articles and press releases about how they found 38 different carcinogens in their kids' fruit cup! But that's not the whole story, or even the most important part.
Yes, many chemicals are dangerous, but as is often quoted, "Sola dosis facit venenum" ..."the dose makes the poison. So PPT of some chemical that is associated with some heightened risk, but very possibly does not cause it is interesting but in most cases nothing of import.
And unsaid is the alternative to eating these foods...the higher cost of supposedly safer organic alternatives, or the alternative foods that may be less healthful.
These are fear-mongering scum, and we should attack them with the reality of the data, that modern agriculture is not perfect, but has done far more good than bad. We can feed the world...eliminate hunger...if it weren't for these busybodies who want everyone to be equally miserable in their food consumption.

******
Misanthropic Humanitarian is trolling me again. He sent an Epicurious article (I don't link them any more because they are anti-beef, anti-white commies) about a very interesting variation on a classic cream cheese frosting. But...it was written in that typical irritating style of too many food writers today...over-long, verbose, pompous, self-referential, and just generally irritating.
Here's the link if you must...but please don't! They Call This Cream Cheese Frosting Magic -- Who Am I to Argue? I have a PDF of the frosting recipe if anyone is interested...it looks like a pain in the ass, but I think I am going to try it, because it really does sound good!
Besides, another name for the frosting is "ermine," which is a type of weasel!

******
Commenter "Kathy" sent me an interesting recipe for homemade corned beef -- obviously for Saint Patrick's Day -- but I have been catastrophically disorganized the past few weeks and just didn't post it in time. But she also sent along a video
How to Make the Ultimate Tuscan-Style Roast Pork with Garlic and Rosemary
, which is a classic dish done a little bit differently.
Pork loin is nice, but nothing spectacular until it is tuned up with extra flavor, which that recipe does rather easily. Kathy tells me that it was definitely worth the effort!
Maybe one day I will do that but with a bone-in pork roast. I'll bet it is possible to open it up the same way as the boneless version.
Anyone ever try that?

******
From commenter "Bitter Clinger" comes some musings about beer...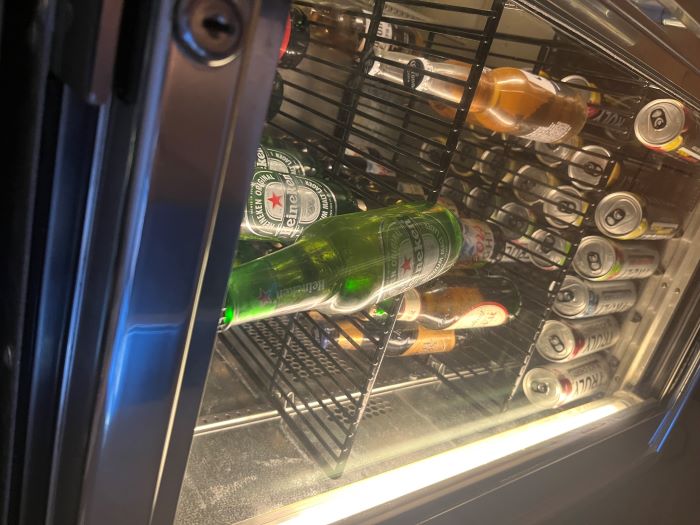 I came into work one morning and found this beer precariously positioned against the glass door to the cooler. I immediately said to myself "Heh. Schrödinger's Beer".

But as I am wont to do when by myself, I pondered over a greater issue, wondering if the fate of this Heineken was representative of the European beer market in the United States, alive and yet dead simultaneously, with the rise of the craft beer.

Being a child of the 70s means that I was a bartender and novice drinker during the cultural void of the 90s, a time when beer was largely associated with bikini clad twins, anthropomorphized bull terriers, the McKenzie Brothers and Bob Eucker, During those days, the burgeoning beer lover could still count on a few imports to class up even the shittiest of hole in the wall joints. A man could order a Heineken and drink it with his pinky sticking out for a touch of class, prove his manliness with the oversized Foster's Oil Can, drink for effect with a Molson Ice, or prove your worldliness with German lager or an English ale.

It was always fun to visit English or Irish themed pubs or European beer markets and try beers from around the globe. But of late, the frequency with which I see many of these old brands in grocery stores or bars seems to have diminished greatly in favor of a slew of sometimes good, sometimes mediocre craft beers.

My evidence of such a shift in preferences is largely anecdotal, though I have read some articles that have indicated that while imports as a whole are on the rise, it's largely due to the proliferation of shittier Mexican brands, while European beers are losing market share over the last 5 years or so.

Anyhow, if this be the way of the future, I'll always look back fondly on the era of the import, when the lovely St. Pauli girl adorned many a watering hole. I wonder what imported beers Teh Horde celebrated with in those days?
I remember seeking out Molson on tap when I was a callow youth. It was rare, and I guess good. Nowadays my taste has moved toward different sorts of beer, but whenever I see Molosn on tap I am reminded of evenings at Googly's (I think it is long gone) in the West Village...drinking pitchers of Molson and eating good burgers!

******
Passover is coming soon, and with it comes my yearly agony...what to serve for the main course at the Seder!
Lamb is a classic, for obvious reasons, and here are six recipes that have possibilities. two of them need tweaking (lavender with lamb? Pshah!), but they are all a good start.
6 Delicious Lamb Recipes for a Passover Seder
I will probably Sous Vide two whole legs, then finish them on the grill if the weather agrees. If not I can always stick them in a hot oven, but grilled lamb is one of those foods that tickles the senses in every way, so I am hoping!

******
******
Just send me oysters. Lots of oysters, and I will provide special dispensation for those without taste who insist upon maple syrup with their French Toast. And pork rib roasts from the front end of the pig where all the good and fatty meat lives, carrots that don't taste like stalky chalk, spare bottles of Van Winkle Special Reserve 12 Year Old Bourbon, an herb garden that actually produces herbs (but no basil!), well-marbled NY strip steaks and elk backstrap to:
cbd dot aoshq at gmail dot com.
And don't think that the rest of you are off the hook with maple syrup and French Toast: I'm still watching you! And I am watching you perverts who shake Manhattans and keeping a list for the Burning Times.
Back On The Menu!&bodytext= Why yes, that is French Toast. With buttermilk ice cream. And cinnamon sugar. And maple syrup. And I ate it. No...not because I have had some sea change in my life that has driven me towards horrible food combinations....&topic=world_news">

posted by CBD at
04:00 PM
|
Access Comments