« EMT 2/19/23
|
Main
|
Last Weekend in Black History Month »
February 25, 2023
Saturday Morning Coffee Break (Filled Donut Edition) & Prayer Revival
***

How are you going to wash down those yummy donuts?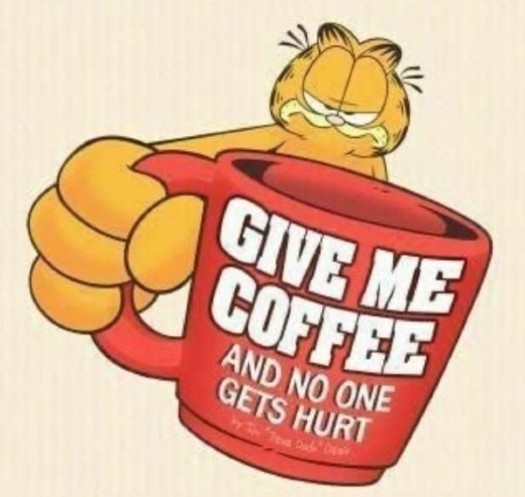 (H/T Hrothgar)
***
AoSHQ Weekly Prayer List


Please submit any prayer requests to me, "Annie's Stew" at apaslo atsign hotmail dot com. Prayer
requests are generally removed after four weeks unless we receive an update.


Prayer Requests:
1/18 – Teresa in Fort Worth needs prayers for help with a decision. Her daughter, Rebecca, is having hip
replacement surgery in a few hours. They are worried they are doing the wrong thing. Her hips have
been causing pain for many years. It turns out her pelvic bones didn't develop properly (she has Down
syndrome) and her hips are grinding bone on bone. Because of her small stature, there is only 1
appliance on the market, and it may be too big for her. If it doesn't work, they may need to cut off the
top of the bone. Intellectually, they have explored every option, but the Mom side of her is worried that
they are making the wrong decision.
1/24 Update – Rebecca's new hip joint dislocated. She is on more pain meds. They are trying to
stabilize the hip and see if it will heal. They have a Plan B if that fails. Lots of prayers needed here, for
both Rebecca and her family.
1/30 Update – They are doing another surgery, to replace the ball joint part with a larger and longer
piece. Prayers still needed.
2/13 Update – Rebecca is home! Now they can focus on her healing.
1/28 – Hrorthgar asked for prayers for his son. He had chest pains, that turned out to be (non-clot shot)
blood clots in his lungs, which are much more treatable than a heart attack. Any spare prayers for full
and quick recovery for Keith would be much appreciated.
1/28 – Comrade flounder, Disinformation Demon asked for prayers for a good friend, who recently
found out her husband had been cheating on her throughout their marriage. Through marital and
spiritual counseling, they had decided to persevere, which included basically telling everyone (to avoid
the cycle of shame) and putting their faith in God to help them repair their relationship and strengthen
their family. It takes a log of personal and spiritual strength to not just walk away nowadays.
1/28 - Tonypete asks for prayers for his daughter. She continues to make very poor life choices and now
finds herself living in a hovel with bottom of the barrel roommates (like herself) and two actual pigs. The
place is filthy and should be condemned. She has been blessed with all she needs to live a happy, fruitful
life and yet rejects it all.
2/13 Update – Continued prayers are requested. They took a road trip and visited their daughter for a
few days. She has adopted as family a wildly dysfunctional girlfriend and her parents which only adds to
the already crushing burdens of her own. Tonypete fears she will be lost forever if she doesn't begin to
use the skills and values they tried to teach her.
1/28 – mindful webworker sends a few requests: Daughter may be pregnant, after 2 miscarriages. She is
married to a great guy, and they would be good parents. MiladyJo has been hobbled with leg-foot pain.
Local sonM is a good guy who could have better, healthier habits. Remote sonC is still estranged. He will
not reply to them and they haven't been allowed to see their two grandbabies for over a year. Prayers

for the Spirit of Truth to get through the barriers of pride and anger. Prayers for family, community
(online and off), nation, and world.
1/31 – Grannysaurus Rex asked for prayers for her beloved young grandson, who is struggling with
anxiety, depression, and suicidal ideation. Pray that he continues to put his faith in God as his
foundation to sustain him. Prayers also for his mental health professions to help him resolve these
issues.
2/4 – Stephan requests prayers that our God-awful nation will get back on the right track.
2/4 – Sal requests prayers for her younger brother who was diagnosed with ALS. He was holding steady
and enrolled in a research program, but is losing ground more rapidly now. Prayers for him and his
family would be most appreciated.
2/6 – FenelonSpoke asked for prayers for her church's beloved and elderly organist, Jessie, who fell at a
church luncheon and has a pelvic fracture. Thanks so much.
2/11 Update – Jessie also broke her elbow, so she will miss playing at church.
2/7 – Annie's Stew requests prayers for her step-grandson, age 17, who is experiencing life similar to
Grannysaurus Rex' grandson: anxiety, depression, thoughts of suicide. Prayers for strengthened faith in
God and purpose in life are appreciated.
2/9 – Jane D'Oh's husband is still undergoing therapy as an outpatient. A couple of days ago they found
out that he is paralyzed from the knee down on his left leg, so they have a neurologist appointment next
Friday to try and determine the cause. In the meantime, Jane and family remain utterly grateful for all
the prayers. After her husband was released from the hospital, they were told that he had been the
most critically ill patient in the place and that it was a miracle he survived. The prayers helped
tremendously.
2/9 – Russkiltlover asked for prayers for a co-worker who had a massive heart attack at work, and is on
life-support. The co-worker was 28. He was a super sweet guy, great construction manager, and fun to
work with.
2/14 – Kam Fong as Chin Ho asked for prayers for his co-worker and wife, as their 15-year-old son was
killed in an accidental shooting.
2/18 – Jewells45 gave an update on her cancer. The CT scan showed no new growth, so that was
fantastic news. There are ups and downs, be she is feeling better.
2/18 – Intruderdriver asked for prayers for Steve, a retired Marine aviator and airline pilot, who was
hospitalized with a cancer that had metastasized into his bones, brain, and lungs.
2/20 – Iron Mike Golf asked for prayers as he underwent a shoulder replacement.

2/21 – Palerider at AoS requested prayers for her co-worker, William. He has battled brain cancer
before. It came back this fall, and he did a round of intense treatment at Mayo. He is now having vision
issues making it difficult for him to do his work on the computer. She requests prayers that the vision
issues resolve quickly and his cancer is put back into remission.
2/21 PB has for prayers, as his family has been having an interesting time lately. His dear wife was in the
hospital over Christmas and New Year's. She has lost her hearing and may need implants. She can walk
now with a walker, which is a huge improvement over the last month. Additionally, their youngest son
had ACL surgery in late Dec.
2/24 – Legally Sufficient asked for the Horde's prayers as she undergoes total knee replacement surgery
on 2/27. She asks for strength and continued faith. She also asked for prayers for her husband, and asks
that God would provide him with strength and patience as he helps nurse her through this.
For submission guidelines and other relevant info, please contact Annie's Stew, who is managing the
prayer list. You can contact her at apaslo at-sign hotmail dot com. If you see a prayer request posted in
a thread comment, feel free to copy and paste it and e-mail it to Annie's Stew. She tries to keep up with
the requests in the threads, but she's not here all of the time, so she may not see it unless you e-mail it
to her. Please note: Prayer requests are generally removed after four weeks or so unless we receive an
update.

 Romans 8:26-27
26 In the same way, the Spirit helps us in our weakness. We do not know what we ought to pray for, but
the Spirit himself intercedes for us through wordless groans. 27 And he who searches our hearts knows
the mind of the Spirit, because the Spirit intercedes for God's people in accordance with the will of God.
***
Stolen from the sidebar:
Long-time commenter westminsterdogshow (Diane Russell) has passed away. RIP
The Fabulous & I met Diane at the Texas MoMe in October 2022. What a wonderful person. Our hearts go out to her family.
This is simply another reminder that no one knows how much time they have here on earth. Take the opportunity to go to any MoMe you have a chance to. You will not be disappointed.
***
Rules? Yeah we have those.
1) Feel free to opine and/or bloviate away in this open thread.
2) Be kind and/or tolerate one another.
3) Although running with sharp objects is frowned upon, we are not the boss of you.
4) Enjoy the weekend. Yes, Enjoy!

posted by Misanthropic Humanitarian at
09:02 AM
|
Access Comments