« The Music Thread: Whatever...
|
Main
|
Daily Tech News 26 February 2023 »
February 25, 2023
Saturday Overnight Open Thread (2/25/23)
(Saw this line up in 1989. Excellent show!)
***

Sunday ONT usually has Comments of The Week. Well tonight one of those Comments is:
The Saturday Night Joke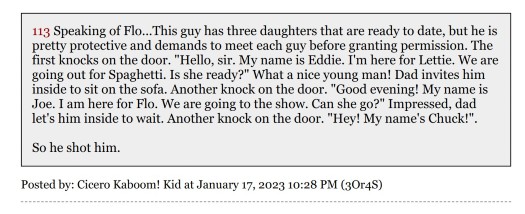 ***

An evening with your favorite adult beverage and/or edible, this could be fun........
***

Oh it is just a wild guess. But, I have a feeling none of you are drinking this concoction this evening.

Soup on the Rocks: Making Cocktails with Campbell Soup
***

There really is such a thing as a "Dick Measuring Contest". Especially among Sanford researchers.

The average penis length worldwide has increased by 25 percent in recent decades — and the scientists who discovered this apparent growth spurt say it might not be a good thing.

In a paper published on Valentine's Day in the World's Journal of Men's Health, Stanford researchers observed that per their meta-analysis of decades of studies, the length of erect penises has increased 24 percent — from 4.8 inches to about six — over the past roughly 30 years, even as testosterone levels and sperm quality have declined.
***

I have a hard enough time painting with brushes.

Feb. 21 (UPI) -- A California man whose 3.97-inch tongue earned him a Guinness World Record said he has found an unusual way to put his unique muscle to work -- painting.

Nick Stoeberl, who was awarded the world record for longest tongue (male) when it was officially measured at 3.97 inches from tip to teeth in 2012, showed off his unusual painting skills during an appearance on ITV series This Morning.
***

Hey teach! Help me land this bird.

A pilot thought his co-pilot was joking and 'taking a nap' when he had in fact died in the cockpit mid-flight, according to a report.

The pilot said he thought the 57-year-old instructor was 'just joking' after his head rolled back and slumped over shortly after taking off.

But the instructor, who was his 'normal cheerful self' on the morning of the flight, had actually suffered acute cardiac failure.

The Air Accidents Investigation Branch investigated the incident and concluded current medical assessments were acceptable but risks 'can never be reduced to zero.'
***
The ONT Musical Interlude & Fish Fry Emporium
Today is the 150th anniversary of the birth of famed Italian tenor Enrico Caruso (1873 - 1921). Here is a recording for the readership. Enjoy! - Isophorone Blog
&&&
Born on this day: February 25, 1943 - George Harrison
George Harrison guitarist and vocalist with The Beatles The all-time bestselling album in the UK is The Beatles' 'Sgt Pepper's Lonely Hearts Club Band', with over 4.5 million copies sold. Harrison wrote the 1969 US No.1 & UK No.4 Beatles single 'Something'. As a solo artist he had the 1971 US No.1 album 'All Things Must Pass' and the 1970 worldwide No.1 single 'My Sweet Lord'. He was also a member of the Traveling Wilburys with Tom Petty and Bob Dylan. Harrison died of cancer on November 29th 2001 age 58. via thisdayinmusic.com
|
No apologies here. I think Harrison was a great musician.
***
Certainly not the brightest bulb in the pack plus a Genius Award.

FEBRUARY 24--In a harebrained scheme destined to fail, a Florida Woman thought she could game a court-ordered urinalysis test with a pill container "filled with soda and tap water," according to court records.

As a result of guilty pleas last month to a pair of felony charges, Shannon Hunter, 44, was required yesterday to provide probation officials in Clearwater with a urine sample.

Seen at right, Hunter--who recently copped to possessing painkillers without a prescription and theft counts--apparently knew her urine would prove to be dirty. So she "attempted to use a prescription pill container full of an unknown liquid to pass her urinalysis," an arrest affidavit notes.
***

Tonight's ONT has been brought to you by Presidential Nightmares.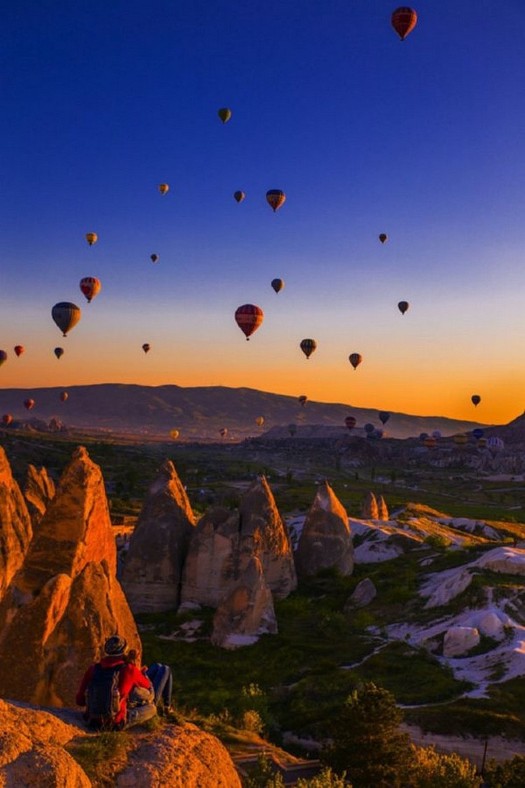 Notice: Posted. With or without permission, no one is certain.


posted by Misanthropic Humanitarian at
09:31 PM
|
Access Comments