« The Morning Rant: Buck Shots [Friday 02/17/2023]
|
Main
|
A Day After Don LeMon Opines That Women 40 Or Older Shouldn't Seek Professional Advancement Because "They're Not In Their (Sexual) Prime," His Female Cohosts Happily Announce "Don Has the Day Off" »
February 17, 2023
Another Train Carrying Toxic Chemicals Derails;
Mayor Butt Does His Alfred E. Neuman Impression
A very convincing impression it is.
Before getting to that: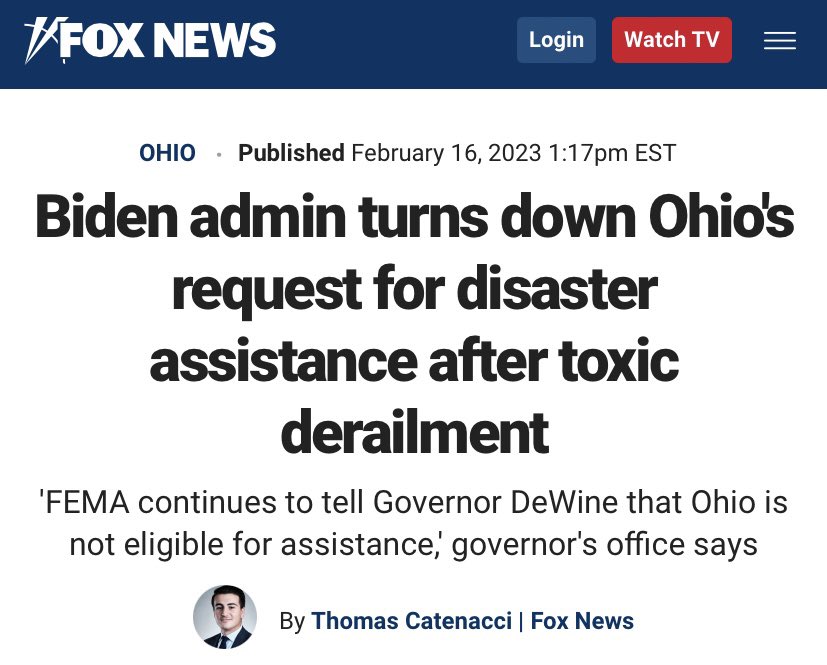 The Biden administration turned down a request for federal disaster assistance from Ohio Gov. Mike DeWine in the aftermath of the train derailment in the state earlier this month that led to a large release of toxic chemicals.

The Federal Emergency Management Agency (FEMA) told Ohio's state government that it was not eligible for disaster assistance to help the community recover from the toxic spill, Dan Tierney, a spokesperson for DeWine, told Fox News Digital on Thursday. Tierney explained that FEMA believed the incident didn't qualify as a traditional disaster, such as a tornado or hurricane, for which it usually provides assistance.

"The DeWine Administration has been in daily contact with FEMA to discuss the need for federal support, however FEMA continues to tell Governor DeWine that Ohio is not eligible for assistance at this time," DeWine's office said in a statement earlier in the day. "Governor DeWine will continue working with FEMA to determine what assistance can be provided."
If that's the rule, that's the rule... I guess.
Although I think someone should quickly tie a noose-shaped garage pull and take a picture of it-- federal reinforcements will come rolling in like oranges.
Or claim THE RUSSIANS did it. That'll light a fire under the Deep State.
The water's perfectly fine to drink, officials assure us:

Also, Mayor Butt is, of course, blaming Trump.
Who left office on January 20, 2021. Unfortunately.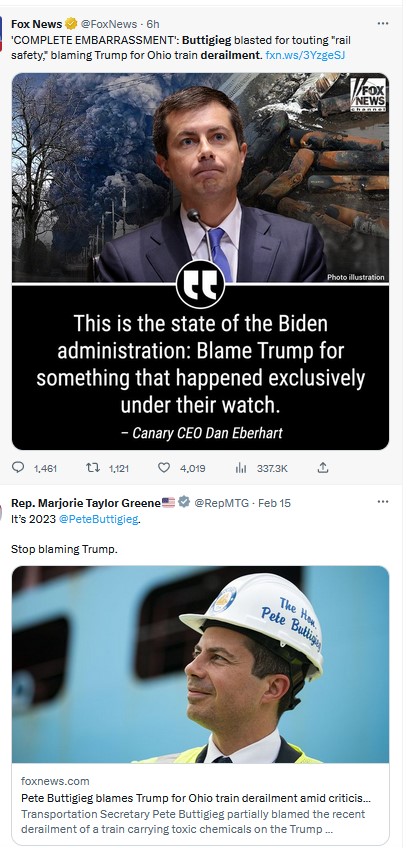 On to the newest train derailment:

Mayor Butt said don't even worry about it, mate, there are a thousand derailments every year. Then he got on a flight to go on a ski vacation in Gstaad.
Kyle Shideler, a security analyst with the Center for Security Policy, says that it is true that there are a lot of derailments every year, and usually they do not make the news, outside of the immediate locality where they occurred.
But he said that that statistic does not differentiate minor derailments from major ones.
This is another derailment of a train carrying toxic chemicals.
Mayor Butt doesn't have any questions here?
I know for a fact he'd have a lot of questions if it were rightwingers, rather than leftwingers, with the long history of derailing trains.
From 2020:
Women linked with anarchist group charged with terrorist attack on train tracks north of Seattle 'Shunts' placed on train tracks caused the near-derailment of tanks of hazardous chemicals in a residential area, federal prosecutors say

Danielle Wallace
By Danielle Wallace | Fox News

Federal authorities in Seattle on Monday charged two women with a terrorist attack on train tracks, suggesting they were working with an anarchist community to stand in solidarity with a Native American tribe to oppose the construction of a natural gas pipeline across the Canadian province of British Columbia by trying to derail trains in Washington state.

Samantha Frances Brooks, 27, and Ellen Brennan Reiche, 23, were arrested Saturday night in Bellingham, located in Whatcom County, which borders Canada, as they allegedly placed "shunts" on Burlington Northern Santa Fe tracks, according to a complaint filed by the U.S. Attorney's Office in the Western District of Washington Monday.

A shunt is comprised of wire and magnets that are strung across the tracks, mimicking the electrical signal of a train.

The two women were charged in connection to Saturday's incident, but there have been 41 incidents of shunts placed on the BNSF tracks in Whatcom and Skagit counties since January. Shunts were placed in areas that disrupt the crossing guards where the tracks cross streets, so vehicles could have tried to cross the tracks unaware of the oncoming train, U.S. Attorney Brian T. Moran said.
They were trying to derail trains with tanks of dangerous toxic chemicals, you say...?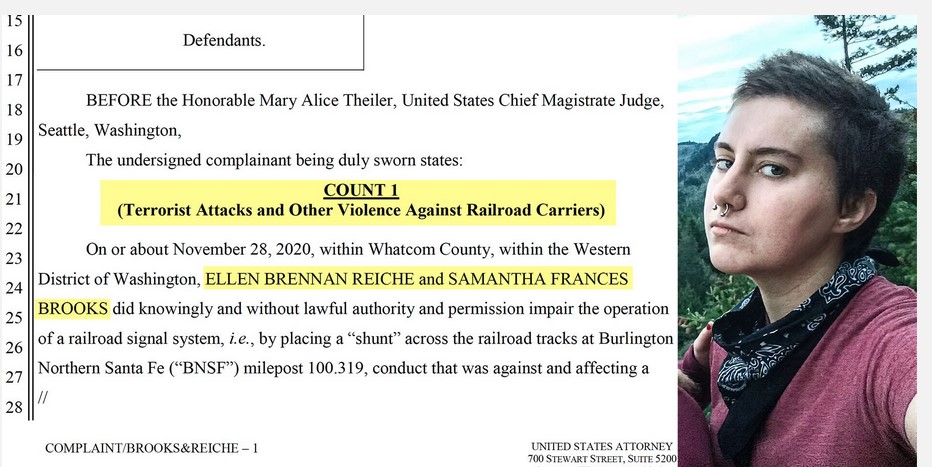 Why do they always look like this?
This former Democrat campaigner was convicted of of attempting to derai trains carrying oil at the US/Canada border. Antifa admitted guilt for the terrorist act.
She got one year in prison.
A Washington state woman has been sentenced to a year in prison for sabotaging railroad tracks near the US-Canada border in Washington state in an attempt to derail a train carrying crude oil.

Ellen Brennan Reiche of Bellingham was sentenced Dec. 17 in US District Court in Seattle to 12 months and one day in prison for committing an act of violence against a railroad carrier. Reiche is also required to complete 100 hours of community service while on federal supervision.

On Nov. 28, 2020, two women from Bellingham, Samantha Frances Brooks, 27, and Ellen Brennan Reiche, 23, were arrested and charged with terrorism after an attack on BNSF railroad by allegedly placing a "shunt" on the tracks which disrupts the low-level electrical current on the tracks and can disable the train's safety features.

Reiche, who identifies as "non-binary" and uses "they/them" pronouns, was the deputy field organizer for Washington State Democrats, according to their now-deleted LinkedIn profile.
Obviously. I don't know why you even bothered to write that.
...

Deputies located a wire shunt between the tracks in the area where Brooks and Reiche were seen and a bag Reiche was carrying contained rubber gloves, a piece of black insulated copper wire and a Makita drill with a wheel-shaped brush attachment, according to court records.

The wire found in the bag was similar to the wire used in shunting incidents, according to the Department of Justice.
Good thing she wasn't "parading"! Good thing she didn't steal a coat rack!
Then she'd see real time behind bars!
Anarchists and antifa are attempting to derail many, many trains with these shunts. This was not some kind of one-off.
Kyle Shideler:
Federal law enforcement had been investigating a series of over 41 separate incidents of shunts being placed on the BNSF tracks over the past year, including one which led to the decoupling of a train carrying placarded hazardous materials.

According to the federal complaint, a posting on the anarchist website Itsgoingdown.com (IGD) described the shunting campaign as being carried out in solidarity with Canadian indigenous tribes seeking to prevent the construction of an oil pipeline in British Columbia.

The post also provided instructions for how to carry out sabotage efforts, noting,

"With high resolution maps, Google Street view, good scouting, and a little flexibility, this tactic is fast and discreet. On a single rail track with a Centralized Traffic Control (CTC) system, this simple action can generate enough confusion in the system to cause big slow down and bureaucratic delays."

As the federal complaint indicates, it can also lead to train derailment, loss of life, and the dispersing of hazardous chemicals into residential areas.

It is worth noting the role played by IGD, which included both publicizing terror attacks, as well as providing clear instructions for those inspired to carry out future attacks. As the Center for Security Policy testified before the U.S. Senate Judiciary Committee, Subcommittee on the Constitution, websites like IGD play a crucial role in anarchist and Antifa organizing:

Antifa websites describe in detail how to organize affinity groups and chapters, how to vet potential members, prevent infiltration, and securely communicate. Such websites play a key role in spreading propaganda, distributing new tactics, techniques, and procedures, and raising calls to action.

Reiche and Brooks were charged under 18 U.S. Code § 1992, "Terrorist attacks and other violence against railroad carriers and against mass transportation systems on land, on water, or through the air," and carries a possible penalty of up to 20 years in prison.

18 U.S. Code § 1992 is one of several terrorism statutes which would allow individuals who assisted in the shunting campaign to be charged with material support for terrorism (18 U.S. Code § 2339A), including those providing "training, expert advice or assistance."

It could reasonably be argued that IGD played a role in providing "expert advice or assistance" in this case. "Expert advice or assistance" are strictly defined terms in the law however, so that a prosecutor would need to show the website provided more than simply "general knowledge" to potential terrorists.

The targeting of rail infrastructure by anarchists has been increasing in recent years, as anarchist networks and publications have repeatedly emphasized the deleterious economic effect of targeting railways and shared methods and tactics for targeting rail infrastructure.
Kyle Shideler noted in September that for some reason which we can only guess at, the George Washington University Program on Extremism supposedly conducted a "study" on threats to infrastructure from extremist groups.
They included jihadists and "white supremacist" groups in the study.
They ignored the threats posed by radical leftwing environmental and anarchist groups, for reasons you can probably guess.

Authored by Ilana Krill & Bennett Clifford, Mayhem, Murder, and Misdirection: Violent Extremist Attack Plots Against Critical Infrastructure in the United States, 2016-2022 has several methodological problems. To begin with, it examines plots against critical infrastructure targets where suspects were federally charged, and from this pool it considers only those plots perpetrated by Salafi-Jihadist or white supremacist actors.

In calculating plots, rather than perpetrated offenses, you risk basing threat analysis on what may have been improbable (although perhaps still criminal) flights of fantasy, rather terrorist operations which represent a genuine threat to critical infrastructure. This is particularly true in analyzing white supremacist actors, who are notoriously prone to elaborate plot ideation for attacks which they lack any ability or opportunity to conduct. The result is a form of survivorship bias which analyzes threats to critical infrastructure primarily from disrupted or broken up plots, which may not tell us much about prospective dangers.

While disrupted plots may reveal where federal authorities are expending counterterrorism efforts, it does not necessarily cover which ideological threats are most likely to conduct actual critical infrastructure attacks. In this case it merely confirms what is already known from press reports and congressional hearings, which is that federal authorities have judged white supremacist terrorism as the most important threat and are focusing their efforts on it, as opposed to other, potential threats.

...

The authors cite a report (Ackerman, 2006) noting that religiously motivated terrorists (including jihadists) and domestic right-wing extremist organizations may have the highest potential for future attacks, while failing to note that the same report states: "Left‐Wing and Islamist groups attack [critical infrastructure] more frequently than other types of groups."
Emphasis added.

The authors claimed that only jihadists and white supremacists were studied because these two groups represent the greatest threat to commit terrorist acts involving violence to people.
But, Shideler notes, this makes no sense, because the study is about threats to physical infrastructure, not people. The authors seem to have grasped at any conceivable excuse to not study leftwing terrorist groups, who commit far more attacks against trains, power plants, and other infrastructure.
It's like saying you only studied the Crips in your carjacking study, because the Crips are known to sell more crack, while ignoring the Bloods, who actually commit the most carjackings.
What?
To their credit, the authors do acknowledge that other ideological threat actors can and do target infrastructure, yet the decision to simply obliviate these other threats from the sample results in a diminished product.
Intentionally so.

posted by Ace at
12:00 PM
|
Access Comments