« Washington Examiner: The Scandal Involving Fomer FBI Head of Counterintelligence Charles McGonical -- Charged With Taking Money From Russian Oligarchs to Get Them Off the Sanctions List -- Is Far, Far Worse Than the FBI and Media Will Admit
|
Main
|
Two Old Men in Scotland Cafe »
February 16, 2023
Quick Hits
Claim: One of the possible Chinese spy balloons, or possibly reactionless drive alien UFOs, shot down with $380,000+ Sidewinder missiles might just have been a $12 balloon sent up by an amateur aeronautics club.
Bottlecap Balloon Brigade - an Illinois hobby group - claims its $13 weather balloon last pinged near Yukon on February 10 - hours before F-22 brought down UFO in SAME area with $400k missile

Northern Illinois Bottlecap Balloon Brigade reported one of its balloons 'missing in action' around the same time location jets downed an object over Alaska

It's now suspected the object shot down using $400,000 Sidewinder missile may have been the group's balloon

Hobby balloons cost as little as $12 and carry device that transmits their location

By Lewis Pennock For Dailymail.Com


A mystery object shot down by U.S. fighter jets amid ongoing hysteria sparked by a Chinese spy balloon may have been a $12 inflatable launched by a hobby group in Illinois.

The Northern Illinois Bottlecap Balloon Brigade (NIBBB) reported one of its balloons 'missing in action' around the same location - and at the time time - a U.S. Air Force jet downed an unidentified object near Alaska using a $400,000 Sidewinder missile.

NIBBB said its 'K9YO' balloon last reported its location shortly before 1am GMT on Saturday, February 11 (8pm EST on February 10), near the coast of southwest Alaska.

Later on Saturday, Canadian Prime Minister Justin Trudeau declared an 'unidentified object' was downed over Canada's Yukon territory, several hundred miles from K9YO's last known location.

The object shot down by a a U.S. Air Force F-22 fighter jet over Mayo, Yukon, was variously described by officials in Canada and the U.S. as a 'cylindrical', metallic balloon with a payload.

Balloons used by hobby groups like NIBBB often fit the same description. They are usually attached with a small, solar-powered payload that transmits location data back to listening posts on the ground. Typically, these payloads are no larger than a credit card.
Is it true? Well I guarantee you this: If it is true, our corrupt government and lying media would never, ever admit it to be true. They'd just lie, as they do about everything.
So what can one do except to take this as true?
Megyn Kelly talked to Spencer Klavan about the "Reality Crisis." The institutions which formerly could be counted on to provide the truth -- or the truth with a political bias, but still close enough that if you squinted you could make out the truth -- have become lunatic lie factories.
This has infected all formerly-respected institutions. They are so determined to defeat Trump -- and people who supported Trump -- that they have made lying their chief vocation. They think they're just keeping "the deluded common folk" from believing Trump's lies by fighting them with Better, More Enlightened Lies.
And thus, everything Trump said about covid must be countered with a lie. Trump said that "the cure must not be worse than the disease," speaking, correctly, about the harms caused by shutdowns? Then we'll just lie and say there are no harms caused by shutdowns, and we'll like to make covid sound more threatening than it really is.
We will fight the Bad Lies with Good Lies!
Hey assholes -- there are no "Good Lies." You're just lying for the same reason every other tyrant and dirtbag has ever lied -- to benefit yourselves. To obtain or keep power and money.
Pennsylvania police say that alleged human remains turn out to be... a discarded sex doll.
A silicone sex doll "used for self gratification" was found by Pennsylvania authorities after it was initially believed to have been human remains, police said Monday.

The Tunkhannock Township Police said officers were dispatched over a report of possible human remains inside a bag Sunday found by a man and his son. They were retrieving a ball from a creek when they found a black plastic bag with a foot sticking out.

...

"We've seen this item referred to as a mannequin online," the police department said in a Facebook post. "That really isn't accurate. This was a lifelike silicone item used for self gratification. It's the size of a small child, weighs about 50 pounds and is anatomically correct."

"The foot we were able to observe through the bag was extremely detailed all the way down the French pedicure it had," the post said.
Ohhh la la, classy.
Not sure if the "size of a small child" means its a child-shaped sex doll, or it's just an incomplete body to save money (that is, the lower half of the body).
A man tried to escape a maximum security prison... dressed as a sheep.
You had my interest, now you have my attention.
This plan isn't as crazy as it sounds. The prison adjoined a sheep pasture. So his idea was that if he could just get out of the prison, he could make his way across the pasture in a sheep costume, and hope that guards wouldn't notice he was a Fake Sheep.
It's not the stupidest thing I ever heard.
He somehow got a sheep's wool jacket delivered to him in prisoner. Then he got out of the prison (I don't know how he did that, the article doesn't say) and wore the sheep's wool jacket to blend in with the grass-munchers.
This is not fully stupid, when you consider he made his way out at night: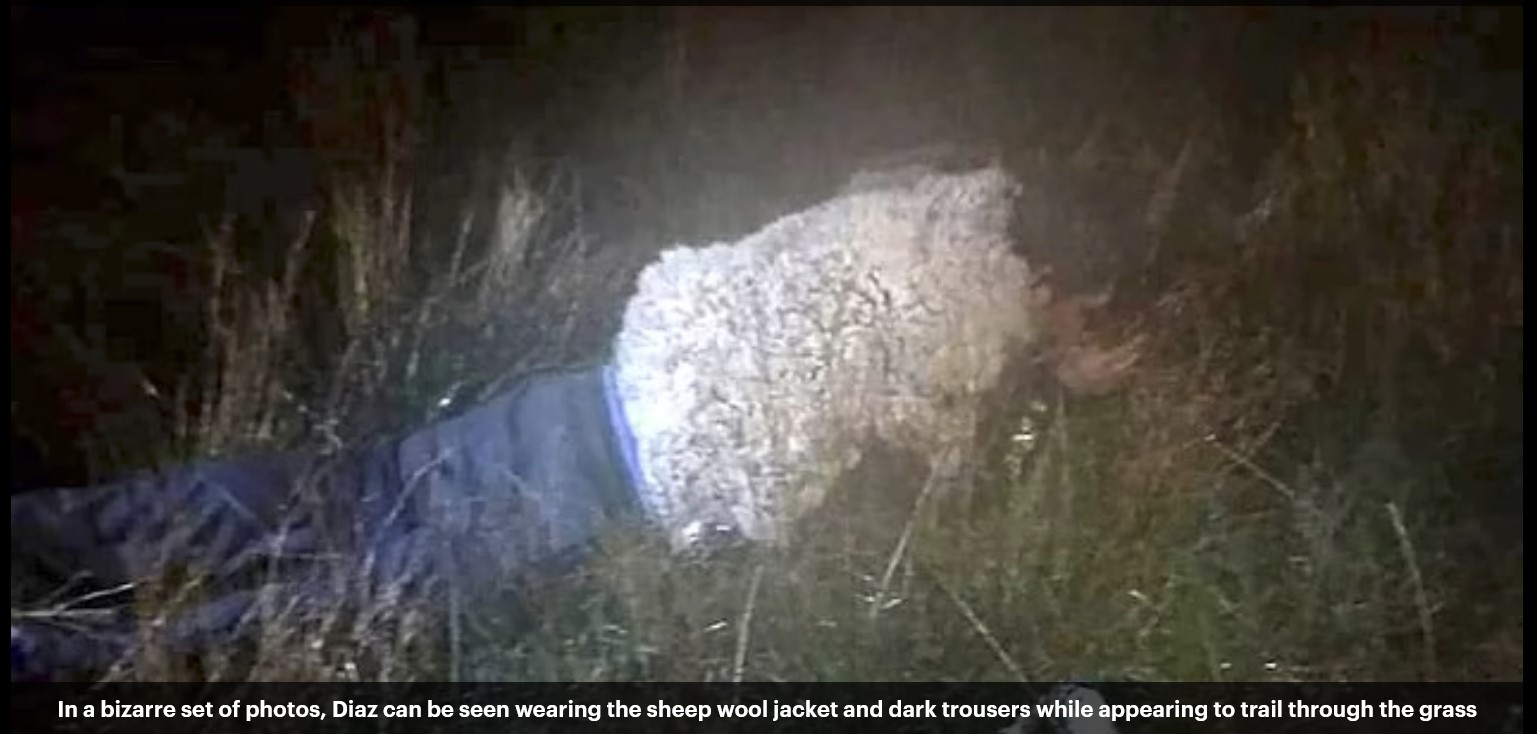 I think he's on his belly there because the police have surrounded him.
The guards noticed he wasn't in his cell and searched the field and discovered him.
Yeah, the costume cannot hold up to close scrutiny. It might be able to fool a guard in a tower, especially if you're able to blend in with the other sheep. Maybe that was the problem -- the sheep moved away from him, denying him his chance of blending in.
He also needed more of a head start. He needed a better Fake Human in his bed to delay the guards' notice of his absence.
But I insist: This is not a terrible idea!
"Shear genius," someone on Twitter remarked.

America under Biden, and Secretary of Transportation Mayor Butt:

posted by Ace at
06:55 PM
|
Access Comments