« Democrat Congresswoman Assaulted in the Elevator of Her Own Apartment Building Wants to Know: "Say, How Come This Violent Repeat Offender Was Out on the Streets Insted of In Jail?"
|
Main
|
Ex-DHS Head Says That Biden Is Manipulating Border Stats So That Border Agents Don't Know Where to Find the Illegal Aliens »
February 15, 2023
J.K. Rowling: My Comments About Real Women Being Real Women Have Been "Profoundly Misunderstood." Please Don't Murder Me.
She says her comments about sex being real have been "profoundly misunderstood."
Author J.K. Rowling has made a shocking revelation about her past controversial comments, claiming her statements about transgender people have been "profoundly" misunderstood.

"I never set out to upset anyone," she said in the trailer for her forthcoming podcast, "The Witch Trials of J.K. Rowling." "However, I was not uncomfortable with getting off my pedestal."

...

The podcast, which premieres Feb. 21 on The Free Press, will be hosted by Megan Phelps-Roper, who was raised as part of the Topeka, Kansas-based Westboro Baptist Church known for protesting LGBTQIA+ beliefs and later left the congregation to write the memoir "Unfollow" about her experience.

...

It all began in 2020 when she claimed that the "lived reality of women globally is erased" if "sex isn't real," referring to trans women.

"I know and love trans people, but erasing the concept of sex removes the ability of many to meaningfully discuss their lives," she added at the time. "It isn't hate to speak the truth."

The novelist also boldly declared on Twitter that "sex is real," while arguing that grouping cisgender women and trans women together erases her lived experiences of "being female."

At the time, she was mocking the phrase "people who menstruate," sarcastically writing that there "used to be a word for these," referring to the term "women."

...

She cited concerns for "current trans activism," which she argued was "pushing to erode the legal definition of sex and replace it with gender."

"I'm concerned about the huge explosion in young women wishing to transition and also about the increasing numbers who seem to be detransitioning (returning to their original sex), because they regret taking steps that have, in some cases, altered their bodies irrevocably, and taken away their fertility," she wrote at the time.

The Trans Extremists continue attempting to bankrupt the world's wealthiest self-made woman. Oh well, no one ever accused them of hoarding sanity.
The Wired blog -- I won't call it a "magazine;" it's a blog -- ran a review of the new Harry Potter video game "Hogwart's Legacy."
That's a lie -- it was a review of J.K. Rowling herself, which pretended to "review" the game in between shrieking that J.K. Rowling doesn't want trans people "to exist."
The review was written, of course, by a "trans woman" (government name: man) who usually reviews sex toys (what a shock) and computer hardware but decided that he just had to review a video game this one time.
This man attempts to inflict Actual Violence on J.K. Rowling and Cause her harm by giving the game a 1 out of 10 score -- which is unheard of, because, as I recently mentioned, video game scores are known to be inflated and basically start at a 7. Only the very worst, no-effort-put-into-them games get a failing score of 6 or even 5.
But this trans extremist wouldn't know that, of course.

Yikes, y'all. I don't even smoke and I feel like I need a cigarette before I get this thing started. We're here to talk about Hogwarts Legacy, and to do that we need to discuss the whole mess. Pull up a chair, pour yourself some tea, wrap yourself in a blanket, scream into a pillow (or the abyss), because this one's gonna take a lot out of both of us. (Or get heavy.)
Very professional review. I love it when reviewers make the review about themselves instead of the thing I'm actually interested in.
Jesse Singal @jessesingal

Wired's review of Hogwarts Legacy gives it 1/10 because in part because "its real-world harms are impossible to ignore."

The first sentence is literally "Yikes, y'all."


There's a subset of writer who is now beyond parody.
And now: On to the review of J.K. Rowling's belief that she is a woman and that sex is real, even if mentally-ill delusionaries shriek that a vagina is a social construct.
Hogwarts Legacy is a third-person action-RPG set in the same universe as the classic Harry Potter series of children's books. In case you need a refresher, those books, the Wizarding World setting, and the Harry Potter film franchise are all the intellectual property and brainchildren of author J. K. Rowling. This is important because she's always been inseparable from her work and from work that she's inspired (and licensed), for better and now mostly for worse. Nothing with a Wizarding World stamp on it can be viewed outside the context of it being a product of Dame J. K. Rowling, CH, OBE.

Within the pages of her books, she made the ordinary seem extraordinary. She created a place where weird lonely kids would be told they were special, where kids who had survived abuse were more than just fundamentally broken. Since 2019 though, the once-beloved children's author has--well, she's had some opinions. About people like me. And whether or not we should exist. She's even gone as far as to suggest that we're inherently dangerous, a threat to real (ouch) women everywhere.

When I was a kid, every word that flowed from J. K. Rowling's pen wrote magic into my world, but now every word she puts out just hurts my heart. Every homophobic or transphobic thing queer kids hear growing up becomes a voice that follows them for a long time. We hear relatives, friends, and parents say awful things about us and to us. For a lot of us, we fight those voices every day. When one of those voices comes from the author who taught you about accepting yourself, a person you thought truly saw you and kids like you, it hurts in a way I honestly hope she never understands. I wouldn't wish it on anyone.
I don't believe this woman-abusing thug wouldn't wish pain on J.K. Rowling. That's obviously what this toxic man is attempting to inflict on an actual woman right here, right now.
By the way, those last couple sentences are repeated and spotlighted in the "review" with boldface and large type.
When one of those voices comes from the author who taught you about accepting yourself, a person you thought truly saw you and kids like you, it hurts in a way I honestly hope she never understands. I wouldn't wish it on anyone.
Lie.
I don't hate her. It would honestly be easier if I did.
You do hate her and you find it very easy to attack a woman who doesn't reciprocate your affections. Like an incel.
Oh, and by the way: this is a game review.
Did you forget that? You'd be excused for forgetting it's a game review, because the "game reviewer" did.
Inside me somewhere, there's a kid who still loves her despite everything. That kid has a lot of experience loving people who hurt her. She never asks why; she just wants to know what she did wrong and how she can fix it. It's hard to tell her there's nothing left to fix. And that there are places we can't return to. Places like Hogwarts.


I remember when the first book came out. The gangly boy on the cover illustration. The school book fair....
He goes on for two paragraphs about his memories of buying and reading the first Harry Potter book, in order to heighten his feeling of betrayal by J.K. Rowling.
Who, by the way, had nothing to do with this game, apart from licensing it to another company.
Remember, this is a game review.
I avoided press about Hogwarts Legacy when it was first announced. I didn't want to see the gameplay, I didn't want to be awed by trailers. I avoided them like the plague because I was afraid I would be conflicted, that I'd see a game that captured the magic of the books and my heart would leap out of my chest. I was afraid to see the lavish visuals of the films recreated on modern gaming hardware, realized in 4K and full HDR. I was afraid I'd have to tell 12-year-old me that she couldn't play it, and explain why. So when I got a code for Hogwarts Legacy, I braced myself.

I thought I'd spend a lot of time in this section nitpicking. Going over every grievance I have with how this game deviates from the source material, how dated it looks and feels, and how every character just feels like an animatronic Chuck-E-Cheese robot waiting for you to come by and put a quarter in so it can say its one line of dialog and perform a grim, herky-jerky facsimile of a living being. But there are no nits to pick, it's just lice all the way down.

The longer I spent in this version of Hogwarts, the more I could feel a tangible absence. There's definitely something missing. I thought maybe it was the lackluster art direction, the one-dimensional characters that feel like store-brand versions of the ones we know and love, or even the conspicuous lack of the iconic John Williams score. But there's a bigger absence here.

Have you considered that you are just an extremely emotionally upset and therefore biased "reviewer," and therefore journalistic ethics would demand that you refrain from "reviewing" the game at all?

This is cute: Here in the article is the rating, set aside in a call-out box. Usually they also have a link to the game, if readers reading this "review" want to buy it.
Instead, the link to game directs you to a trans charity. Your are denied the opportunity to buy the game:
Rating: 1/10 Buy at Donate to Trans Lifeline
He swapped a link to buy the game from online retailers to a donor button for a trans charity.
Laughably, the Wired blog then says this:
If you buy something using links in our stories, we may earn a commission. This helps support our journalism. Learn more. Please also consider subscribing to WIRED
Oh yes -- let me "support [your] journalism."

Here is the "game review" part of this "game review."
He contrives an "anti-Semitism" complaint out of thin air, in case people aren't upset enough that J.K. Rowling believes that physical sex is real and has profound psychological and characterological implications.
He says the game is "anti-Semitic" because... it's about a "cabal" stopping a global slavery ring.
Which obviously makes it anti-Semitic, because, you know... Jews and the slave trade!
There's a hole where this game's heart should be. You can't see it at first. You have to really feel around its edges, stop looking for what is there and start noticing what isn't. There's no sense of place. The world is lifeless. Character models and facial animations are present but somehow absent. The characters are animated, but they certainly don't feel alive.

There's a hole where this game's heart should be.

The story, besides being rooted in anti-Semitism (a global "cabal" is trying to end slavery but that's bad because the slaves like being slaves), doesn't even feel compelling.

Remember, it's this game which is dealing in anti-Semitic tropes. A story about a "cabal" of powerful people are trying to do something with slavery and that's obviously all about Jews.
The comments relating to the game itself are cursory at best -- a series of conclusary denigrations without any evidence offered to support them, or any suggestions about how the game designers could have done better. These are routine things in game reviews -- if you say characters are without depth, you then provide examples, describing the flatness of particular characters and quoting banal dialogue from them.
If you're trashing a several-tens-of-millions-of-dollars game that people worked on for five years, you back up your negative statements. (Also, if you're recommending that readers spend $60 of their hard-won skrill on a game, you also back up your positive statements.)
But this isn't a review of a game. This is a review of J.K. Rowling, so none of that is here. Just a checklist of negative remarks this Sex Toy Reviewer has seen in other game reviews, and just spams out for this "review."
One strongly suspects that the comments about the game were only added after an editor suggested, "You know, this would have more credibility if you said something about the game."
After babbling another paragraph spamming out unsupported criticisms, he gets to the real complaint:
For that reason alone, I can't in good conscience recommend spending your money on it. Combined with who this game helps and who it harms, well, it's definitely not worth it unless your goal is to cause harm.
Remember, it's J.K. Rowling attempting to cause harm to the transgenders, not vice versa:
The trans extremists are all out there with this "causes harm" and "causes actual violence" lunatic talking babbling point:
Lauren Ingram @laureningram

Ultimately as a cis person it's not up to me to decide if Hogwarts: Legacy is transphobic. The trans people in my life, and online, have told me it is. So I won't be buying it.

By buying the game you are supporting its transphobic creator, and encouraging her to continue her horrific crusade against trans people. She has literally tweeted as such.

If you support trans rights, and are thinking about purchasing the Hogwarts: Legacy game, consider this:

Will it directly harm you to not play this game? Because it will directly contribute to continuing harm of trans people if you do.
Now he's going to review the newer Wizarding World movies.
Remember, this is a "game review."
This is a familiar problem though. It's one we see in the latest Wizarding World films as well.

The new movies are bad. Not just bad morally, but bad qualitatively. They're not fun to watch. There's spectacle, but it all feels flat and kind of confusing. If you look closely, you can see the steady decline in quality as the new movies go on, with IP owners trying to wring any remaining semblance of life from a franchise all but poisoned by its owner, despite attempts to right the ship. Some reviews chalk it up to Rowling having more direct control, and fewer people to tell her no or give her edits. The George Lucas problem. But Hogwarts Legacy makes me think this isn't the case.
The first Wizarding World movie was scatterbrained but cute. The Muggle and his romance with the sexy witch was adorable. They should have been the leads instead of the bland zombies the movie thought were the main characters.
The second movie was just convoluted exposition and exposited convolution. I didn't bother with the third movie and its implied gay romance.
None of the films' problems are due to Rowling "poisoning" the franchise by insisting that WOMEN ARE REAL AND NOT "SOCIAL CONSTRUCTS."
There's a direct correlation between how open Rowling becomes about her bigotry, and how flat and heartless Wizarding World media becomes. I don't think that's a coincidence. I think it's because LGBTQIA+ people and genuine allies are some of the best creative minds in the world, and these films and this game were made largely without them.
This is a "game review," remember, in case you've forgotten. And I wouldn't blame you for having forgotten.
The game industry is far queerer than most people realize. All the things you know and love about your favorite games were made by queer people. I don't just mean directors or executive producers. I mean the concept artists who bring your favorite games to life, the sound designers, the engineers, the technical artists, the composers, the musicians, the writers, the testers, the producers--the hands that make the best games in the world are queer. We're the life, the heartbeat, and the magic of great games.
Magic = queerness. Got it.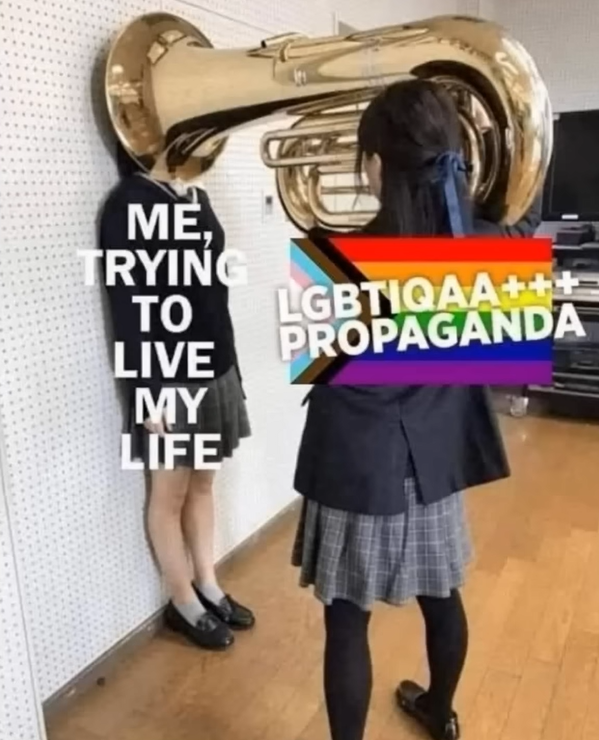 In the yawning emptiness at the heart of Hogwarts Legacy I see the quiet solidarity of queer people and our allies in game development. The people who just said no when the job offers came their way. The ones who didn't answer the emails from Portkey Games, the ones who politely let their coworkers know that working on a Harry Potter game would be harmful to the trans community, the ones who listened and said, "Okay, yeah, thanks for letting me know." The people who put their morals, and their loved ones, above an easy paycheck.
We're very used to leftwing game "journalists" writing screeds about their personal politics under the guise of "reviewing games" or "doing games journalism."
I guess this sex toy expert should be praised for dropping the pretense altogether.
The editor in chief of the Wired blog defended this "review," thereby destroying any remaining credibility of Wired:
Gideon Lichfield 🇺🇦🌻 @glichfield

Even if you're a Hogwarts Legacy fan, read @goodjaina's review and try to hear what it's saying. This gets deep inside some of the paradoxes of JK Rowling fandom, as well as making a key point about how much the games industry depends on queer creators.

What you're describing is not a review. If "Jaina" wanted to tell us that Magic Is Queerness and write about his personal JK Rowling odyssey, he could have written a political screed. I mean, he could have written a political screed that admitted it was just a political screed.
But he wanted to write a fake "review" to reduce the very-high average ratings the game was receiving, and you let him.

Because he told you that he felt "literal violence" and "actual harm" or what Woke Warriors always claim.
Or did you already agree that the game caused you Literal Violence, Gideon?
You've shown your penchant for hysterical overreaction before.
Gideon Litchfield is also "a gay, bi, or trans person," as he tells us in this rewrite of the "First they came..." poem to feature Trump in the place of the Nazi Party.

These monsters have destroyed journalism completely, wearing it as a skin suit as they use the word "journalism" to hide their nakedly political hate-rants, and then they have their buddies in the "disinformation" and "fact-check" rackets deplatform you for noticing.
By the way, they already cancelled one of the game developers. They were angry that Warner Bros. wasn't bending the knee and cancelling a game they'd already spent millions on, as the trans extremists demanded, so they hunted through his years of social media and found a single "problematic" statement and then got him fired.
Who are the bullies here, again? Who are the people causing Actual Harm?

posted by Ace at
04:35 PM
|
Access Comments