« Gardening, Puttering and Adventure Thread, Feb. 18
|
Main
|
The Weekend Hobby Thread »
February 18, 2023
Ace of Spades Pet Thread, February 18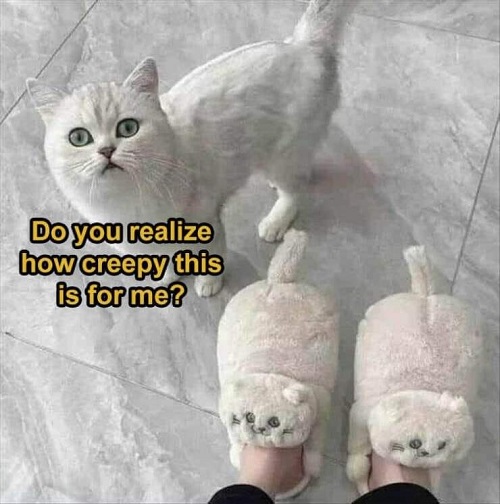 * * *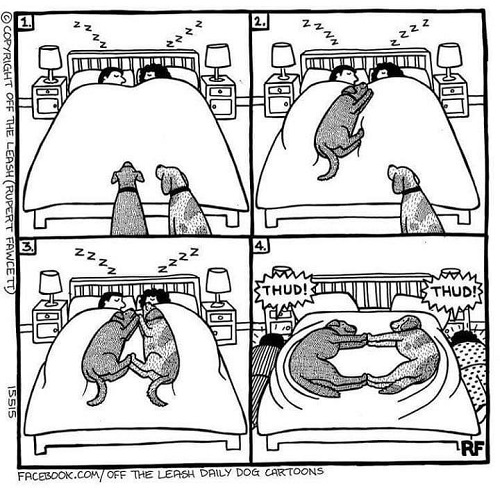 * * *
Good afternoon and welcome to the almost world famous Ace of Spades Pet Thread. Thanks for stopping by. Kick back and enjoy the world of animals.
Would you like a treat?
Let's relax a little with the animals and leave the world of politics and current events outside today.
* * *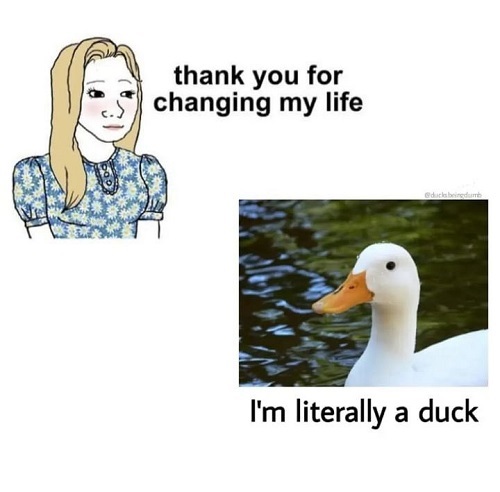 * * *
Recall Alert
Via CBD:
Nestle Purina Petcare Company Voluntarily Recalls Purina Pro Plan Veterinary Diets El Elemental Dry Dog Food in the U.S. Due to Potentially Elevated Vitamin D
Nestle Purina PetCare Company is voluntarily recalling select lots of Purina Pro Plan Veterinary Diets EL Elemental (PPVD EL) prescription dry dog food due to potentially elevated levels of vitamin D. Vitamin D is an essential nutrient for dogs; however, ingestion of elevated levels can lead to health issues depending on the level of vitamin D and the length of exposure. Vitamin D toxicity may include vomiting, loss of appetite, increased thirst, increased urination, and excessive drooling to renal (kidney) dysfunction.

Purina is taking this action after receiving two contacts about two separate confirmed cases of a dog exhibiting signs of vitamin D toxicity after consuming the diet, to date. Once taken off the diet, each of these dogs recovered.

The affected dry dog food was distributed throughout the United States by prescription only through veterinary clinics . .
Check product codes at the link. Kinda scary that the prescription foods would be affected like this.
* * *
Meet The PetMorons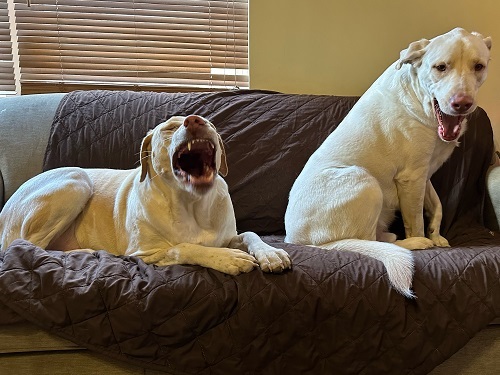 A candid moment with Jack and Winston: Here they are, in their natural habitat: the 'brand new' couch.

John
They look like they think they belong.
* * *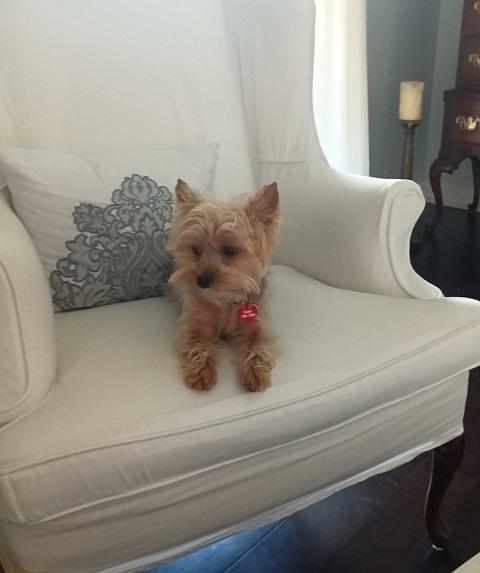 This is Charlotte. She's not as friendly as she looks, but we're working on her.
Lovely dog. I know the type. Good luck with the friendliness issues.
* * *
&&&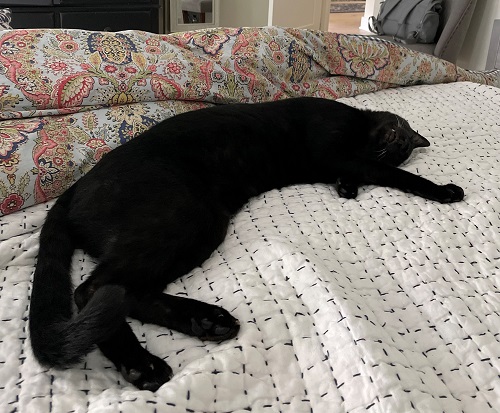 My kitty boys, Sabi (the brown one) and Kovu (the black one). They are both F2 Savannah Cats and as silly as they look in their pictures!

I post under the name Piper. Thanks for all you do, it is really appreciated!
Beautiful cats!
* * *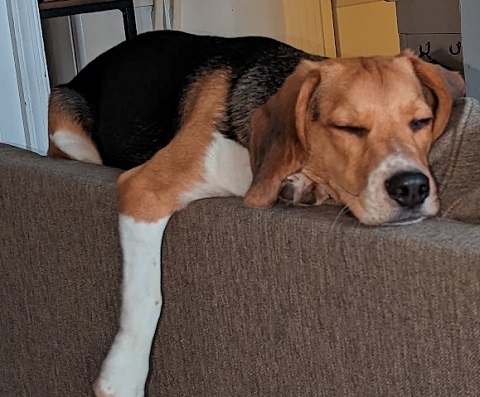 &&&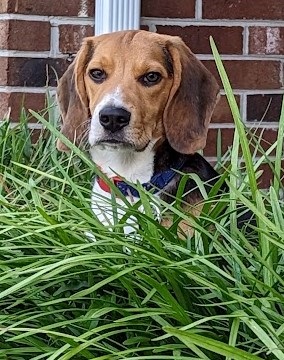 &&&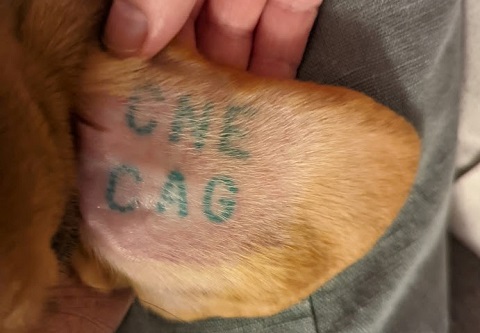 Copper, 9 mos old was rescued from the Envigo Lab breeding facility.

He likes his new digs. Where he can sleep, attack the solar lights in the garden or stand guard in the tall grass and show off his "prison tats".

Paul
There's a happy dog!
* * *
I am re-posting the entry from last week about red boy Chief because I posted it late and if you missed it, you deserve to read it. My brain was sort of out of commission. It's a great story: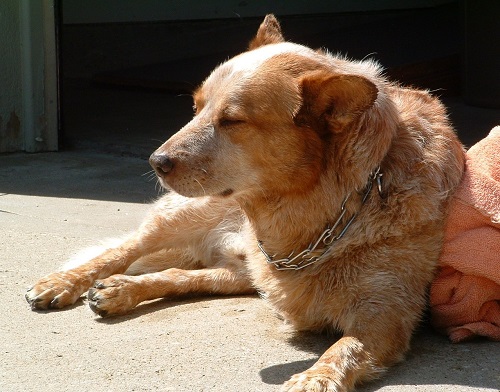 From: Lurker Since Before Kaboom (LSBK)
I've shared pictures of Chief with the horde before. However, those pictures kept one physical attribute about Chief hidden (not on purpose). He was three legged, a tripod.

I was looking at adding another dog to the pack. I already had Mattie, my blue Australian Cattle Dog (ACD). I was looking on the Web at shelters and rescue organizations for another ACD. Well, very early in my search I came across Chief via a rescue organization in Colorado. Chief was from the high desert area of northern New Mexico and was currently being fostered in Durango, CO. When I inquired about Chief he still had all four legs - he just could not use his right front leg and it was damaged beyond any hope of using that leg again.
A little background about me, I've spent almost forty years in a wheelchair due to an automobile accident which resulted in me becoming a paraplegic. I have a house with no stairs so Chief was a perfect match to join the pack. I finalized the adoption of Chief and then he was scheduled to have surgery and have his leg amputated. The rescue organization paid for his surgery and his flight to my location/home.

Chief was an interesting dog. It was suspected that his injury was a result of a tango with a motor vehicle. He had some scars that the Veterinarians said look like road rash as a result of being run over. For about the first two years when he was with me, whenever we went for a walk if we encountered a white pick-up truck either driving by or parked Chief would lunge at the truck. He would only do that with white pick-up trucks. No other color or type of vehicle would set him off . He eventually out grew that behavior. I always suspected that his incident involved a white pick-up truck.
3 legs did not slow Chief down. In his youth he could pace me at 20mph while I was on an ATV. We went on ATV adventures in Idaho, Wyoming and Montana. Also, when he was younger, Chief would chase rabbits with abandoned and at an amazing speed. He would be loudly moaning during the whole chase. I suspected that he lived on rabbits during his time in the high deserts of New Mexico. He soon learned that he did not have to work so hard for a good meal at my home!
Well, there came a time when he wasn't eating like he used to. Something was up. And then he started to have seizures. We went to the Vet and X-rays were ordered. The X-rays showed us 3 things about Chief. One, the vet was amazed that Chief could even use his rear legs. He had severe arthritis on his spinal column. Most likely an injury from his tango with the pick-up truck. Two, he had buck shot in him. The Vet suspected that the amputated leg probably had more buck-shot. Lord knows what Chief's life was like in the deserts of New Mexico. And lastly, the X-rays showed that Chief had wide spread cancer in his lungs and had more than likely spread to his brain - the reason for his seizures.
His remaining time with me was short. I made an arrangement with my Vet to come to my home when it was time. Chief had stopped eating for a couple days. HIs last night he had a bad seizure and the following morning he had another. It was time. I lost my red boy Chief on February 14th, 2015.

My heart was broken on that Valentines day. As time has passed when Valentines day comes around I always remember my red boy Chief and the good times we had together. If Chief could have "spoken human" you would've pulled up a chair and had a listen. Oh, the stories he could have told! He was a great dog and great friend.
* * *
Thanks for the great pet stories today. Thank you for sharing your pets with us.
If you would like to send pet and/or animal stories, links, etc. for the Ace of Spades Pet Thread, the address is:

petmorons at protonmail dot com

Remember to include the nic by which you wish to be known when you comment at AoSHQ, or let us know if you want to remain a lurker.
Until next Saturday, have a great week!
* * *

If you start feeling nostalgic, here a link to last week's Pet Thread, the Ace of Spades Pet Thread, February 11 Some special PetMoron stories and photos there. Ghost's vet visit seemed to go well. Hoping for further improvement!
I closed the comments on this post so you wouldn't get banned for commenting on a week-old post, but don't try it anyway.

posted by K.T. at
03:22 PM
|
Access Comments