« Daily Tech News 10 February 2023
|
Main
|
THE MORNING RANT: Bleeding Red Ink, Ford Boldly Decides to Lose Money on Individual EV Sales…then Make It Up in Volume; Plus a Few Things to Smile About »
February 10, 2023
The Morning Report — 2/10/23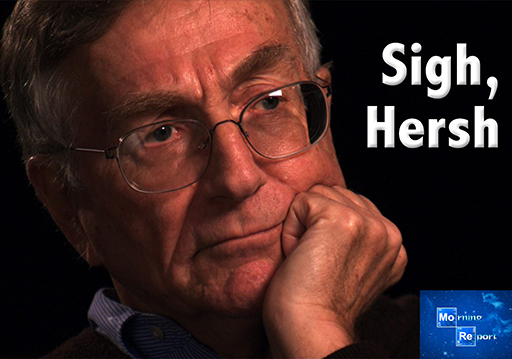 Good morning kids. After both Ace and I reported and commented on the blockbuster (yet given the times we live in unsurprising) allegations from Seymour Hersh that the US military at the behest of those pulling Joe Sponge-Brain Shits-Pants' strings committed an act of war against the Russian Federation by sabotaging the NordStream pipeline, many commenters immediately poo-poo'd the report either because it relied on unnamed sources and/or because Sy Hersh is a far-left America-hater.
Let me say that while both of those things are true, and especially in light of the fact that "unnamed sources" equates to total fabrications in terms of the attacks on everyone and everything on our end of the political spectrum by the professional propagandists FKA journalists, when you put Hersh's report in context with everything this junta has done both at home and abroad to essentially overthrow this country and hand us on a silver platter to the Davos/Brussels/Beijing Axis, at the very least, you cannot dismiss Hersh out of hand and his claims deserve to be investigated thoroughly.
I linked to Hersh's rap sheet at Discover the Networks yesterday and here it is again for your convenience. In fact this little bullet point is right at the top, and I present it here openly and honestly:
* Typically bases his reporting, which tends to be highly critical of the United States, on unnamed sources that are difficult for others to verify.
He was an America-hater for sure. The question is did he and does he still hate America blindly for the wrong reasons or does he hate the depredations of the post World War 2 American government for what we now know it surely was guilty of, because that government – what we refer t o as the Deep State and bureaucracy – has indeed committed acts of treason and insurrection against the we the people/We The People?
So, okay. There are unnamed sources and then there are "unnamed sources." But, you have to put what is being said in context to what we know or what we can ascertain with our own eyes and ears as true, either beyond a shadow of a doubt or within a degree of reasonable certitude. For sure, the attacks on Trump and other conservatives by "unnamed sources" have all by now been completely debunked. Sadly, not before the lies have had the chance to be established in the minds of the dimwitted and easily bamboozled, i.e. Democrats and the LIV crowd. But that should not taint your view of an unnamed source when it seems to jibe with what is known about the situation on the ground, the players involved and historical context, with ontological certitude (hat tip Rush Limbaugh).
It's the same bad actors and their antecedents who Truman and Ike warned us about, who fucked over (and quite likely assassinated) JFK and Reagan via Bush 41 who was a backstabbing traitor, Dubya with the WMD and Iraq debacle and Donald Trump for their rank insubordination and treason, culminating in what we all saw happen with the 2020 election and J6.
If Sy Hersh had the same mindset as either a Jake Tapper or worse Joe Scarborough, he would not have penned this story that (understatement of the decade alert) puts a globalist/leftist stooge president and his globalist/leftist stooge apparatchiks and handlers in anything less than a bad light.
If what Hersh reported turns out to be true . . . Joe Biden and/or all the aforementioned directly committed an act of war against a sovereign nation. The Russian Federation. The ICBM-armed former Soviet Union
Not only that, it was a sneak attack not only against Russia but against one of our chief NATO allies Germany, whose reliance on the energy from that pipeline is critical.
Let me state for the record that I am not an apologist for Sy Hersh's politics and viewpoints. About the only slack that I am willing to cut him is that, unlike every other major network and outlet of the legacy propagandists, he's the only one covering this angle. If you connect the dots between Biden, Ukraine, the Davos crowd, the warhawks in both parties itching to go to war with Russia, the complete illogic of Putin blowing up his own pipeline, then what Hersh is reporting – irrespective of sources named or unnamed – a frightening picture is painted that should not to be dismissed out of hand as lunacy.
Why am I spending all this energy defending Hersh, or more accurately, taking his reportage seriously? Because given what we know about all the players involved, he should be taken seriously. Same deal with Naomi Wolf and RFK Jr. on COVID and the vaccines, Matt Taibbi on Hamilton 68, Glenn Greenwald on censorship and the Russia hoaxes, etc. etc.
Look at the links in the First Amendment section. Or just read Julie Kelly's report on the arrogant tyrants who think Gott Mitt Uns is their justification for subverting the First Amendment. Look at what the bastard child of Rosa Klebb and Chucky, that redheaded lying slag Piss-Hockey Psaki farted out about conservatives and disinformation. But somehow, Sy Hersh is the problem, right?
Whatever Hersh's and all the aforementioned's politics and personal views may be, they have been the only ones sounding the alarm on a host of issues that threaten our freedoms and perhaps our lives. We are the ones who claim we want open debate and that the left wants to shut that down or merely poo-poo us as conspiracy nutters. Hell, we're not even debating all these people since what they're reporting raises the alarms or confirms our suspicions.
Sy Hersh's past may indeed revolt you. But I'm not going to shoot the messenger, when we have so very few of them who have the reach that he does into a broader audience that includes Democrats, for making accusations that will do nothing but harm his putative fellow travelers.
Bottom line: It's not that I believe Sy Hersh. It's the fact that I CAN believe what he's claiming. Sadly, a hell of a lot more than I can just dismiss the claims out of hand.
Again, some will claim he's anti-American and that is his sole motivation. This may come as a shock but given everything that has happened over the past few years, and really going back since the rise of the bureaucracy and the military industrial complex, considering what they've done to this country – what they have succeeded in mutating America into – then you can call me "anti-American" too.
Have a good weekend and see you mañana on the hobby thread. Be there, aloha.
BIDEN BEIJING BALLOON-ACY
NOTE: The opinions expressed in the links may or may not reflect my own. I include them because of their relevance to the discussion of a particular issue.
ALSO: The Morning Report is cross-posted at CutJibNewsletter.com if you want to continue the conversation all day.
Follow us on Twitter: @CutJibNews
Follow us on Instagram: @Cutjibnewsletter

posted by J.J. Sefton at
07:37 AM
|
Access Comments