« Daily Tech News 9 February 2023
|
Main
|
Mid-Morning Art Thread »
February 09, 2023
The Morning Report — 2/9/23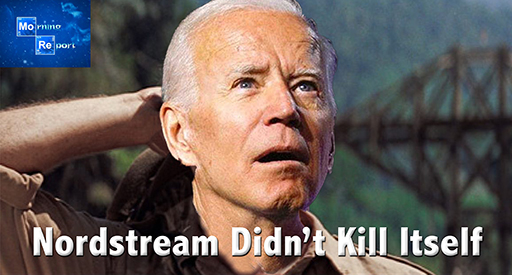 Good morning kids. Before getting into the main event, I give you your combination comedy relief/emetic for the day. Dig this:
Fox News: Sen. John Fetterman Hospitalized After "Feeling Lightheaded" at Senate Democrat Retreat – Sen. Fetterman's hospitalization does not appear to be related to his previous stroke, his office said.
John Fetterman "feeling lightheaded." Where do I even begin with that one?! I guess creepy Morticia the wife will do the Edith Wilson mambo and slip into something more comfortable. Like a Senate seat.
We now return to our regularly scheduled meshugas already in progress . . .
* * * * *
Yet again, we're hit with one of those absolutely disturbing but completely unsurprising stories. What pisses me off is that they are perfectly timed to break after we record a podcast (which will be in the sidebar a bit later this morning, and it's another good one), but I digress.
In the wake of last June's mysterious explosion that sabotaged the NordStream pipeline, many people were blaming Vladimir Putin. It's illogical on the face of it since the pipeline is a major if not the major means by which he transports Russian oil to Europe, whom he has over a barrel (pun intended) when it comes to energy. It could have been accidental since Russia historically has been notorious for poorly designed infrastructure and lack of maintenance, especially since the collapse of the Soviet Union. However, given the situation, that would've been just way too coincidental.
No, for sure it was sabotage. But the question is by whom? Cui bono? I stated that, like so many other things, it would not surprise me to learn that the United States, that is the criminally irresponsible and illegitimate junta that is running the country, ordered one or more military assets to sabotage the pipeline. Lo and behold, the pieces of the puzzle have been put together by a rather surprising source:
The United States government blew up the Nord Stream natural gas pipeline connecting Russian suppliers to our allies Germany last year, according to a bombshell report from Seymour Hersh.

"The New York Times called it a 'mystery,'" wrote Hersh, "but the United States executed a covert sea operation that was kept secret — until now."

Hersh cites an anonymous source "with direct knowledge of the operational planning" who claimed that Navy divers, operating under the cover of NATO's annual BALTOPS exercise last June, planted remotely-operated explosives that were detonated months later, last September.

White House spokeswoman Adrienne Watson told Hersh in an email that "This is false and complete fiction."

"This claim is completely and utterly false," a CIA spokeswoman wrote.

German authorities claimed last week Berlin's investigators "currently have no evidence that Russia is behind the explosions on the Nord Stream 1 and 2 gas pipelines." The Kremlin denied any involvement, although the CIA claimed that Russian submarines were detected in the area where the explosions occurred just one day before the leaks were detected.

Swedish investigators called the leaks "gross sabotage" in November due to "explosive residue [that] was identified on a number of the seized and analyzed foreign items. . . "

. . . Hersh claims that "Biden's decision to sabotage the pipelines came after more than nine months of highly secret back and forth debate inside Washington's national security community about how to best" stop Russian strongman Vladimir Putin from weaponizing "natural gas for his political and territorial ambitions."

The U.S. Navy's innocuously named Diving and Salvage Center on the Florida panhandle is home to "highly skilled deep-water divers" who are "capable of technical diving to do the good — using C4 explosives to clear harbors and beaches of debris and unexploded ordinance — as well as the bad, like blowing up foreign oil rigs," according to Hersh.

They're the ones who reportedly planted the bombs that went off in September.

Bombs that, if they really were planted by the U.S. Navy, shut off natural gas to a NATO ally in the weeks before winter weather descended on Europe. . .

. . . Hersh is not always the most reliable source, but between Nord Stream and Keystone XL, it's fair to ask: What does this administration have against energy pipelines, anyway?
For the benefit of those who earned an advanced degree from an Ivy League school or a braindead leftist (BIRM), the junta gets to help Global Reset Mafia accelerate the destruction of western civilization and get rid of a perceived rival who may not necessarily be on board with that program. Plus, the preceding five years of falsely tying Putin to Donald Trump is the crème fraiche on the blini, if you will, and sinks both of them at once.
Look, I have my problems with Sy Hersh. Big problems, as you can read here from his rap sheet at the invaluable Discover The Networks. Here's kind of a cromulent excerpt:
The passion that drives Hersh has often manifested as genuine hatred for American leaders, the projection of American power, and the Central Intelligence Agency (CIA).

Hersh's Blame-America-First choice of targets for his hatred prompted the then-Executive Editor of the New York Times A.M. Rosenthal to refer routinely to Hersh as "my little commie." Among the targets of Hersh's reporting in both The Times and his books were the overthrow of Chile's Marxist President Salvadore Allende, according to Hersh with CIA contrivance, and what Hersh saw as the evil of President Richard M. Nixon's National Security Advisor and Secretary of State Henry Kissinger.

In 1997 Hersh shocked conventional liberals with a book exposing the clay feet of their icon and martyr President John F. Kennedy. In The Dark Side of Camelot (Little, Brown) Hersh delved into JFK's extramarital relationships and his other shortcomings.
Hersh made his bones, so to speak with his reportage of the My Lai massacre during the Vietnam War. All well and good. The problem is the (anti) American Left used that incident as a means to smear the entirety of the American military, and the nation itself as essentially no different than the Waffen SS and the Einsatzgruppen. Not long after, a certain veteran by the name of John Forbes Kerry testified before a Congressional committee to that effect, and it led to the further hamstringing of our military whenever we have deployed our military in the ensuing decades up to this very day. And Kerry just happens to be a major capo in the Global Reset Mafia who has been trying his best to give nukes to Iran and destroy our energy sector. Psaki that psircle back to Nord Stream with a big fat bow.
As for Hersh, given what we know about the CIA, the FBI/DOJ, and the military with its penchant for insubordination with the treasonous actions we noted yesterday in refusing to obey Trump's orders to withdraw from Syria, Vanilli Milley's parlaying with the Chi-Coms assuring them that he'd disobey any Trump order for military action against them, Bearclaw Vindman's bullshit, etc. etc., at the very least you cannot dismiss his reporting out of hand. And that is exactly what the Biden junta is doing.
So now, in addition to Naomi Wolf, Bobby Kennedy Jr., Matt Taibbi, and others, Sy Hersh is revealing himself to be intellectually honest, regardless of what his personal politics may or may not be. I guess it goes hand in hand with the rank hypocrisy of the Left. I mean, the refrain ad nauseam which was shrieked at a volume that could make a dead man's ears bleed was "NO BLOOD FOR OIL!" 30 years earlier it was "HELL NO, WE WON'T GO!"
The same assholes who were shrieking that – embodied perfectly in the persona of John Kerry – are not only oddly silent, but even itching to go to war with Russia, nuclear missile-armed Russia, for exactly those reasons. During the Dubya years, when she wasn't camped out at his Crawford, TX ranch with news crews from every media outlet recording her every fart and belch, Cindy Sheehan had a reserved seat in the gallery during all of his SOTU speeches.
Where is Cindy Sheehan today? I'd like to give her the benefit of the doubt and say perhaps she too sees what the hell is going on but is being effectively held incommunicado by the Junta's propaganda wing.
Given all of this, and speaking of SOTU speeches, I'd like to wring Mitch McConnell's quadruple-chinned begoitered turkey neck with that repulsive blue and yellow tie he wore at Biden's magic show the other night. Rhetorically speaking, of course.
By the way, if what Hersh claims is true, it constitutes an ACT OF WAR by the United States of America against the Russian Federation. No biggie, right?
Ho. Lee. Fook.
ABOVE THE FOLD, BREAKING, NOTEWORTHY
Daniel Greenfield: "Corporate layoffs hit Diversity, Equity and Inclusion (DEI) hardest."
The Year Woke Went Broke

According to this unnamed whistleblower, O'Keefe has fallen victim to a lack of proper corporate structure at Project Veritas, which is divided into two separate organizations with different boards and funding. The whistleblower alleges that two ringleaders, Matt Tyrmand and Barry Hinckley, have taken advantage of the situation to push O'Keefe out. The board members and C-suite officers involved in the attempt to remove O'Keefe are listed in the Twitter thread. The whistleblower describes the board's decision as a "Stalinesque kangaroo court trial."
BREAKING: James O'Keefe Put on Leave at Project Veritas. Has There Been a Coup?
BIDEN BEIJING BALLOON-ACY
NOTE: The opinions expressed in the links may or may not reflect my own. I include them because of their relevance to the discussion of a particular issue.
ALSO: The Morning Report is cross-posted at CutJibNewsletter.com if you want to continue the conversation all day.
Follow us on Twitter: @CutJibNews
Follow us on Instagram: @Cutjibnewsletter

posted by J.J. Sefton at
07:36 AM
|
Access Comments