« Daily Tech News 7 February 2023
|
Main
|
Mid-Morning Art Thread »
February 07, 2023
The Morning Report — 2/7/23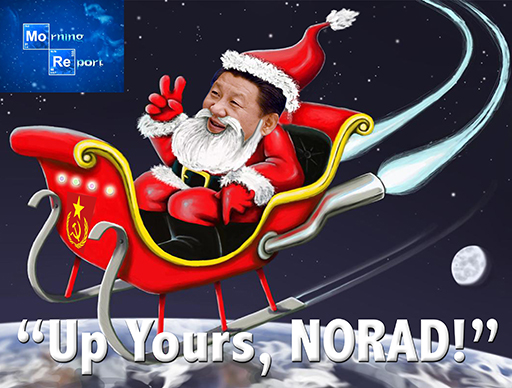 Good morning kids. If you want to know just how low this junta will stoop to deceive and to demean us, here's a prime example.
In preparation for President Joe Biden's 2023 State of the Union (SOTU) address, security fences have been erected around the perimeter of the U.S. Capitol building, a practice that has become commonplace since the Capitol riot of Jan. 6, 2021.

On Sunday, Feb. 5, at the request of the Secret Service, security fences were erected around the perimeter of the Capitol.

Acting House Sergeant at Arms William McFarland told a CSPAN reporter that the fencing will be removed on Wednesday, Feb. 8, the day after Biden's speech. . .

. . . Since the Jan. 6, 2021 riot, security fencing has been constructed around the Capitol on numerous occasions, such as Biden's 2022 SOTU.
This is, of course, pure optics. That is to project a false image that some threat to "our precious democracy" (*vomit*) still exists. The only threat to our republic is the junta in power. It should also be noted that the Capitol Police are supposed to be under the leadership of the Speaker of the House. The last time I checked, it was not Malig-Nancy Pelosi but Kevin McCarthy. That he allows this farcical charade to go on speaks directly to his character.
And while we're chasing the mythical existential threats of "white supremacy" and "climate change," the real existential threats to global peace and security continue unimpeded. Worse, it is evident that those who control the instrumentalities of government, less and less the original three branches of our government but the unelected and unconstitutional Deep State bureaucracy, are aiding and abetting China in achieving their goal of global hegemony. The latest info coming out about this spy balloon is truly disturbing and infuriating, if sadly no longer surprising.
Gen. Glen VanHerck, commander of North American Aerospace Defense Command (NORAD) and Northern Command (NORTHCOM), admitted Monday that the joint U.S.-Canada organization missed previous incursions of Chinese spy balloons, including during the Trump administration.

When asked during a press briefing whether NORTHCOM was involved in tracking previous Chinese spy balloon that flew into the U.S. airspace during the Biden and Trump administrations, VanHerck responded:

So those balloons, so every day as a NORAD commander it's my responsibility to detect threats to North America. I will tell you that we did not detect those threats. And that's a domain awareness gap that we have to figure out. But I don't want to go in further detail.

. . . VanHerck's disclosure also raised questions as to how NORAD missed the previous incursions.

He said that the Chinese spy balloon that entered U.S. airspace on January 28 was more than 200 feet tall. He said the "payload" that the balloon was carrying was the size of a regional jet liner and probably weighed in excess of a couple thousand pounds. . .

. . . VanHerck said that the military did have time to shoot it down over the Aleutian Islands, but that since the balloon did not present a "physical military threat" to North America, "I could not take immediate action because it was not demonstrating hostile act or hostile intent."
So, it was a "mostly peaceful" spy balloon that could have contained "mostly peaceful explosives." For those who are wholly unaware due to being blessed with an American education, the Aleutian Islands are part of Alaska, which is one of the 50 states. 57 if you're Obama. What I don't get it is that on the one hand, this guy is stating that the balloon went undetected, and yet it was spotted over the Aleutians? Funny how NORAD can track Santa Claus with pinpoint accuracy year after year, but not a 200-foot multi-ton Chi-Com spy balloon. Hmm . . .
Note that the propagandists and their handlers in the junta have tried to blame Trump, or at least claim that these balloons appeared over America during his first term, that he knew about them and did nothing. All of that is complete bullshit as this general has admitted.
What it does indicate, if you read between the lines is something more insidious: INSUBORDINATION.
Mark Esper was a top Trump administration official, serving as Secretary of the Army from November 2017 to July 2019 and Secretary of Defense from July 2019 to November 2020. He recounts: "I don't ever recall somebody coming into my office or reading anything that the Chinese had a surveillance balloon above the United States. I would remember that for sure." That raises several possibilities. Esper himself may not be telling the truth, in an attempt to cover for his old boss. The second possibility is that there were no Chinese spy balloons flying over the U.S. during the Trump administration, and the Defense Department is the one that's lying, in an attempt to cover for President Dementia and his China-linked son.

A third possibility is that three Chinese spy balloons did indeed conduct high-altitude surveillance over the United States during the Trump administration, and the Defense Department knew about it but didn't alert Esper or Trump. Inconceivable? Not in the slightest degree. DefenseOne reported back in November 2020 that Jim Jeffrey, who had served as Trump's special envoy for Syria, boasted that he circumvented Trump's orders to withdraw American troops from Syria by lying to the President. . .

. . . Jeffrey decided to thwart the will of the Commander-In-Chief of the Armed Forces because, he said, the order to withdraw from Syria was "the most controversial thing in my fifty years in government." Jeffrey even boasted about his defiance: "What Syria withdrawal? There was never a Syria withdrawal. When the situation in northeast Syria had been fairly stable after we defeated ISIS, [Trump] was inclined to pull out. In each case, we then decided to come up with five better arguments for why we needed to stay. And we succeeded both times. That's the story." Cool story, bro. And not in the least implausible. We discovered the existence of the Deep State during the Trump administration because of its boasts about thwarting his agenda while inside the government. Jeffrey was just another Deep Stater.
A few things here: First, Joe Biden is now at the stage where half the time he has no idea where he is, what he is saying, the time of day, or even the meaning of the words dog, cat or potato. Someone or some group of people are directing him and are the de facto rulers of this country. For lack of a better name, America, on paper anyway.
Second, you can and many do blame Trump for a number of things that can be described as unforced errors. The biggest one was in the realm of personnel. For sure he surrounded himself with top level advisors and cabinet secretaries who were traitorous. That said, it was the next level down, the unelected lifers in the bureaucracy at almost every level who did the most damage. I'm not sure if Jim Jeffrey was directly appointed by Trump or if he falls into the lifer category. I imagine it's the latter since there are tens of thousands of bureaucrats in DC and Trump cannot appoint every single one of them. Trump intended to drain the swamp. The problem is he had no idea it was the size and depth of the Pacific Ocean and not merely an above-ground 6-foot-deep pool.
Should he have known better? I will say, even I could not conceive of anyone in the military actually working against the Commander-in-Chief like this, nor really against the people and national security of this nation, irrespective of one's personal political views. And yet, as Buck Throckmorton reminded us yesterday, look at the words and deeds of the Chairman of the Joint Chiefs himself, Mark "Vanilli" Milley:

Joint Chiefs of Staff chairman Gen. Mark Milley secretly promised to warn the head of the Chinese People's Liberation Army before the United States would carry out any "attack or conduct any kinetic operations against you."

The shocking anecdote is described in a new book by Washington Post journalists Bob Woodward and Robert Costa, which discloses the extent to which the Pentagon worked to subvert former president Donald Trump's foreign policy goals. Trump's rhetoric toward China, according to a Washington Post summary, increasingly alarmed Milley, who suspected the president might order a surprise strike.

"I want to assure you that the American government is stable and everything is going to be okay," Milley reportedly told Gen. Li Zoucheng, on Oct. 30, 2020. Milley went on to highlight the close relationship between the two men, saying, "If we're going to attack, I'm going to call you ahead of time. It's not going to be a surprise."

Milley never informed the president of the conversation. He called Li again on Jan. 8, 2021 to "address Chinese fears about the events of Jan. 6," according to the Washington Post.
For that alone, Milley should be tried for treason and hanged. But of course, look who's running the country:
After Trump became president in January 2017 the Chinese witnessed a dramatic reversal. Within about a month of taking office Trump unleashed American power that decimated ISIS within weeks. A month later Trump ordered a strike of 59 Tomahawk cruise missiles that took out Syria's air force. And in early 2020 Trump authorized a drone strike in Iraq that killed Qasem Soleimani, the commander of the Islamic Revolutionary Guard and the number two leader Iran.

Everything changed with the 2020 election—characterized by massive voting irregularities—that displaced Trump and delivered Joe Biden as U.S. President. What most voters didn't know, but Xi Jinping did know, was that Biden was a compromised president. The Biden family had received—in prior  years leading up to the election—tens of millions of dollars from Chinese business deals, and the Biden Center for Diplomacy and Global Engagement at the University of Pennsylvania had received $70 million from sources in China.

Rudy Giuliani, the former mayor of New York City, a brilliant lawyer and the most successful prosecutor of the Mafia who conducted a forensic analysis of the Hunter Biden laptop and its contents, described the Biden Family as being "owned by the Chinese Communist Party," and Joe Biden himself as being "in partnership with the Chinese Communist Party."

The weakness Biden signaled as President, characterized by his inexplicable decision to abruptly withdraw from Afghanistan, leaving behind some $80 billion of advanced U.S. military equipment and abandoning the strategically located Bagram Air Base was naturally encouraging for Xi. Biden's top military generals, Secretary  Lloyd Austin and Joint Chief General Mark Milley, who were involved in the Afghanistan decision-making fiasco, have also originated other harmful leadership initiatives, such as universal mandatory Covid-19 vaccination requirements and obligatory Critical Race Theory indoctrination for the officer corps and the enlistees in all military branches—both of which policies significantly added to the demoralization of the military—resulting in recruiting shortfalls—with all of it being observed and digested by the Chinese leadership. . .

. . . Beijing could see Biden's weakness and willingness to defer power to subordinates in the response to his order to shoot the spy satellite down three days later, February 1st, when it entered Montana airspace. After giving the order, Biden passed the buck to military advisors who said "wait till the balloon crosses the country and gets to the Atlantic"—all of which prolonged the nation's humiliation and demonstrated a fundamentally flawed decision-making process, which Beijing was no doubt testing. Said another way, Xi wanted to reconfirm Milley's deference to China, which Milley had previously demonstrated twice in communicating critical national security information to Chinese leaders in December and January 2020-2021, without President Trump's knowledge or consent.
Did I say hanged for treason? Milley deserves to be hung, drawn and quartered. And the gibbets and gallows should be constructed to accommodate a few thousand of his fellow travelers. Should be, but sadly won't.
While all of the author's analysis from that excerpt is of course horribly and frighteningly true, one still has to also look at the internal conditions in China right now. Crashing birth rate, economy on a huge bubble, vast corruption that no doubt has an impact on the military's capability and weapons systems (among other things), and most importantly, a citizenry that is increasingly angry at the regime might be the "unknown known" that all together has the potential to be a game-changer.
For sure the 21st Century is NOT going to be the Chinese Century. Sadly, the fact that we have to rely on China collapsing before we do is cold comfort. And even if they collapse first, given the road we're on, we're not far behind.
That leaves Global Islam to enter the scene and pick up the pieces. And Joey Sponge-Brain Shits-Pants is aiding and abetting that cause con gusto.
Can't wait for the SOTU address tonight. Gevalt.
BIDEN BEIJING BALLOON-ACY
NOTE: The opinions expressed in the links may or may not reflect my own. I include them because of their relevance to the discussion of a particular issue.
ALSO: The Morning Report is cross-posted at CutJibNewsletter.com if you want to continue the conversation all day.
Follow us on Twitter: @CutJibNews
Follow us on Instagram: @Cutjibnewsletter

posted by J.J. Sefton at
07:42 AM
|
Access Comments