« Quick Hits
|
Main
|
What Light Through Younder Window Breaks? It Is The ONT! And Weirddave Is The Sun! »
February 10, 2023
K-Tel Cafe: Bonus Round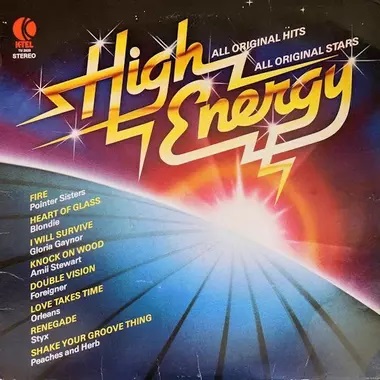 I had a lot of songs so I split them up into two lists.
One of the songs below is on "High Energy."

Trumpet-led instrumental which was used as a dark "love" theme the soap opera General Hospital. Lyrics: .... .... ..... . It's an instrumental, you Big Dummy. I never understood how people were invested in a "romance" that began with a Joe Biden-ish encounter. But it was a Different Time, as they say. Later used as the entire groove for a Biggie Smalls song.
This infectiously fizzy disco pop song by a noted commercial performer put some real pepper in your step. I remember it was played in the dance scene in Meatballs for like six seconds.
French singer with an Irish and Spanish name wrote what he originally conceived as a hard rock song, but wound up becoming a super-disco-y anthem. People ask me why/I never find a place to stop/And settle down, down, down/But I never wanted all those things/People need to justify/Their lives, lives, lives.
British band sang about a man who loves too much a woman who loves too many. (The single was released in 1978 but stiffed, then re-released in North America and the UK in 1979, when it became a hit.)
Hard rock band that delivers a frank and frazzled picture of dealing death on the road. Single from their barbaric second album: I got the pedal to the floor our lives are runnin' faster/We got our sights set straight ahead but I ain't sure what we're after.
This female singer's plea for Full Satisfaction went at least 50% towards topping the country charts. And the song isn't coy about that "Full Satisfaction," thing, either. So fill me up to the top/Oh, don't you stop/'Til I'm overflowin'/Love is the seed/And, babe, I need. That's filthy.
Guitar-and-synthesizer band that sounds like they absolutely must be new wave act from California but no, they're the Not-So-Bad-Boys from Boston, and they'll get you hand-clapping along: She's a frozen fire/She's my one desire.

IInd single from this rock band's IInd album. The song was originally conceived as "Dance, Lolita, Dance" about a barfly who was too drunk to even stand, but the legendary guitarist had a better, more romantic, and more commercial idea for the title. These lyrics seem to be from the initial conception of the song, as about a drunken barfly: A live wire/Barely a beginner, but just watch that lady go/She's on fire/'Cause dancing gets her higher than anything else she knows.
They took a blues-rock song from Eddie Floyd and added synthesizers and faster tempo and made this stormy disco hit: The way you love me is frightenin'.
Cover version of a 1976 song by a successor group to Deep Purple. Your poison letter, your telegram/Just goes to show you don't give a damn.

Another British prog rock band: I'm burning through the sky, yeah/Two hundred degrees, that's why they call me Mister Fahrenheit.
Bouncy and addictive synth groove and deep-voiced blue-eyed soul Mercenary Singer tell a tale of a c*ckold. I always thought that most of the players in the Muppet band Electric Mayhem were based on this group's members. Here's just the intro of the song, looped over and over again, for one hour. It would probably be good to take a lot of powerful chemical stimulants and do chores to this.
Pinky Tuscadero's rock-and-roller-wannabe sister Leather Tuscadero released this duet about two inexperienced young people falling in love.
This international connection comes in from calling code 044, but this Secret Song #19 is actually unlisted.
Some more usual Cafe fare:
Getting Audrey II ready for the show.
This song was in the quiz above. And yes, that ostrich dance we saw earlier this week was a mating display.
The slobbery terrorism of ice-cream-seeking Great Danes.
This Newfoundland Dog is a food bully, too.
Great Pyrenees is taking its guardian duties too seriously, bodyguarding a single duck at a distance of one yard.
Ugh -- ice-covered snow is the worst. I'm very grateful that this winter is mild in my neck of the woods.
Helicopter drops avalanche-provoking explosives on a mountain.
This little girl is a lot of a lot, as they say.
Also Friday mood.
A lot of trouble to hide your Porn Stash. Just put it in a folder called "State Taxes 2009" like everyone else. Don't reinvent the wheel, dude.

posted by Ace at
07:20 PM
|
Access Comments